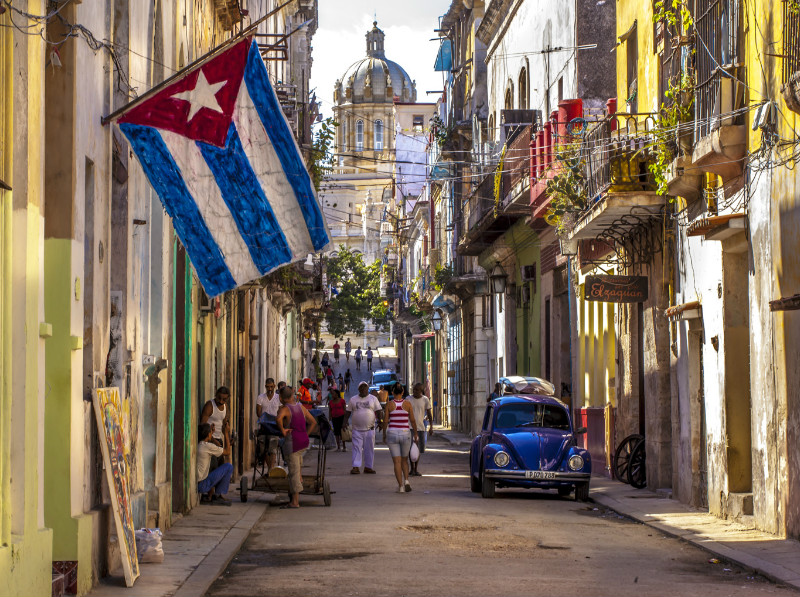 Cuba
How To Get A Cuban Tourist Card or Visa
Americans traveling to Cuba today need three things: a passport, a general license, and a Cuban Tourist Card.
Once you give the article a read feel free to message me any questions directly or ask a Cuban travel expert for help.
Before your trip, make sure to check out:
Here's the latest on how to get a Cuban Tourist Card. Once you give the article a read feel free to message me any questions directly or ask a Cuban travel expert for help.
Cuban Tourist Card vs Cuban Visa
First, a Cuban Tourist Card and a Cuban Visa are actually different documents. Travelers from every country, including the United States, need a Cuban Tourist Card to enter. Only a few African and Middle Eastern countries actually need a Cuban Visa instead of just a Tourist Card. Unfortunately, both words are used interchangeably on the web. If you're coming from North America, South America, or Europe you don't need a Cuban Visa, but you will need a Cuban Tourist Card.
The process for acquiring a Cuban Tourist Card is different depending on where you're entering Cuba from, namely the last airport before Cuba. Below is the process for traveling through Canada, Mexico, Panama, or the United States. It's an easy formality to take care of, but it is essential. During your trip, be sure to treat your Cuban Tourist Card as you would your passport.
From the United States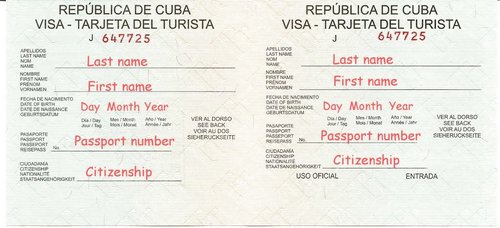 Direct flights have started between Miami, Fort Lauderdale, Orlando, Houston and New York to Cuba.
If you're flying from the US to Cuba, your airline will help arrange your Cuban Tourist Card. This card is pink, instead of the typical green Tourist Card. You will not be able to board the flight to Cuba with the green one. The cost is $50 for the pink tourist card (instead of $25 for the green one), but each airline has different fees for acquiring it. Here is a breakdown of known costs and where to acquire the tourist card for each airline:
Southwest: $50, purchased online and delivered at the gate
JetBlue: $50, purchase at gate
Delta: $50, purchase at gate or through mail
United: $75 ($50 visa + $25 processing fee), purchase at gate.
American: $85 ($50 visa + $35 processing fee), purchase online and sent via mail. AA will send instructions.
Frontier: $110 ($50 visa + $35 processing fee + $25 mailing fee), purchase online and sent via mail. Frontier will send instructions.
If you are taking a charter flight from the US or you're traveling on an organized tour, the Cuban Tourist Card should be included in your package. Double check to be sure that this is the case and if it isn't, make sure to get one. Again, if you still have questions, feel free to message me directly or ask a local travel expert.
From Canada
If you're traveling from Canada, all you have to do to get your Cuban Tourist Card is book your flight. The airline will provide the card to you on the flight. Plus, you don't need to pay anything additional, it's already included in your flight cost.
From Mexico
If you're flying from Mexico to Cuba then you can by the Cuban Tourist Card in Cancun or Mexico City. You can do this near check-in or at the boarding gate for $20 USD.
From Panama City
If you're flying Copa Airlines, you'll be able to purchase the card at check-in, even if you're flying from another city like Lima or San Jose to Panama City and then to Cuba. If you cannot purchase the Cuban Tourist Card at check-in, you'll be able to buy it at the boarding gate. Either way, it will cost about $20 USD.
Get A Cuban Tourist Card or Cuban Visa Online
Want your Cuban Tourist Card / Cuban Visa in hand before you head to the airport? Then apply online in advance from a site like CubaVisas.com (non-US flights - green card) or Cubavisaservices.com (US flights - pink card). This site will walk you through the process and mail visas anywhere in the world. The cost is approximately $25 USD (green) / $50 (pink) plus shipping for about $7.
The following websites provide Tourist Cards for all countries, all for reasonable prices: visacuba.com, cubavisas.com, cubavisa.uk, cubacenter.com.
You can fly directly to Havana from New York, Miami, LA, Atlanta, Orlando as well as a few other airports in the US. Use Flighthub to browse your different options and book a flight.
Finally, planning a trip to Cuba can be super tough. There is not a lot of information out there. I've compiled a list of local experts who will guide you through every step of the process. Seriously check them out now, I have a 100% guarantee it will make your trip unforgettable and WAY easier to plan. Lianet in particular is a Cuban journalist who knows all the best spots.
Have more questions about Cuba? Here is a list of local Cuban Travel Experts who can help you or you can message me any questions you have.
-
We are passionate about unique travel experiences and finding hidden gems. That's why we started a business so the everyday traveler could get personalized advice from a local.
Learn more.