Known as the land of tango and fine wine, Argentina is posh with some spice mixed in—and the capital of Buenos Aires is its crown jewel. Steeped in beautiful architecture and culture, and home to over 2.8 million people, Buenos Aires is full of amazing spots to check out. Here are 16 must-visit places in Buenos Aires.
For top places to visit, hidden gems, and everything in between, connect with a Buenos Aires to plan your trip. They'll share what makes their city so special—and believe us, you won't find that in a guidebook. Learn more.
Table of Contents
#1: San Telmo
Make a beeline to San Telmo, Buenos Aires' oldest barrio and a bohemian paradise. Adorned with cobblestone streets and tango parlors, the historic vibes of San Telmo charm locals and travelers alike. It's the perfect place to meander around and get a feel for old Buenos Aires. San Telmo is also the home of the San Telmo Museum, a unique museum with exhibits on Basque culture and European history.
Pro tip: Hit up San Telmo a Sunday so you can check out the Sunday antique market on Humberto street.
#2: Cafe Tortoni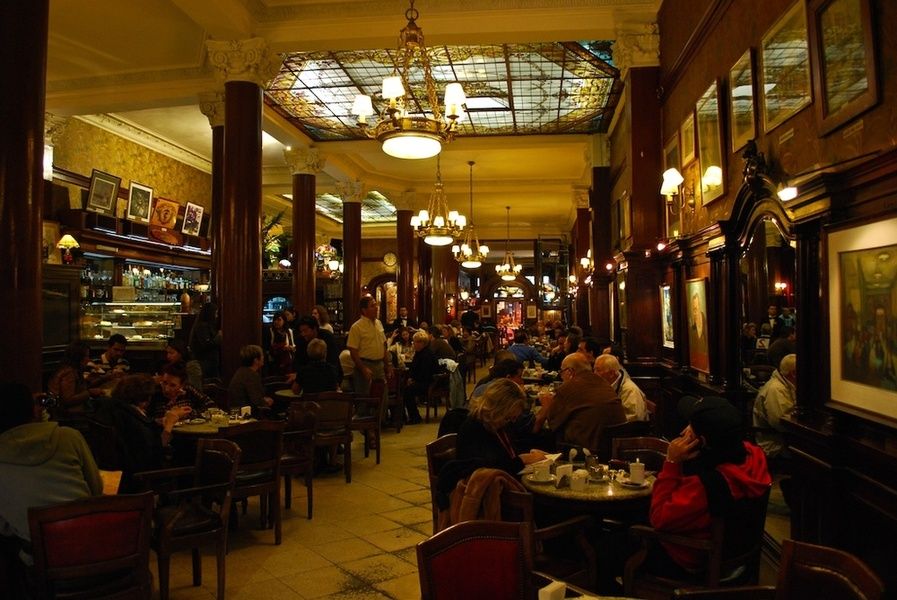 For the coffee connoisseur, Cafe Tortoni is the ultimate point of pilgrimage for a caffeine fix in Buenos Aires. Lined with fancy art and chic interior, Cafe Tortoni in east Buenos Aires has been the intellectual hub for Argentina's elites since the 1850s. It's super popular these days, but don't let that deter you from checking it out. Catch some jazz in the basement or just sip your coffee in quiet contentment as you soak up the deep thinking that goes on in Cafe Tortoni—you may just have a genius idea or two yourself.
#3: Plaza Dorego
A fusion point of community and culture, Plaza Dorego is an excellent place to bask in the city's intense charm. On any given day of the week, the plaza, in San Telmo, is an ideal spot to kick back at a cozy cafe, enjoy some fresh juice, and watch the world go by.
On Sundays, the square becomes something of a carnival—over 300 vendors descend on the space to sell their goods, as the plaza pulsates with the beat of live music. Bring some cash, your haggling skills, and try to keep up with the locals.
#4: Puerto Madero
In a city known for its history and beauty, Puerto Madero stands out as a beautiful modern gem to visit in Buenos Aires. A high-end refurbished port district, Puerto Madero is your go-to for treating yourself to upscale restaurants and taking in some stunning architecture—like the rotating Woman's Bridge. Puerto Madero also contains the Reserva Ecologica, one of Buenos Aires' best green spaces, and the Pontifical Catholic University runs an art pavilion that often has free exhibits.
#5: La Bombonera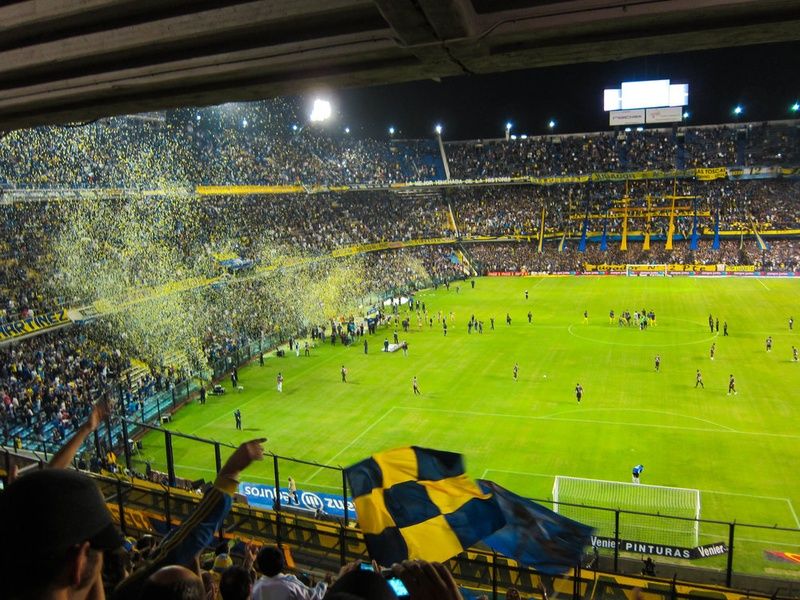 There's an energy to futbol (that's soccer for Americans!) in Buenos Aires that even tango can't top. To experience it for yourself you have to visit La Bombonera. This iconic Argentine football stadium in the La Boca neighborhood gets its name from the fact that it looks like a box of chocolates. But it's definitely the only box of chocolates you'd find filled with 50,000 fans screaming, singing, and pouring out their souls for Boca Juniors—one of Argentina's best football teams.
La Bombonera is a must-see on any itineraries, and football enthusiasts should definitely check out the Museo de la Pasion Boquense attached to the stadium.
Pro tip: Ready to go crazy for Boca Juniors? Have a local trip planner iron out the gameday details for you, from how to get tickets to transportation tips.
#6: Palermo
Rose gardens, museums, and chic restaurants make Palermo a popular haunt for travelers and locals alike. Located on the northeastern edge of Buenos Aires, Palermo is the city's largest and most beloved neighborhood. With so many things to do there, it's easy to find a reason to end up in this beautiful part of town.
So wake up and smell the roses (literally) at the Palermo Rose Garden, peruse boutiques in trendy Soho Palermo, and get out of this world at the Planetario—a museum full of fascinating robots, projectors, and virtual reality that lets you explore the universe. No matter what you do, don't rush it. Palermo is a huge, eclectic neighborhood, so take your time and soak up everything from the hip street art to the local dives—and definitely indulge in delicious food at spots like Don Julio or La Cabrera.
Pro tip: Don't travel blind! Connect with a Buenos Aires trip planner who can design the perfect Palermo itinerary for you.
#7: Plaza de Mayo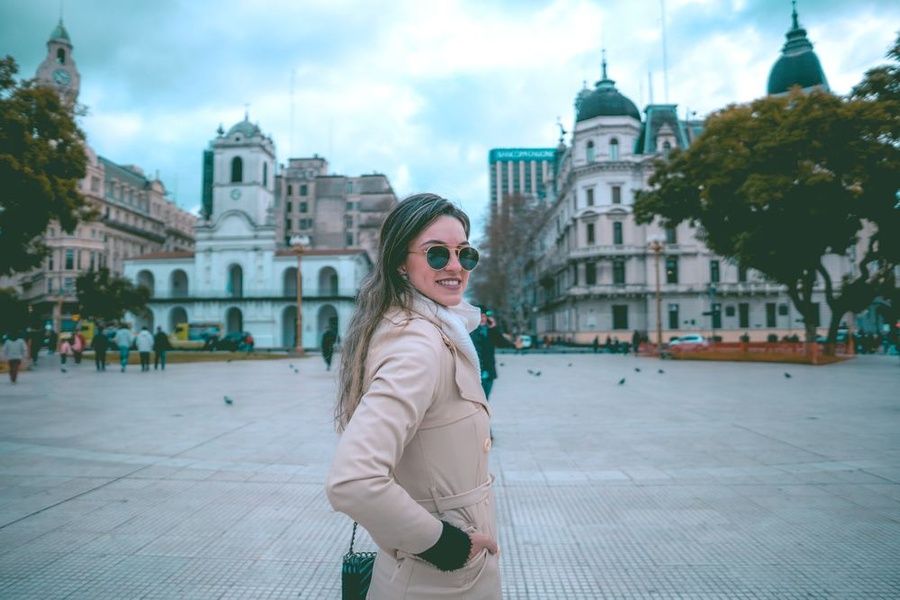 Plaza de Mayo is the most iconic square in Buenos Aires. The May Revolution of 1811 burst into action here, and just about any other great historic event in Buenos Aires has some connection to the square.
The surrounding neighborhood of Monserrat is the financial center of Buenos Aires and is full of metropolitan hustle and bustle—just dodge the briefcases and check out some of the key sites around the square. You definitely won't miss the famous Casa Rosada (Argentina's White House, except pink!) on the eastern side of the square, or the giant Metropolitan Cathedral. After you've checked out those two, grab a tour of the Cabildo—the colonial town hall on the southwestern corner of Plaza de Mayo.
#8: Cemiterio de Recoleta (Recoleta Cemetery)
The rich and elites of Argentina have buried their dead in La Recoleta cemetery for hundreds of years, and apparently they knew a thing or two about going out in style. La Recoleta cemetery is absolutely beautiful, and it's become one of the most popular places to visit in Buenos Aires.
The cemetery full of mausoleums, statues, and vaults fit for royalty, and you can easily spend hours wandering this labyrinth. Be sure to take the free tour (in English!) that occurs on Tuesdays and Thursdays, and track down the resting place of some of Argentina's most famous figures—like Eva Peron.
Pro tip: Are you a history buff? Have your personal trip planner map out the most important gravesites to visit while in Recoleta.
#9: Museo Nacional de Bellas Artes
Buenos Aires is no stranger to the arts. Don't believe us? See it for yourself at the Museo Nacional de Bellas Artes. Located next to the Recoleta Cemetery, this museum has an impressive 100-year history and contains a stunning mix of European and Argentine art. Famous names like Picasso and Van Gogh are prominently, as well as Argentinian greats like Benito Quinquela Martín. It's the most important fine art museum in Buenos Aires, so even if you don't classify yourself as the artsy type, take a gander anyway. It's free!
#10: La Boca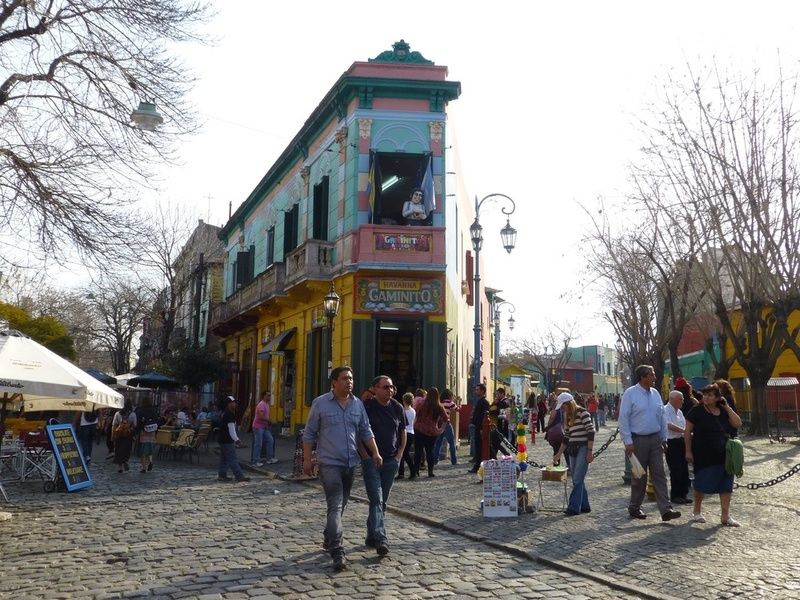 La Boca is an eclectic, working-class neighborhood in central-eastern Buenos Aires. With its wildly colorful street art, vibrant architecture, and frequent bouts of live music, La Boca is definitely worth a visit.
Grab some delicious local food (like provoleta and puchero) at nearby dives like El Obrero, and don't leave La Boca without taking a stroll down the famous alleyway-turned-museum, Caminito. We also recommend checking out Usina Del Arte: a cutting edge museum and performance venue in a refurbished factory and the ideal place to catch up-and-coming local artists.
Pro tip: Even though it's perfectly safe during the day, it's probably best to steer clear of La Boca after nightfall. For more safety tips, connect with Buenos Aires local. They'll have all the best safety advice. So why not reach out?
#11: Florida Street
Ready to shop up a storm? Or perhaps you want to stroll around without dodging buses or taxis? Florida Street is a chic pedestrian street in the northern reaches of the Monserrat neighborhood and is known as the go-to spot for shopping brand name stores and grabbing some last-minute souvenirs.
Florida Street begins at Avenida de Mayo and ends at Plaza San Martin. Apart from being an ideal place for an afternoon of shopping, Florida Street also has some beautiful architectural gems worth gawking at—like the Gath and Chavez building and the Galeria Mitre. On weekdays, Florida Street the best place for people-watching. It's connected to the financial district of Buenos Aires and is a great place to get caught up in the fast-paced life of Buenos Aires.
#12: Obelisco
Definitely swing by the Obelisco when in Buenos Aires. It's an iconic landmark smack dab in the middle of the city that was built to celebrate Buenos Aires' 400th birthday (because a cake and candles are overrated—don't you think?). You can't climb the obelisk's interior anymore, but it's still worth gazing at as it looms majestically in the midst of Buenos Aires' busy center. After you've visited the Obelisco, hit up nearby Avenida Corrientes for some late-night pizza.
#13: Congreso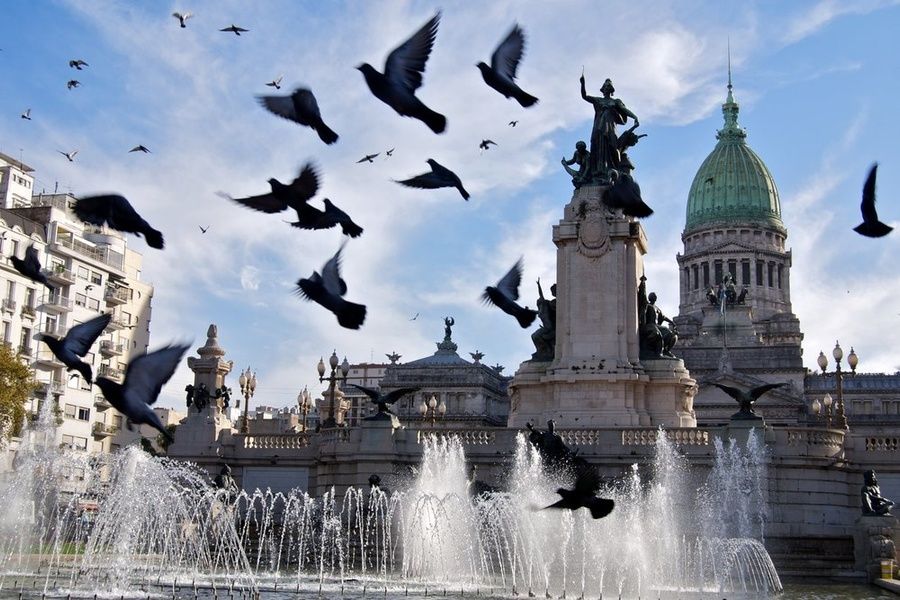 Congreso is one of the must-visit neighborhoods of Buenos Aires. The neighborhood gets its name after the Palacio del Congreso, the neoclassical masterpiece that adorns its plaza and serves as the meeting place for Argentina's legislature. Hit up one of the free tours there, and then venture out into the rest of the neighborhood to get a taste of real Buenos Aires.
The neighborhood's jewel is Avenida Corrientes, a bustling hub of late-night pizza joints and theatres that's been fittingly dubbed "the Broadway of Buenos Aires". Congreso is also full of monuments and sculptures that history buffs will love. And since it's the political center of the city, you may even catch a protest when swinging through.
Pro tip: Argentinian pizza is delicious, and it's EVERYWHERE. For the best pizza in town, why not ask a local for their recommendations?
#14: Belgrano / China Town
Things slow down a bit in the neighborhood of Belgrano, making it a restful place to visit in Buenos Aires if you need a minute to relax and escape the normal city chaos. Highlights of this peaceful neighborhood include the charming Plaza Gral. Manuel and La Glorieta, an iconic pavilion where locals go to tango.
When you're done soaking up the peaceful streets of Belgrano, swing through Buenos Aires' Barrio Chino (Chinatown) on the northern edge of the neighborhood. It's a great place for perusing unique imports from China, Japan, Thailand, and other East Asian countries, or to just grab a bench and indulge in some authentic Chinese street food.
#15: Costanera Norte
On the edge of the Palermo neighborhood is Costanera Norte, a scenic stretch of boardwalk that meanders along both the beach and the Rio de la Plata. It's a jazzy gem worth visiting in Buenos Aires, especially if you're looking to just stroll and soak up some of the city's best views.
Musicians love to post up on the boardwalk which adds some lively, romantic charm to walking through. Just be sure to stop and admire the Club de Pescadores, an epic-looking fishermans club posted up on the dock, and chat with some local fishermen. Saint Tropez Park is a great place to take a load off and watch some skateboarders tear it up. And if you're chasing after a jaw-dropping sunset, make sure to hang around until evening—you won't be disappointed.
#16: Palacio Barolo
While a bit more off the beaten path than Palacio Congreso, Palacio Barolo is among the top architectural masterpieces in Buenos Aires. The architect pulled inspiration from Dante's Divine Comedy and managed to construct a 22-story building with floors representing heaven, hell, and everything in between. Walking through Palacio Barolo is a mind-blowing experience.
You have to book a tour to see the palace, but wandering the halls decked out with beautiful statues and Latin engravings make it so worth it. Plus, it's capped off with a ride in a 1920s elevator to the top of the palace for a stunning panoramic view of Buenos Aires.
--
To get the most out of your stay in Buenos Aires, connect with a local to plan your trip. They'll design a custom itinerary based on your interests and their insight—which means you'll see a unique side of the city that most tourists miss. We mean...you *could* see Buenos Aires like a tourist. But why would you want to?