Buenos Aires, the dazzling capital of Argentina, is a treasure trove of fun activities. Whether you want to learn to tango or dive into incredible cuisine, Buenos Aires never disappoints. We're here to start you off on the right foot with 15 of the best things to do in Buenos Aires.
For an immersive experience in Buenos Aires, connect with a Buenos Aires trip planner. They'll create an itinerary full of amazing stuff to do—local favorites that never make Internet lists. Learn more.
Table of Contents
#1: Get fervent for football at La Bombonera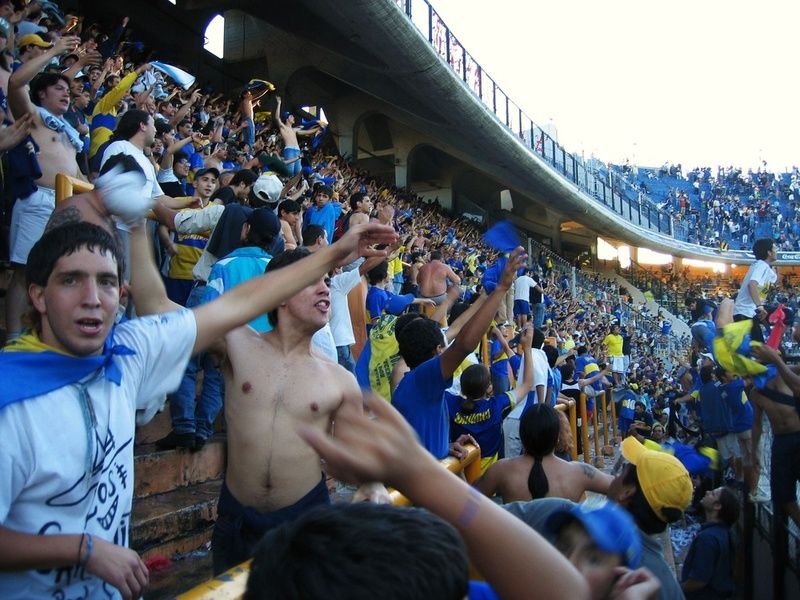 Diving into Argentina's football culture should be top on your list when it comes to things to do in Buenos Aires. And Argentina's legendary football stadium, La Bombonera, is the perfect place to experience the thrill of the country's favorite sport. Dive headfirst into the football frenzy by rooting on the Boca Juniors! And if you really love football, discover the history and culture of the sport at the stadium's museum, Museo de la Pasión Boquense.
Pro tip: Talk to your Buenos Aires trip planner about the best way to see a match—they'll give instructions on how to get tickets, transportation, and the best way to cheer on the home team.
#2: Take a tour of Teatro Colon
Taking a tour of the incredibly ornate and historic Teatro Colon, Buenos Aires' impressive opera house, is among the top things to do in the city. Widely considered one of the best theaters for opera in the world, Teatro Colon will impress even if you aren't a huge opera fan. It's absolutely gorgeous, and tours will go deep into the theater's history, architecture, and cultural importance. Visitors rave at the theater's immense beauty, and if you're lucky you might even catch the orchestra in the midst of a practice session.
Pro tip: Tours of Teatro Colon are free for children under seven, and about $15 USD for non-resident adults. You can easily book online.
#3: Get your caffeine fix with some Argentinian
mate
Don't even dream of going to Buenos Aires without trying some mate. You can find mate throughout South America, but Argentina has perfected this traditional caffeinated drink to a fine art. Mate is made by mixing an herb called yerba mate with hot water. The tea is consumed through a special metal straw, which strains out the leaves. Argentinians live off of the drink, and you should definitely try some (lots) while you're there. Its health effects are so profound that British footballers swear by it!
Pro tip: Mate is primarily found at cafes, not restaurants. Drinking it is meant to be a social experience—so it's really only served in places people would gather to chat. Ask your Buenos Aires trip planner to suggest a spot to enjoy mate and conversation!
#4: Learn to tango like an Argentinian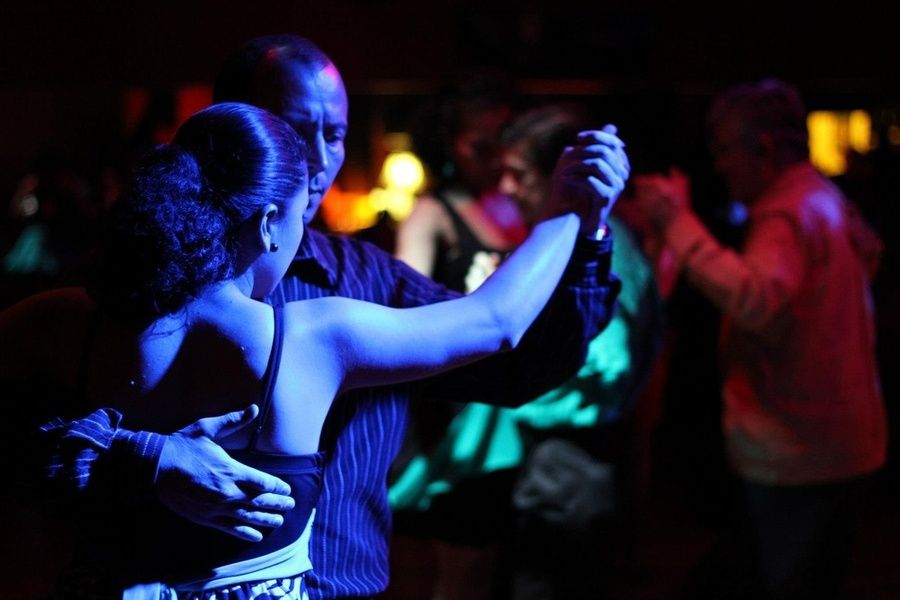 If the social beauty of mate embodies the Argentinian spirit, then dancing the tango embodies Argentinian passion. Tango is a traditional Argentinian dance born straight out of the streets of Buenos Aires. It merges ballroom eloquence and sensuality, and there's nowhere better to try to tango than the city where it was born.
Tango goes down at milongas (tango parlors), and (no surprise) you'll find lots of milongas throughout Buenos Aires. La Viruta is one of the most well-known—and a fun place to check out even if you've never danced a step of tango in your life! But there are also great places for more experienced dancers, like La Glorieta in Belgrano. Whether you want to learn or just watch, definitely don't miss out on a chance to tango while in Buenos Aires.
#5: Check out one of Buenos Aires' Sunday markets
Buenos Aires teems with skillful artisans who are experts at their crafts, and the best way to experience their talent is to hit up one of Buenos Aires' Sunday markets. The city has quite a few happening on a weekly basis, and each one has its own unique vibe.
One of our favorites is the Sunday Antique Fair in the neighborhood of San Telmo, which is ideal for hunting for trinkets from Argentina's past. But the Sunday market at Plaza Francia in Recoleta is also pretty wonderful! If you're into browsing markets, ask your Buenos Aires local to add their favorite to your itinerary.
#6: Stroll through the Botanical Gardens in Palermo
With over 5,000 species of plants stretching across a magical 18-acres, visiting the Buenos Aires Botanical Garden is a welcome respite from the bustle of the city. Plus it's free! Located just off Santa Fe Avenue in Palermo, the garden provides hours of walkable paths, quiet ponds, and garden collections inspired by cultures around the world. Take one of the free weekend tours if you're interested in learning more! (The tours are in Spanish, however).
Pro tip: The Botanical Garden is more than just plants—you'll find an impressive display of beautiful sculptures here as well.
#7: Browse the books at El Ateneo Grand Splendid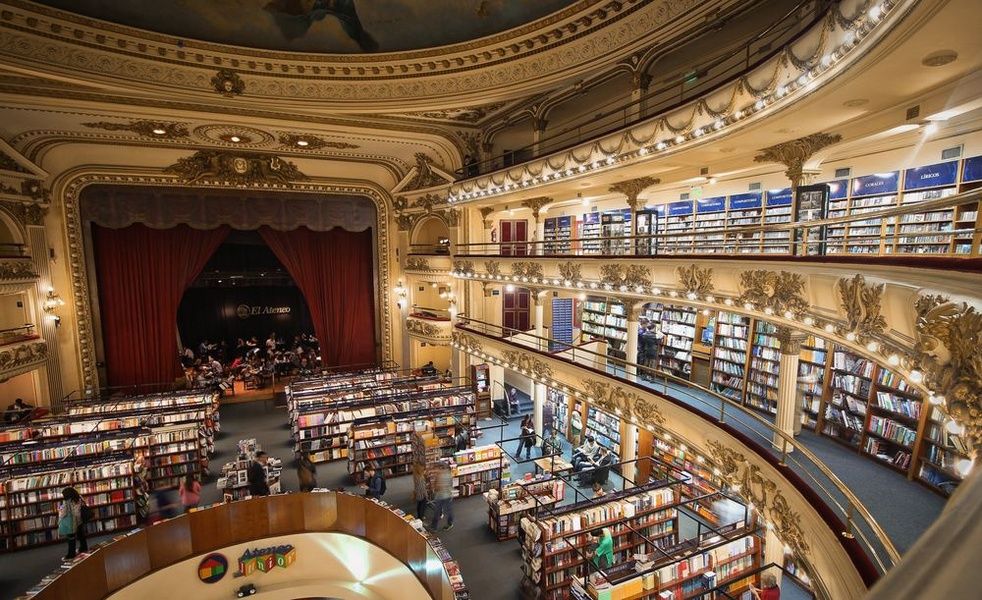 If bookstores and libraries are your happy place, you'll absolutely adore browsing the selection at El Ateneo Grand Splendid. Once a theatre, El Ateneo is now a (literal) next-level book store— its elegant balconies are filled with rows and rows of books under an ornate ceiling. Widely considered one of the world's most beautiful bookstores, we strongly recommend spending a few hours getting lost among El Ateneo's gorgeous shelves.
Pro tip: El Ateneo contains mostly Spanish books, although it does have a small English section. Honestly, the main draw is the building itself, especially the incredible painted ceiling.
#8: Jam all night to Buenos Aires' best live music
Buenos Aires is a musical city, and the locals' tastes range from traditional tango to zany electronic music. You'll find tons of places to experience live performances throughout Buenos Aires—often for free! (If you know where to go...hey, a local trip planner can help with that!) Plaza Durango and Costanera Boardwalk are both excellent places to check out musicians busking on the street.
If you prefer listening to music with a drink in your hand, head to La Ventana for tango performances. Or, catch some hot jazz at Buenos Aires' most famous jazz club, Thelonious. Whether it's on the street or a concert hall, take advantage of the chance to groove like an Argentinian.
#9: Cheer on an Argentinian polo match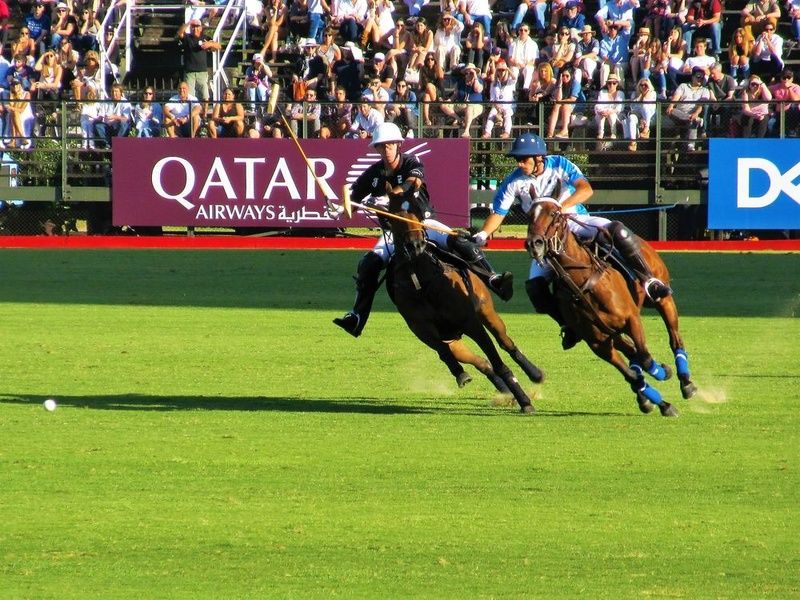 Argentina may be better known for tango and football, but polo is among the country's favorite sports. And Buenos Aires is an excellent place to watch a match. Ask a local to explain all the important stuff to know—they'll add polo info to your customized itinerary—and then head over to Campo Argentino de Polo to catch a game. Cheering on a polo match with locals is a great way to experience, not just see, Buenos Aires.
Pro tip: Polo is a lot of fun, but keep in mind that the season runs from September to December.
#10: Bust a move at a Buenos Aires
boliche
Buenos Aires teems with electric nightlife, and its boliches, or nightclubs, lead the charge. Boliches are packed with DJs, dance floors, and a whole lot of fun. You'll find anything from reggae to trap music, but don't expect the party to get going anytime earlier than midnight. There's no shortage of options in a nightlife-loving city like Buenos Aires, but we suggest checking out Punta Carrasco or Bahrein.
Pro tip: Dress up a bit before heading to a boliche. Don't go super formal, but maybe ditch the t-shirt. Need more Argentinian fashion advice? Ask a local what to wear out!
#11: Go underground at the El Zanjon museum
Buenos Aires is rooted in history, and you can get down to those roots (literally) at El Zanjon de Granados. El Zanjon is a 200-year-old mansion, now museum, built atop a series of old tunnels and underground pathways. Not only is the museum cool, but it does an excellent job of explaining the layers of history in Buenos Aires. Sign up for the guided tour to dive deep into El Zanjon's history—and to see the mansion's incredible tunnels.
#12: Taste choripán, Buenos Aires' iconic street snack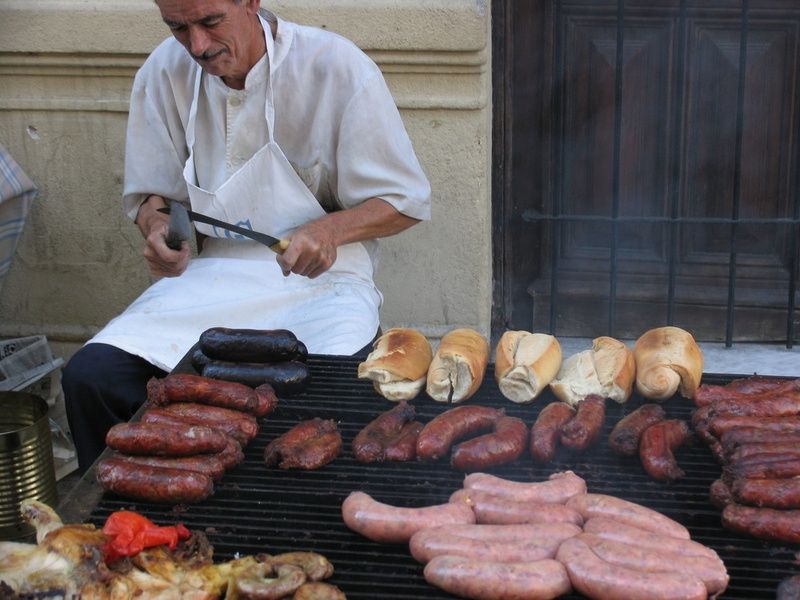 If you ask us, snacking on street food is one of the best things to do when visiting a new place. In Buenos Aires, choripán is one of the street dishes that reigns supreme. It's essentially what you get by combining chorizo (spicy sausage) and pan (bread). The result is a savory, spice-filled sandwich that'll send your taste buds to a new level of paradise. Choripán is best enjoyed from food trucks and street carts which can be found in droves throughout the city, especially in Costanera Norte. But if you want to enjoy choripán in a sit-down setting, hit up Chori's on Calle Thames.
Pro tip: Not all food trucks are created equal, so get some recs from a local.
#13: Sip a glass of Malbec from Argentinian vineyards
When in Buenos Aires, do as the Argentinians do—and make sure to set aside time to sip a good glass of Malbec wine. Although French in origin, Malbec is the signature red wine of Argentina. It's known for its rich, intense flavor—and that pairs well with Argentina's iconically delicious steak. We recommend checking out wine bars like La Cava Jufre, where you can sip on Malbec grown on Argentinian vineyards.
#14: Bask in the sunset at Costanera Norte
For a simply swoon-worthy sunset, head over to Costanera Norte boardwalk on the edge of Palermo. Get there early to stroll around the waterfront—Costanera Norte is lined by cafes, restaurants, and beautiful green spaces like Parque de Los Ninos, which means you'll have plenty to explore as the sun starts to dip. As colors burst over the horizon, meander towards the historic Club de Pescadores. The old fishermen's club, perched on the end of a long pier, is the perfect place for an enchanting sunset.
#15: Chow down on Argentinian pizza
Over 3 million Italians immigrated to Argentina in the 19th and 20th centuries, which means the pizza scene in Buenos Aires is out-of-this-world good! Pizza in Buenos Aires combines Italian roots with Spanish *pizzazz*, usually involving far more cheese and a crunchier crust than the pure Italian version. Uh...YUM. There are tons of pizzerias in Buenos Aires, but you'll find many of the city's best along Avenida Corrientes.
--
These 15 things to do in Buenos Aires are pretty great! But to get the most out of your trip, connect with a local trip planner who *loves* their city. They'll design a custom itinerary based on your interests—full of tips, tricks, and suggestions on how to see Buenos Aires like the locals do. Why see Buenos Aires like a tourist when you could see it like a local?