Beaches don't always come to mind when you think of traveling to Colombia—but they should! With over 2,000 miles of coastline on 2 different oceans, Colombia is home to some of the most beautiful sands in the world. But with so many amazing options, it can be hard to choose which to visit—so here's a handy guide to some of the best beaches in Colombia. If you have any questions after reading, don't be shy! Message us.
Want to make the most out of your trip? Tap into our network of local travel planners—Heroes—who build unique, locally-curated trip plans, designed just for you. Get started.
Table of Contents
#1: El Cabo San Juan at Tayrona National Park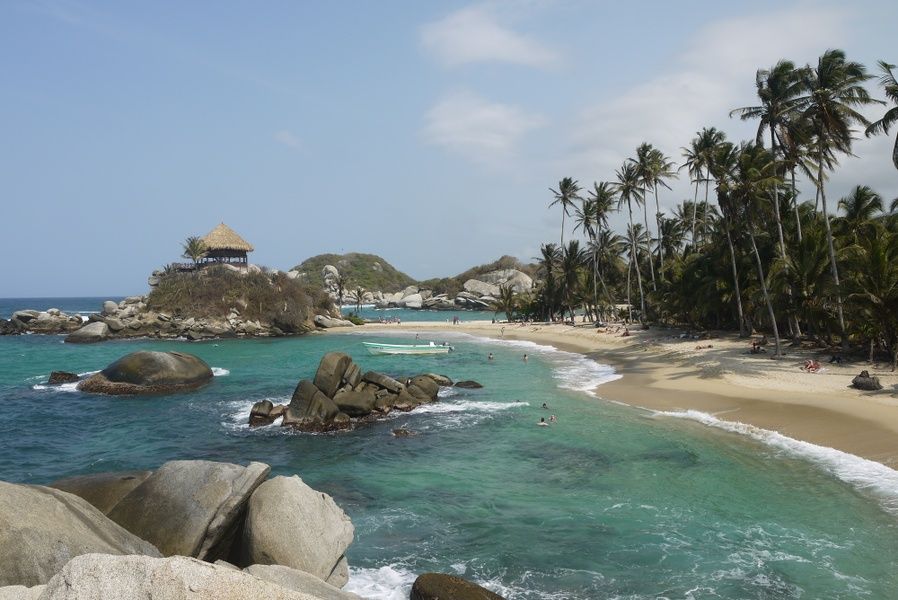 Cabo San Juan is most likely what you've seen on every Colombian beach postcard…ever. Surrounded by lagoons and tropical jungles, it's no wonder Cabo San Juan is a known hotspot. The beach is located within the stunning Tayrona National Park and offers a view of the Sierra Nevada mountains. Although it's a bit touristy, no Colombian itinerary is complete without a visit to Cabo San Juan.
#2: Playa Blanca
Although it's become somewhat of a trendy place for Colombian tourism due to its cheap prices and proximity to Cartagena, Playa Blanca's beauty is well worth the visit. This beach is located on the island of Baru. Only 40 minutes southwest of the city, it's most popularly accessed by boat. Playa Blanca is the perfect day trip from Cartagena.
#3: Aguacate Beach at Capurgana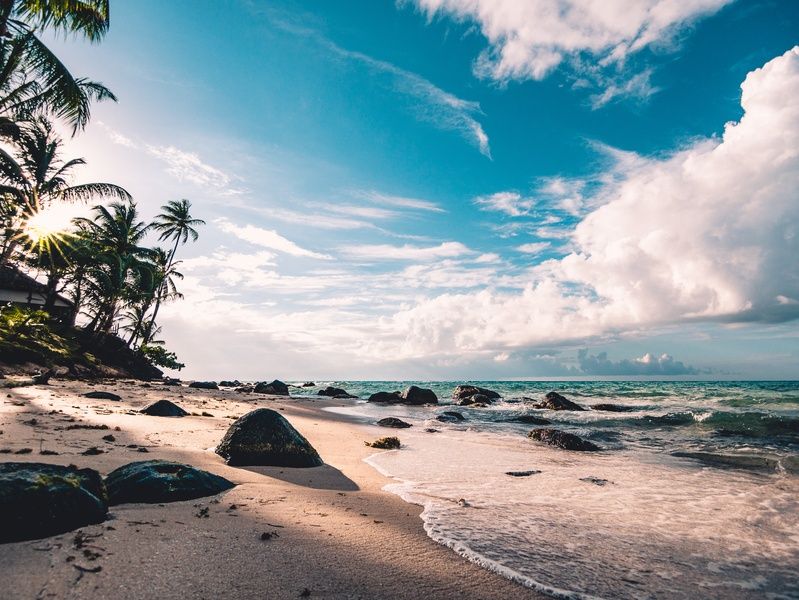 Situated along the Colombian border with Panama, Capurgana is home to dense tropical rainforests and beaches with turquoise-green water. Aguacate Beach is perfect for diving and snorkeling and is riddled with picturesque coves that you have to add to your Colombia travel itinerary if you're the outdoorsy type. If you're vacationing in Medellin, Capurgana is just a quick flight or boat ride away, and definitely worth the trip.
Pro tip: While Colombia is very safe for travelers, this area (near the Panamanian border) can be a little sketchy. Our advice: get some insider safety tips from a local before you book your trip.
#4: Playas de Palomino
Palomino, a quiet town on the Caribbean coast of Colombia northeast of Barranquilla, is still very much old school. Free of bright lights and typical tourist traps, the beach at Palomino is enclosed by the Sierra Nevada mountains, making for an unforgettable view along the coast. Palomino is the perfect stop for travelers interested in discovering some of Colombia's hidden gems, and is easily accessible by bus from Santa Marta or Barranquilla itself.
#5: Playa Manzanillo on Providencia Island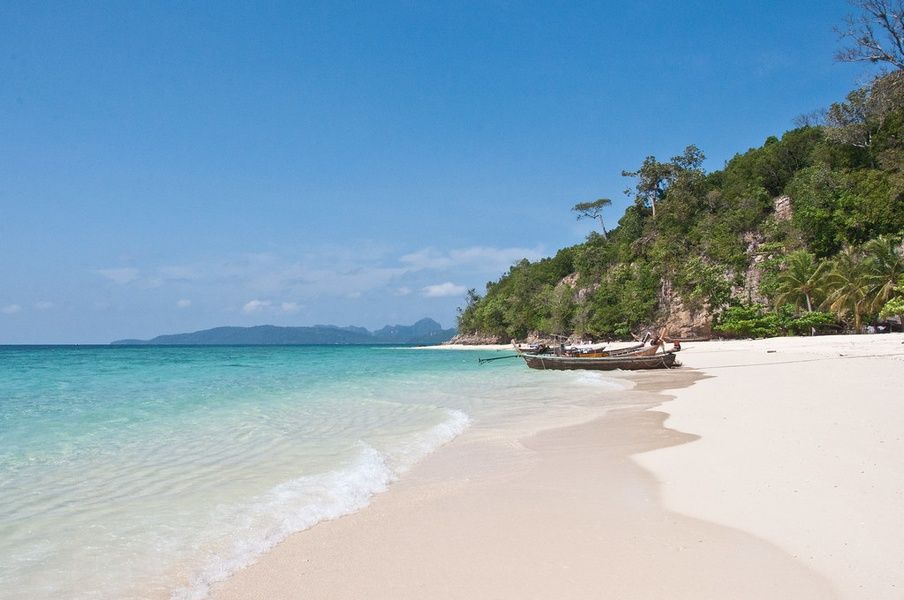 Playa Manzanillo rests on the mountainous island of Providencia, smack-dab in the middle of the Caribbean Sea. Because it's so remote, Playa Manzanillo is beautiful and mostly untouched, free from big resorts and bustle of modern life. With local seafood dishes and ample sites for canoeing and snorkeling, you'll want to make room for Playa Manzanillo in your itinerary if you're planning on spending more than a couple weeks in Colombia.
Getting to Providencia island can be a little tricky. If you need some help figuring out travel accommodations to and from the island, get some guidance from a local travel expert.
#6: Pilon de Azucar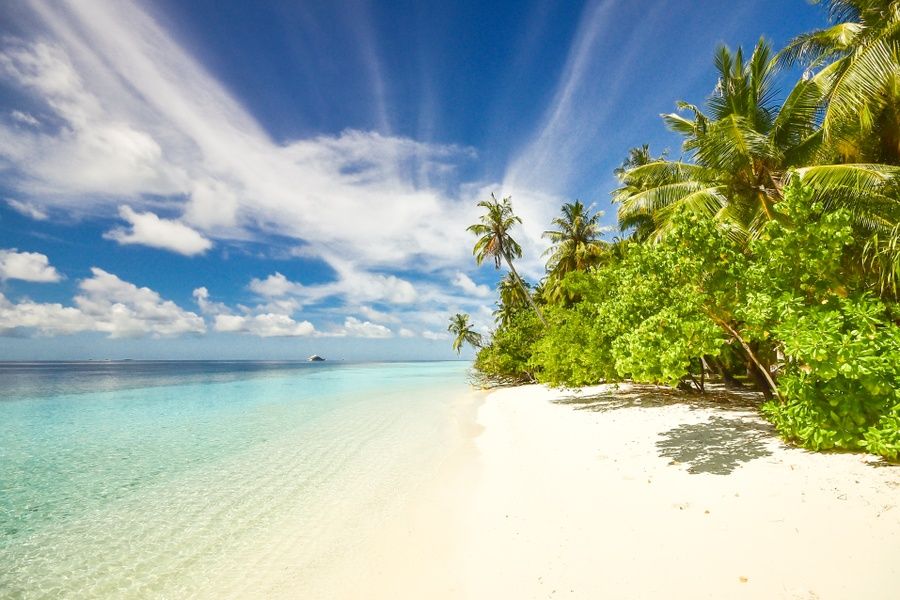 The bright orange sand and green waters of Pilon de Azucar make it an absolute must-see. The tiny desert beach is located on the Caribbean coast in Colombia's northwestern tip, only about an hour from the Guajira airport. Pilon de Azucar almost looks photoshopped, but it's the limestone base under the water that gives it its vibrant turquoise color. Pilon de Azucar is especially beautiful thanks to its varying surrounding landscapes of sand dunes, hills, and cliffs.
Pro tip: While its remoteness may deter some solo travelers to Colombia from visiting, it really shouldn't!
#7: Nuqui Beach in Choco
Nuqui beach is located in the Choco region on Colombia's Pacific coast. As both a beach and a destination, Nuqui is an absolute must-visit. While you won't find it in many lists of Colombian tourist attractions, Nuqui has amazing surfing, incredible jungles, and delicious cuisine with strong African influences. Plus, majestic humpback whales give birth every year just offshore.
Pro tip: Talk to a local trip planner for advice on building your excursion around views of baby humpback whales!
#8: Playa Grande in Taganga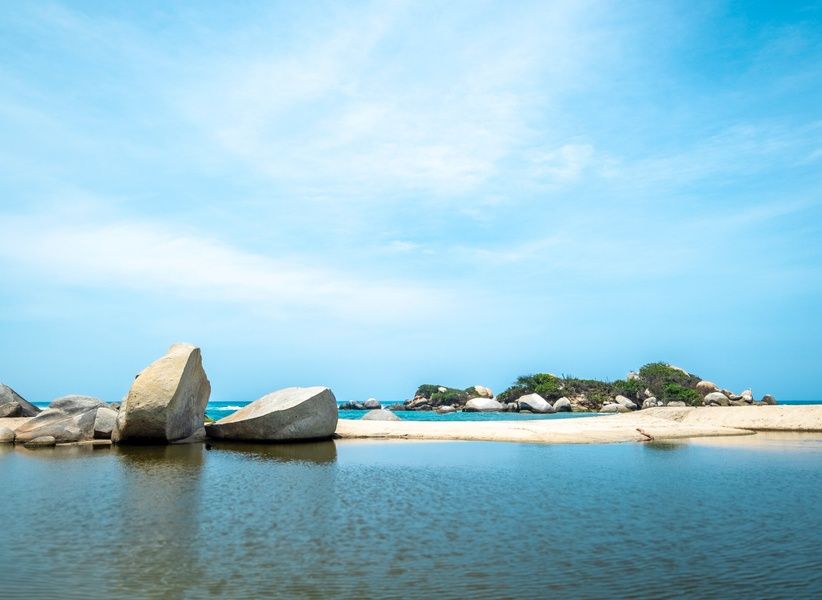 If you're looking for a rowdy Caribbean beach getaway, consider taking a trip to Playa Grande. A short bus ride from Santa Marta, Playa Grande is hugged by rounded hills and is absolutely perfect for scuba diving. Although it used to be more low-key, Taganga has become somewhat more of a Colombian tourist site due to its cheap prices and beautiful views.
#9: La Miel in Sapzurro
Sapzurro is a tiny Colombian village on the Caribbean border of Panama. The tiny beach of La Miel and the unique emerald bay are perfect for someone who wants a break from life in general (seriously, there aren't even cars in the area).
After arriving by boat from Necocli, you can snorkel in the coral reefs or hike in the jungle that surrounds the water to your heart's content. And remember: while Colombia is safe for Americans, you're may want a little local guidance if you decide to visit this area.
#10: Johnny Cay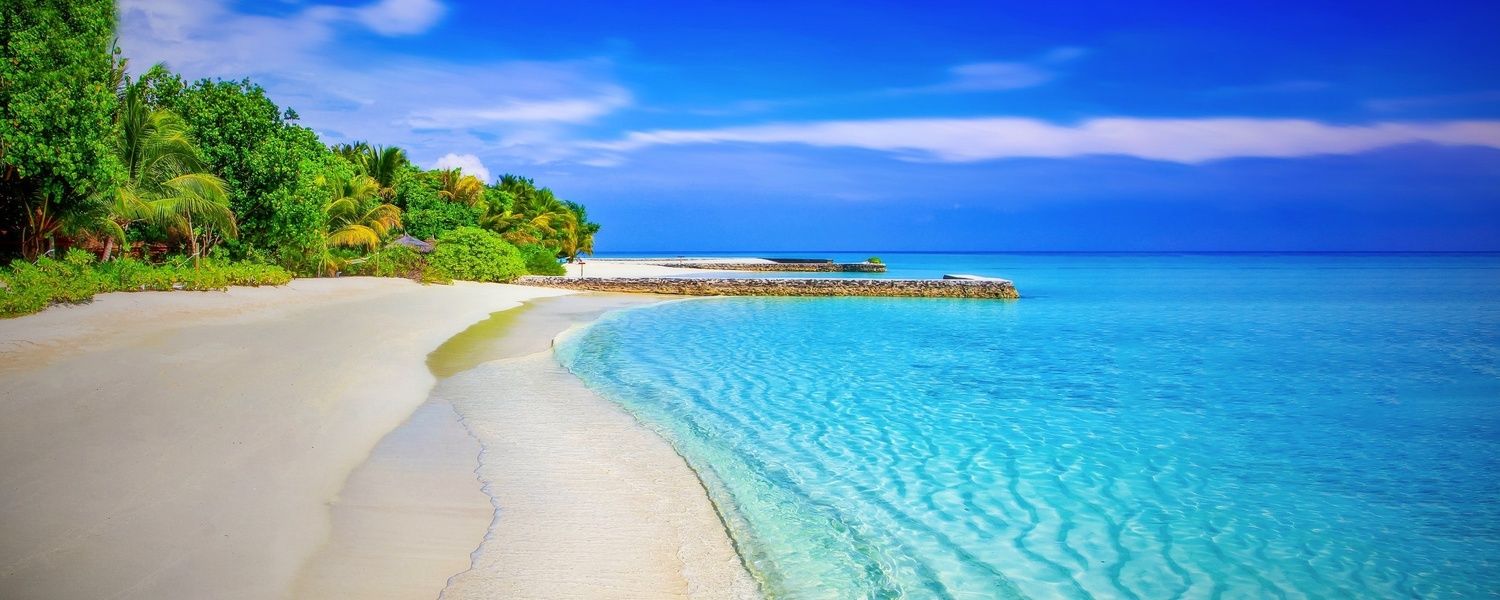 Accessible via a short boat ride from the island of San Andres, Johnny Cay beach is what you expect every Caribbean beach in paradise to look like. The coral islet is surrounded by lush vegetation and coconut plantations, and the shallow water is perfect for snorkeling. The gentle waves of Johnny Cay are too relaxing to pass up during your stay in Colombia.
--
Ready to hit the beach? Make sure to chat with a Colombian local for advice on building your dream itinerary—they'll make sure you see the *real* Colombia, and not just the tourist scene. Plus, they're available with 1-on-1 help and advice the entire time you're planning your trip—and available with 24/7 phone support when you're on the ground!
Any more questions? Feel free to message us. And make sure to check out: