Colombia is not your average vacation destination. Forget the clichés that make up the country's outdated reputation, because Colombia is overflowing with safe and incredible activities to explore. Whether your ideal trip involves an outdoor adventure, a relaxing vacation, or an urban adventure (or all three), you'll want to use these customized itineraries. Read on to match one of these three incredible itineraries to your type of travel, and feel free to message us with any questions whatsoever!
Want to make the most out of your trip? Tap into our network of local travel planners—Heroes—who build unique, locally-curated trip plans, designed just for you. Get started.
Table of Contents
Itinerary #1: The Outdoor Adventure
Your type of travel: You like being active and getting off the beaten path. If the great outdoors is your true home, this is the itinerary for you!
Days 1-4: Find yourself in the Lost City
Adventure awaits you at La Ciudad Perdida, or "The Lost City". Known by the locals as "Teyuna", this vast network of ruins was built by the ancient Tayrona civilization around 800 CE—a full 650 years before Machu Picchu! Situated in the Sierra Nevada de Santa Marta, in the northwestern corner of Colombia, this formerly treacherous trek has become one of the safest destinations in Colombia thanks to Colombia's increasing travel safety. While not a short trip (the trek alone takes roughly two days), nearly everyone who visits the Lost City finds it well worth it. Have one of our Colombian Heroes plan you a guided journey to this one-of-a-kind locale!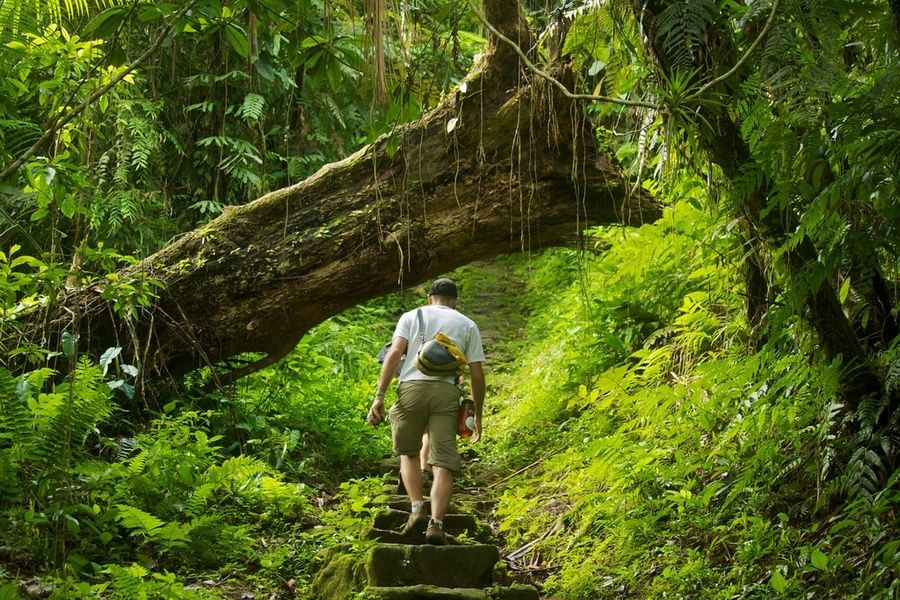 Day 5: Get your head in the cloud forest
If you're looking for an expedition you won't forget, you have to make your way down to Bogota. As Colombia's largest city is located high in the Andes, it offers easy access to some of Colombia's most magnificent highlights. With that in mind, head out to Chicaque Natural Park, only a 30-minute drive from Bogota, to experience the majesty of Colombia's cloud forest! Shrouded in a dense mist, these temperate forests are so thick with wildlife, they almost defy belief. Best of all, from Chicaque, intrepid travelers can experience this breathtaking wonder on foot, by horse, or even on a zip line!
Day 6: Unearth the unknown in the Amazon jungle
Whatever you do, you have to experience the Amazon rainforest. Located in the southernmost part of Colombia, the Amazon jungle accounts for much of Colombia's unparalleled biodiversity (the second-highest of any country in the world)! Let one of our trip planners book you a kayaking trip down the river to look for Pink Amazon River Dolphins, or a bird watching excursion in Leticia (Colombia's southernmost city)—or maybe even a night in a jungle eco-lodge! Whatever you choose, you simply have to put a trip to the Amazon on the itinerary for your Colombian adventure. To indulge in the richness of Colombia's wildlife, including endangered flora and fauna, the Amazon biome is a must.
Itinerary #2: The Relaxing Vacation
Your type of travel: You work hard but play harder. If you love relaxing and soaking up , this itinerary can't .
Day 1: Experience the wonder of Tayrona National Park
Santa Marta isn't the first city people usually put on their Colombian itineraries, but they definitely should! Perched on the northern end of Colombia's Caribbean shore, the port city of Santa Marta is where the Sierra Nevada de Santa Marta, the highest coastal mountains in the world, plunge dramatically into the sea. And just outside the city sits Tayrona National Park—often thought to be one of the most beautiful places in the world. Beautiful beaches, ancient coves, and lush forests make Tayrona a true emblem of Colombia's natural brilliance.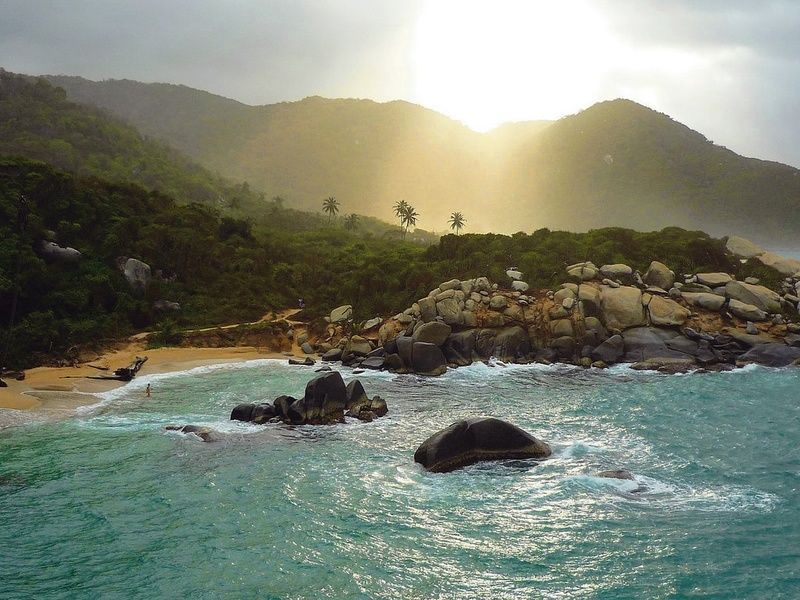 Day 2: Island hop in the Rosarios
If you're a beach bum, you already know the Caribbean city of Cartagena is one of the most beautiful locales in Colombia. And located just offshore, the Rosario Islands are no exception—overflowing with colorful coral reefs and beaches unspoiled by city crowds, these islands are an ideal destination to relax and recharge. If you're feeling energetic, these isles also have plenty of invigorating ventures like snorkeling, scuba diving, and boating—and like Cartagena itself, they're both fun and safe. To that end, the Rosario Islands are great for families and solo travelers alike, so make sure to stop by no matter who you're traveling with!
Day 3: Play on Playa Blanca and get messy in the mud bath
Since you're already in carefree Cartagena, you have to go to the most talked-about beach in the town—Playa Blanca! Not only is it one of the nicest beaches in Cartagena due to its clear waters and white sands it's also extremely affordable and easy to access from both land and sea. And once you're done with your third day soaking up the sun, head over to El Totumo Volcano, only 45 minutes from Cartagena, for one of the most unique Colombian excursions around. In this magical mineral mud bath, you can de-stress and detox in one of the oddest spa experiences you'll ever have. It's the quintessential finale to your soothing sabbatical!
Itinerary #3: The Elite Urban Experience
Your type of travel: Your enviable Instagram is filled with pictures of all the foreign countries you've visited. You like art, food, and educating yourself about different cultures. While you're not afraid to try that unusual local dish or explore the hidden gems, you still want to hit all of the main tourist spots—so this itinerary is for you!
Day 1: Arrive in hipster-fabulous Bogota
Bogota is safe, fun, and your cheapest option when flying into Colombia! Savor Bogota's culture by walking around La Candelaria—the Brooklyn of Colombia—to immerse yourself in the neighborhood's immaculate street art and culture. Afterward, head to a microbrewery to check out Bogota's booming beer business and try a delicious, regional craft beer. Once you're feeling the buzz, head off to play a game of tejo—a Bogota highlight that can't be missed—for a night of hurling metal pucks at gunpowder-filled targets!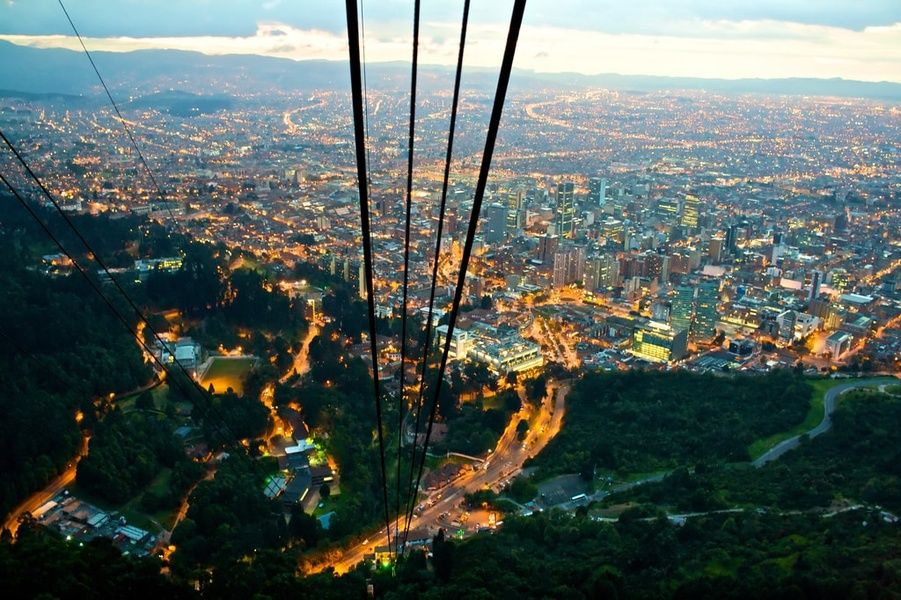 Day 2: Meander along in marvelous Medellin
Medellin is a city every sojourner needs to check off their bucket list. Colombia's "City of Eternal Spring", Medellin was named the Wall Street Journal's Most Innovative City in 2013 for its world-famous public transportation system and refurbished infrastructure. While it's hard to take in all of Medellin in just a few days, the city nevertheless can't be missed—especially the Parque Lleras neighborhood. Known for its vivacious nightlife, luxurious high-end restaurants, and fun shops, this area is one of the safest in Medellin even after sundown. Even if you're from a big city yourself, you'll definitely be in awe of all that Medellin has to offer.
Day 3: Get historical in Comuna 13
In the dark days of Escobar, Comuna 13 was known as one of the most dangerous neighborhoods in the world. Today, however, the barrio is turning itself around in spectacular fashion. Filled with striking murals of graffiti, polychromatic housing projects, and natives that give a face to Colombia's gritty history, Comuna 13 is one of the best places to visit in Colombia for anyone who wants a sense of the country's social history. After you're done seeing the legendary neighborhood, head to the city's historic El Centro district for museums and parks filled with art by Medellin's favorite son, Fernando Botero!
Ready to create your own personalized Colombia itinerary? Reach out to one of our Colombian travel experts or send us a message! And before your trip, make sure to check out: