Boasting pristinely preserved architecture, renowned street art, fantastic nightlife, and unparalleled cuisine, Bogota should be at the top of your travel bucket list! Read on for a whirlwind Bogota itinerary; once you do, feel free to message us with any questions you have about traveling to Colombia's stellar capital!
Want to make the most out of your trip? Tap into our network of local travel planners—Heroes—who build unique, locally-curated trip plans, designed just for you. Get started.
Table of Contents
Day 1: Settle in and hit the town!
Arrive and unpack your bags
Although there are many places to stay in Bogota, we'd recommend finding your way to the charming historic neighborhood of La Candelaria. The oldest neighborhood in Bogota, La Candelaria is a fascinating mix of old and new—cobblestone streets and brightly colored colonial buildings contrasted with modern street art and hipster eateries. If you're looking to explore the neighborhood, check out the nearby Chorro de Quevedo Plaza. Though smaller than the city's main Plaza de Bolivar, it's filled with street art and unique little cafes. One of our local travel experts can create a personalized walking map to take you straight there from your Airbnb. And if the jet lag starts to hit, grab a cup of tinto, Colombia's standard cup of joe, for a bit of a boost.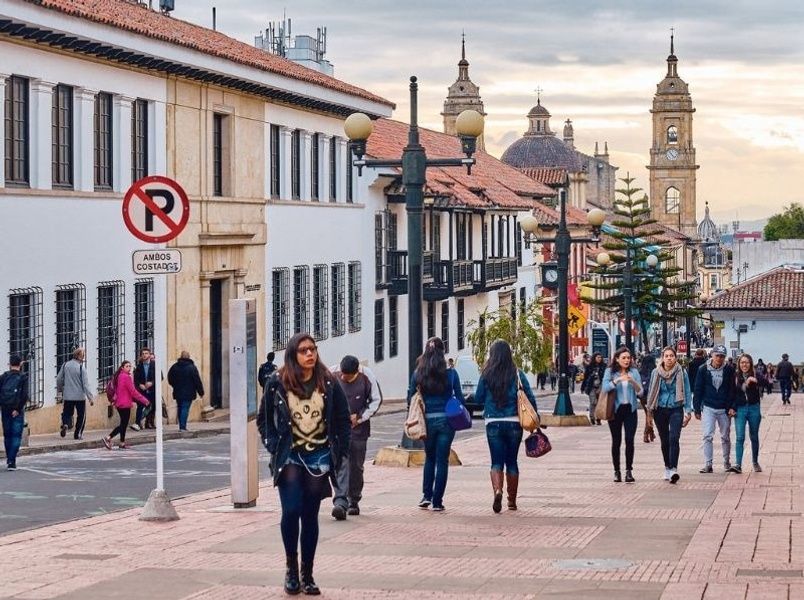 People watch in Plaza de Bolivar
Since you're already nearby, head over to Bogota's main square, Plaza de Bolivar. This central plaza houses a statue of revolutionary Simon Bolivar, symbolizing Colombia's rich history and hard-earned independence. There is always something going on in Plaza de Bolivar, and it's the perfect place to grab an empanada or tamale from one of the countless vendors and pop a squat to people-watch. If you're traveling to Bogota with kids, the square is definitely a family favorite! Between the children chasing pigeons and the overall whirlwind of activity, the plaza will definitely keep your imagination busy.
See the city sights on wheels
On Sundays, many of Bogota's avenues are closed to motor traffic in order to give bikers and runners free rein on the streets. If you're feeling adventurous, use the event—called ciclovía—to rent a bike and explore Bogota on wheels! If you need help finding a reliable bike rental, reach out to one of our local Heroes to hook you up. The city's grid-style streets make Bogota incredibly safe and easy to navigate; expect to see beautiful architecture, art vendors, and even people walking leashed llamas down the sidewalk (seriously)! Or, stop by one of the countless mom-and-pop shops selling local goods and get yourself a piece of Bogota to bring home with you.
Enjoy Bogota's art museums
By far Bogota's best-known gallery, the Gold Museum provides a beautiful glimpse into Colombia's history with numerous golden archeological finds and is well worth the pit stop. Free on Sundays and affordable every other day of the week, the Museo del Oro is home to over 55,000 stunning gold pieces. The museum also houses the stunning Muisca raft, the golden raft that inspired the Legend of El Dorado. If you're a modern art lover, the Botero Museum is a must-see. The museum primarily highlights the work of Fernando Botero, Colombia's most famous artist, but also features pieces by Picasso, Monet, and Renoir.
Embrace Bogota's fine dining
After all of your exploring, you're sure to be ready to dig into Colombia's delicious food. Bogota is internationally known for its culinary creativity, and Zona Rosa showcases Colombia's best of the best. Also known as the Zona T, this section of Southern Bogota offers top-tier restaurants and fantastic clubs. Your biggest worry in Zona Rosa is sure to be deciding which of the fabulous nightlife options suits you best, but thankfully, our local travel experts are always available to help you plan your night out! If you're looking to dance the night away, check out the expat-friendly club La Villa, known for its kick-ass DJs and trendy partygoers. Armando Records is another trendy club in Zona Rosa, complete with a rooftop view of the city and an abundance of drinks.
Day 2: Experience Bogota's fantastic art and culture
Brunch at a local cafe
You can't pass on embracing a classic Colombian breakfast. Stop at one of Bogota's innumerable cafes for your most important meal of the day, and be sure to try chocolate con queso. This delicious dish combines two of the finest things in life: chocolate and cheese. Follow the locals' lead and dip your fresh white cheese into a mug of frothy hot cocoa and enjoy! Our Heroes can tell you where to find the best chocolate con queso in town.
Explore Chapinero, Bogota's most up-and-coming neighborhood
Known for its diverse population and artistic vibes, Chapinero is a Bogota highlight you can't miss. Bogota's hipster center, Chapinero is teeming with unique cafes and restaurants, bars playing live Colombian music, and people just chilling out. It's also home to one of Bogota's centers of gastronomy, Zona-G, an area that offers numerous fine-dining options. While you're in the neighborhood, be sure to stop by Iglesia Nuestra Senora de Lourdes, a stunning church dating back to 1875. Boasting beautiful stained glass images and immaculately preserved Gothic architecture, you would be remiss to pass on experiencing this gorgeous cultural landmark. Reach out to our local travel experts to trace your route through Chapinero!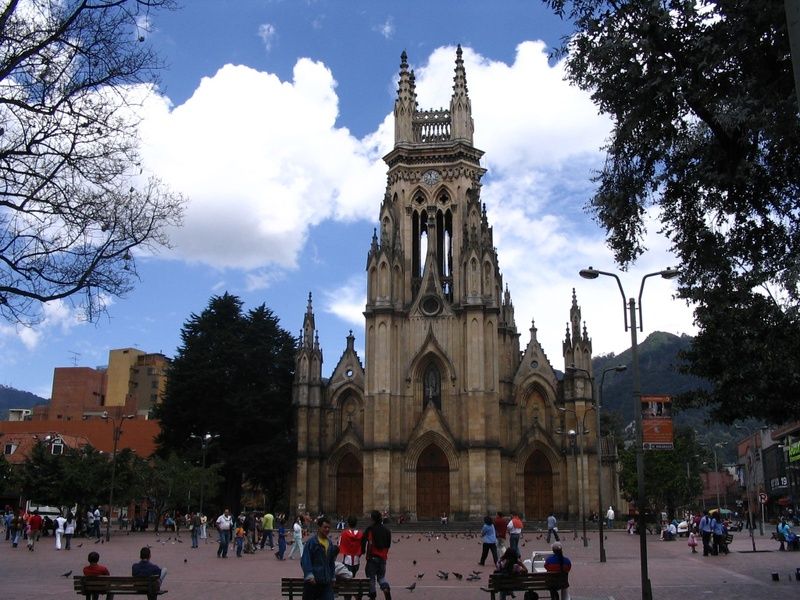 Dine like a Colombian
Whenever the midday hunger pangs start to kick in, duck into a cafe to try ajiaco, one of Bogota's local delicacies. A filling soup comprised of three different types of potatoes, chicken, avocado, corn, and cream, this hearty soup is delicious and extremely affordable, and one of our Heroes can point you to the best bowl in town. Or, if you're feeling adventurous, order a glass of chicha, a local corn-based alcoholic beverage. Once you've re-energized with these Colombian staples, dust off your walking shoes and continue exploring!
Snap a pic of Bogota's famed graffiti
Bogota's decriminalization of graffiti has given Colombian artists free of the streets. Murals and graffiti art now cover nearly every street corner in Bogota's up-and-coming neighborhoods of La Candelaria and Chapinero. Whether you're visiting Bogota alone or as part of a larger Colombian itinerary, you can't miss out on this beautiful art!
Stop by the arts and crafts market
If you're feeling inspired by Bogota's street art, make a pit stop at Mercado de San Pelayo, the local arts and crafts market. The market has the biggest selection of vendors but is open every day of the week. This is a great place to snag a few interesting souvenirs, or just embrace the local culture. While pickpockets do occasionally ply these markets, it's easy to stay safe in Bogota with just a little knowledge!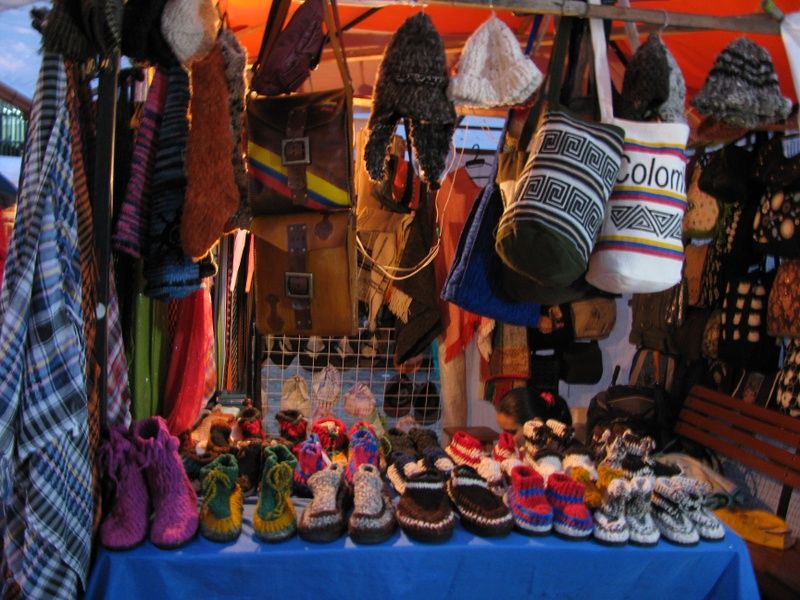 Get your hipster on at La Peluquería
Located in northern La Candelaria, La Peluquería is colorful hair salon, part art gallery, part cafe, and part entertainment venue—needless to say, it has something for every type of Colombia traveler. Don't be afraid to drop by!
Have a night out on the town
After freshening up from your daytime adventures, get ready to embrace Bogota's famed nightlife. Stick around Chapinero and party into the wee hours. Theatron, inspired by Chapinero's LGBTQ+ heritage, is one of the biggest gay clubs in the world and can accommodate up to 5,000 people on any given night! The tunes are always popping, the people are friendly, and there are always plenty of drinks to go around—so make sure your Hero incorporates a visit into your complete Colombia itinerary.
Day 3: Explore Bogota's natural gems
Grab breakfast like a local
Get up with the sun and grab yourself a breakfast arepa! Arepa, a corn-based cake stuffed with fillings like meat, cheese, or eggs, is a Colombian staple and a great way to kickstart your last day in Bogota. Or, for a deliciously gluttonous game, compare the arepas in Bogota with those in other Colombian cities—you'll find that they all have their own distinct regional variations!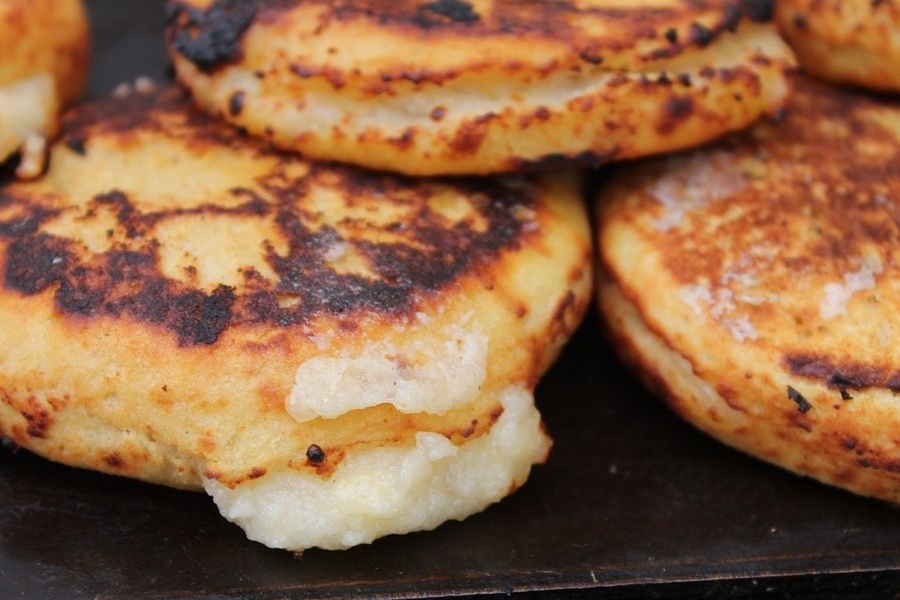 Take a pilgrimage up Monserrate—Bogota's neighborhood mountain
If you're looking to burn off the calories from your last few empanadas, consider hiking up Monserrate, Bogota's 10,000-foot tall neighborhood mountain. The hike is around a mile and a half, but the stunning views that await you at the top are well worth the trek! If you're not feeling up to the hike, you can also opt to ride the cable car up. Regardless of your means of transportation, the views from the top are breathtaking. The mountain also holds significant religious meaning as it houses "El Señor Caido," or the sacred statue of "The Fallen Lord." Once you reach the top, you can sip on a drink from one of the mountain-top restaurants—you've certainly earned it!
Take in the sights and smells of Jardin Botanico de Bogota

If your trek up the Monserrate has tired you out, stop by the largest botanical garden in Colombian and sit a spell! A sampling of Colombia's famed biodiversity, this botanical garden is particularly known for its stunning orchid but boasts plants and flowers from all regions of the country. Grab a drink and enjoy Colombia's natural gems in the shade.
Enjoy your Colombian last supper
Since you likely have an early flight out, take it easy at one of Bogota's many laid-back bars—our local travel experts would love to help you plan your night out! Be sure to savor every bite of your last local Colombian meal—you're sure to be craving it soon!
Have more questions about traveling to Colombia? Here's a list of our local Colombian travel experts who can help you, or you can message us any questions you have. And before your trip, make sure to check out: