Soft sand, clear water, fragrant flowers, and delicious seafood might be the first things that spring to mind when thinking of Cartagena. But you know what they say about preconceived notions… sometimes they're spot-on! All jokes aside, it's no secret that Cartagena is the jewel in Colombia's crown, and for good reason. Read on to learn all about the 7 highlights of this incredible paradise that you absolutely cannot miss. Once you do, feel free to contact us with any questions you still have about traveling to Cartagena!
Want to make the most out of your trip? Tap into our network of local travel planners—Heroes—who build unique, locally-curated trip plans, designed just for you. Get started.
Table of Contents
Highlight #1: The Walled City
Ok, ok—we know that the Walled City isn't exactly a hidden gem, but hear us out! If you haven't seen it for yourself, it would be almost criminal to relegate Cartagena's Old Town to any position other than highlight #1. Walking through Old Town is an experience unlike anything else—you feel as if you're truly stepping back in time, and not only because of the immaculately-preserved 17th- and 18th-century architecture. The labyrinthine cobblestone streets, shockingly bright colors, fragrant flowers, abundant music, and lazy outdoor cafes surround you and—all cliches aside—pull you in. Many travelers describe their customized Cartagena excursions as "dreamy" experiences, and we couldn't agree more.

Highlight #2: The beaches
There's a reason that Cartagena is known for its beaches— because they're bonkers phenomenal. In fact, Cartagena boasts over 19 km of beachfront in the metro area alone! And while the city's most centrally-located and traveler-friendly beach, Bocagrande, is undisputedly awesome, its location (just outside of Old Town) can also be a drawback—it's often crowded, and not as pristine as the city's other. To that end, for the beach experience of a lifetime, you can't miss the white sands at Playa Blanca or a trip to one of Cartagena's unbelievably beautiful and unspoiled outlying islands. Connected to the city by a maze of gorgeous mangrove swamps and ocean channels, the Rosario Islands and Tierra Bomba are just a short boat ride away from the mainland (one of our Heroes can plan and reserve your trip out and back) and offer some of the most beautiful sands and waters to be found anywhere in the world.
Highlight #3: Getsemani (Cartagena's hipster hangout)
Like so much of the country, Getsemani has undergone a renaissance in recent years. And as is the case with Colombia as a whole, what was once unsavory has become safe. Formerly a haven for crime, this district is now Cartagena's cultural center—beautiful street art lines its buildings, restaurants, and cafes populate its storefronts, and at night, the city's youths flood to its bars, clubs, and impromptu street concerts. Although certain areas can still be sketchy after nightfall, staying safe in Cartagena is easy with just a little knowledge and some common sense—so make sure that one of our Colombian travel experts plans plenty of activities in this happening hipster haven.
Highlight #4: San Diego (the ultimate bohemian beach barrio)
If Getsemani is Cartagena's hipster hangout, San Diego is its bohemian barrio. Located just outside of Old Town, this Colombian highlight is packed with trees, sleepy plazas, and brightly-colored buildings. Home to the University of Fine Arts, the neighborhood also takes the city's lion's share of artists—and all the boho bars, fantastic restaurants, and adorable stores that come with them. While exploring San Diego, make sure not to miss La Bovedas, a craft market located in a former jail just under Cartagena's city walls. Your Hero can make you a custom offline map that'll take you right where you need to go!
Highlight #5: Castillo de San Felipe
Again, we couldn't include Castillo de San Felipe on a list of Cartagena highlights—because of the parlance of our times, it's a truly "baller" locale. Build in the 17th century to defend Cartagena against pirates (!), this stonework fort is something straight out of Pirates of the Caribbean. Antique cannons, incredible views of the city, and a beautiful lookout over the shimmering Caribbean are just a few reasons you can't miss this historical marvel. For what may very well be the greatest sunset you'll ever see, perch yourself atop Castillo de San Felipe's walls and watch the sun turn the Caribbean's sparkling waters aflame with light. Don't worry—the fort is only a ten-minute Uber from Old Town, and it's perfectly safe after dark.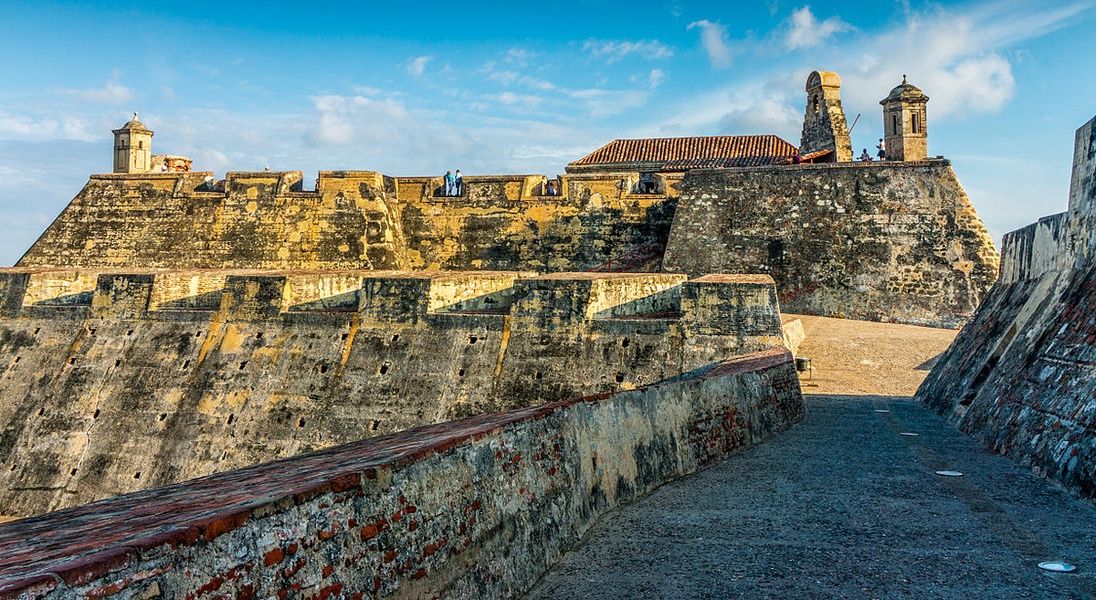 Highlight #6: The food
Although Colombia is known for its incredible food, Cartagena takes culinary excellence to the next level. Given its oceanside location, one might expect that Cartagena to boast delicious seafood—and the city does not disappoint. Local favorites like (fried red snapper) and fritanga (fried finger food, usually mixed meats) are served at nearly every cafe—and since every restaurant in town claims to have the best around, ask your Hero for a local's recommendation. And if fresh fish is your jam, skip the cooking entirely and chow down on Cartagena's legendary ceviches. Suffice to say, when absurdly fresh fish meets lime juice and spice, magical things happen.
Highlight #7: The people
What can one say about Colombia's incredible culture that hasn't already been said? Besides being beloved by just about every type of traveler, locals in Cartagena are known for their joie de vivre and kindness. As in beach towns everywhere, life moves at a slower pace in Cartagena than in Colombia's other cities, so take your time—chat with a stranger in an Old Town cafe, make new friends partying in Getsemani, or mingle with the locals in a San Diego plaza—you absolutely won't regret it. Whether you're flying solo or traveling with family, a trip to see Cartagena's highlights absolutely can't be missed.
Have any questions about traveling to Cartagena? Contact us or reach out to one of our local trip planners to create your own personalized Cartagena itinerary! And before your trip, make sure to check out: