Colombia's luscious cloud forests are beyond unique. Misty, cool, and brimming with both plants and wildlife, these jungles are a haven for nature lovers. To step from the city straight into this wonderland of natural riches, look no further than Chicaque Natural Park. Just outside of Bogota, this massive park is home to one of Colombia's most pristine cloud forests—and all the wonders that accompany it. Keep reading for everything you need to know about Chicaque and why a stop in this gorgeous natural gem should be a part of any Colombia itinerary! Once you do, feel free to message us with any questions whatsoever.
Want to make the most out of your trip? Tap into our network of local travel planners—Heroes—who build unique, locally-curated trip plans, designed just for you. Get started.
Table of Contents
Chicaque is incredibly accessible
Between its gorgeous street art and rich cultural heritage, there is no doubt that Bogota is one of the best places to visit in Colombia. And best of all it's less than an hour from Chicaque Natural Park by car or public transportation!
The cloud forest is unlike anything you've ever seen
Formed by a remarkable cocktail of warm and cold air at high altitudes, cloud forests are temperate, primordial jungles often blanketed in a thick shroud of fog. All this moisture lends itself to some of the most incredible biodiversity of plants, animals, and insects found anywhere in the world.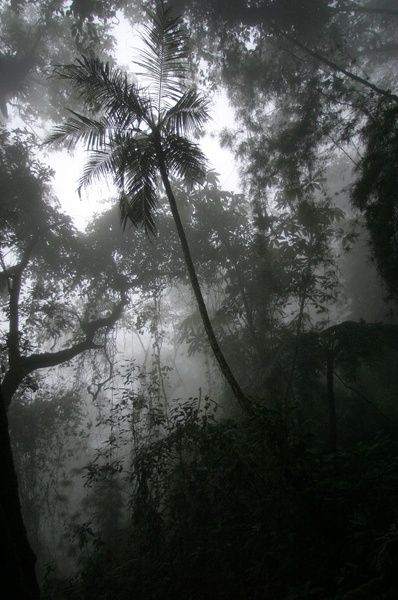 Chicaque is an Eden for wildlife
As home to dozens of species of mammals and over 300 species of birds, Chicaque is an absolute wonderland for wildlife! Explore the park on foot or horseback—you might just catch a glimpse of an adorable two-toed sloth, or even an endangered spectacled bear!
The hiking is second to none
Come ready to hike! Chicaque boasts over 20 kilometers of hiking trails on 8 different routes through the cloud forest, at varying levels of difficulty. These trails give travelers the opportunity to experience first-hand Colombia's diverse natural phenomena and see stunning views of the surrounding cloud forests. The paths are clearly marked and very well maintained, making hiking through Chicaque a very straightforward and unique Colombian experience!
Chicaque offers a plethora of relaxation options
Although there are lots of things to do in Bogota, constant touring can get tiring; to that end, Chicaque is a great day trip destination if you're hoping to escape the city for the afternoon and unwind. Spend your day napping in a hammock and sipping a cup famed Colombian coffee at Arboloco Restaurant, located within the park itself!
The zipline is world-famous
If you're looking for an incredibly unique way to explore the Colombian cloud forest, consider checking out the zipline! Reaching 325 feet in the air, Chicaque's zipline is a fun and exciting way to see the jungle. Over a thousand feet long, the line provides breathtaking views; suffice to say, this is a unique Colombian activity you can't miss!
Explore the park on horseback
If you're tired of hiking, hop on a horse! Chicaque offers visitors the unique opportunity to explore the park on horseback—so spare yourself the sore feet and ride up the mountains the old-fashioned way. Any one of our local Heroes would be happy to arrange your cavalry cruise through the clouds.
Spend the night right in the park
There are numerous housing options if you're hoping to spend the night in Chicaque. If you're feeling adventurous, there are two campsites available for travelers—however, you'd be remiss not to take advantage of the eco-lodge of El Refugio. Located in the middle of the forest, El Refugio boasts lodging, a restaurant, and amenities such as electricity, water, and TV.
El Refugio offers some of the most incredible lodging options around
For a more intimate experience, there are cabins in the El Refugio complex that are both quiet and exciting, being nestled within in the forest itself. But for the most unique lodging option possible, El Refugio's treetop "nests" can't be beaten. These two nests, one basic and one luxurious, offer one-of-a-kind opportunities to sleep in the treetops of the Colombian cloud forest itself. As all of Chicaque's lodging options provide travelers with meals and trail equipment, there's no denying that a night in the park is one of the most incredible experiences to be had in Colombia.
Bring the whole family
With lots of hiking, opportunities to spot fun animals and birds, and great accommodations, Chicaque is a great place to bring the whole family. Chicaque, like the rest of Colombia, is perfectly safe for families and gives kids the chance to learn about biodiversity firsthand. The best hiking trails for kids are the trails to El Refugio, as well as the Oak Forest Trail. It goes without saying that Chicaque offers activities that kids will never forget; the Chicaque canopy, for instance, is a treehouse built into a 200-year-old oak tree that offers great views of the forest!
There are a few things to keep in mind when visiting
If you're going to visit Chicaque, there are a few things to keep in mind. The park accepts visitors between the hours of 8 and 3, but it's best to go as early as possible to make the most of your time. The average temperature is 60°F, so it's best to dress in layers since the weather can vary greatly. And of course, with over 20 kilometers of hiking trails, you definitely want to bring good walking shoes! There are various restaurants scattered around the park where you can pick up snacks and water, as well as full meals, but it's never a bad idea to pack a sack lunch. Have more questions about Chicaque Natural Park? Ask one of our Colombian travel experts!
How to get to Chicaque
Located only 35 km south of Bogota, Chicaque is incredibly accessible. The ride from Bogota to Chicaque takes anywhere from half an hour to an hour and a half and is well worth the trip. There are a few options to get to Chicaque. Visitors can take advantage of the park's Chicaque Express, a shuttle that runs on the weekends from southern Bogota's Transmilenio station to the entrance of Chicaque. Alternately, one can hire the shuttle during the week (though it's slightly more expensive). Uber is always a good option in Colombia, and if you need help figuring out the best way to navigate your way to Chicaque, reach out to one of our Heroes to start planning your trip!
Have more questions about Chicaque? Here's a list of our local Colombian travel experts who can help you, or you can message us any questions you have. And Before your trip, make sure to check out: