Bogota, Medellin, Cartagena, Cali, and Barranquilla are five of our favorite cities to visit in Colombia. Each one has a distinct vibe, great things to do, amazing stuff to eat, and excellent nightlife.
Go beyond the guidebook and connect with a local to plan your trip. No matter which city you choose, they'll design an itinerary that introduces you to a new side of Colombia—the one that most tourists miss. Plus, working with one of our locals means you'll save an average of $345 and 18 hours of trip planning. Learn more.
Cities to Visit in Colombia
#1: Bogota: Where history meets hipster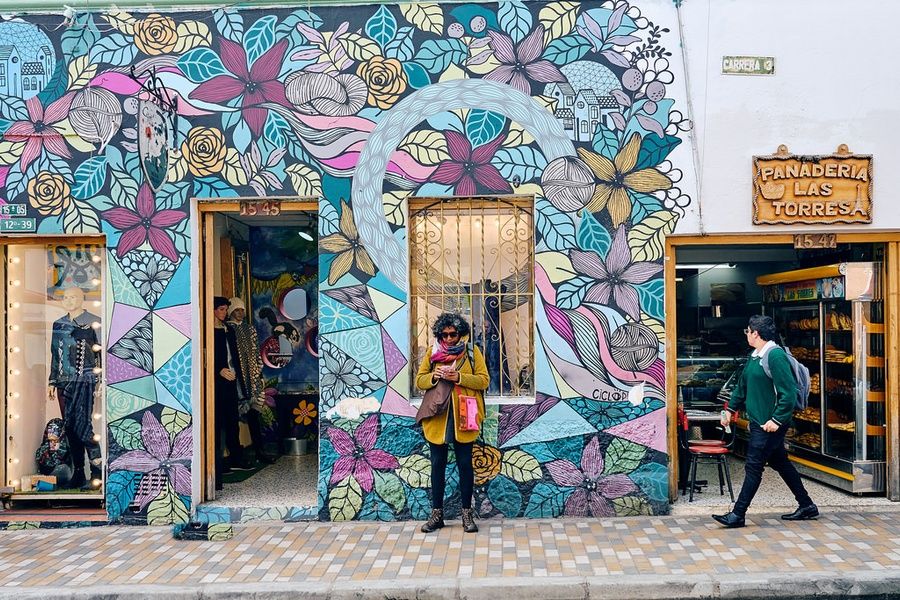 As Colombia's capital and largest city, Bogota represents a dynamic mix of colorful street art, local breweries, incredible museums, and distinct neighborhoods. Whether you want to spend three days in Bogota or much longer, you won't run out of things to do! Plus, as a well-traveled and well-loved destination in Colombia, Bogota is safe to visit.
Things to do in Bogota
Top activities include visiting some of the city's stellar museums (like the Gold Museum) and signing up for a graffiti tour. Solid! Because Bogota has so much to do, we definitely recommend using local advice to build your Colombia itinerary. Our trip planners in Colombia can help out!
For travelers aiming to go deeper than the top 10 lists, see what the locals say about must-dos in Bogota. One of our Colombian locals recently recommended checking out the hip neighborhood of Candelaria, where you'll find awesome street art, cool museums (locals say Museo Botero is muy interesante), and plenty of great bars, restaurants, and cafes.
What to eat and drink in Bogota
In our opinion, Bogota's delicious cuisine makes it one of the best places to visit in Colombia. Locals tell us a good way of eating your way through the city is booking a food tour—one of our local trip planners suggested "Beyond Colombia", which is free! The tour introduces visitors to Colombian food and the history behind it. You'll snack on traditional dishes like empanadas, ajiaco, obleas, and even Colombian coffee.
Local tip: Don't miss out on Bogota's beer scene. The Bogota Beer Company is a great stop for local brews—and a fun way to spend the night out.
Bogota Nightlife
Night owls love Bogota—it's one of the world's party capitals! No matter your going-out style, locals can suggest activities that fit how *you* like to party. Recent guidebooks created by our Colombian locals have included grabbing a microbrew in Chapinero Alto and hitting up disco clubs in Zona T.
#2: Medellin: A hub for Colombia's students and art-lovers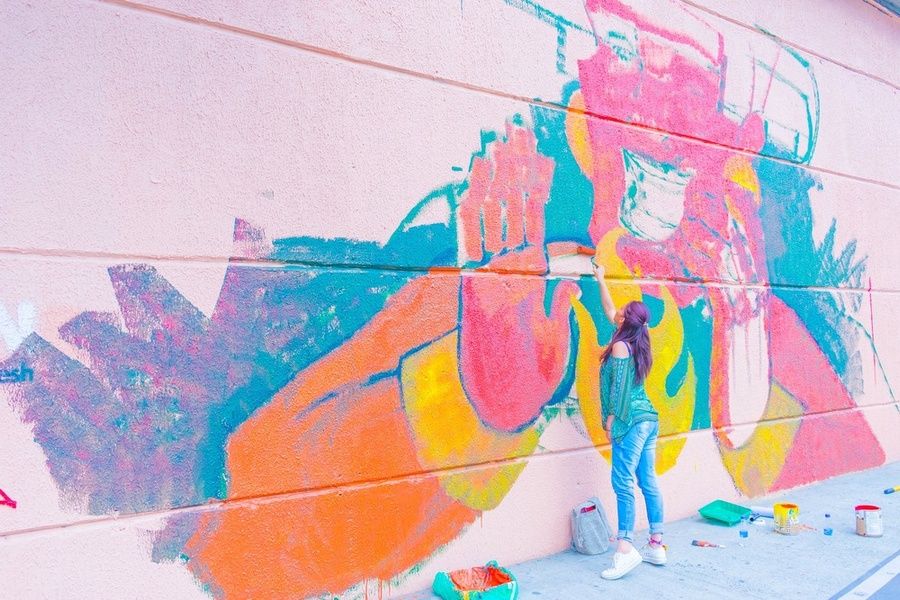 Known as the "City of Eternal Spring", Medellin is perched high among the Andes and is home to over a dozen universities—beautiful and smart, it's definitely one of our favorite places to visit in Colombia. We aren't alone in our adoration for Medellin: the city was named The World Most's Innovative City in 2013, received the Lee Kuan Yew World City Prize for urban development in 2016, and its transportation system was lauded as one of the best in the world in 2012.
Things to do in Medellin
At ViaHero, we believe in using local advice to build personalized trips. Our locals in Colombia can help you to design an itinerary for Medellin that fits how you like to travel. Lately, guidebooks created by our local trip planners have included diverse activities like signing up for a salsa dancing class, going to a flower festival in nearby Santa Elena, and taking a tour through Comuna 13—once considered Medellin's most dangerous neighborhood, the area now thrives as a spot for incredible street art, food, and music.
Local tip: Check out the amazing Museo de Antioquia. Founded in the late 19th-century, it's a great way to understand Colombia's history.
What to eat and drink in Medellin
Like Bogota, Medellin has a thriving craft beer scene, and getting local advice is a great way to decide which place to hit up first. One of our local trip planners recommended checking out Tres Cordilleras, the first craft brewery in the city. This local recommends taking the tour, which (for $10 USD), includes 5 beer tasting tokens and a chance to listen to a live band, saying: "This is one of my favorite nights out in Medellin."
Plus, Medellin is home to some of South America's best restaurants! (So you won't lack in good food or beer.) One of our Colombian locals added their favorite place (Mondongo) to a recent guidebook, noting that the restaurant is "packed with locals. For good reason. They serve traditional Colombian cuisine."
Local tip: Definitely try bandeja paisa—a platter of rice, beans, three kinds of meat, fried eggs, ripe plantains, and avocado.
Medellin Nightlife
An incredible week in Colombia should definitely include enjoying Medellin's nightlife. No matter what you do—whether you prefer salsa dancing or rocking to techno music at a nightclub—locals suggest you try aguardiente, an anise-flavored liqueur (tastes like black licorice). Won't be for everyone, but when in Rome...
#3. Cartagena: Idyllic beaches and incredible history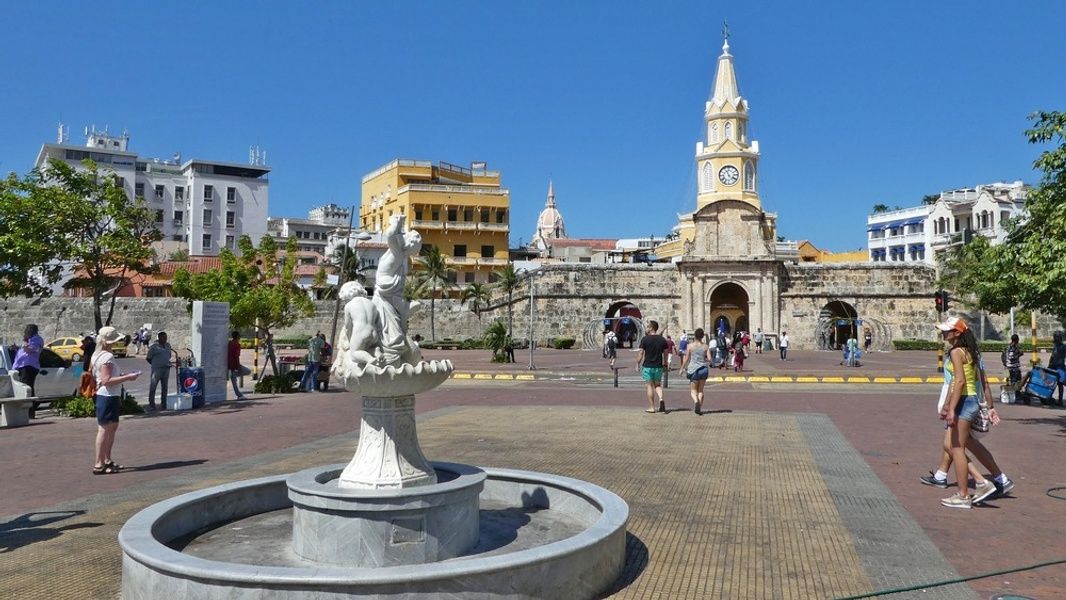 Located on Colombia's northern coast, Cartagena embodies Caribbean paradise. The city's idyllic beaches border the walls of its well-preserved Old Town, where you'll find miles of cobblestone streets, stunning Spanish colonial architecture, and flower-covered balconies. World-famous resorts, nightclubs, and coral reefs complete Cartagena's picture of Caribbean perfection. Once a refuge for freed slaves, Cartagena is warm and joyful, with strong Afro-Caribbean influences.
Things to do in Cartagena
Cartagena is great because it appeals to all different types—history buffs will adore Cartagena's Old Town, beach lovers will dig the shore and surrounding islands, and foodies will go wild for Cartagena's fantastic array of seafood restaurants.
Take advantage of local advice for a trip that matches your travel style. Recently, our local trip planners have designed trips that include tours to Palenque (the first village founded by escaped slaves), a catamaran tour to the Rosario Islands, and a suggestion to explore Bazurto Market. They can design an amazing Cartagena itinerary for you, too!
What to eat and drink in Cartagena
Cartagena is known for its incredible seafood. Don't leave without trying pargo frito (fried whole red snapper) or ceviches made with octopus, shrimp, and whitefish. For good seafood, one of our trip planners suggested lunch at La Casa de Socorro, where they recommend the sancocho de pargo, or fish stew. Another advices checking out the octopus carpaccio at Henry Sasson. We told you—locals have excellent suggestions, and we can connect you with one who can design a custom guidebook full of them.
Cartagena Nightlife
Cartagena may lack the abundance of nightclubs of Bogota and Medellin, but the city can still boast an incredible nightlife scene. This is the beach, after all, so we have one word for you: RUM. One of our local trip planners suggests checking out El Arsenal Rum Box, which has the largest collection of rum in Cartagena. There, you can enjoy shots of local rum paired with chocolate. In other words...paradise!
Local tip: Cartagena is safe, although some places can get sketchy at night (like in most big cities). Locals can talk you through navigating the city safely.
#4. Cali: An up-and-coming city known for salsa dancing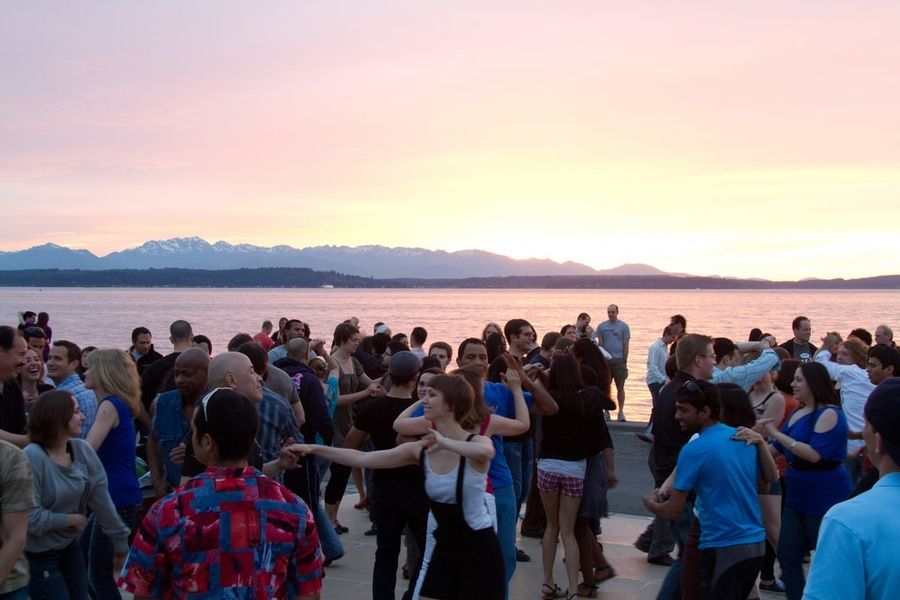 Cali is still recovering from issues of the 1980s and 1990s, which means that safety in Cali is more of a concern in Bogota or Medellin. (Check out our article on how to stay safe in Colombia for more on this).
That being said, Cali's charms are undeniable. As the world capital of salsa dancing, Cali boasts countless salsa bars, mostly in its beloved Juanchito neighborhood. Other cultural attractions include the Gato de Rio, a three-ton bronze cat sculpture on the bank of the Cali River, and Cristo Rey, an 85-foot statue of Jesus Christ overlooking the city.
Things to do in Cali
Cali may not have the population of Bogota or Medellin, but it offers an exciting variety of activities. Locals recommend checking out Cali's impressive zoo (Zoologico de Cali) or one of the city's incredible museums. Both Museo del Oro Calima del Banco de la República (Gold Museum) and Museo de Salsa Jairo Varela (Museum of Salsa) get high ratings from our locals.
What to eat and drink in Cali
Cali has a unique cuisine style that we love exploring—from lulada (mashed lulo fruit mixed with ice, sugar, lime juice, and water) to pandebono (bread made with cornflour, cassava, and eggs stuffed with cheese), you'll find tons of incredible local dishes to try.
As to where to eat in Cali? You'll have a lot of options, so this is a good spot to get some local tips. In recent guidebooks, our Colombia trip planners have suggested Amelia Cafe for incredible BBQ and Zaguan de San Antonio for traditional Colombian dishes.
Cali Nightlife
Like we said, the name of the game in Cali is salsa. Obviously, our Cali locals know where it's at when it comes to amazing salsa dancing. They've recommended places like Tin Tin Teo Taberna and La Topa Tolondra for a night full of salsa and music. If you're looking to mix it up, definitely reach out—general guidebooks may steer people toward salsa, but there's a lot to do in Cali at night. Also, heads up: overall Cali is safe—but there are things to know. (Check out our article on tourism safety in Colombia for more.)
#5. Barranquilla: A gem of Colombia's north coast and home to Carnival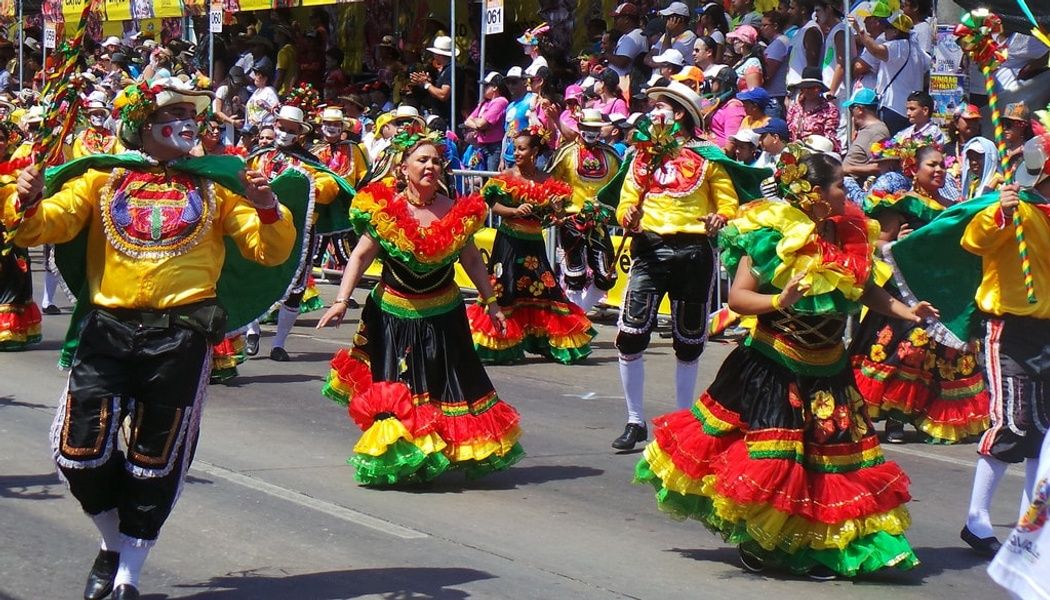 Known as Colombia's Golden Gate, Barranquilla is a hub for trade and a city full of proud locals. Here, the main draw is Carnival, a four-day fiesta of parades, live music, drinking, and dancing. And the celebration isn't just for travelers—locals pour in from all over the country to celebrate too!
Although Barranquilla's reputation for safety may not be as good as that of Bogota or Cartagena, the city—like the rest of Colombia—is on an unprecedented upswing.
Things to do in Barranquilla
Carnival is fun, but you'll find a lot more things to do in Barranquilla than just partying for four days straight. From exploring Barranquilla's rad museums (we love El Museo del Caribe) or simply indulging in Barranquilla beach life, it's easy to fill the days here. Since Barranquilla is somewhat off the beaten path, it's also a great place to get some local insight.
What to eat and drink in Barranquilla
Barranquilla's cuisine includes delicious seafood, flaky pastries, and pungent citrus flavors. Some must-try dishes include fried, freshly-caught catfish, rice with chipi chipi (small boiled clams), and butifarra (spicy sausage). Our local trip planners (of course) have tons and tons of restaurant suggestions in Barranquilla, including Narcobollo: a hole-in-the-wall that serves traditional Colombian food.
Barranquilla Nightlife
Even if you miss Carnival, you'll find that Barranquilla has a healthy nightlife scene. Locals tell us that two of the most fun neighborhoods at night are El Centro and Alta de Prado, where you can find lots of great bars and clubs.
--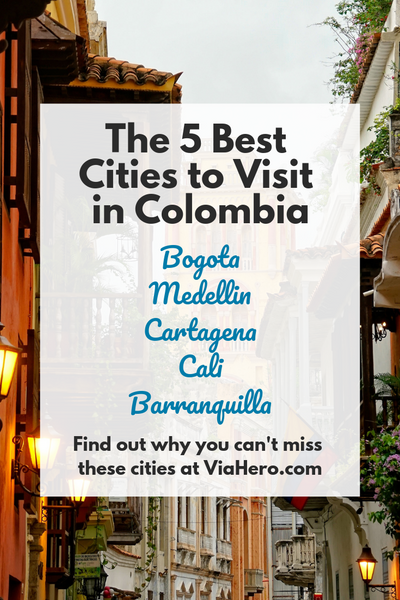 And for more about Colombia travel check out our articles on: