There are so many outstanding things to see and do in Colombia, it's hard to know where to begin. Whether you're into foodie experiences, breathtaking nature, or journeying your way through big cities, Colombia has it all. So here's a nifty guide to Colombia's most stellar highlights; after reading, don't hesitate to message us any questions you may have!
Want to make the most out of your trip? Tap into our network of local travel planners—Heroes—who build unique, locally-curated trip plans, designed just for you. Get started.
Table of Contents
Highlight #1: Nature
Colombia's cloud forests are like nothing you've ever experienced
Even if you've seen a rainforest before, you've never seen anything like a Colombian cloud forest. High in the mountains, these incredible jungles are engulfed in a fog so thick you could almost cut it with a knife. Reverberating with a cacophony of bird calls, alive with the movements of animals in all directions, and heavy with the wet smell of the primordial jungle—all seemingly just out of sight in the dense soupy mist—the cloud forest is a magical place where time seems to stand still. You can find these mystical mountains in several locations throughout the country, but the most convenient forests for a hike are just a short trip outside of Bogota.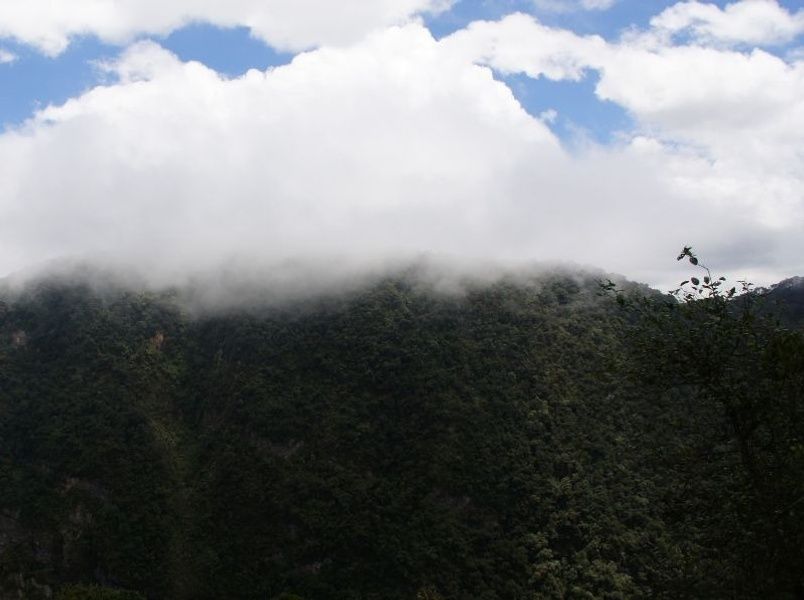 The Amazon is pure magic
Fun fact: did you know that Colombia is home to the second-highest level of biodiversity on the planet? Much of what accounts for Colombia's huge variety of flora and fauna is located in its Amazon rainforest. To that end, a trip to the Amazon is a highlight that can not be missed. You'll be immersed in a jungle so lush it almost defies belief, surrounded by a symphony of exotic birdsong. It's easy to boat down the Amazon river from Leticia, Colombia's southernmost city; from there, you can fish for piranhas, visit the manatee rescue center, or swim with pink Amazon river dolphins. If you're not quite ready to take on the Amazon by yourself, don't worry! There are a plethora of services that provide accommodations, transportation, and informative tours through the Amazon's beating heart. To get started on planning your Amazonian adventure, choose a local Colombian trip planner to create your custom travel itinerary!
Colombia's Caribbean coast has only one rival: its Pacific coast
If crystal clear water, soft sand, and lounging in the sun sound good to you, you'll be more than pleased taking a visit to one of Colombia's innumerable beaches. Perhaps you're the type to nap on a chaise lounge, drink in hand, overlooking the Caribbean Sea; or maybe, you'd rather explore one of the rugged, sparsely populated, jungle-bordered beaches that line Colombia's Pacific coast. Regardless of your preferences, you'll have no trouble finding an incredible beach to experience in Colombia. To decide which Colombian beach destination is best for you, to chat with one of our Heroes about your travel style and preferences.
Highlight #2: Unique sights and experiences
The Totumo Volcano is not what you think
Don't jump to any conclusions quite yet, as the Totumo Volcano is most likely not what you're thinking. In fact, the Totumo Volcano is often referred to as the "Cartagena Mud Volcano", and is actually known for its therapeutic mud pool! Locals and travelers alike journey from far and wide to take a dip in the muddy mixture of body-benefiting minerals before rinsing off in the nearby river. Just 45 minutes outside of Cartagena, this is a unique day trip that's sure to provide a spa experience you can't get anywhere else.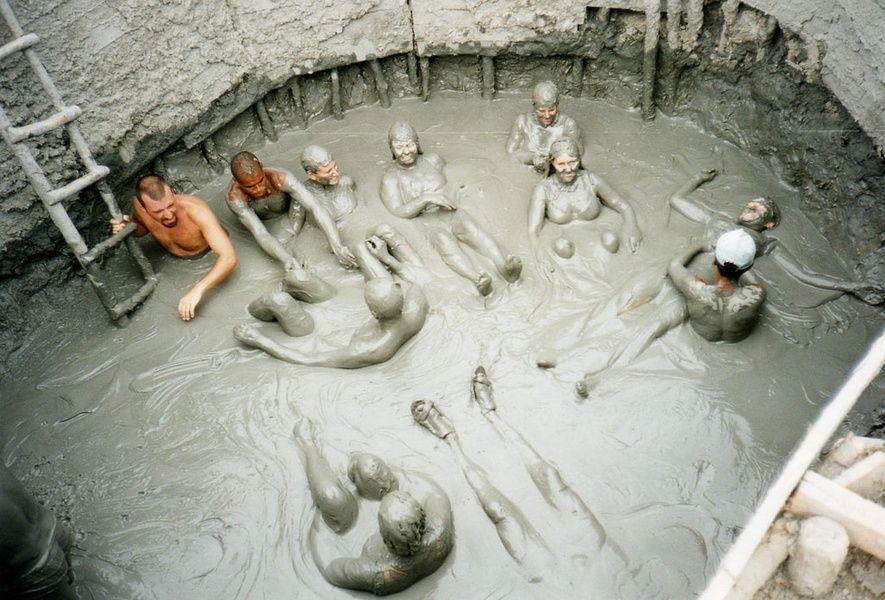 Chicamocha National Park is an incredible experience
Chicamocha National Park may look a bit different than the national parks that you're used to, but you're sure to be amazed all the same. Ziplining, paragliding, and canoeing are just a few of the many activities that Chicamocha has to offer, not to mention a cable car that ranks as one of the longest aerial tramways in the world! Located just 30 miles outside the fantastically-named city of Bucaramanga, Chicamocha National Park is a trip in and of itself—and a marvelous way to see the Colombian countryside.
Live out your Indiana Jones fantasies at The Lost City of Teyuna
For all of the adventure seekers out there, the Lost City (traditionally known as Teyuna) the is the ultimate bucket list excursion. Although not discovered until 1972, the Lost City is believed to have been built by the Tayrona civilization over 1200 years ago—600 years earlier than Machu Picchu! Not only are the ruins themselves beautiful, but the 28-mile round-trip trek through the wilderness will transport you into a forest world all its own. This expedition isn't for the faint of heart, but for those who enjoy camping, jungle explorations, and historical gems, the Lost City is the place to go. Talk to one of our Colombian travel experts to plan your trip to these incredible ruins.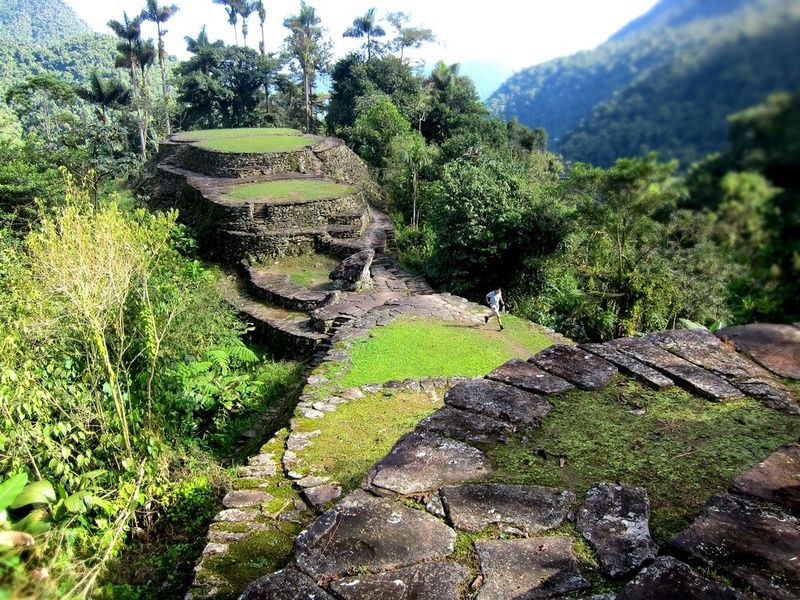 The Salt Cathedral of Zipaquira
A Roman Catholic church built 650 feet below ground in the tunnels of a real salt mine, the Salt Cathedral of Zipaquira is a true architectural marvel. Unique religious symbols are carved from the walls themselves, while the church's furniture is chiseled directly out of the mine's halite rock. Marble sculptures and majestic lighting complete the incredible scene, which absolutely shouldn't be missed. Located close to Bogota, the Salt Cathedral is sure to make for a magnificent afternoon outing. To learn more about the Salt Cathedral, check out a Colombia travel itinerary or chat with your personal Hero.
Highlight #3: Coffee
Colombian coffee is delicious—and everywhere
If you're used to navigating the extensive menu at Starbucks, then you'll have no trouble with Colombia's simple, scrumptious brew. The most popular type of coffee in Colombia is tinto, a strong, thick black coffee sweetened with unprocessed sugar. Ubiquitous throughout the country, tinto can be found everywhere and anywhere regardless of the time of day (or night)—and at only 20 cents per cup on average, tinto is the budget brew beloved by the masses. If you prefer milk in your coffee, however, order a cortado, which is half tinto and half milk. Or, if you're a latte lover, be sure to ask for café con leche—a strong shot of espresso mixed with a warm cup of milk. All of this to say, if you love caffeine, you will love Colombia.
Coffee plantations are absolutely incredible
Coffee isn't just a beverage in Colombia—it's a way of life. As one of the top exporters of coffee in the world, Colombia's economic lifeblood is tied to the bean. To that end, the countryside is packed with coffee plantations—many of which offer excellent tours and accommodation. A tour of one of these farms is a great way to learn about the process of coffee creation from bean to cup, and also lends valuable insight into the life of the average Colombian coffee farmer. Additionally, many tours offer coffee tastings that provide a caffeinated treat for the senses. Read on to learn more about coffee excursions; or, to include a specific tour or tasting into your trip, reach out to your Hero for recommendations!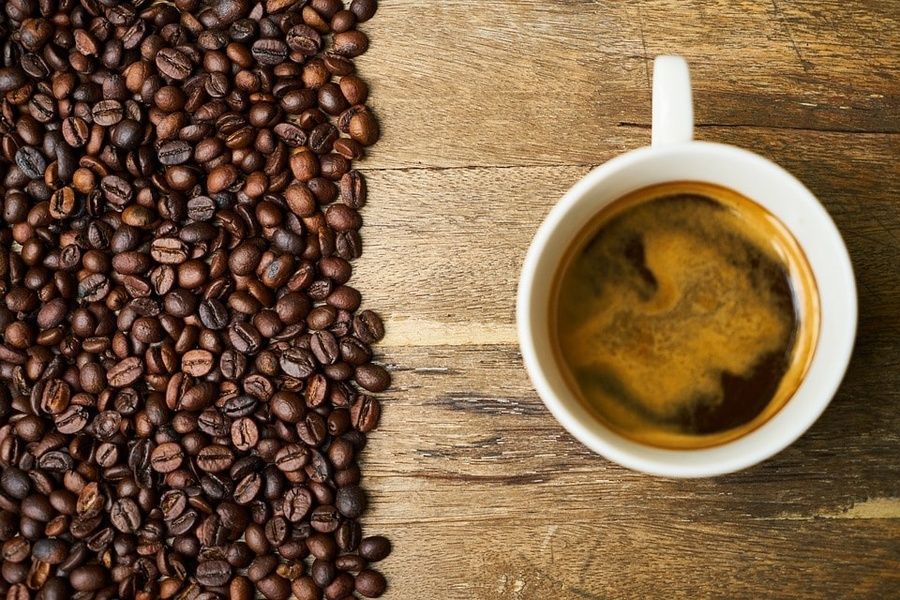 Highlight #4: Eats and treats
Colombian food is seriously underrated
Colombian food is packed with flavor and rich in regional variety. One of the most popular stapes is arepa, a baked or fried crispy-fluffy-dense patty made from cornmeal. Arepas can be served by themselves, stuffed with fillings, or as a side dish to nearly any Colombian meal. A soul-warming soup with a Bogota twist is delicious and beloved by locals and travelers alike. Similarly beloved is paisa, Colombia's national dish. While the composition of this meal differs depending on region, its base ingredients are always the same—rice, beans, sausage, plantain, and egg (just to name a few). Read more about Colombian cuisine by region via this Colombia travel itinerary, and don't hesitate to contact your Hero with any questions you might have!
Decadent desserts await you
You can't visit Colombia without indulging in a few amazing Latin sweets. On a hot day, a salpicón de is sure to hit the spot, as this delightful fruit cocktail is often served with ice cream or whipped topping. Or, if caramel is your sweet of choice, you have to try —essentially Colombian dulce de leche. One of the most beloved ways to serve this caramel deliciousness is on a saltine cracker—a perfect combination of sweet and salty. And for a Colombian twist on classic flan, be sure to order flan de coco, the original favorite with a splash of fresh coconut.
Colombia is a growing gastronomic capital
Though Colombia's regional food is fantastic, the country is also undergoing a culinary renaissance. For flawless food and an amazing view, be sure to eat at Cartagena's Carmen. This ocean-front eatery is known for its decadent drinks and divine seafood dishes, and actually won a Wine Spectator Restaurant Award in 2017! Or, if you find yourself in Bogota, stop by LEO, where local ingredients meet cookery. In the case of dietary restrictions, feel free to speak to your trip planner to receive personalized restaurant recommendations!
Highlight #5: Unique neighborhoods
La Candelaria and Chapinero: Bogota's hipster havens
With a population of over 10 million people, Bogota can feel so big that it's hard to know where to start. That being said, the city is known for the distinct nature of its neighborhoods, so no two parts of Bogota are alike! A walk around La Candelaria, Bogota's city center, will always give you something interesting to look at—known for its graffiti, museums, and cobblestone streets, this area of town is sure to inspire your inner artist. Chapinero, on the other hand, is known for its hipster boutiques and village and offers a plethora of delicious restaurants and trendy bars.
El Poblado and El Centro are Medellin's hive of art and culture

If you're looking for a city with great weather, extraordinary public transportation, and cultural variety, Medellin is the place for you. Known as the "City of Eternal Spring", Medellin's weather is rivaled only by its art and culture. El Poblado, Medellin's hipster mecca, is packed with trendy restaurants, coffee shops, and bars. Meanwhile, El Centro (Medellin's city center) is full of museums, including the Museum de Antioquia and Botero Plaza—both excellent places to soak up the work of Colombia's favorite son, artist Fernando Botero.
San Diego is Cartagena's hidden bohemian paradise
An incredible bastion of history with idyllic beaches to boot, Cartagena is a true Caribbean utopia. However, few people know that it's also a center of bohemian culture! San Diego, Cartagena's most art-focused neighborhood, boasts a laid-back and is a great place to soak up some sunshine and authentic beach town vibes. To make sure you don't miss anything Cartagena has to offer, make sure to read up on Colombia's cities and consult with one of our local trip planners!
Have more questions about Colombia's highlights? Here's a list of our local Colombian travel experts who can help you, or feel free to message us directly! And before your trip, make sure to check out: