Myth has it that El Totumo used to be the work of the devil, spewing hot lava over the Bolivar region of Colombia. One day, a priest sprinkled holy water over the boiling magma, and the lava transformed into restorative healing mud for all to enjoy. Today, travelers make a point to join in one of Colombia's oddest activities: a few hours spent rolling around in the mud with strangers just outside of Cartagena. Sound awful? Think again. This healing volcano boasts skin-rejuvenating properties, and is often called the "Volcano of Youth." If you really need more convincing, feel free to message us to learn why you absolutely must make El Totumo a stop on your Colombia itinerary.
Want to make the most out of your trip? Tap into our network of local travel planners—Heroes—who build unique, locally-curated trip plans, designed just for you. Get started.
Table of Contents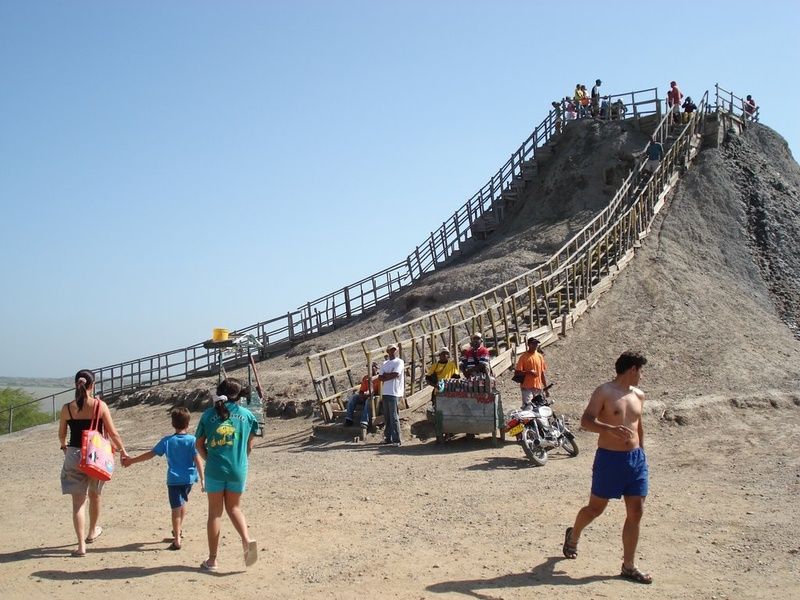 El Totumo: A tiny volcano with huge benefits
Standing at only about 50 feet tall, El Totumo is a small mud volcano situated at the edge of an enormous lagoon off the coast of the Caribbean. The volcano is located about 45 minutes outside of Cartagena in the coastal Bolivar region. As an unusual day trip, people of all ages flock to this sacred location for the mud's skin-softening therapy—and of course, for the crazy photo-op. When you arrive, you'll see the volcano itself and the crystal-clear lagoon alongside. Don't worry about El Totumo's remote location—the Bolivar region of Colombia is perfectly safe, and our local travel planners have all the details on the best ways to get to El Totumo!
Get down and dirty in the mud crater
After climbing up a set of mud-caked wooden stairs, you'll find a natural pool filled with dense, warm, thick mud! Slide in and float around—the mud is incredibly buoyant. Most visitors spend about 10 minutes splashing around, with the option of an in-volcano massage from one of the many attendants that work the volcano for tips; with that in mind, for around 6,000COP ($2) you can have a full spa experience! After your 10 minutes are up, you can head down to the beautiful lagoon to rinse off. Local women and other attendants will be ready to help you clean the mud from all your cracks and crevices (and we mean all of them) for your ride back.
You don't have to worry about your valuables
While you can't bring any actual objects into the mud volcano (imagine the mess), there are numerous attendants around the edges of the volcano that can hold your camera, take photos of you, and guard your possessions while you're floating about. Additionally, if you go with a group tour, there will be lockers available at the base of the volcano to hold your belongings while you bathe. Our Heroes can set you up with a reputable group tour, whether you're flying solo or getting muddy with the whole family.
Don't forget to bring some cash!
Make sure you bring small bills to tip with, as the El Totumo experience is largely dependent on the volcano's attendants. Giving a few dollars to those who hold your belongings, take your photo, give massages, and rinse you off is expected—even though tipping in Colombia is generally minimal. Still craving some culture? Local artisans and souvenir sellers often set up shop near the base of the volcano, offering crafts created from the mystic mud of El Totumo.
Grab a cup of tinto; your day isn't over yet!
If you still have it in you after your luxurious morning of mud bathing, you have some options for the rest of your day. Many travelers combine a day trip to El Totumo with a tour of the region's incredible mangrove forest. While you'll pass the mangroves on your way back to Cartagena proper after leaving El Totumo, it's worth spending a few hours in a canoe admiring the forest's beautiful intertwined roots and the fishermen that ply the local waters. Take the time to sit back and soak up some sun as one of our local travel planners guides you through this breathtaking region of Colombia.
El Totumo isn't all Colombia has to offer—connect with one of our Colombian travel experts to tailor the customized trip of your dreams, or message us directly! And before your trip, make sure to check out: