Colombia's incredibly diverse ecology lends itself to unbelievable natural wonders located all around the country. From the beach to the mountains, the jungle to the desert, there's something for every traveler to write home about. Getting from one natural site to another is a breeze with a custom itinerary from one of our Colombian adventure experts, who can help you plan your trip to perfection. Have questions? Don't hesitate to reach us here!
Want to make the most out of your trip? Tap into our network of local travel planners—Heroes—who build unique, locally-curated trip plans, designed just for you. Get started.
Table of Contents

The Cloud Forest at Chicaque Natural Park
Just 40 minutes outside of Bogota is one of Colombia's most incredible places to visit—the cloud forest at Chicaque Natural Park. Once you pass through the reserve's gates, you'll enter a world unlike any other. Thick fog covers lush foliage as you hike through the trails, while birdsong fills the air. These low-lying clouds are a result of cold Andean mountain air mixing with warmer condensation, creating an unbelievable landscape for Colombians and travelers alike to enjoy. Whether you'd rather hike, horseback or zipline through the park (or just enjoy the birdwatching), one of our Colombian travel gurus would be happy to plan your personalized Chicaque Natural Park adventure from start to finish.
El Totumo, Colombia's Mud Volcano
Ever wanted to climb inside of a volcano? You absolutely can at El Totumo—Colombia's very own mud volcano! A perfect day trip from Cartagena, El Totumo is only 45 minutes outside of the city. You'll definitely want to add this to your Colombian trip itinerary for both the photo op and the crazy story. At only about 50 feet tall, this once-active, now-dormant volcano is filled with a pool of dense, silky mud. After you climb a wooden staircase up the side of the volcano, you'll descend into the warm, thick soup, which is said to boast incredible skin-healing benefits. Once you've floated around for about 15 minutes, you'll head down to a crystal clear lagoon to wash off. Pro tip: bring a few small bills, as you'll want to tip attendants and people offering massages in the mud bath.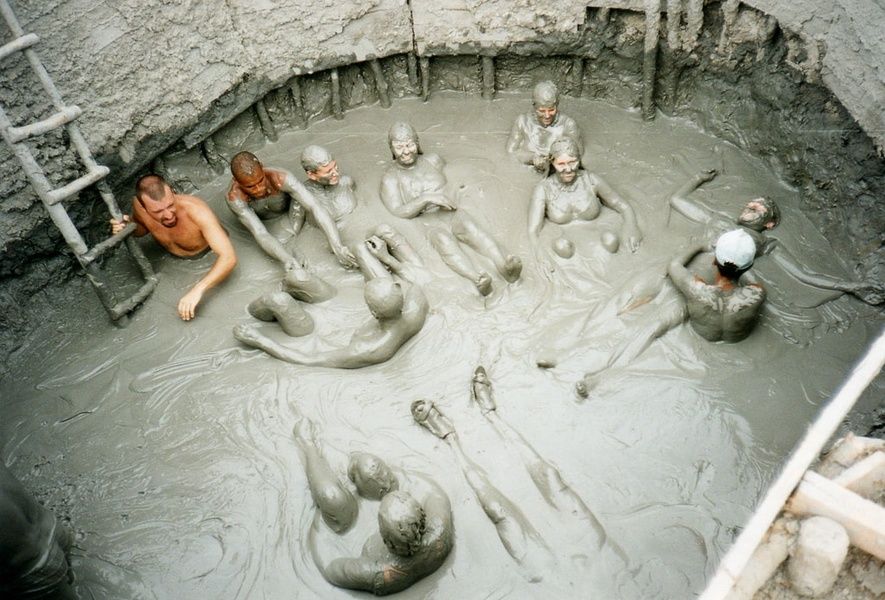 Tayrona National Park
Located on Colombia's northern shore is a bright Caribbean getaway within driving distance of both Barranquilla and Cartagena. Tayrona National Park is in the department of Santa Marta and is often described as one of the most incredible places to visit in Colombia. The nature reserve boasts shady palm trees, white sand shores, crystal clear lagoons, and miles of hiking trails. This beach paradise is lined with untouched jungle forests teeming with wildlife and is a great Colombian day trip for any type of traveler. If you're feeling adventurous, you can't miss the hike to El Pueblito, the ancient ruins of the Tayrona civilization. Be ready to spend at least a day wandering through Tayrona National Park, and if one day isn't enough, you can spend the night in a covered hammock for just a few dollars. Whether you're traveling Colombia with the whole family or enjoying nature alone, you're going to want to make Tayrona National Park a stop on your adventure.
The Tatacoa Desert
Colombia's Tatacoa desert is located south of Bogota, and is one of the best places in Colombia—or the world—stargaze! This part of Colombia has little-to-no light pollution, making the night sky impossibly clear. Spend a day wandering the desert, and ogle at the enormous rock structures and ancient fossils. When the heat starts to make you dizzy, you have to stop at "The Pool," an actual swimming pool in the middle of the desert, complete with a bar! Once the sun begins to set, you're going to want to head over to the observatory, where you can view the galaxy with the help of a local astronomer. Worried about getting lost in the Tatacoa desert? Check-in with one of our Colombian travel planners for 24-hour phone support throughout your Colombian excursion.
La Cueva del Esplendor
In the mountains of Jardin is "La Cueva del Esplendor"—The Cave of Splendor—only about 3 and a half hours outside of the beautiful city of Medellin. As you descend into the cave, you'll see a stunning waterfall cascading from the cave's entrance into the cool waters below. This unique Colombian wonder is a popular rappelling spot for those seeking adventure, but the trip itself is not for the faint of heart. You have to hike, or more popularly, horseback ride through the mountainous Jardin area until you arrive at the cave. This Colombian day trip is more about the entire experience of visiting Jardin, rather than just getting to the Cave of Splendor. To get to Jardin, you'll want to take a bus from Medellin, but one of our Heroes can easily streamline your trip to La Cueva del Esplendor.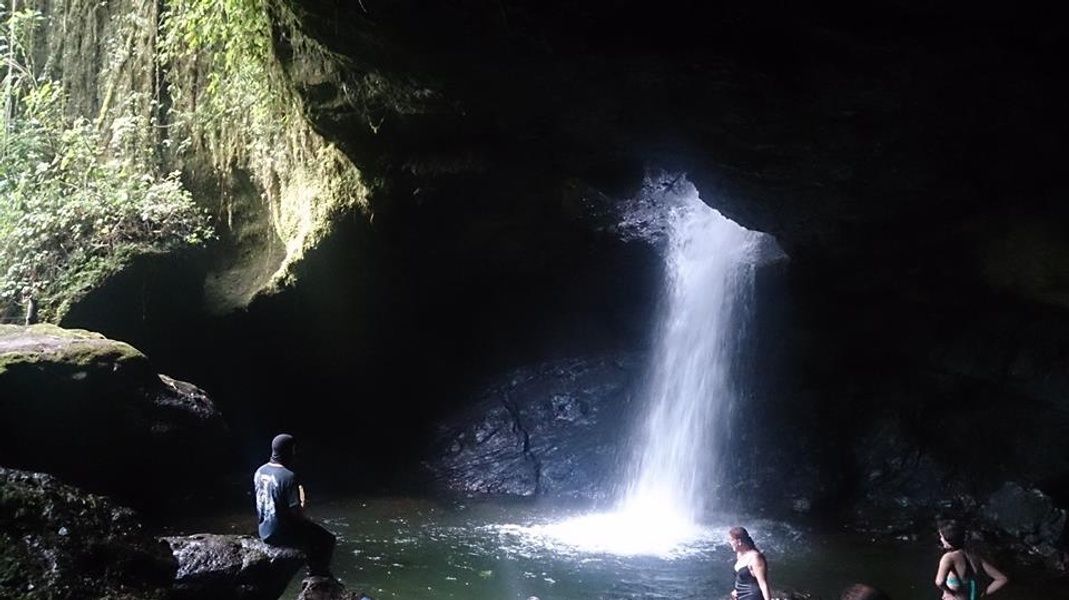 The Caño Cristales
Wedged between the Andes and the Amazon is the Serrania de la Macarena National Park, home to Colombia's famous Caño Cristales. Miles of rivers and waterfalls are all engulfed in vibrant rainbow colors due to the aquatic plants below, lighting up the surface of the water in unbelievable brightness. This park is a must-see for anyone interested in Colombia's biodiversity, as the park is famous for its vast array of plant and animal life. Bird watchers are guaranteed to be impressed by all the species that call this park home! Check-in with a local travel expert to plan your way to the Caño Cristales.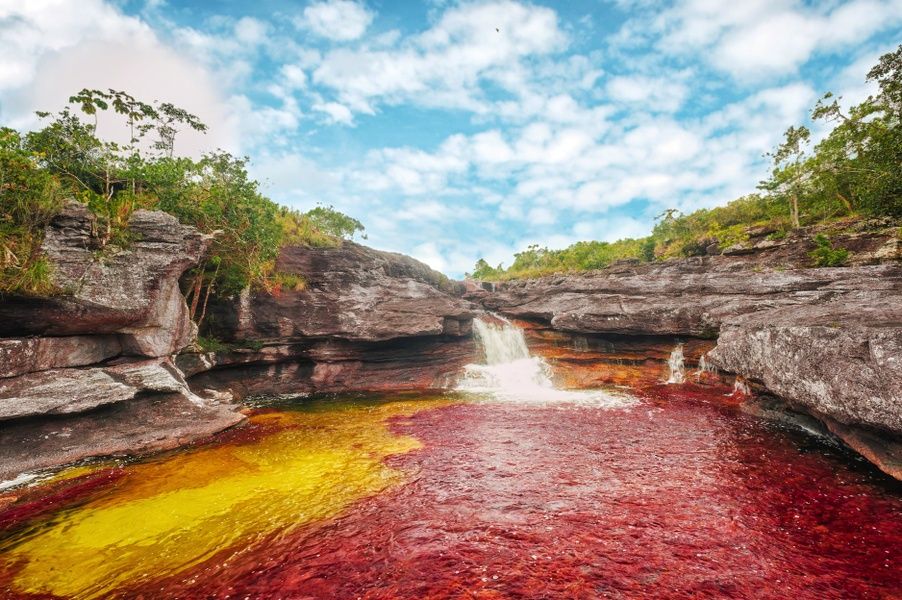 The Rosario Islands
Just off the Cartagena shore, the Rosario Islands are a collection of small islands on the Caribbean coast of Colombia. If you're staying in Cartagena, take 2-3 days to visit these island Edens. This unbelievable slice of heaven is accessible by a boat ride through warm island waters, which a Colombian itinerary planner can help you book. Once you arrive at one of the islands, feel free to kick back and relax. Whether you choose to tan, swim, surf, or hike, you can't miss the oceanarium at the Rosario Islands. Here, you'll be able to get up close and personal with dolphins and learn all about Caribbean ocean life. Or if you'd rather, take a scuba diving lesson or rent a snorkel to see the stunning coral reefs just offshore! The Rosario Islands are an incredible Colombian point of interest if you have the time to visit.
The Cocora Valley
Wedged between the Andes lies the Cocora Valley: a vast landscape of towering wax palms (Colombia's national tree). The trails at Cocora Valley are not easy, as the inclines and declines of the mountainous terrain are somewhat strenuous, but boast an incredible opportunity to hike Colombia. If you do choose to hike the 5-hour loop through the valley, you'll get an incredible glimpse into higher-altitude wildlife, see mountainside waterfalls, and have the opportunity to picnic under a 150-foot wax palm. The Cocora Valley is a great day trip if you are interested in exploring more of the Andes mountains, and is halfway between Medellin and Bogota.
Ready to pack your bags? Connect with one of our local travel planners to customize your visit to all of Colombia's natural wonders. If you still have questions, don't hesitate to message us! And before your trip, make sure to check out: