Colombia is abounding with historical, environmental, and cultural sites that you can't miss out on experiencing. After you've read all about Colombia's most stellar sites, don't just sit around and fantasize about your Colombian getaway—message us for help planning a one-of-a-kind Colombian adventure.
Want to make the most out of your trip? Tap into our network of local travel planners—Heroes—who build unique, locally-curated trip plans, designed just for you. Get started.
Table of Contents
Camp under your lucky star in the Tatacoa Desert
If you're not mesmerized by the stunning canyons and rock formations of the Tatacoa Desert, you might need to check your pulse. Six hours southwest of Bogota, the reddish-brownish-veined rock formations and out-of-this-world canyons that compose this desert are nothing short of captivating. There are plenty of lodging options available in nearby towns, but if you're a true adventurer, you can actually camp in the desert! Don't worry about finding a tent or camping gear; one of our custom trip planners can arrange every part of your excursion to the Tatacoa Desert from start to finish.

Get dirty in the El Totumo Mud Volcano
Go off the beaten path at the El Totumo Mud Volcano. This 50-foot mountain is about a 45-minute ride from Cartagena, and contrary to what you might think, El Totuma is not actually an active volcano. Instead, the volcano's crater is filled with a mineral-rich mud that includes calcium, magnesium, and aluminum, among other rejuvenating minerals. Health nuts take note: El Totumo's mud is not just regular dirt—this stuff is good for some serious exfoliating! After your mud bath, wash all of your worries away in the lagoon that borders the volcano, or relax with an in-volcano massage from a local attendant. Just don't forget to bring small bills to tip with when you visit this one-of-a-kind Colombian wonder!
Make your rainbow connection at the Caño Cristales
The Caño Cristales is also known as "The Liquid Rainbow" or "The River of Five Colors", and for good reason; the shimmering prism of colors reflected in the river is a unique Colombian marvel. This ravishing river is located in Serrania de la Macarena National Park, in the province of Meta. Have one of our local Heroes book you an excursion out to Serrania de la Macarena National Park for a swim in this bewitching body of water. Enjoy the natural wonder of the layered quartzite plateaus over which that the liquid rainbow cascades, formed a whopping 1.2 billion years ago.
Lift your spirits at the Salt Cathedral of Zipaquira
The Salt Cathedral of Zipaquira is located just outside of Bogota, hundreds of feet below ground in an active salt mine. This underground cathedral is still functioning and receives thousands of visitors every week for Sunday service. Take a day trip from Colombia's capital to admire the architectural wonder of this stunning Salt Cathedral, which is carved entirely from the walls, ceiling, and floor of the mine itself!

Discover the gritty-turned-artsy neighborhood of Comuna 13
Thankfully, the dangerous days of Pablo Escobar are long gone. Comuna 13 was once heavily controlled by gangs loyal to Escobar's Medellin Cartel, and the area was at one point the most dangerous neighborhood in Colombia. However, Comuna 13, like Medellin as a whole, has been actively reinventing itself. Today the area is alive with a plethora of politically-charged street art and youth movements that you have to see for yourself. Have one of our local travel experts arrange a guide for you to this rejuvenated Medellin locale filled with history and art.
Chicaque Natural Park may be foggy, but your memories of it won't be
Just 30 minutes outside of Bogota by Uber and only slightly longer via public transportation, Chicaque Natural Park is situated within one of Colombia's fabled Andean cloud forests. Sightseeing in this park is just the tip of the iceberg, hiking, horseback riding, and through the trees are all ways intrepid travelers can explore this natural gem. Best of all, while most jungles are harshly humid, Chicaque stays cool and temperate thanks to a mix of warm and cool air at high altitude—which also gives the forest its trademark mist and thick fog! In addition, all this moisture lends itself to some of the most unique biodiversity of plants, animals, and insects found anywhere in the world. Chicaque is one Colombian attraction you can't miss
Pose with the Instagram-worthy statues at Botero Plaza
Colombian artist Fernando Botero is known for his beautifully exaggerated sculptures and paintings, a signature style known as "Boterismo." Botero Plaza is located in the center of and boasts a whopping 23 of Botero's prized colossal sculptures—making it a must for your Medellin itinerary. More of Botero's enormous sculptures can be found a short five-minute walk down the street, at Medellin's Berrio Park and San Antonio Plaza. Medellin is a city packed with art, so if you're interested, make sure to have one of our local trip planners arrange an art-heavy itinerary just for you in the "City of Eternal Spring."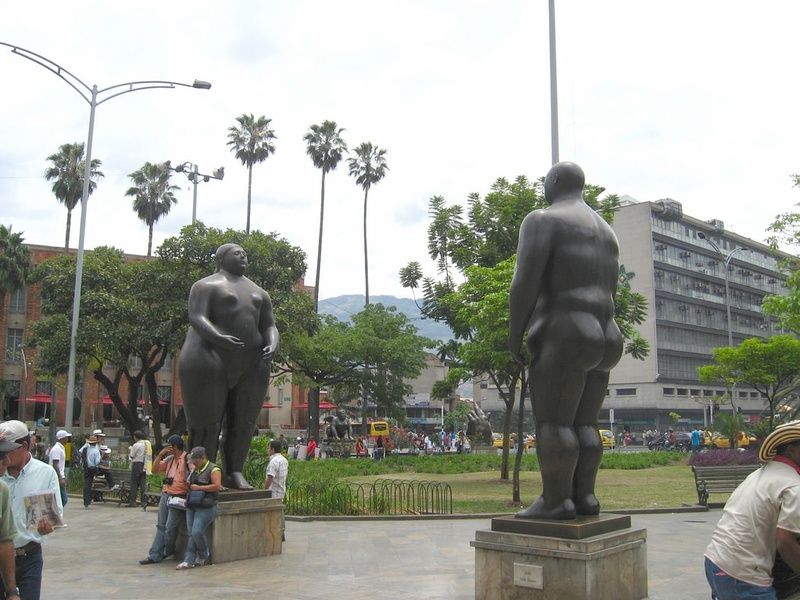 Roam the Lost City
The ruins of this ancient city, called "Teyuna" by the locals, are hidden deep within the jungle. Built by the Tayrona civilization over 1200 years ago, the city is even older than Machu Picchu! Active hikers will love the ruins and the days-long hike it takes to see them. A trip to the Lost City is one destination for any thrill-seeker's Colombia travel itinerary. And don't worry—your local Hero can take care of all the planning and preparation for your trek.
Chow down on both food and history in Plaza de Bolivar
Explore the rich cultural heritage of Colombia's buzzing capital of Bogota with a visit to Plaza de Bolivar. Located in the happening La Candelaria neighborhood, it's a phenomenal spot to people watch and down on treats from the local food vendors that line the square. Some of the plaza's main buildings include the Palace of Justice, Liévano Palace, the National Capitol, and the Primary Cathedral of Bogota. Have one of our Heroes build you a custom walking map through the streets to help you enjoy all of the rich history, gratifying grub, and sublime street art that Plaza de Bolivar has to offer.
Tayrona National Park has it all
Tayrona National Park has everything a nature lover could ever want—lush forests, white sandy beaches, crystal clear water, and stunning mountains. Located in Magdelena, in northern Colombia, Tayrona National Park's coast is composed of a natural system of bays and coves, making the area perfect for swimming. You can easily head to Tayrona on a day trip from Cartagena or stay the night in the wilderness. Hammock rentals are under $5 a night; or, if you're into luxury accommodations, you can always hit the hay in one of Santa Marta's many lodgings. One of our Heroes can point you to the best option for a journey off the beaten path, wherever in Tayrona you choose to go.
Colombia is overflowing with incredible cultural and historical places to visit. Get started on planning your own custom Colombia itinerary with one of our local Heroes, or message us with any questions you have! And before your trip, make sure to check out: