Check out this incredible trip itinerary that'll take you from the streets of Bogota through Medellin, Cartagena, Tayrona, and even the mangrove forests of Santa Marta in just over a week. Once you do, get in touch with any questions!
Want to make the most out of your trip? Tap into our network of local travel planners—Heroes—who build unique, locally-curated trip plans, designed just for you. Get started.
Table of Contents
Day 1: Inside Bogota
Hipsters, history, and graffiti—oh my!
Bogota is Colombia's beating heart—and the perfect place to begin your Colombian excursion! Spend your first morning in La Candelaria, Bogota's cultural core. Cobblestone alleys lined with vibrant graffiti are a hallmark of this traditional-cum-bohemian neighborhood, where old-fashioned vendors and political street art abound. Have one of our local Heroes draw you a custom offline map to Bolivar Square, and get your camera ready for stunning examples of Bogota's 18th- and 19th-century architecture.
Drink some coffee and nosh on cheap eats
From there, pop into a local cafe for a cup of tinto, the most traditional preparation of Colombia's incredible coffee. If you're hungry, fuel up on delicious street food like arepas for a lunch on the go, and head to the cable car at the base of Bogota's central peak, Monserrate. While the cable car up the mountain is an experience unto itself, watching a sunset from the top of Monserrate is an experience that can't be missed.

Party like a local
Bogota's party scene is internationally renowned—and for good reason! Whether you're the type to hit a club, dance salsa, drink a quiet microbrew, or catch some live music, Bogota's nightlife has you covered. And while Zona T is known as Bogota's most party-centric neighborhood, don't forget to check out Chapinero, the city's hipster haven, to find nightly shenanigans aplenty. Don't hesitate to read more about Bogota's fantastic nightlife or contact one of our local experts for more information!
Day 2: Outside Bogota
Coffee is king in Colombia
Fingers crossed that you didn't party too late into the night, because your second day in Bogota is a big one! After hitting any sites you still have left to see (the Gold Museum is a particular favorite), you absolutely need to spend some time acquainting yourself with the King of Colombia: Coffee. Just outside of Bogota, coffee plantations dot the green Andean mountainsides for miles and miles around. Many of these farms have become attractions in their own right, where farmers will show curious travelers how to pick their own coffee berries and create perfect cups of joe, harvest to cup.
Lodging at coffee is becoming quite common—so whether you decide to visit just for the day or to spend the night, make sure you stop by one of these coffee Edens! Don't hesitate to ask your Hero of choice for a recommendation for—or reservation at—a coffee farm that fits your budget and style!
Day 3: Outside Bogota
Get your head in the clouds in Colombia's cloud forest
Feeling adventurous? Only 40 minutes outside of Bogota, one of Colombia's most incredible natural wonders awaits at the Chicaque Natural Park. Due to this massive park's unique geography, condensation rising from Andean peaks collides with cold mountain air, creating an incredible, thick fog over lush greenery—or, as it's better known, a cloud forest!
The Cloud Forest will blow your mind
These forests are completely covered by low-lying clouds, transporting visitors to an Avatar- world of mist-covered rich greenery and breathtaking views. Explore this natural marvel on foot, by horse, or simply have a coffee and birdwatch from a cafe— you explore the cloud forest, you can't go wrong!
Day 4: Inside Medellin
Medellin—The "City of Eternal Spring"
Medellin is one of South America's most up-and-coming cities. Rich in art and culture due to its wealth of universities (over a dozen!) and forward-thinking city planning, Medellin was named The World's Most Innovative City in 2013 and was awarded the Lee Kuan Yew World City Prize for urban development just three years later. Moreover, in 2012 Medellin's incredible public transit system was lauded as one of the top transportation systems in the world. So fly in, get comfortable, and start exploring this youthful city of music, food, and fun!
Forget your fear of heights on Medellin's metrocable cars
A part of Medellin's award-winning public transportation system, the elevated Metrocable Car track connects the city's lower-lying neighborhoods with their counterparts higher in the mountains. Additionally, it's a great way to see Medellin in just a few hours!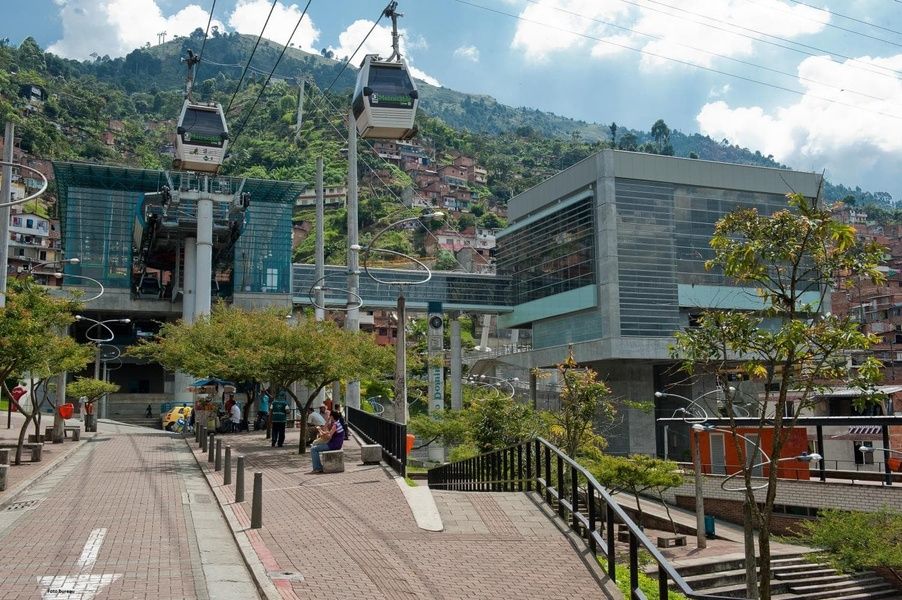 Day 5: Inside Medellin
Medellin is for lovers—art lovers
With such a rich historical and cultural history, Medellin is a must-see for any art lover. Plaza Botero, located in Medellin's city center, is home to 23 enormous bronze sculptures crafted by Colombian native Fernando Botero. And just next door, the Museo de Antioquia houses thousands of incredible pieces—including many by Botero as well. As if that weren't enough, you'll be sure to find something you love at the Medellin Museum of Modern Art (also known as MAMM)—another revered institution!
Day 6: The Road to Cartagena
Forget Shamu—whale watch on Colombia's Pacific coast
On your way up to Cartagena, take a stop on Colombia's Pacific coast between July and November to witness majestic humpback whales migrate in the warm waters just offshore! The province of Choco is home to some of the best whale watching spots in the and is the perfect detour en-route to the Northern coast. A quick flight from Medellin or the somewhat longer bus ride are absolutely worth it to see this incredible marvel. Ask one of our Heroes for help planning your perfect whale-watching experience.
Day 7: Inside Cartagena
Old Town is a history buff's dream
Once you make it to Colombia's Caribbean shore, you'll have no choice but to stay in Cartagena—the ultimate Caribbean fever dream. Cartagena's 17th-century cobblestone lanes, picturesque alleyways, vine-covered buildings, enormous church towers truly make the city a blast from the past, while its gorgeous beaches and incredible, fresh cuisine keep it a favorite vacation destination. Need to know everything ? One of our local travel experts can personalize your stay in this incredible city.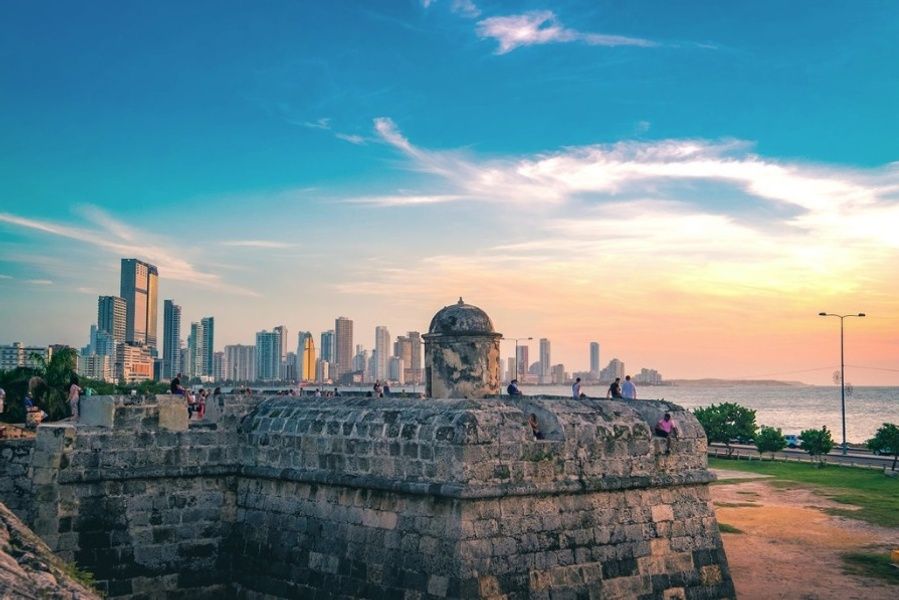 Get your saddles blazing on a horse tour
Let a horse do your walking for you as you horseback ride across the beach just outside historic Cartagena, before wrapping up the day with a game of tejo. Colombia's national game is a wild combination of cornhole and horseshoes, with the added bonus of gunpowder-filled exploding targets! Eat some of Cartagena's famous seafood, and join a group of locals for an after-dinner game.
Day 8: Outside Cartagena
Wake up with a morning mud bath
Just north of Cartagena sits El Totumo Volcano. Don't worry—there's no lava here! Rather, this volcano is filled with a buoyant, mineral-rich mud. Visitors to El Totumo traditionally climb into the volcano's crater, where you can float in a warm bath of cleansing and calming minerals for 10-15 minutes before scrambling out to wash off in the nearby river. Or, if you'd rather, take up one of the many locals that offer massages and scrubs for a few extra dollars. It may be a little weird, a little slimy, and a little gross, but you still can't miss this opportunity to clear your pores in Colombia's natural volcanic spa!
Day 9: Tayrona
Explore the shores of Tayrona National Park
Pictures just can't do the awe-inspiring port city of Santa Marta justice. Located on the Northern coast of Colombia, Santa Marta is known for sparkling turquoise waters and white sand beaches—often emerging from a thick wall of jungle foliage. Just outside of Santa Marta proper is Tayrona National Park, one of the most beautiful locales the world. Spend the day dipping your toes in the water and hiking up to El Pueblito, the ancient ruins hidden within the park. Want to stay the night in the wilderness? Rent a hammock for under $5, or crash in one of Santa Marta's innumerable lodgings. Your Hero can point you to the best option!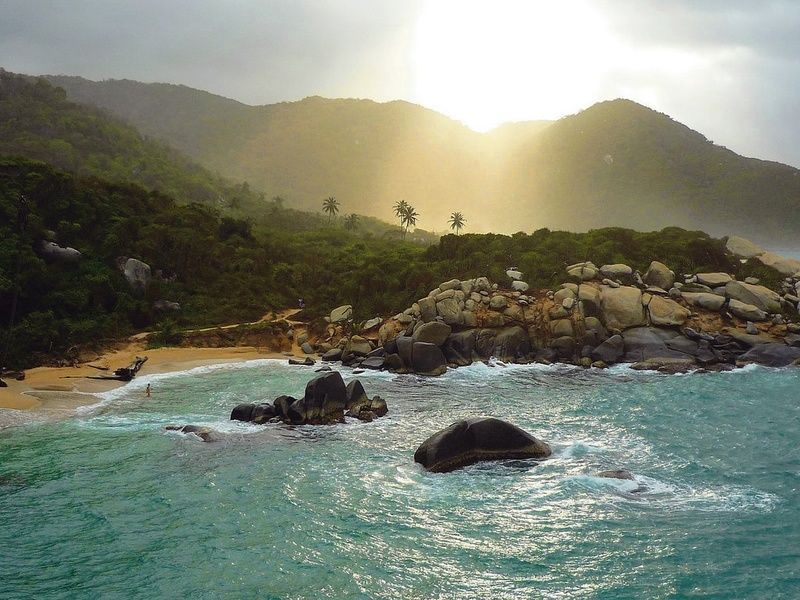 See Santa Marta from underwater

Santa Marta's Caribbean beaches are home to coral reefs, crystal-clear water, and friendly diving experts. If you've never been diving before, Santa Marta is definitely the place to try. The currents are calm, the water is warm, and you're guaranteed to run into some Colombian wildlife—so make sure to have your local travel expert prepare a scuba adventure for you.
Day 10: Outside Santa Marta
Lose yourself finding the Lost City
Ciudad Perdida, or the Lost City of Santa Marta, is one of Colombia's most well-hidden gems. Older than Machu Picchu, this site will transport you over 1,200 years into the past, as you're surrounded by birdsong and the quiet rustling of trees. Climb the ruins of years past, and feel small among such enormous works of craftsmanship. Dip your toes in the cool crystal clear jungle rivers when the Colombian sun starts to get to you—just look out for piranhas! Visiting the Lost City is a weekend trek as it requires miles of hiking, so this trip is definitely not for the faint of heart. Your Colombian Hero can help you find the best way to visit the Lost City.
--
And just like that, you've spent 10 days romping around Colombia! Ready to pack your bags? Message us or connect with one of our Colombian travel experts to plan the adventure of a lifetime—just don't forget to bring back some souvenirs! And before your trip, make sure to check out: