Gone are the days of Colombia's turbulent past, because the country has quickly become one hottest and safest travel destinations in the world. Its burgeoning capital of Bogota is no and boasts glamorous nightlife, exquisite cuisine, and exceptional art. But you don't need to stay inside the city for a good time; just outside of Bogota are some of the most action-packed day trips you can imagine. Keep reading for 8 incredible day trips from Colombia's capital. Once you do, feel free to message us directly with any questions you still have.
Want to make the most out of your trip? Tap into our network of local travel planners—Heroes—who build unique, locally-curated trip plans, designed just for you. Get started.
Table of Contents
#1: Chicaque Natural Park: where things get cloudy
If you're in Bogota, taking a day trip to Chicaque Natural Park is a no-brainer—it's just so easy! Only a quick 40-minute Uber ride away from Colombia's capital, you can even get to the park by public transportation (though it takes a bit longer). Chicaque is one of the most popular areas to visit in Colombia, as it's home to some of Latin America's most captivating cloud forests. But that's not all—Chicaque also features excursions that are fun and family-friendly like hiking, zip lining, horseback riding, and rope climbing. And if you just want to relax, the natural park is packed with diverse flora and fauna you can observe and enjoy.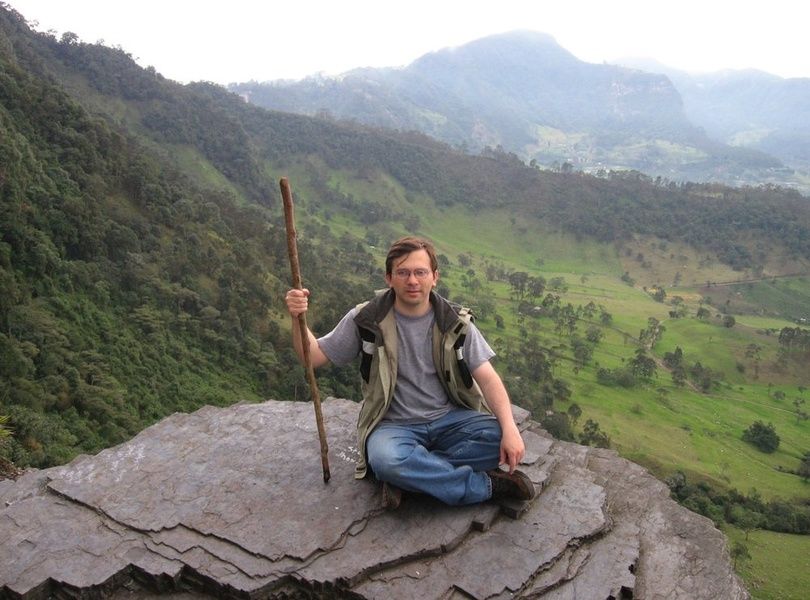 #2: Suesca: the rock climbing capital of Colombia
With magnificent mountains all around, Colombia is truly an dream. With that in mind, Suesca, just a little over an hour drive north of Bogota, is the esteemed rock climbing capital of Colombia. red sandstone cliffs have become popular climbs for athletes of all levels, so don't be afraid to mount the peak even if you're not a pro. And if you're not a climber, don't worry—Suesca has plenty of extreme sports options: whitewater rafting, mountain biking, and even a human catapult! The adventure doesn't stop there; once you're done being a daredevil, you can hop on over to Lake Suesca, the fabled lake where the pre-colonial Muisca civilization would worship gods through human sacrifice!
#3: The stupefying Salt Cathedral of Zipaquira
The Salt Cathedral of Zipaquira is a site—and sight—to check off your travel bucket list. Only an hour from Bogota, this structural splendor is a modern marvel to behold. The cathedral was carved from tunnels of an active salt mine 500 below the surface (and yes, some people even give the walls a lick). The cathedral features gorgeous statues and beautiful lights that make the interior glow in blue and purple. is the legendary Lake Guatavita, the birthplace of the legend of El Dorado. How, you ask? Each time a chieftain was appointed, he was covered in gold dust and gold jewels and precious gems were thrown into Lake Guatavita to appease the god that lived within. While nobody has ever found El Dorado (not for lack of trying), much of the gold was pillaged by conquistadores in 1545. Have one of our trip planners kill two birds with one stone with the additions these closeby stops on your travel itinerary!
#4: The otherworldly Tatacoa Desert
For a unique experience with nature you won't find anywhere else, the Tatacoa Desert is almost supernatural. Tatacoa is actually not a desert and is in fact, a dry tropical forest. Tatacoa, one of UNESCO's World Heritage Centers, is located nearby the town of Villavieja, six hours away from Bogota, but it's worth making the trek just to see a landscape—it looks straight out of a sci-fi movie! Amongst the muted gray and red canyons, travelers come from all around the world to camp in the craters and stargaze. Tatacoa is also home to one of the most important observatories on the planet, where visitors are welcomed every night to learn about the history of constellations. This organic wonder is definitely one of Colombia's hidden gems, so be sure not to miss out!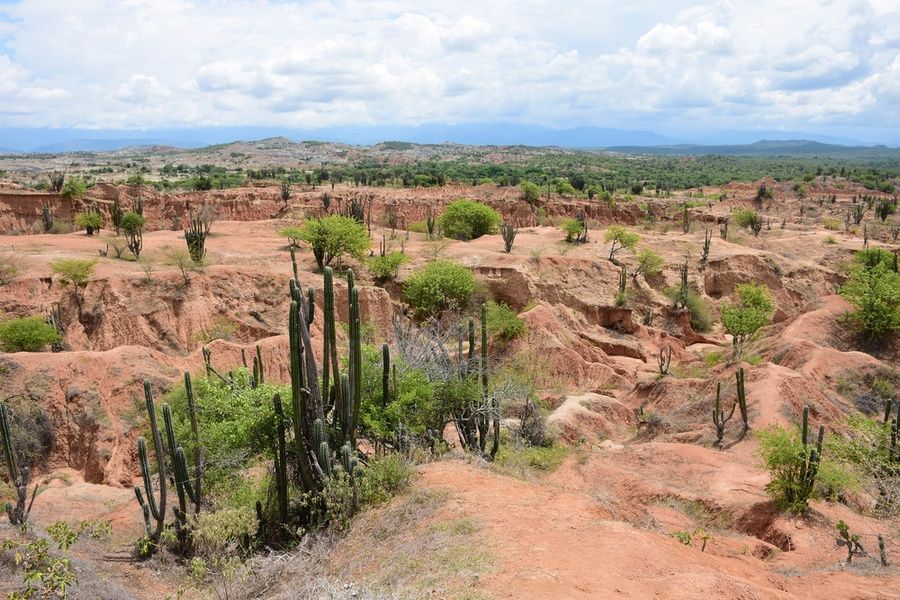 #5: The wonderful La Chorrera waterfall
Hiking is popular in Colombia, so if you're looking for something more off-the-beaten-path, Parque Aventura La Chorrera has the perfect view of La Chorrera Waterfall—the highest multi-step waterfall in the country, which stands at almost 2,000 feet tall. Only a one-hour drive or bus ride from Bogota, La Chorrera sits amongst Colombia's acclaimed Andean cloud forests. Thought the hike to La Chorrera covers terrain at the same elevation at the city of Bogota, the trek feels much warmer due to the surrounding forest. Viewed from below, it almost looks like the waterfall is ascending from the heavenly clouds!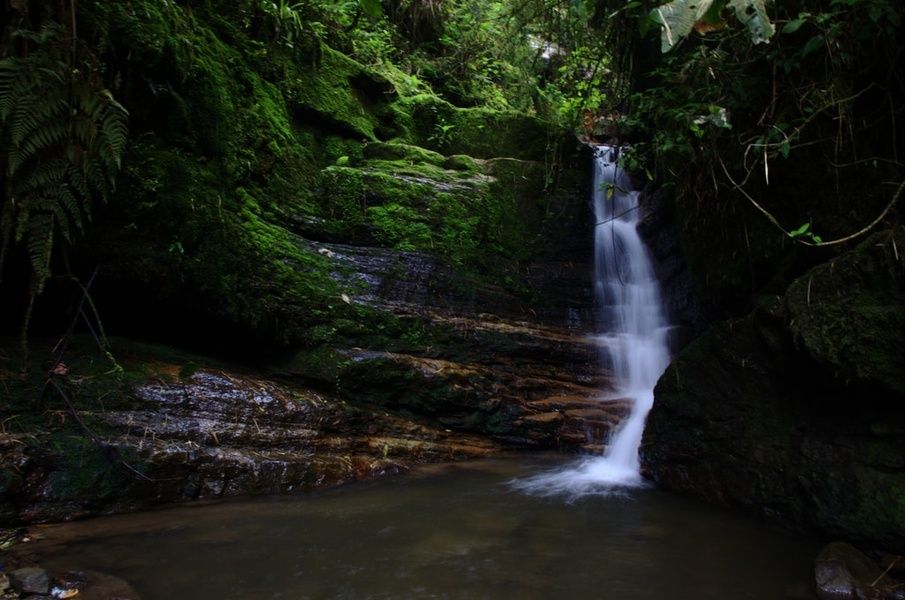 #6: The valorous Villa de Leyva
For history buffs, a trip to Villa De Leyva is a time machine to pre-colonial Colombia. While the town's charming Plaza Mayor isn't as intricate as Cartagena's Old Town, for instance, it has an allure of its own due to its smaller local restaurants, coffee shops, and architecture. To that end, while many of Bogota's day trips are quite heavenly, to learn more in depth of the villa's history, you should absolutely check out El Infiernito, which literally translates to Little Hell. At this pre-Columbian archaeological site, you can learn more about the Muisca civilization who inhabited the site between 600-1600 A.D. As both sites are just a 3-hour journey from Bogota, have your Hero make you an itinerary to visit both at once!
#7: The luscious local coffee plantations
Colombia is one of the world's largest coffee exporters, so it's no surprise the country is home to some of the greatest coffee farms in the world. Just a 1.5-hour drive from Bogota, you can visit the town of La Vega where willing coffee farmers teach visitors how to pick their own beans and how to brew the perfect cup of coffee. Coffee is one of Colombia's delectable highlights, and there are plenty of plantations to explore in this pueblo! And since Colombian culture is so warm and welcoming, it's also becoming more and more common to stay at plantations overnight—so pack your night bag and prepare for the finest, freshest cup of coffee you'll ever drink!
#8: Chinganza National Park
While the country is chock-full of parks, what sets Chinganza National Park above the rest is its mix of storied past (it plays a prominent role in the lore and legends of the Muisca and Guayupe civilizations) and unreal beauty. Perched in the eastern Andes, about four hours northeast from Bogota, Chinganza is one of Colombia's biggest reserves at almost 200,000 acres. It is also one of the biggest paramos—high, tropical treeless plateaus full of scrub vegetation and water; the park actually provides 80% of Bogota's water—which is completely safe to drink! With 6 trails, 40 lakes, and multitudes of animals to catch a glimpse of—such as the massive Andean condor and endangered spectacled bear, you must have your Hero plan a day in Chinganza you will never forget.
Only have a few days in Colombia and can't decide what to put on your itinerary? One of our local experts will create a customized guidebook catered just to you! If you still have questions, feel free to message us anytime. And before your trip, make sure to check out:
--