ViaHero · Updated August 30, 2019
Is Cartegena safe? Absolutely! Cartagena's crime rates have plummeted in recent years, and it is now the safest metropolis in Colombia. Here, we go into everything you need to know about keeping safe in Cartegena, from its safest neighborhoods, to common scams, to using Uber, and much, much more. 
For even more tips, connect with a Colombian local. They'll have your back in more way than one! In addition to sharing safety advice, they'll design an entire itinerary that ensures you'll see Colombia like a local, not a tourist. Learn more. 
Cartagena neighborhoods
Cartegena has some incredible neighborhoods. These are the spots that are considered safe—just take the same precautions as you would in any other big city.
Visitor-friendly neighborhoods:

Old Town (aka the Walled City): This is where you'll find the strongest police presence. Just be aware of pickpockets (it is a tourist destination, after all).
Bocagrande and Manga: Both are famous for their palm-lined promenades and Miami-ish vibe. Like Old Town, they're quite safe both day and night.
Getsemani: Known for its hipster vibes, outdoor cafes, and abundance of street musicians. It's one of the safer areas of town, but it can get a little sketchy after dark. Get some local advice about which places you might want to avoid after sunset. 
San Diego: This neighborhood is full of students and hipsters. That means it's very safe during the day, but a bit sketchier at night. You should especially beware of pickpockets and drug dealers here.
Centro and Pie de Popa: These places have some cool attractions—but are also best visited during the day due to theft concerns.
Areas to avoid
And like in any big city, there are a couple of places to avoid. The general rule of thumb? Things get progressively less safe as you get further from Old Town. Neighborhoods like Sector La Magdalena, La Maria, El Paraiso, Rafel Nuñez, Piedro de Bolivar, and other barrios north or east of Old Town area should be avoided. You aren't missing out. There's not much for travelers to see and do in these areas. 
Pro tip: Make sure to run your itinerary by a Colombian local before you plan your trip. If you want to visit a certain neighborhood, they'll let you know what they think! After all, no one knows the country like they do. 
Theft and scams are common, but violent crime is incredibly rare

Petty theft and scams are by far the most common crimes reported in Cartagena, and violent crime against tourists is nearly nonexistent (so feel free to get started on your Cartagena itinerary!).
Even the US Department of State agrees. They say: "Crime levels in the major tourist areas of Cartagena...are considerably lower and are rarely violent, but petty theft, scams, and similar crimes remain common in these areas. "
What does that mean? Translation: most crimes are crimes of opportunity. Stay vigilant and aware of your surroundings—you know, like you would in any city—and you should be ok. 
Common scams and how to avoid them
One common scam involves fake police officers asking to "check your money for counterfeit". This is obviously a scam. 
Pickpockets and thieves are common in tourist-heavy areas. Be sure to keep your belongings close and in sight. 
Taxi drivers will often scam passengers with rigged meters. To avoid this, decide on a fare in advance or use Uber.
At bars, keep an eye on your drink and don't accept drinks from strangers. 
Don't flash valuables openly. Use discretion when texting or making calls.
If you're traveling independently, get some local advice from a Colombian travel expert. They'll share how they keep safe. 
You probably have all the necessary vaccinations
Good news! You probably already have all your necessary vaccines.
The CDC also recommends getting hepatitis A and typhoid vaccines before traveling to Colombia, although they are not required. If you're visiting smaller or more rural areas of Colombia, it may not be a bad idea to talk with your doctor about receiving these shots.
Pro tip: Check out our article on Colombia travel FAQs for more info like this. 
You can still use Uber
Although taxi fare in Colombia is regulated by the government, scams can happen. By using regulated apps like Uber, EasyTaxi, and Tappsi, you can guarantee you won't be taken advantage of. Don't worry about what you've read in the news about an "Uber ban"—everyone still uses it. It's also cheap and easy to book airport transportation on websites like GetYourGuide.

The tap water is safe
The tap water in most of Colombia's major cities, including Cartagena, is perfectly safe to drink. If you are still concerned about the water, however, bottled and purified water is cheap and accessible everywhere. With that in mind, lettuce, fruits, and salads are all fine to consume—even from street vendors.
Be sure to wear sunscreen
Cartagena's proximity to the equator is a recipe for sunburn, and you don't want to deal with that—talk about a trip ruiner. So pack plenty of sunscreen! Even if you're spending minimal time in the sun, it's still a good idea to lather up several times each day, as Cartagena's sun is powerful. Additionally, Cartagena's beautiful beaches are home to miles of pristine coral reef, so to protect your feet—and the reef—it isn't a bad idea to pack water shoes.
Conclusion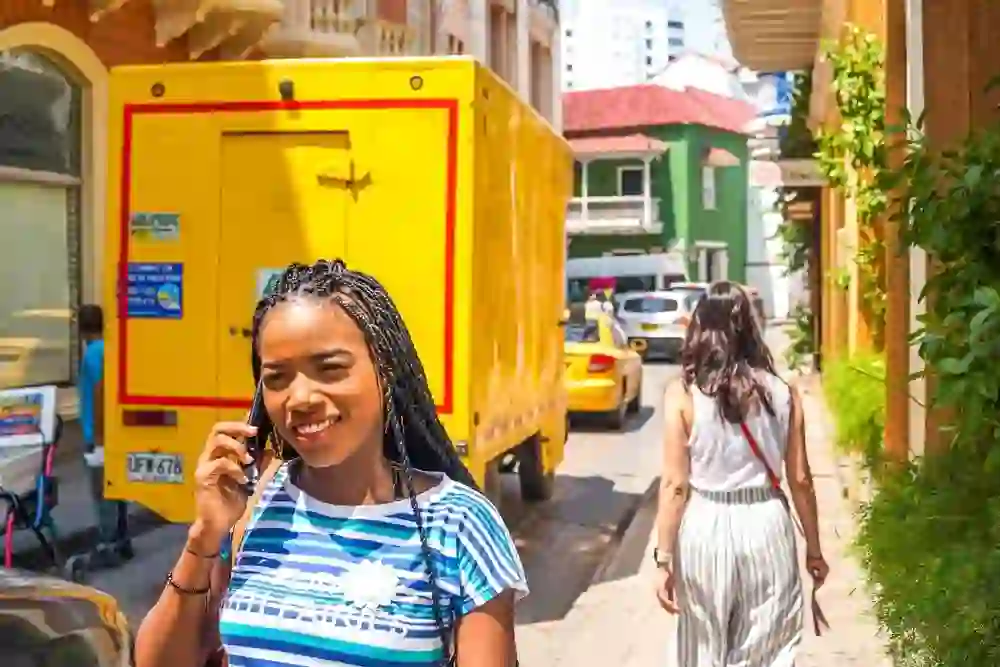 Is Cartagena safe for travel? Definitely. Just stay aware and have a local help plan your trip for the most up-to-date safety advice. You'll have a fantastic time!
Emergency numbers everyone should know
In the off chance that you run into any trouble while galavanting through Cartagena, here are some numbers to call for assistance.
National Emergency Number: 123

Tourist Police: (1) 3374413

Information: 113

U.S. Embassy in Colombia

: (+57) (1) 275-2000
For advice on everything from safety to Cartegena's best beaches, connect with a local to plan your trip. They'll help design an itinerary that fits you—your travel style, your interests, and your budget. With their help, you'll see a unique side of Colombia. Why see it any other way? Learn more.