If you're looking for a gorgeous, cultural, and fun destination that's so under the radar it won't even pop up on your Pinterest feed, then La Boquilla is the spot for you! A rustic fishing village just minutes from Cartagena, La Boquilla is an easy day trip that you need to experience when visiting Cartagena!
Read on to learn everything you need to know about La Boquilla. Once you do, feel free to reach out and message us with any questions!
Want to make the most out of your trip? Tap into our network of local travel planners—Heroes—who build unique, locally-curated trip plans, designed just for you. Get started.
Table of Contents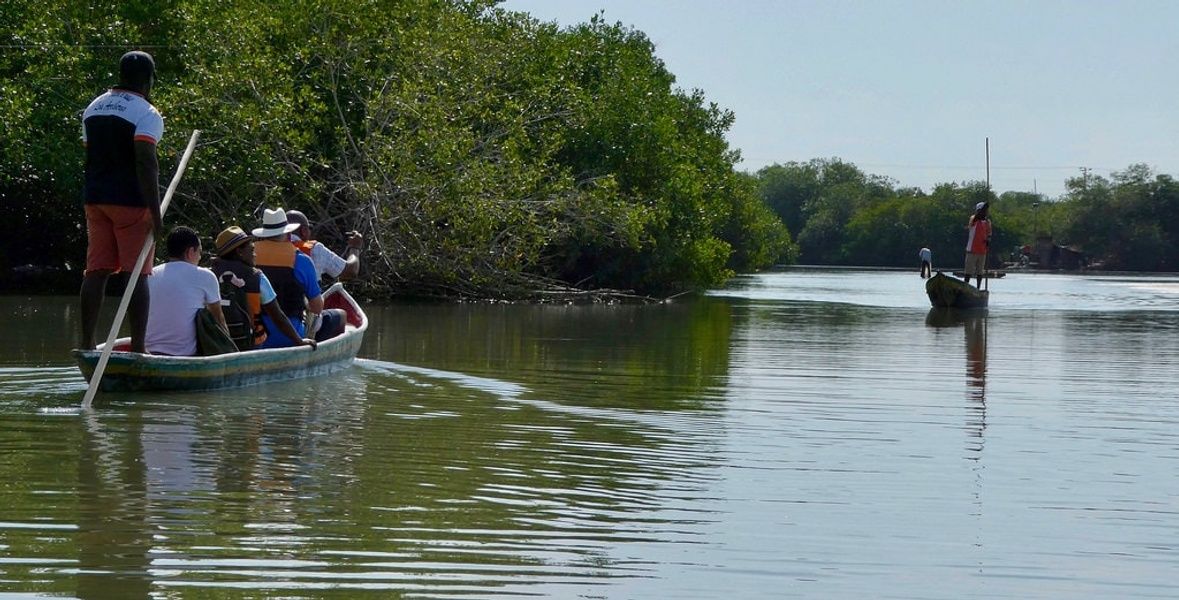 La Boquilla: a rustic getaway just minutes from Cartagena
This little fishing village is only about a 25-minute drive outside of Cartagena, so if you're looking for a true slice of Colombian culture, La Boquilla should definitely be added to your Cartagena itinerary.
Boat through La Boquilla's incredible mangrove swamps
La Boquilla is home to a network of beautiful mangrove forests, where the trees grow tall and thick with greenery and wildlife. But best of all, since mangroves grow in swampy water, you don't hike these forest trails—you boat through them! As you row through the swamp, the mystical surrounding mangroves create natural tunnels, making for a gorgeous and mysterious experience. Suffice to say, a boat ride through the mangroves is an extremely special way to experience Colombia's abounding biodiversity.
Experience la Boquilla's unique Afro-Colombian culture
Because the Cartagena area was once a haven for freed slaves, its culture traditionally carried a strong African influence. However, while Cartagena proper has lost much of this influence over time, its less-cosmopolitan neighbor La Boquilla still largely retains its African-influenced styles of dress, food, and language. Today, La Boquilla's culture is a rich mix of Afro-Caribbean elements including unique foods and exceptional music. A visit to this charming fishing village will let you peer into a unique type of Colombian culture that you won't find anywhere else.

Get involved in La Boquilla's world famous fishing
For the past 250 years, the residents of La Boquilla have relied heavily on fishing as their main source of income and sustenance. Most fishing is done early in the morning with a traditional net and some crab boxes, and its efficiency is absolutely beautiful to watch. For an authentic visit to La Boquilla, you'll definitely want to go fishing with a local—you'll probably get to eat your catch for lunch! Have one of our Colombian travel experts can get you connected with a local for a fishing tour; you won't regret it.
La Boquilla is the most authentic fishing village you've ever seen
Some of the best places to visit in Colombia are located along the Caribbean coast, La Boquilla being one of them. A few of the beaches in La Boquilla can be slightly grittier than those in Cartagena, but it's well worth the trip to see this one of a kind village, making it one of the coolest experiences in Colombia. Have one of our Heroes plan you a personalized trip to this authentic Colombian locale!
Have more questions about a visit to La Boquilla? One of our local travel experts can help you, or feel free to message us any questions you may have. And before your trip, make sure to check out: