No matter what kind of vacation experience makes your heart go wild, we've got the perfect Colombia itinerary for you. Love cities? We got ya. More of a beach bum? Omg yes. Check out these four incredible itineraries, mix and match the activities you like, or better yet, build your own!
Want to make the most out of your trip? Tap into our network of local travel planners—Heroes—who build unique, locally-curated trip plans, designed just for you. Get started.
Table of Contents
Itinerary One: Beach Bliss
Days 1–3: Cartagena islands
Days 4–5: Barranquilla
Days 6–7: Santa Marta and Tayrona National Park
Colombia's cities are tons of fun, but the beaches are out-of-this-world amazing.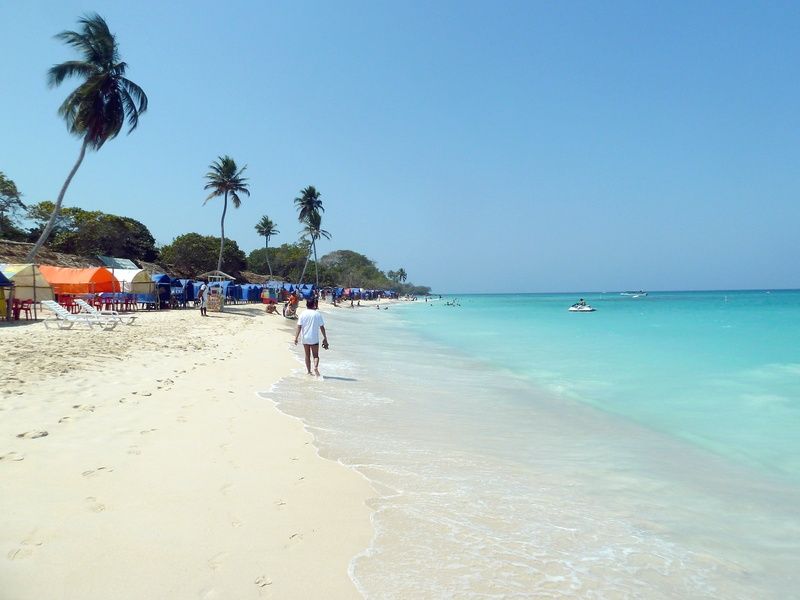 In this beach-centric itinerary, start in Cartagena. Spend some time getting to know the town (especially the historic and colorful Walled City), but make exploring Cartagena's wonderful islands the main focus of your visit.
There are so many to choose from, and each offers a different experience. Whether you're looking for somewhere to party, to enjoy pristine beaches, or even to check out old forts—you can find it. Stay a few days on the gorgeous Rosario Islands for impeccable beach bliss.
Next, hop over to Barranquilla. There is so much to do in Barranquilla (museums, food, nightlife, you name it) but the beaches are a huge draw. Check out the Pradomar, where visitors can enjoy the private beach all day for just a couple of dollars. Or, get some beach insight from a Colombia local on the best places to relax in the sand. A party town, Barranquilla is safe, but it may appeal more to certain types of travelers.
Finally, top off this wonderful Colombia itinerary by moving up the coast to visit the town of Santa Marta. While in the neighborhood, don't miss out on the wonderful Tayrona National Park for some of the most gorgeous natural sites (and beaches) in the entire country.
Itinerary Two: Cultural Exploration
Days 1–3: Bogota's coolest neighborhoods
Days 4–5: Medellin's inspiring history
Days 6–7: Cartagena's Old Town and art scene
If history and art are your jam, we've got the itinerary for you. This one focuses on the cultural activities of Colombia's big cities: Bogota, Medellin, and Cartagena.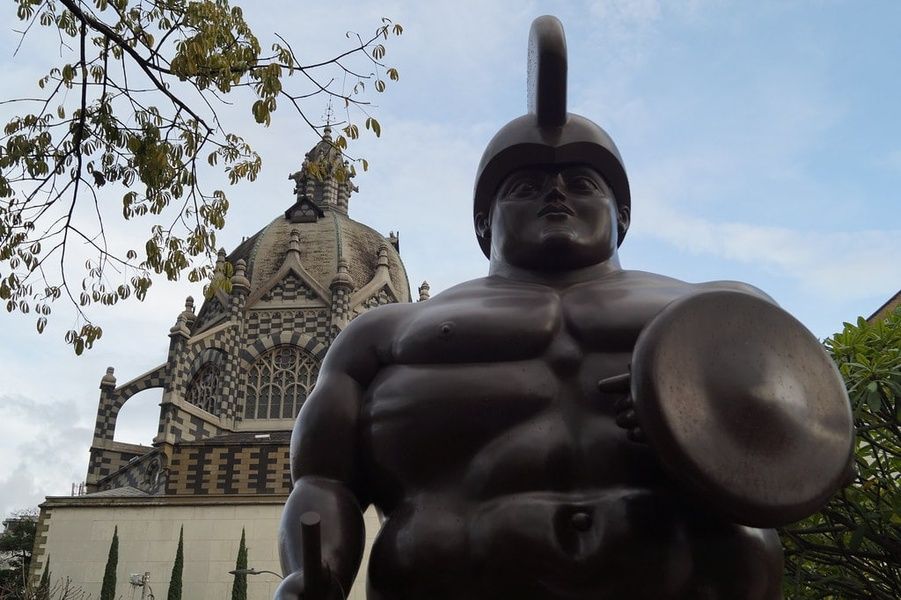 Begin your journey in Bogota—and to build an ideal Bogota itinerary, you'll need to check out the Chapinero neighborhood. It's a perfect combination of past and present: gothic churches alongside streets filled with hip restaurants and live music. Another of Bogota's highlights is the neighborhood of Candelaria, where visitors can soak in the incredible street art. And don't worry—Bogota is super safe these days, so feel free to get wild!
Of course, the cultural tourist attractions of Colombia extend to Medellin. The next stop on your Colombia itinerary, Medellin offers great salsa dancing, a vibrant art scene, and, of course, the formerly notorious Comuna 13 neighborhood.
This area was once dangerous, but today, street art and safer streets make it an incredible place to visit. The best itineraries for Colombia will include a visit to Botero Plaza where visitors can soak in the 23 awe-inspiring statues created by Fernando Botero.
Top it all off in Cartagena. Make sure the Cartagena phase of your itinerary includes the unique and awesome Old Town. The history here is simply incredible. Plus the museums will delight everyone—you can't go wrong with museums about gold and chocolate. Get some insider info from a Cartagena-based trip planner—they can give you the scoop on all the best things to visit (and which to skip).
Itinerary Three: Dynamic Day Trips
Days 1–3: Day trips from Bogota
Days 4–5: Day trips from Medellin
Days 6–7: Day trips from Cartagena
For anyone who prefers mountains to monuments, this next itinerary is for you. Between quaint towns and tremendous natural sights, there's a lot of great stuff to see in Colombia outside its biggest cities.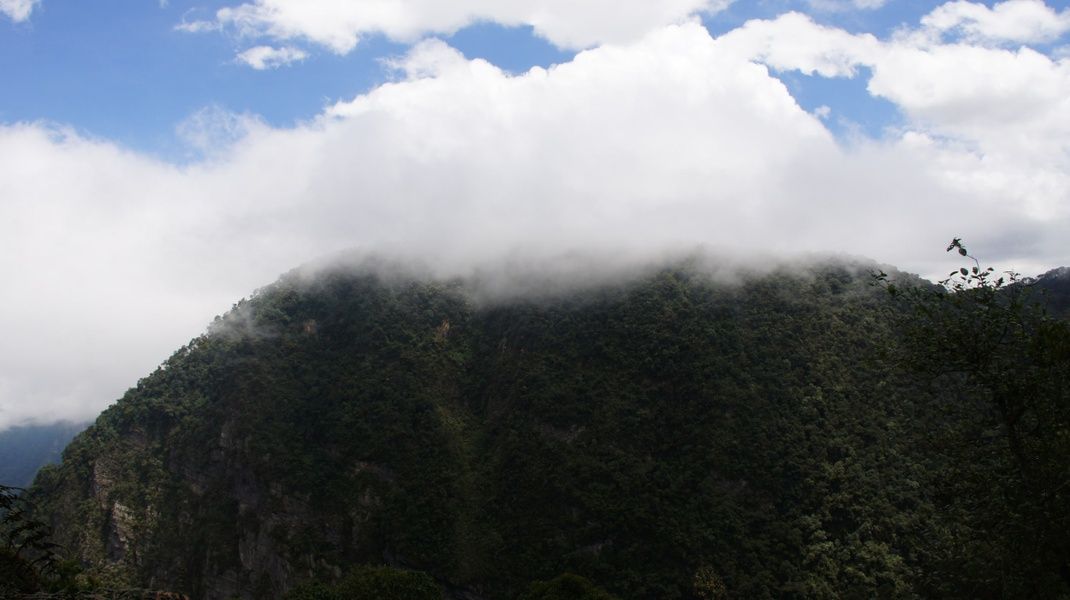 From Bogota, there's an entire universe of spectacular sights within a few hours of downtown. Some of the best day trips from Bogota include Chinganza and Chicaque Natural Parks (where visitors can enjoy the wondrous Colombian cloud forests), La Chorrerra waterfall, which offers amazing hikes, and, of course, tons of incredible Colombian coffee farms that welcome visits.
Chat with a Colombian local who loves nature for help finding the perfect off-the-beaten-path gems to explore.
After Bogota, head north! Medellin has some great day trips as well. Spend a day ziplining in the incredible man-made Laguna de Guatape. While in this neck of the woods, definitely check out one of Colombia's coolest landmarks: the 656 food high "Rock of Guatape". The views here are unbeatable.
Then, get up early for the six-hour bus ride to Santa Rosa de Cabal—believe us, it's worth it. At this incredible destination, you'll spend the day soaking your bones in Santa Rosa's thermal hot springs.
Finally, move up the coast once more. More day trips await in Cartagena. Take a page out of Itinerary One's book and spend your last few days in Colombia exploring some of the awesome islands off the coast. Or relax after all your adventuring at the El Totumo volcanic mud bath.
Itinerary Four: Unique Urban Adventures
Days 1–3: Bogota
Days 4–5: Medellin
Days 6–7: Cartagena
Colombia is packed with dynamic cities—and its three main metropolises, Bogota, Medellin, and Cartagena, all offer something unique. More than daytime fun, each has its own stellar nightlife and amazing activities for the urbanites out there.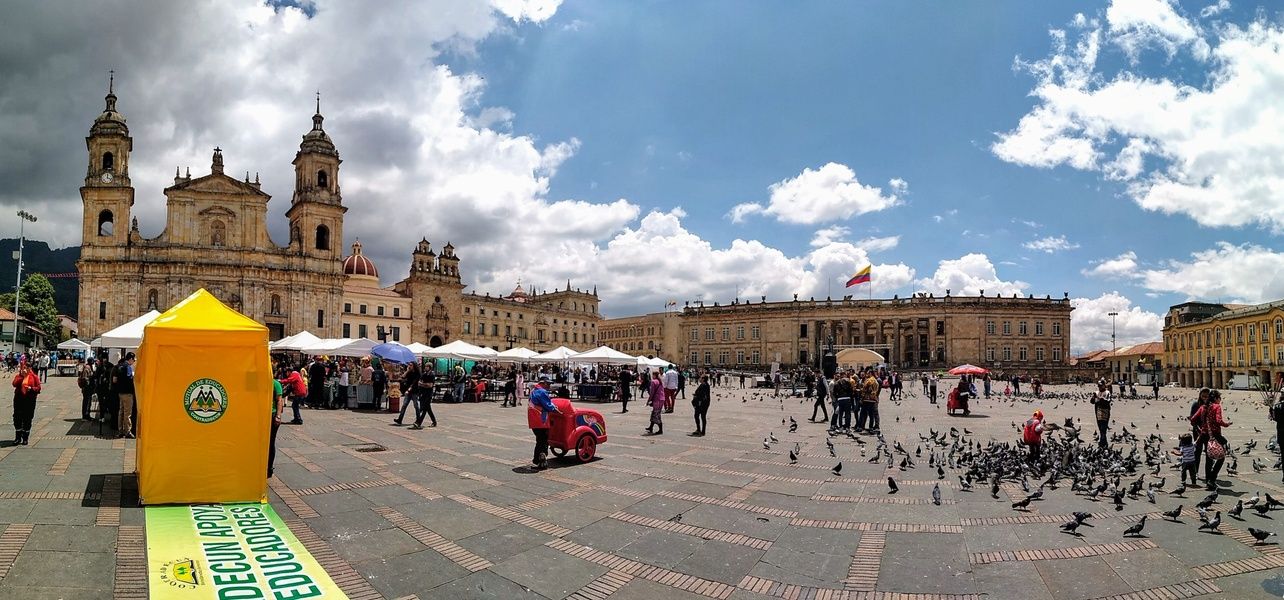 As Colombia's capital, there are tons of things to do in Bogota. Enjoy all the incredible stuff packed into this amazing town—Bogota has an incredible food scene, and the city also offers spectacular coffee and craft beer (so if you spend your three days in Bogota doing nothing but eating and drinking, we won't be mad).
After noshing your way through Bogota—hopefully with some time spent checking out the city's amazing graffiti—make your Colombia itinerary soar with a cable car trip up Monserrate (Bogota's friendly neighborhood mountain).
You won't be tired of Bogota after three days, but sadly, it'll be time to pack your things and head to Medellin for the next step of your urban adventure. Celebrate your arrival by enjoying Medellin's crazy good nightlife! The salsa dancing here is out-of-this-world. And definitely make sure a ride on the state-of-the-art metro makes your Medellin itinerary—it includes flying cable cars! Need we say more?
Though it had some bad times in the '90s, Medellin has become quite safe to visit. In fact, many people recommend checking Comuna 13—the neighborhood once dominated by Escobar's drug cartel—to appreciate the amazing history and street art. If you're interested, make sure to talk to a Medellin local about the best way to go about visiting.
Finish your wild week on the coast. Cartagena has great nightlife, stunning beaches, and tons of amazing food. The nightlife here is excellent, and generally a bit less crowded than in Bogota and Medellin.
Be sure to check out Getsemani, the most hipster of Cartegena's neighborhoods, for a truly stellar night out (Cartagena is safe, but use common sense). Other favorite neighborhoods for getting to know locals and soaking up the urban vibe include San Diego and Centro.
--
Ready for your Colombia adventure? These Colombian itineraries are a great way to start, but be sure to connect with a local Colombia trip planner for help design the itinerary of a lifetime. They'll create a game plan that caters to your interests, plus they'll be able to help if you run into any issues. As for any further questions? Send us a message! And check out: