It's no secret that Cartagena is one of the top destinations to visit in Colombia—but what you may not know is that Cartagena is also the launching point to one of Colombia's most beautiful island getaways—The Rosario Islands. A collection of 27 stunning islands off Colombia's Caribbean coast, traveling through the Rosario Islands is a dream oceanside vacation—all you have to do is book your boat ride to paradise! Keep reading to learn about the best things to do in the Rosario Islands; afterward, don't hesitate to message us with any questions you have about traveling to these Caribbean jewels!
Want to make the most out of your trip? Tap into our network of local travel planners—Heroes—who build unique, locally-curated trip plans, designed just for you. Get started.
Table of Contents
The Rosarios are composed of 27 stunning islands (though not all are inhabited)
The Rosario Islands are the ideal spot to enjoy the magic of the Caribbean without the crowds. As home to incredibly still waters and vibrant coral reefs, the islands are a natural wonder—and as part of Colombia's protected system of national parks, the Rosario Islands are perfectly safe to travel through as well. Keep in mind that not all of the Rosario Islands are inhabited or open to visitors, but the main islands are:
Now that you're familiar with the main islands in the Rosario collection, keep reading for the top activities to do in the Rosario Islands!
The Rosario Islands' snorkeling is truly unparalleled
Home to over 1,300 species of marine animals and plants, the Rosario Islands are a snorkeling Eden! The Rosario Islands are undeniably one of the best places to visit in Colombia if you're interested in superbly preserved coral reefs and spectacular views of underwater life. Grab your underwater camera and goggles and get ready to explore life below the waves! If you're staying in Cartagena, you can arrange a day trip from the Muelle de los Pegasos pier in Cartagena, which hit the best snorkeling area in the Islands.
Although all the islands have access to the Rosario Islands' beautiful reefs, Isla San Martín de Pajarales is particularly known for its fantastic and easily accessible snorkeling. From Isla Grande, you can arrange snorkeling trips to the outlying islands and even snorkel around Pablo Escobar's old vacation estate. Between the warm, clear water and stunning marine life, snorkeling in the Rosario Islands is a Colombian experience you can't miss.
If you choose to spend a few days staying on the Rosario Islands–and you definitely should–make sure to have a local Colombian expert help you arrange a snorkeling expedition. There are literally hundreds of ways to get to the Rosario islands—so you'll definitely want some personalized recommendations on transportation depending on where you want to go and what you want to do.
The scuba diving is absolutely unreal
There are numerous diving companies that offer scuba certification and diving tours in the Rosario Islands—again, we'd recommend reaching out to a Colombian travel planner to find the best diving company for your taste and budget. You could try to sort through them all yourself, but with all the options and difficulty distinguishing between the reputable and not-so-reputable companies, we'd really suggest having a local expert help you out.
The Rosario Islands boast numerous species of coral, lobsters, crabs, starfish, and lots of fish, and a trip under the sea can't be missed. While the majority of dive trips are based from Isla Grande, Isla Fuerte is also known for its stunning dive locations just offshore. The Rosarios' tropical location ensures that the water is always warm and protected from the winds, and the diving conditions are suitable for pros and beginners alike.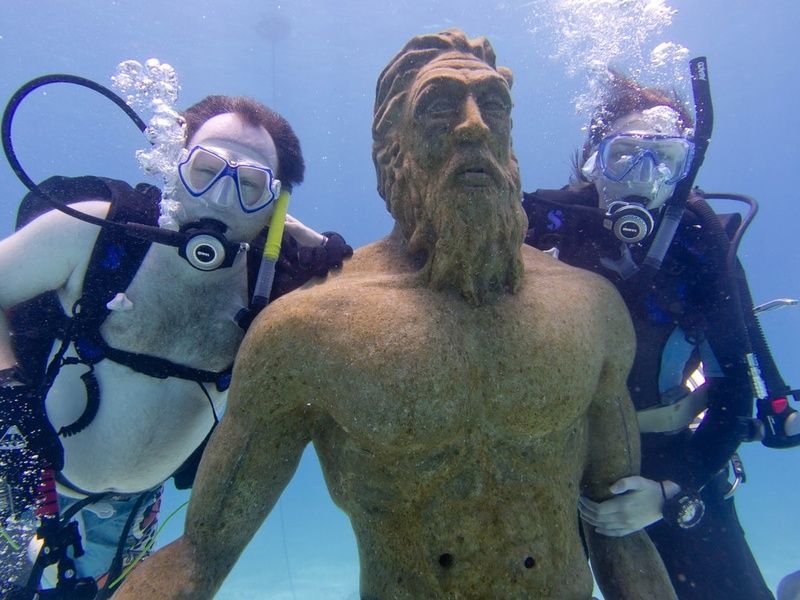 Enjoy the best beaches in the Caribbean
The Rosario Islands are known for their fine beaches, complete with pure white sand, gorgeous clear ocean water, and relative peace and quiet—especially in comparison to neighboring beaches like Playa Blanca or Bocagrande. If you're looking to switch up the traditional beach experience, though, check out Isla Grande's Laguna Encantada or "Enchanted Lagoon". The lagoon is open to swimmers and filled with a rare type of bioluminescent plankton which glows in the dark, actually lighting up the water from below! This unique experience is a Colombian highlight you can't miss, so slip your bathing suit on and take a dip in the glowing water!
When it comes to rest and relaxation, the islands can't be beat
There are a lot of fun things to do in Cartagena, but endless activity can tire even the most ardent of travelers. The Rosario Islands provide a breath of fresh air for anybody tired of the hustle and bustle of Cartagena. Warm turquoise water, endless sands to sunbathe on in peace, stunning sunsets every evening, delicious fresh seafood and fruit—need we say more? Isla Majagua is a great destination if you're hoping to relax; very small and intimate, the island provides beachgoers with a secluded oceanside experience. Curl up with a book and sip on some fresh fruit juice while working on your tan!
Kayak through Isla Grande's mangrove forests
Besides being known for its gorgeous beaches and unique mix of cultures, Isla Grande is also home to a gorgeous mangrove forest. The mangroves grow along the sides of the river, and provide a super unique kayaking route—rent some kayaks, grab your water bottles and paddles, and take a family trip through these magnificent trees. Talk to a local trip planner for help organizing your mangrove excursion.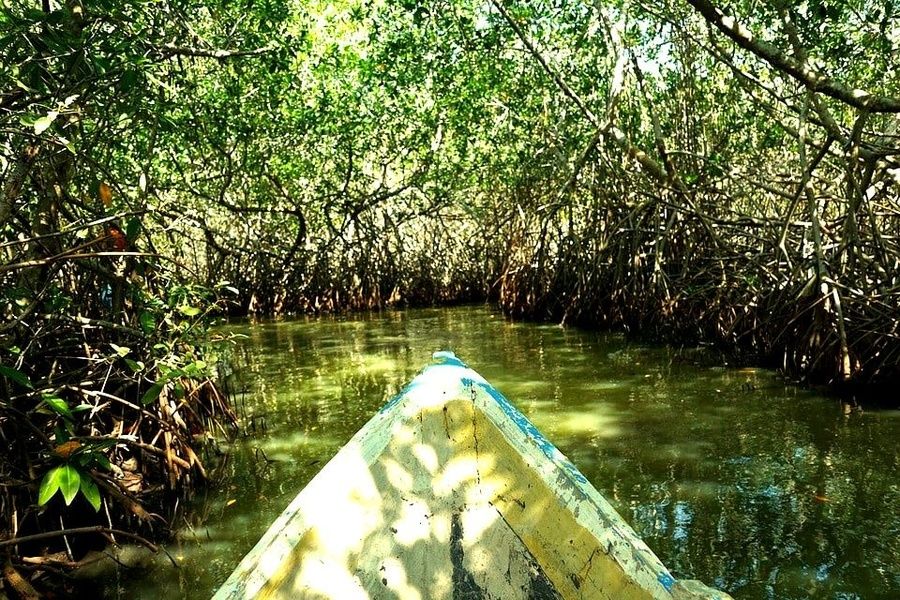 There's no better place for a romantic getaway
Looking for an exclusive romantic getaway? Cartagena is a safe bet and full of romantic activities, but you'd be remiss to skip a stop in the Rosario Islands. If you're looking to lay on the beach, soak up some sun, and enjoy the peace and quiet, Isla Majagua is a great option. The island also houses the Hotel San Pedro de Majagua, a unique hotel designed in a local architectural style, making it an absolutely adorable love nest. Isla Fuerte also boasts secluded and pristine beaches for those hoping to get away; additionally, the Isla Fuerte Eco Lodge is a beautifully crafted boutique hotel, intimately designed with only 6 rooms. Isla Grande also has numerous spas and resorts if you're looking for a more luxurious experience.
Enjoy the Rosario Islands' wide variety of kid-friendly activities
Worried about traveling to the Rosario Islands with kids? Don't be! Colombia is perfectly safe for families, and the islands sport numerous family-friendly activities. Pack some snacks and explore the Isla Rosario's Oceanario Aquarium—considering Colombia is one of the most biodiverse countries on Earth, it would be a shame to pass up a chance to check out Colombia's fantastic variety of wildlife! This unique aquarium is fairly small and comprised of saltwater pools, housing numerous species of dolphins, sharks, fish, and other sea life.
Embrace Colombia's rich history with a stop at Pirate Island
If the aquarium isn't your scene, you can head over to Isla del Pirata ("Pirate Island" in English) to dig for buried treasure! Although you may not find any pirate booty, you are guaranteed to find gorgeous still waters and sand perfect for sandcastle making! Named after its historical use by Caribbean pirates, Pirate Island is now known for being home to a stunning beach with extremely calm and clear water.
--
Have more questions about traveling to the Rosario Islands? Want help organizing your expedition? Reach out to one of our local Colombian trip planners. They've got the inside information you need to help put together your perfect Rosario Islands getaway—plus, they're available with 24/7 phone support if anything goes wrong. Basically, it's like having a best friend in Colombia. As always, feel free to message us any questions you have, and before your trip, make sure to check out: