Solo travel to Colombia can seem intimidating—but the truth is, the country's amazing culture, warm locals, and modern attitude make it a fantastic place to visit by yourself. All you need is a little insider info!
With that in mind, we've created this guide to solo travel to Colombia, complete with recs on where to visit and how to stay safe, tips for solo female travelers, a comparison of lodging options, and more. So don't go at it alone! We're happy to answer any questions.
Want to make the most out of your trip? Tap into our network of local travel planners—Heroes—who build unique, locally-curated trip plans, designed just for you. Get started.
Table of Contents
The best places to travel solo
One of the obvious perks of solo travel: you get to experience *your* ideal Colombia itinerary. And as a solo traveler, we'd recommend you hit the cities—they're full of culture, fun, and opportunities to meet locals. The main 3:
Bogota:

If your

itinerary takes you to Bogota

, you're going to want to experience the city's hipster explosion firsthand. From the beautiful street art in Candelaria to explore the city's spectacular museums (like the world-renowned

Gold Museum

), you'll never have a dull moment.

Medellin:

Enjoy the

incredible nightlife in Medellin

where, as a solo traveler, you can be out as late (or as early) as you want. The adventurous can take part in the city's famous salsa dancing (although there's no shame in simply taking it all in), and given Medellin's wealth of universities, there are young people everywhere.

Cartagena:

Solo travel = ultimate independence. Aside from the city's amazing beaches, you also get to take your pick of all the great

day trips that Cartegena

offers.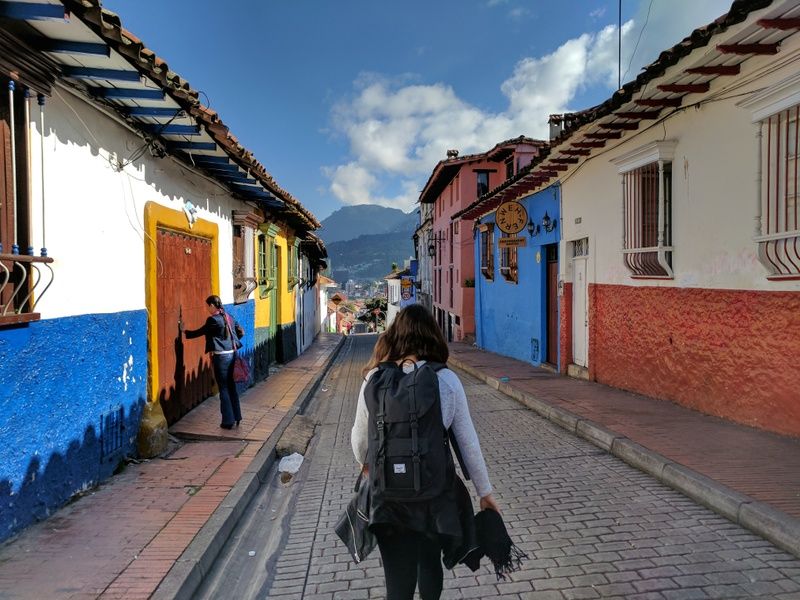 That's not to say that you shouldn't venture out of the city—because you totally should! But if you're flying solo, these three towns are the easiest areas to navigate. Basically—you can build a great Colombian itinerary no matter what kind of activities you enjoy.
All the major cities are filled with tourist attractions, so do your research and you'll have a great time. Or, just ask a like-minded Colombian local for their suggestions.
Solo female travel in Colombia
Travel in Colombia is largely safe. But as women everywhere know, people can be horrid and extra precautions are sometimes needed. Though it's obnoxious that we have to even talk about this, here are some tips for women traveling solo in Colombia:
What to wear:

Women dress well in Colombia—often combining a dress with a light jacket. There are no

hard and fast fashion rules in Colombia

, except one: avoid wearing shorts and flipflops (this applies to both women AND men). This look *screams* tourist. It could result in unwanted attention.

Don't leave drinks unattended:

Stranger danger is international, folks. Keep an eye on drinks, and don't accept drinks from strangers.

Learn un poquito de Español:

While you don't

need

to know Spanish to get by in Colombia, knowing a few words or phrases can be useful. Even knowing hello (hola) and thank you (gracias) can go a long way.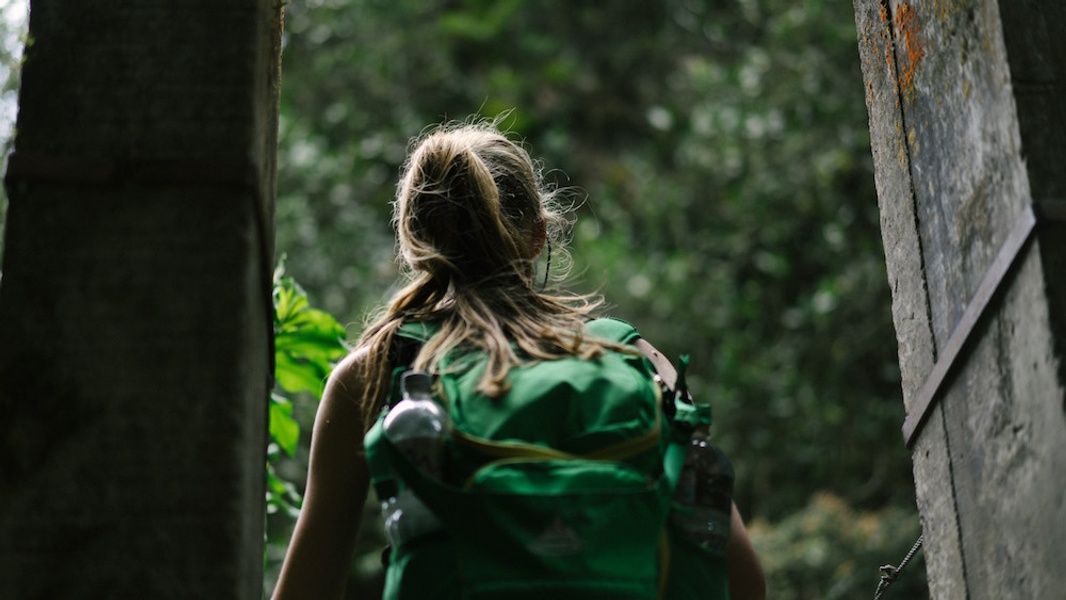 Ignore the catcallers:

As a foreign woman, there's a good chance you'll stand out. Men may catcall, whistle, or say things as they pass by in cars. It's annoying but just ignore it and keep walking—same as you would at home. It's also worth noting that harassment in Colombia is known to be much less intense than elsewhere in Latin America.

Talk to Colombian women:

Who knows what it's like to navigate Colombia as a woman better than women who actually live there? One of the best ways to experience Colombia in an authentic and safe way is to

connect with a local Colombian trip planner

—they can give you safety tips, help you plan a dream itinerary… and perhaps even suggest what kind of aguardiente cocktail you should order.

Get a cross-body purse:

Fashionable and functional, a cross-body purse is a safer way to carry valuables.
The best places to stay when traveling alone
Hostels, hotels, and Airbnb are all good options for a solid Colombia itinerary. It depends on what kind of experience you're looking to have.
Hotels:

Hotels are generally the most expensive option, but they come with perks to make it worth it. Hotels offer the most privacy, and since it's Colombia, even the "expensive" hotels are not-so-pricey.

Hostels:

A popular option with the younger crowd, hostels are a good choice for solo travelers. Social butterflies will love having lots of people around and. Just be sure to do research about the

best hostels in Colombia

or

ask someone for recommendations

.

Airbnb:

Airbnb is a great way to stay in Colombia like a local. And an Airbnb with multiple rooms can offer a chance to meet other guests. However, we'd recommend doing your research on neighborhoods to stay in (and which to avoid) before booking an Airbnb.
Getting around solo
From city-to-city
With so many incredible cities to visit in Colombia, you shouldn't choose just one. There are tons of ways to travel through Colombia, which makes getting between cities a breeze.
Flying is great and easy, as there are airports in almost every major (and minor) city.

Buses take longer but are much cheaper (Bogota to Medellin is about seven hours).

Both are safe options, so it depends on your budget and sense of adventure. There are some sketchy routes to be avoided, but as long as you're booking with a reputable bus company this is a safe and easy way to get around the country.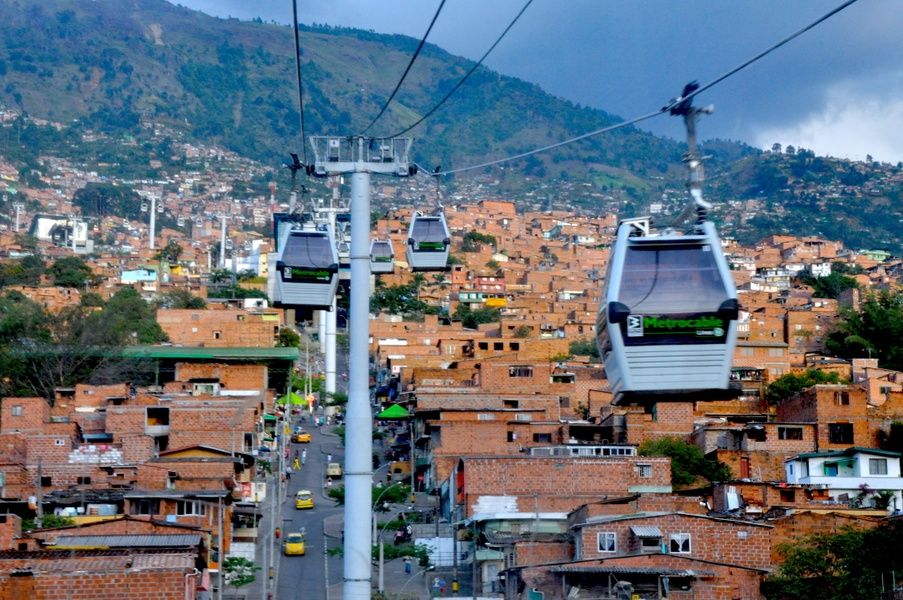 Within the cities
There are a couple of different transportation options in each city. We'll make it easy: avoid taxis, use Uber, and use caution when checking out the metro. As far as transportation goes:
Medellin

: The

Medellin metro

is a cool way to get around the city, and it's cheap—tickets are less than a dollar. The Medellin metro is easy to use, so it's a great option for solo travelers with ambitious

Medellin itineraries

. But again: use caution! The metro is a haven for pickpockets.

Bogota

: Although Bogota lacks a metro system like Medellin, it still offers plenty of ways to get around. The

TransMilenio bus route

is cheap and extensive, but it can get busy at rush hour. And again, if you choose this option, keep an eye on your belongings.

Cartagena

: Much of Cartagena is navigable by foot, especially Old Town. There are taxis and buses, but they can be confusing to use. If you decide to take a colorful private trolley (

chiva

) for the authentic experience, make sure to have a

local travel expert

recommend a reputable one.
Pro tip: You need to add a cable car trip to your Colombia itinerary if you're in Medellin. It's part of the metro system, and it'll give you an unparalleled bird's-eye view of the whole city.
Safety tips for traveling alone
Some of the most frequently asked questions about Colombia concern safety. The truth is, there's never been a better time to visit this gorgeous country. Does crime exist? Yes. But Bogota is safe. And Cartegena is safe. And… well, you get the idea. Traveling to Colombia is like traveling anywhere else: take normal precautions, take an Uber when it's time to go home, and don't wander too far away from the main drag.
And when in doubt, get the inside scoop from a Colombia local.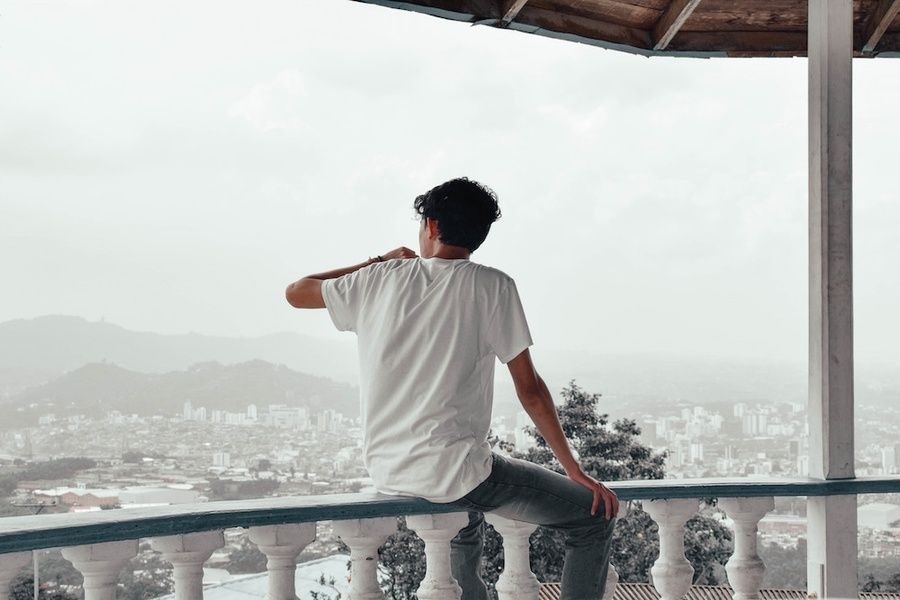 Eating and drinking alone
Eating out is one of the best ways to explore a new culture. Here are some tips for making the most of your solo dining experience:
Tip #1: As you plan your perfect itinerary, keep in mind that the country is in the midst of a flourishing craft beer scene. The Bogota beer scene has especially got it going on! (Psst—there's great beer in most of Colombia's major cities).
Tip #2: Solo travelers can sample an incredibly diverse spectrum of delicious delights throughout Colombia. For a great night out in Cartagena, (the city is Colombia's culinary capital) be sure to indulge in the famous seafood. Likewise, a major Bogota highlight is the area's traditional street food (arepas, empanadas, etc.).
Tip #3: Honestly, the best way to discover Colombia's culinary scene is through the eyes of a local. They'll have restaurant suggestions no matter what city you're in, and they can give some insight on the best (and worst) places to dine as a solo traveler.
Places to avoid
Colombia is safe to visit, but be smart about it. The country has gone through an incredible renaissance in the last couple of years, which means it's safer than ever. Still. There are a few places that voyagers should try to avoid. The U.S. State Department recommends that visitors avoid these areas (although overall Colombia is safe for Americans):
Arauca (near the Venezuela border)
Cacau, except Popayan (in the southwest, near the Ecuador border)
Choco, except Nuqui (west of Medellin, near the Panama border)
Narino (in the southwest, near the Ecuador border)
Norte de Santander, except Cucata (near the Venezuela border)
--
Solo travelers, are you ready for your Colombia adventure? Make sure you have a safe and exciting trip—and make sure you don't miss out on the *real* Colombia—by getting some insider info from a local trip planner. Not only will they know the best places to go and things to see, but they're also available by phone 24/7 if you run into issues. In the meantime, feel free to send us any questions you may have. And definitely check out: