Whether you're a nature lover, party animal, history buff, foodie, or artist (or all of the above!), Colombia is the destination for you. No matter what you're interested in, Colombia offers one-of-a-kind experiences for every type of traveler. Keep reading to discover the highlights of Colombia's roads less traveled; once you do, don't hesitate to message us with any questions you still have about Colombia's unique excursions!
Want to make the most out of your trip? Tap into our network of local travel planners—Heroes—who build unique, locally-curated trip plans, designed just for you. Get started.
Table of Contents

The Nature Lover
Enjoy Colombia's incredible biodiversity
Colombia is a nature lover's paradise. Despite its relatively small size, Colombia boasts the second most diverse ecosystem in the world. From the mountainous Andes region to the Amazon rainforest, Colombia is an environmental melting pot. So whether you're looking to hike through ancient ruins or sneak a peek at a wide variety of animal and plant life, don't worry—you can do it all in Colombia.
Get Dirty in Volcan de Lodo El Totumo
Only a 45-minute drive away from the bustling city of Cartagena lies the mud volcano Volcan de Lodo El Totumo. According to Colombian myth, the (formerly) lava-spewing volcano wreaked havoc on nearby villagers until a priest blessed it with holy water and turned the lava to mud. You can now float in El Totumo's mineral-rich mud crater and thank the heavens for creating such a unique spa experience! Complete the relaxation experience of a lifetime by letting one of our local travel experts plan every detail of your trip to this incredible volcano-turned-spa!
Camp under the stars in the Tatacoa Desert
The Tatacoa Desert is a semi-arid desert south of Bogota, and is home to one of the most incredible astronomical observatories anywhere in the world. Due to the desert's absence of light pollution, the heavens are clearer than ever from the observatory. That being said, no trip to Tatacoa is complete without a stop at "The Pool". A swimmable oasis in the middle of the desert where travelers can escape the midday heat, the pool is also home to one of the most unusual bars in the world. And while looking for a campsite and equipment amidst towering rock formations and seemingly endless star-studded skies may seem daunting, don't worry—our Heroes can arrange every part of your desert trip, from start to finish!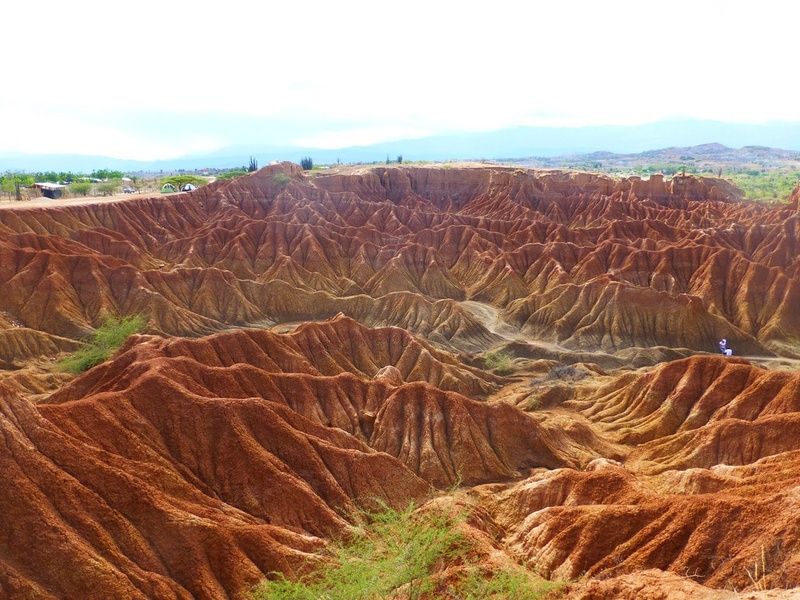 Explore La Ciudad Perdida—"The Lost City"
The Lost City Trek is a 28-mile hike through the beautiful landscape of northern and is the ideal adventure for any hiking junkie. This 4-5 day hike winds through the Sierra Nevada's lush tropical jungle, stunning hills, and narrow valleys. La Ciudad Perdida is believed to have been the capital city of the Tayrona civilization, dating back to the 9th century, and lay untouched until its discovery in the 1970's. Much of the city's architecture remains, and now provides explorers a chance to be transported back in time.
Take a dip in the

Cano Cristales
The Serrania de la Macarena National Park offers one of the most biodiverse natural reserves in the world. As the meeting place between the Andes and the Amazon, the park provides a glimpse into Colombia's wide variety of plant, bird, and animal life. Home to stunning waterfalls and vibrantly-colored natural rock formations, La Macarena also contains the famed river Cano Cristales. Dubbed "the river that ran away from paradise," the Cano Cristales' crystal clear waters reveal the aquatic plants that give the river its trademark five colors. Take a dip in the pristine water of the Cano Cristales and explore Colombia's biodiversity all in one excursion!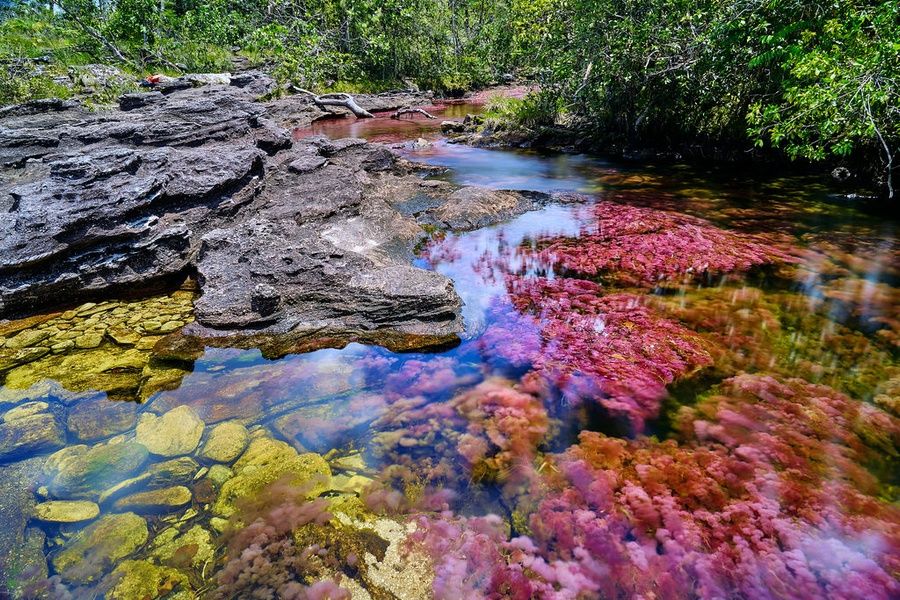 The Party Animal
Party down in Colombia
Colombia's reputation as home to beautiful people and nightlong parties is not inaccurate. No matter what your party inclinations are, Colombia's nightlife is always popping and drinks plentiful. If you're unsure of the best places to suit your tastes, reach out to your local travel expert to plan your Colombian nights out!
Salsa the night away in Cali
As the salsa capital of the world, anybody looking to lace up their dancing shoes needs to make a stop in Cali. Regardless of age or social class, locals embrace the pastime—which is why the city is said to eat, sleep, and breathe salsa. No worries if you have two left feet—the city boasts countless salsa classes; besides, Colombian locals are known for their open and welcoming attitude towards travelers!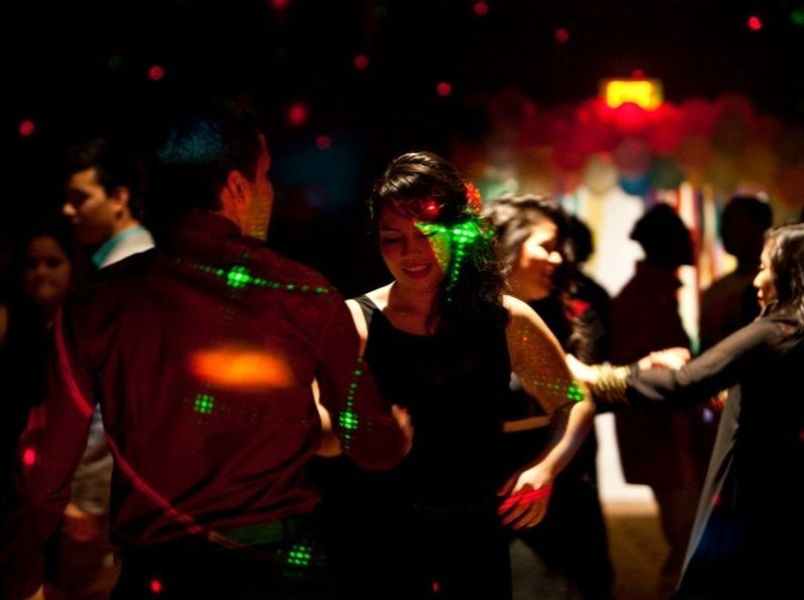 Live lavish in Bogota's Zona T
Despite a reputation for fine dining and a variety of shopping malls, Bogota's Zona T is best known for its prime nightlife. Located in western Bogota, there is always something going on in Zona T. If you're looking to hit the club or simply enjoy fantastic Colombian cuisine, reach out to a local travel guide for tips on planning your night out in Bogota!
Dig on Getsemani's live music
Cartagena is the birthplace of champeta music, the love child of African rhythm and Colombian style. Similar to American rap, champeta originated outside of the musical mainstream but slowly developed a fundamental role in Colombian music. No night out in Cartagena is complete without experiencing champeta firsthand, and to do so, one needs to look no further than Cartagena's artsy district of Getsemani. Known for its cafes, clubs, and bars, Getsemani is always teeming with live music and unique artistic vibes. It's also a perfect place to meet travelers and locals who are interested in the arts, or just looking to have a great night out! For more awesome things to do in Getsemani, check out a 3-day Cartagena itinerary!
The History Buff
Explore Bogota's heritage
As the capital of Colombia, Bogota has a rich cultural heritage that's sure to delight any history buff. No trip to Bogota is complete without a stop in the Plaza de Bolivar, where a bronze statue of Latin American hero Simon Bolivar, presiding over his surroundings, commemorates Colombia's independence. Bogota's Gold Museum is another historic pit stop, boasting one of the world's largest open collections of gold. The Museum also houses numerous pre-Columbian artifacts, including the golden raft said to have inspired the legend of El Dorado.
Get lost in Cartagena's rich past
Dating back to the 16th and 17th century, Cartagena is a cultural and historic gem. Cartagena's Old Town is an immaculately preserved colonial town, complete with brightly colored buildings and endless local vendors. Cartagena also houses another colonial-era relic, the Palace of the Inquisition. During the chaos of the Spanish Inquisition from 1500 to 1834, accused heretics were tortured and sentenced in this palace. It's now open as a museum and offers a chance to educate oneself on some of the darker aspects of Colombia's colonial heritage.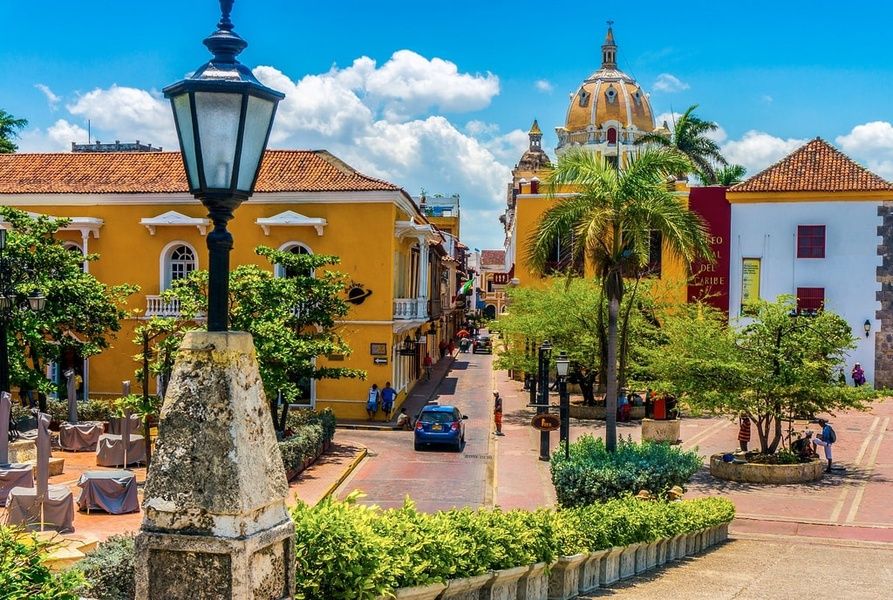 Tour Pablo Escobar's Hacienda Nápoles
What can be said about Pablo Escobar that hasn't already been said? But love him or hate him— and we sure couldn't blame you for the latter—it's undeniable that he was an expert in crafting a life of excess. In its heyday, Hacienda Nápoles, Escobar's luxurious old country estate, boasted eight miles of luscious grounds and pools, a full runway for Escobar's helicopters and planes, and an entire zoo. Located east of Medellin, Escobar's land has now been renovated into a safari- theme park. Have your Hero plan you a trip so that you can spend the afternoon exploring the grounds, seeing Escobar's collection of exotic animals, and even tour the plane that carried Escobar's first load of cocaine into the US.
The Artist
Snap a pic of Bogota's famed street art
Bogota's street artists are internationally known for their unique artistry, and have transformed the streets of Bogota into a haven for creatives. The streets of La Candelaria, Bogota's prime artistic area, are a must-see for any art lover. Covered from head to toe in murals and street art, La Candelaria is a stunning mixture of traditional Colombian elements and modern style. Colombian street art draws on the hardships of the past to create captivating art in the present; read on to get more awesome recommendations with a Bogota-based travel itinerary.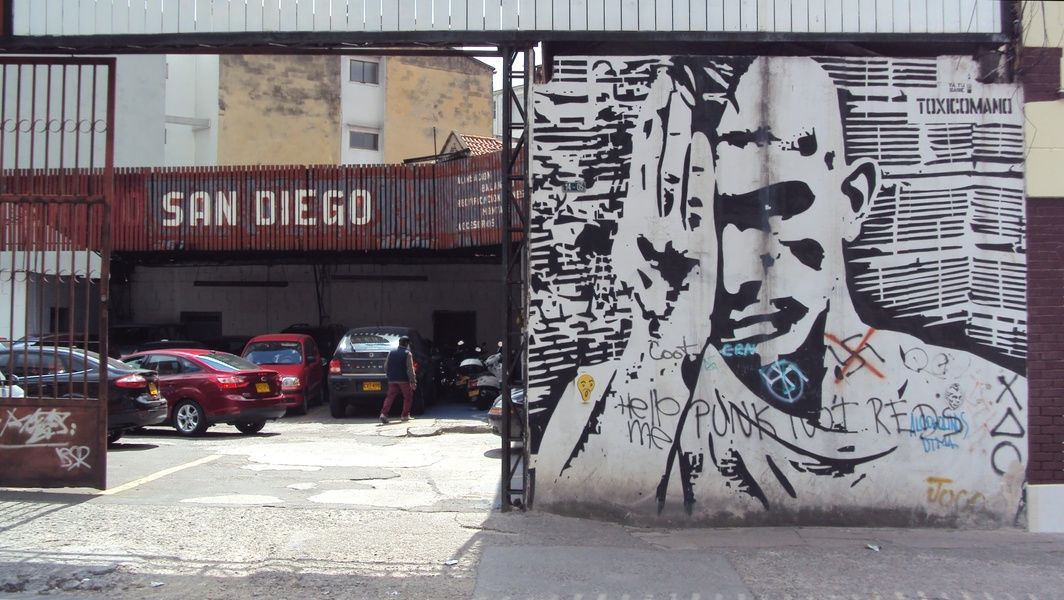 Slide down Medellin's innovative transportation
Awarded "The Most Innovative City in the World" in 2013, modern Medellin is unrecognizable from the narco-city of the 1970s and '80s. Medellin's creative transportation system played no small part in this rebirth, specifically its cable car system. Sliding from the peaks of Medellin's mountains into the poorer areas lower down, this innovation has drastically improved the overall welfare of Medellin's residents by decreasing fuel emissions, violence, and poverty. Additionally, its increased mobility has opened up job opportunities to those who were previously reliant on the drug trade. The cable cars provide a stunning view of Medellin and the surrounding areas and are well worth the ride, so don't let the city's outdated reputation fool you—Medellin is quite safe!
Explore Cartagena's arts districts
If you're keen on the arts, you would be remiss to pass on checking out Getsemani, Cartagena's arts district. Local artists have hit the streets with paint brushes in hand, resulting in remarkably beautiful street art on nearly every corner. Cartagena's Old Town is also an artistic gem, complete with brightly colored colonial buildings, gorgeous hanging flowers, and countless vendors selling local goods. Skip the museum entrance fee and embrace Cartagena's outdoor art gallery!
Explore Colombia's salt cathedral
The Catedral de Sal de Zipaquira is not your average Catholic church. First opened in 1954, the cathedral is a stunning religious sanctuary carved inside an old salt mine. The church is divided up into a series of fourteen different chapels, connected by tunnels, mimicking the steps in Christ's journey to crucifixion. Despite its unique location, the salt cathedral can hold up to 10,000 visitors and is a fascinating pit stop for pilgrims and artists alike. For a more detailed itinerary for visiting the salt cathedral, check out A Week in Colombia.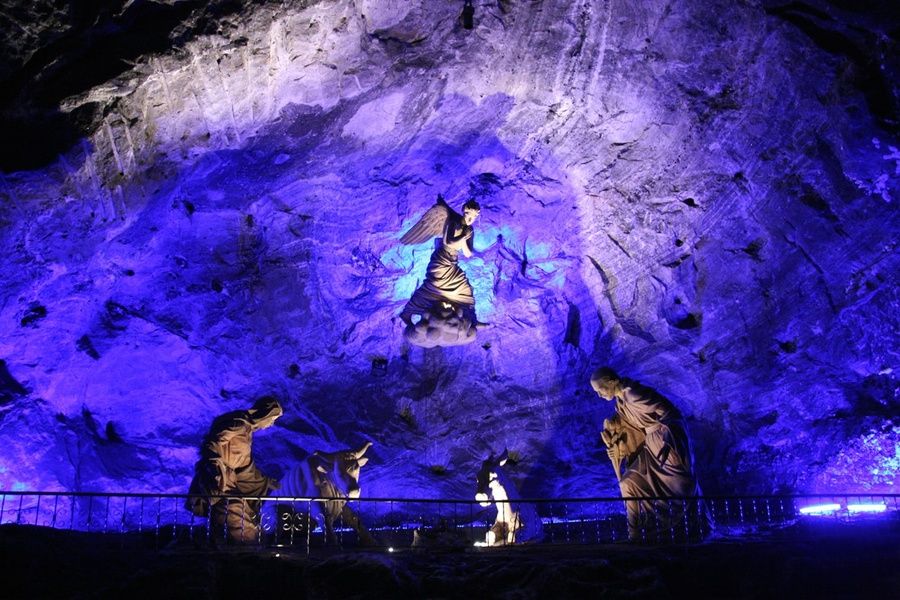 The Foodie / Coffee Lover
Drink your morning coffee like a local
As the world's third largest producer of coffee, Colombia has an extensive reputation for phenomenal beans. That being said, Colombian farmers traditionally export their finest coffee, leaving locals to brew the leftover beans into tinto. But what tinto may lack in quality, it makes up for in its cultural significance and unbelievably low price tag. You can drink your morning cup of joe like a local and snag a cup of tinto on any given street corner for around $.10. Since coffee is a major Colombian export, there are numerous plantations that offer tours of the extensive production process behind your Starbucks latte. A local Hero would love to help you arrange your trip, but remember—coffee plantation tours also typically include an opportunity to taste different types of beans, so make sure you go thirsty!
Take to the streets for lunch
Although the variety of street food available depends heavily on the region your visiting, all Colombian street dishes have one thing in common: they are delicious! Be sure to try fritanga, a fried Colombian specialty, typically comprised of plantain, chorizo, cheese, or potato. You can't go wrong grabbing an arepa, a maize dough pancake, stuffed with eggs, meat, cheese, or any number of other delicious Colombian staples. Empanadas are another classic Colombian dish, consisting of fried dough stuffed with pork or beef. Given its tropical location, Colombians have also capitalized on their wide assortment of fresh fruits and are well known for their excellent fruit juices.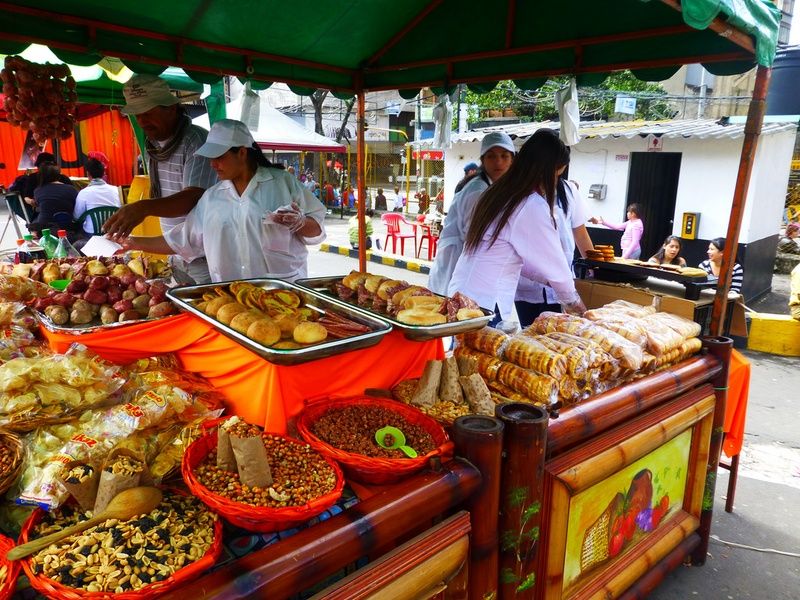 Dine with fine wine in Bogota
Bogota is known not only as a center for Colombian cuisine, but also international high-class dining. Colombian chefs have the unique ability to craft incredibly high-quality meals out of local staple ingredients. For a night of fine dining, check out the numerous restaurants in Bogota's Zona T or Chapinero. Home to numerous food festivals throughout the year, Bogota also offers fine dining with an affordable price tag. No matter what your tastes are, Bogota offers cuisine to suit every palate.
Don't miss out on regional specialties
Each region of Colombia has its own unique spin on signature Colombian dishes. If you find yourself in Bogota, you need to try a staple bowl of , a delicious chicken-and-potato soup. Medellin's signature dish is paisa, a rice and beans platter containing ground beef, avocado, plantain, and countless other yummy Colombian toppings. Cartagena is best known for its , or fried-to-perfection red snapper, as well as various other seafood options.
Whether you're looking to spend your vacation munching on delicious local dishes, exploring fascinating street art, or dancing the night away, Colombia has something to offer every type of traveler. Look into a full Colombia travel itinerary or reach out to one of our local Colombian travel experts to start planning your Colombian adventure today! And before your trip, make sure to check out: