Traveling to Bogota on a budget? Getting to explore a country as beautiful and fascinating as Colombia is well worth the price of your plane ticket, but there are so many cheap things to do in Bogota, you can see the city without draining your bank account. Read on for the top 10 best things do in Bogota that won't break the bank. Afterward, if you have any questions don't hesitate to message us directly!
Want to make the most out of your trip? Tap into our network of local travel planners—Heroes—who build unique, locally-curated trip plans, designed just for you. Get started.
Table of Contents
#1: Enjoy La Candelaria's fantastic street art
Bogota is internationally known for its unique and evocative graffiti and street art, making it one Colombian city you absolutely can't miss. La Candelaria is the center of Bogota's street art and offers a stunning glimpse into Colombian culture, and seeing these incredible street artists' work should be on the top of your Colombia bucket list! If you're unsure where to start, one of our local Colombian travel experts can easily plot out your tour of Bogota's finest street art using a custom offline map.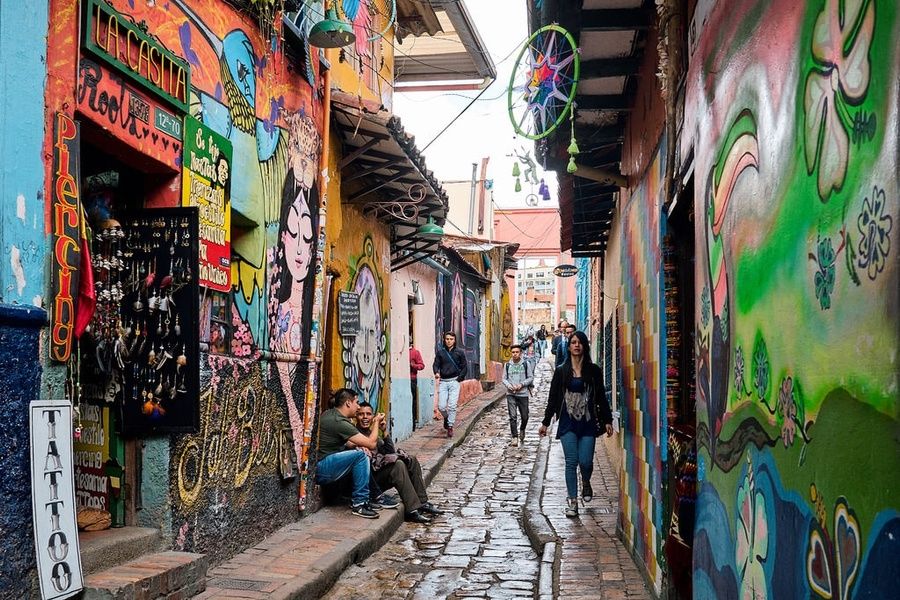 #2: Take Advantage of Bogota's famed street food
Bogota is home to some of the finest culinary displays in all of Latin America, and it's easy to fantastic full meal off the streets for under five dollars! Exploring Bogota's wide variety of delicious food is one of the best things you can do in Colombia when you're on a budget, given that it's both cheap and scrumptious!
For breakfast, you have to try Bogota's famed chocolate con queso—a delicious mix of fresh white cheesy to be dipped into a steaming cup of hot cocoa. If you're looking for something savory, try a breakfast arepa, a corn-based cake stuffed with meat, cheese, eggs, among many other delicious ingredients. When you've finished, top your breakfast off with a cup of tinto, a strong, small cup of local Colombian coffee—you can usually find a street vendor selling cups for less than 10 cents. Reach out to one of our local Heroes to find out where to get the best cup of joe in town.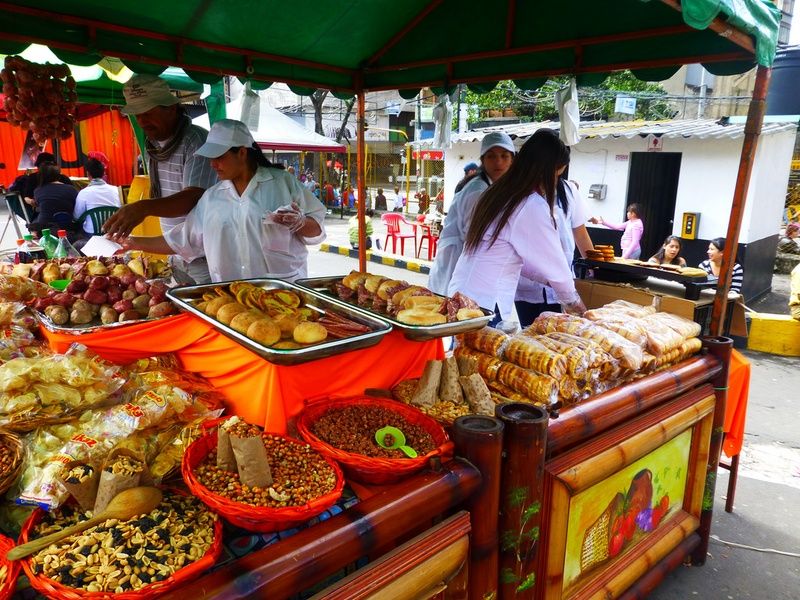 For lunch, consider trying a savory empanada, a pocket of fried dough stuffed with either potato or meat. You can find these from nearly any street vendor, and they are sure to fill you up. Finish lunch off with a glass of fresh fruit juice—it's sure to hit the spot! If you get hungry along the way, grab some fresh fruit or —warm cheese bread. Play your cards right, and trying these Colombian staples are sure to be one of the highlights of your Bogota experience!
#3: People-watch in one of Bogota's many public squares
When you're traveling, half of the fun is immersing yourself in a different culture—and a great way to do this is to observe! Bogota is one of the best places to visit in Colombia, and has numerous plazas that are ideal for observing local culture in its natural form. The most well-known square in Bogota is Plaza de Bolivar, located in southern Bogota at the center of the historic district. Regardless of what you're doing, make sure to put a stop at Plaza de Bolivar on your travel itinerary!
#4: Explore Bogota's free museums
Between its rich history and fascinating culture, Colombia boasts a plethora of fun things to do—and its museums are as stunning as you would expect. The famed Gold Museum is a fantastic way to explore Colombia's history, as its houses over 55,000 gold pieces that trace the country's lineage. The Gold Museum is extremely affordable, and like many museums in Bogota, it's free on Sundays.
The gorgeous Botero Museum, named for Colombia's famed artist Fernando Botero, is an extraordinary Bogota experience you can't miss. The museum is free and is home to world-famous pieces by Monet, Renoir, and Picasso, as well as stunning art by Botero himself. The National Museum of Colombia is another great museum, nestled in downtown Bogota, only a few blocks from Plaza de Bolivar. The Museum traces relics of Colombia's history, including a fantastic exhibit on the faces of Simon Bolivar.
#5: Embrace Bogota's cheap nightlife options
There is always something to do in Colombia, and Bogota's fantastic nightlife is no exception. And you don't have to break your bank account to have a great night out on the town; you can grab a beer for less than a dollar, or a cheap bottle of wine and head to one of the local plazas. Plaza Bolivar frequently steals the spotlight, but Plaza de Lourdes and the numerous other plazas are equally delightful. In Colombia, there are no laws against drinking outside, so you're more than welcome to hit the streets with your drink! Just like you would in any other city you're traveling to, be sure to use common sense and you should be perfectly safe on your night out in Bogota.
#6: Browse
Usaquen Sunday Market
Bogota is packed with interesting stuff, and if you find yourself in Bogota on a Sunday, you have to check out the Usaquen Sunday Market. Perhaps Bogota's most charming and popular market, the Usaquen Sunday Market is nestled in one of Bogota's quaint northern suburbs. Vendors sell everything from local delicacies to unique souvenirs—and everything is cheap! For more information on Colombia's currency and how prices compare to those in the US, feel free to read some FAQs.
#7: Work out with a view on Monserrate
If you're hoping to burn off last night's drinks or your last few arepas, hike up Monserrate, Bogota's neighborhood mountain! It's only a mile and a half to hike up this stunning 10,000-foot tall peak, complete with gorgeous views of Bogota's surrounding areas. This is a free hike, but the stunning views that await you are sure to be priceless. There are two restaurants once you reach the top of the mountain, so grab a drink and bask in Bogota's beauty—you deserve it!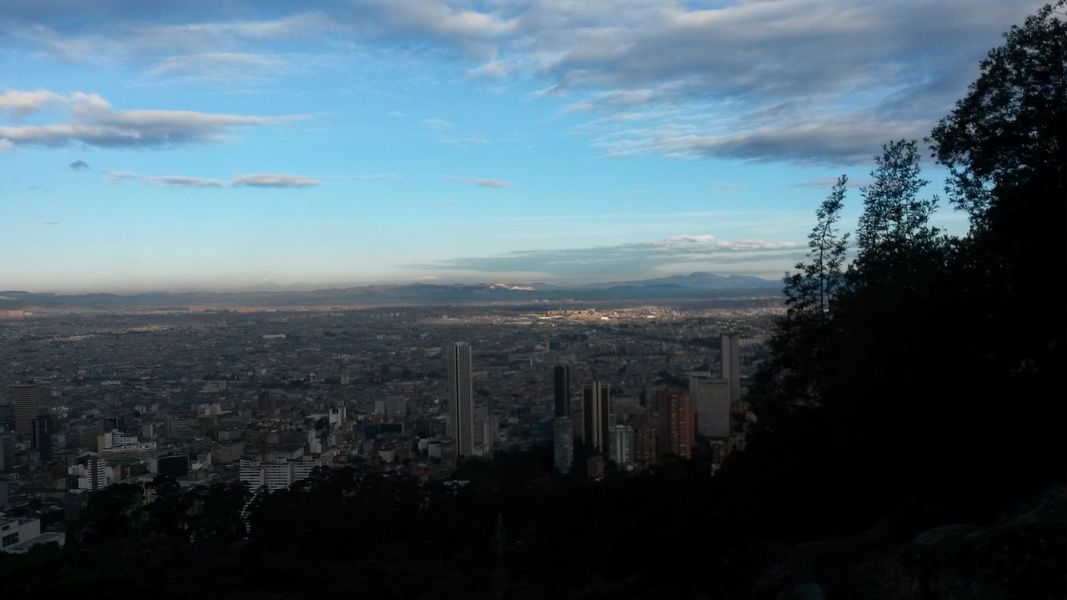 #8: Enjoy the

Ciclovía
,
or weekly closing of the streets
If you find yourself in Bogota on a weekend, you have to take advantage of the weekly Ciclovía, when many of Bogota's major avenues are closed to motor traffic and opened up for bikers and runners alone. Or if you're feeling particularly adventurous, you can rent bikes for cheap and explore the city on wheels—don't worry if you're not sure where to rent bikes, your Hero can find you a reliable rental.
#9: Spend your nights in Bogota's best cheap neighborhoods
Housing can easily be one of the most expensive aspects of a trip, but with the help of a Hero, it doesn't have to be! We would recommend staying in La Candelaria, one of Bogota's safest neighborhoods, and one very close to some of Bogota's best highlights. La Candelaria is a beautiful mix of modern and historic, as cobblestone streets and vibrant colonial buildings are contrasted with modern street art and hipster hotspots. A great tip for ensuring that your housing is affordable is to plan ahead—Airbnb has entire apartments in La Candelaria for as little as $30 per night.

#10: Join in the free Festival Centro festivities
Festival Centro is a must-see for any traveling music lovers. Hosted every January, Festival Centro is a series of musical performances located at various venues all across Bogota. This festival is a beautiful time when people from all walks of life can connect and enjoy music together. Festival Centro is known for having a great selection of music, ranging from traditional Latin American performances to more modern Colombian artists. The majority of events are free to attend, with the option to purchase tickets to some of the more popular shows.
Have more questions about traveling to Bogota on a budget? Here's a list of our local Colombian travel experts who can help you, or you can message us any questions you have. And before your trip, make sure to check out: