With an inland northern enclave tapering into a long southern coastline, Croatia's unique geography can make getting around the country a bit of a challenge. Luckily, with just a little info, you'll be navigating Croatia like a pro—so read on for everything you need to know about transportation in Croatia, from public transport options to finding out whether or not you can use Uber.
Our advice? Skip the stress of travel planning and have a Croatian local design your trip. They'll organize your transportation, plus build you a custom itinerary packed with local perspectives on the best things to do, see, and eat. It's just a better way to travel. Learn more.
Table of Contents
Navigating Croatia can be a challenge, but it's safe, comfortable, and cheap
Getting around Croatia requires some careful planning, especially if you want to get from Zagreb in the northwest to the southeast of the country and vice-versa. Likewise, island-hopping is great, but using the local passenger ferries can be confusing at first—in both cases, asking a local for transit tips can make getting around much easier.
The good news is that once you figure it out, the transportation system in Croatia is fantastic! Ferries are reliable, buses are remarkably comfortable, flights are affordable, and driving is a breeze on the country's well-maintained roads. We get into the weeds of Croatia transportation below:
Coach buses are the cheapest and fastest way to see the country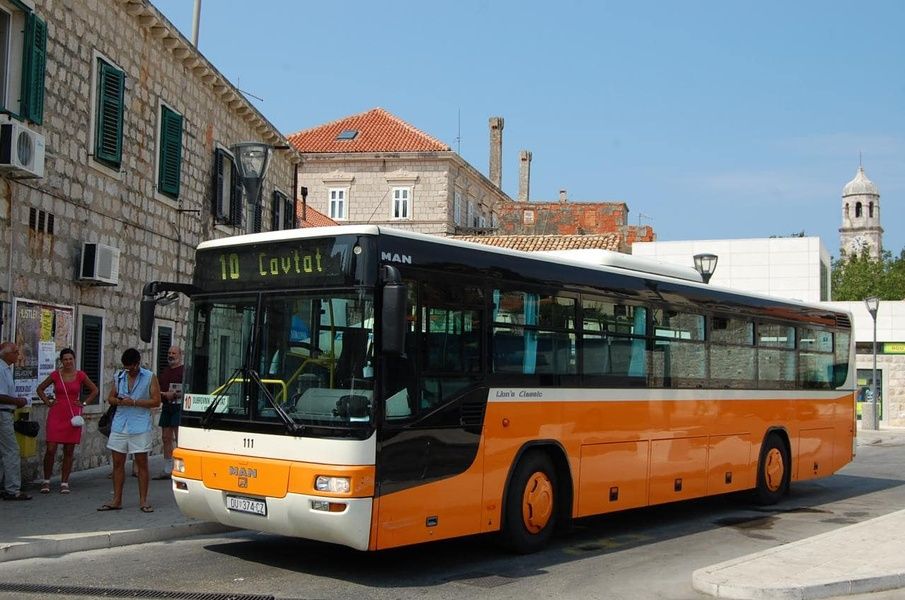 Bus service within Croatia is outstanding. Buses are fast, cheap, and offer service all up and down the coast from Rijeka to Zadar, Split, and Dubrovnik. Unlike much of Europe, Croatia relies on coach bus service more than it relies on trains, and its bus networks are much more extensive than its rail lines.
There are multiple private bus companies in Croatia, which differ in price and luxury depending on where you want to go—Croatia Bus travels between Zagreb and most of the country, whereas Brioni Pula is based out of Pula.
Often, you can buy bus tickets online—getbybus is a good place to do that. Otherwise, it's possible to buy tickets at the station. A local trip planner can help advise what to do and help purchase the tickets.
Train travel isn't the most popular in Croatia
Unlike most of Europe, Croatia has very few rails lines between cities, which means that taking the train isn't always the best option. But if you do opt to travel by rail, Croatia's trains are comfortable, efficient, and safe. The trains are operated by Croatia Railways (HŽPP), and prices generally vary between intercity trains (ICN), fast trains (brzi), and passenger trains (putnicki).
Since no trains run along the coast, it's often not the best way to travel. Often, you'll have to take both a bus and a train: If you're heading to the coast, the best way to get there is by taking a train from Zagreb to Rijeka and Split and then catching a bus to the coast or down to Dubrovnik. Sound confusing? Just ask your Croatian local how they navigate the country.
Pro tip: If you're Zagreb, you can use the city's tram system to get around.
Taxis are widely available
Taxis are widely available in Croatia, even in smaller cities and towns. Due to the language barrier (and to cut down on any issues with price gouging), we'd recommend using an app to order your taxi rather than just hailing one off the street. The two biggest taxi companies in Croatia are Cammeo and EkoTaxi, and you can download their apps before arriving.
Don't fret, there is Uber in Croatia
Lots of travelers ask: is there Uber in Croatia? Luckily, the answer is yes—Ubers are available in most major cities like Zagreb, and Dubrovnik, as well as in coastal destinations like Split. A good rule of thumb: if it's a popular destination, you'll be able to call an Uber (though it doesn't hurt to double-check!)
Fun fact: Uber also offers boat service up and down the Adriatic coast (but we'll talk about that further down).
Domestic air carriers are limited but can be the cheaper option
The country's national carrier, Croatia Airlines, operates internal flights between Zagreb and other airports within the country, including Dubrovnik, Split, Pula, and Zadar. Flying can be cheaper than taking a train or bus, depending on the season. You can get from Zagreb to Dubrovnik in less than an hour for about €50. It's a good option if you want to get somewhere quickly.
Pro tip: Trade Air offers very limited service and is the only alternative to Croatia Airlines for domestic flights.
Renting a car is super doable (and a great way to get around)
If you want the freedom to zip around the country, renting a car is a good call. Not only are the roads good and easy to navigate, but Croatia has some of the most scenic drives in the world. Plus, you can find some pretty excellent deals on car rentals—all the major car rental companies have offices in Croatia (Avis, Hertz, etc.) and you can find prices as low as $3–$10 dollars/day. Depending on the season, of course!
Pro tip: Speaking of seasons: If you're traveling during the peak season of July or August, you'd better reserve your car ahead of time—or you might end up having to take the bus instead. In addition, you'll need an International Driver's Permit (you can get one through AAA).
Ferries are your best bet for exploring Croatia's amazing islands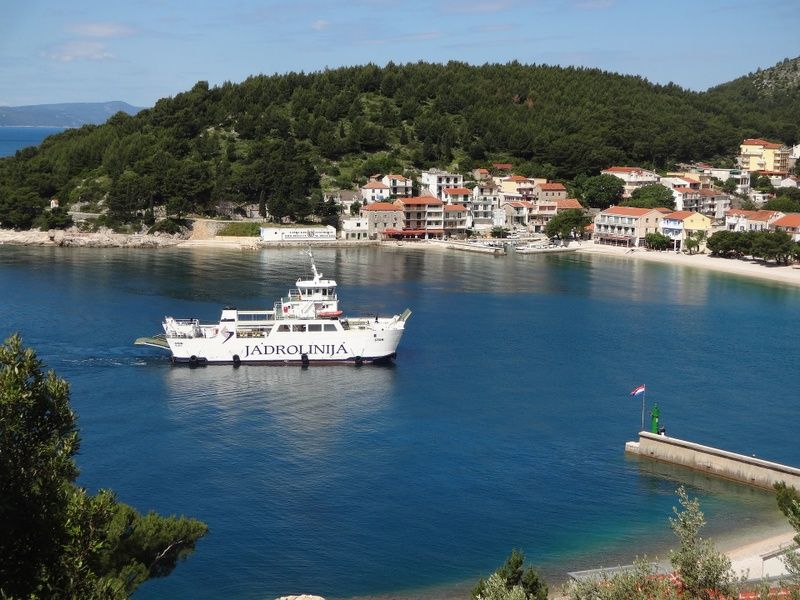 Getting around Croatia's network of islands by ferry is efficient—and spectacular. Croatia is packed with over a thousand wonderful islands, and there's nothing better than exploring its beaches, old stone ruins, and seaside restaurants. The best way to explore Croatia's island network? By hopping on a ferry!
That said, the numerous ferry schedules can be a bit tricky to figure out at first. Service is provided by the national carrier Jadrolinija, and most are car ferries with a few catamarans offering passenger service. Have a local trip planner help you with navigating the ferry service—that way you can enjoy the islands without worrying about the logistics.
UberBOAT is another great way to explore the country
Uber has expanded its service to boats! UberBOAT now offers point-to-point service from Split, the Split airport, Hvar, and Dubrovnik to the 1,200 islands along the Dalmatian Coast. It's a split-fare program where up to 8 people can share a boat. The fare from Split Airport to Havar is €352 (that's only €44 per person) and the ride is only one hour.
Getting to and from Croatia's major airports
Zagreb's Franjo Tudman Airport
The Zagreb airport is located in Pleso, 10.5 miles southeast of central Zagreb.
Airport Bus: The airport bus leaves every half hour, and the 25-minute ride to the Zagreb bus station costs €4. From the bus station, you can take the Zagreb tram to major hotels and the city's central square.
City Bus: The City Bus Line 290 departs every 35 minutes to central Zagreb, but it stops in 20 towns and villages along the way, making the trip about 1 hour and 15 minutes long at a cost of €1.35.
Taxi: A taxi from the airport to downtown Zagreb is 30 minutes and costs from €13.5 – €23 (evenings, Sundays, and holidays are more expensive). You have a choice between three taxi companies: Eko-Taxi, Radio Taksi Zagreb, and Cammeo, all of which have apps you can use to order a taxi.
Uber: An Uber can get you from the airport to central Zagreb in 30 minutes and it costs €12.
Dubrovnik International Airport
The Dubrovnik Airport is located in Čilipi about 12 miles southeast of Dubrovnik and 3.5 miles from Cavtat.
Bus: Atlas buses meet all scheduled flights, and the trip to Dubrovnik's bus station takes 30 – 40 minutes and costs €7. Upon request, the bus will drop you at Kupari, Plat, or Mlini villages or at the cable car entrance near Ploce. You can buy tickets at their booth outside the arrivals area
City Bus: There are local buses that stop at the airport on the way to villages along the coast, but they are not frequent. See Libertas for the bus schedule—but it's better to just take a taxi or the bus.
Taxi: A taxi from the airport to Dubrovnik costs about €40 and takes about 30 minutes. A trip to the city of Cavtat is a 10-minute drive and costs about €15.
Shared Taxi: You can share a taxi with up to four other passengers for €10 per person. Just congregate at the prominent taxi sign, and a driver will approach your group.
Uber: An Uber from the airport to central Dubrovnik takes about 30 minutes and costs €32.
Split Airport
The Split Airport is located 12 miles from Split on the west side of Kaštela Bay in the town of Kaštela.
Airline Bus: A Croatia Airlines bus meets all regularly scheduled flights to Split and is operated by the coach line Pleso Prijevoz. The bus ride takes about 30 minutes from downtown Split and costs €4.5.
Ferry: Passenger ferry service connects the Split airport with Split Port, Bol (Brac island), and Stari Grad (Hvar Island). Catch the ferry 300 yards from the airport and the boat will get you to Split Port in 20 minutes for €15. To get to Bol and Stari Grad, it's a little over an hour.
Taxi: A taxi to downtown Split takes about 25 minutes and costs around €53.
Uber: Uber's charges a flat rate of €34 and gets you to Split in about 25 minutes.
--
Croatian transportation is excellent. To get the most out of it, connect with a local for help planning your trip (especially if you're island hopping along the Dalmatian Coast)! Why rely on an outdated guidebook when you could talk to someone who actually lives in Croatia? Alongside their transit tips, they'll design an itinerary that matches your interests, style, and budget, which means you'll see Croatia like a local, not a tourist. Learn more.