Whether you're looking for gorgeous medieval cities or sunny tropical beaches, Croatia offers something for everyone. Here are 20 of the very best things to do in Croatia, from sailing on the clear blue waters of the Adriatic to sampling local delicacies in medieval towns.
Want to see Croatia like a local, not a tourist? We don't blame you! Connect with a Croatian for help planning your trip—they'll introduce you to the real Croatia. Not the version you'd get from a guidebook. Learn more.
Table of Contents
#1: Stroll the cobbled streets of Old Dubrovnik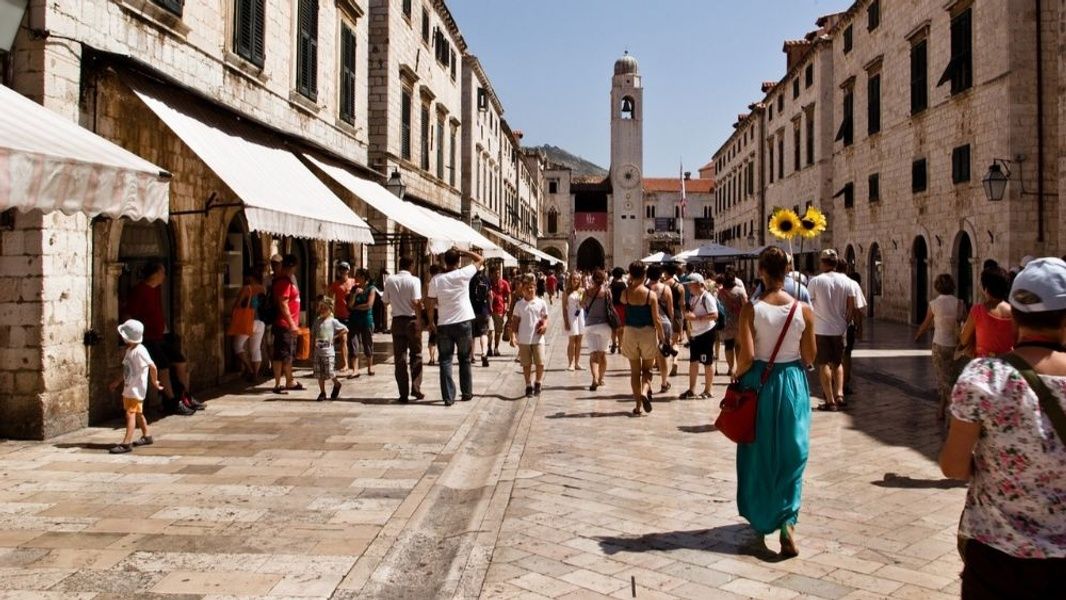 A walk through Old Dubrovnik is like a journey back in time—but the good kind, not the creepy Back-to-the-Future kind. You can explore the city on foot, winding through the narrow cobbled streets, or take a cable car and look down over the stunning red-brick roofs and towers. The whole Dalmatian town is a UNESCO world heritage site—it's so well preserved, you'll forget you're in a modern European city.
Pro tip: Old Dubrovnik is one of the most popular destinations in Croatia, so talk to your local about the best way to beat the crowds.
#2: Marvel at amazing art in Zagreb
Croatia's capital is a picturesque European city, nestled in the hilly green countryside of the country's northwest. You won't find beaches here, but you will find a lively, hip, super-fun city with a trendy arts culture. Zagreb boasts tons of art galleries and exhibits, ranging from modern to contemporary to just plain weird (check out the Museum of Broken Relationships for a really unique experience).
Pro tip: Zagreb is a lot less touristy than other cities in Croatia, so it's a great place to get an authentic feel for Croatian culture—connect with a local for the inside scoop on the best bars, restaurants, and cafes to check out.
#3: Visit Europe's best beach on Vis Island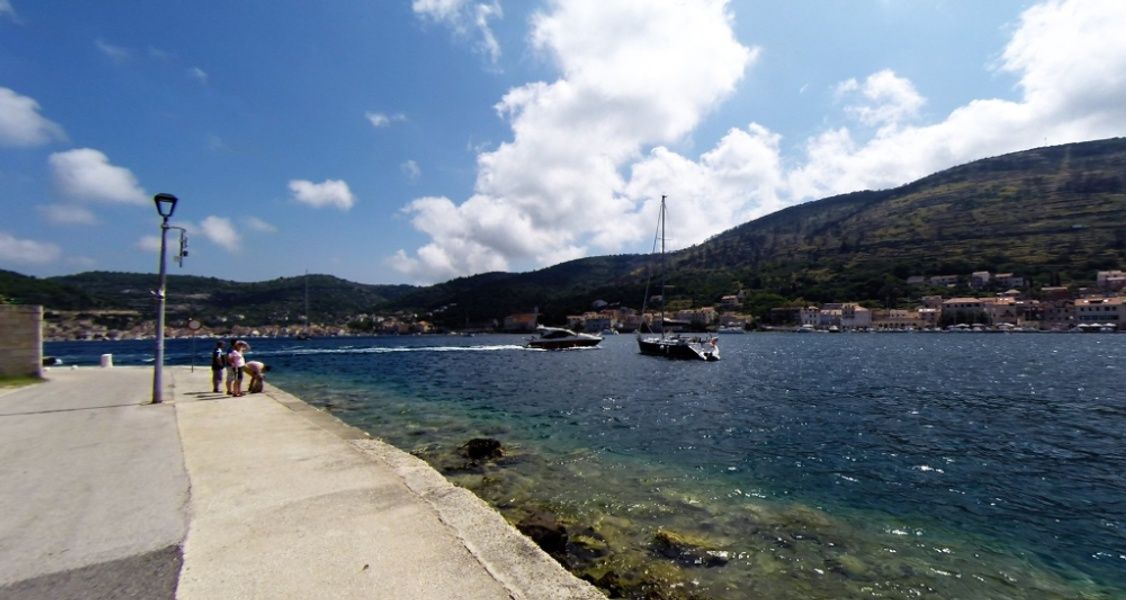 Voted the best beach in Europe in 2016, Stiniva Beach is situated in a secluded rocky cove on nearby Vis Island. The water is perfectly clear, and the weather is almost always perfect. Plus, even though it feels secluded, the cove is pretty easy to access. You can make it a day trip by taking a ferry to Vis from Split, or stay a night or two on the island if you want more time—there are no huge seaside resorts here, but you can easily find a quaint homestay or B&B. Your Croatian local can help you nail down the best accommodation and time for the ferry trip just right.
#4: Wander through all of Western civilization in Split
Split, the second-largest city in Croatia, has an amazing history—it was founded as a Greek settlement in the 2nd century, and came under Roman, Byzantine, Venetian, and Austro-Hungarian rule, just to name a few.
The city still bears traces of each of these civilizations' influences if you know where to look. And if you're a fan of ancient history, you'll definitely want to check out Split's Archeological Museum. But we get it—history isn't everyone's thing. If you're not big into old stuff, Split is still an awesome city for nightlife, shopping, or just relaxing on the beach.
#5: Ogle the jaw-dropping waterfalls of Krka National Park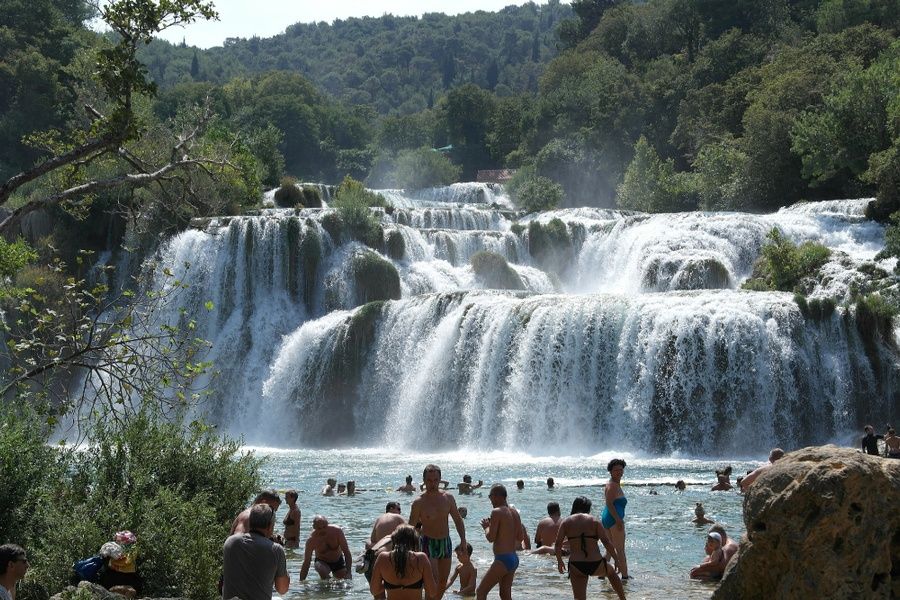 There are 8 insanely gorgeous national parks in Croatia—they're all open to visitors, and adored by locals and travelers alike. Krka (kirk-ah) is one park not too far from Split, where you'll find flowering green forests and grasslands, wild birds and river otters, and crumbling medieval ruins. But Krka is best known for its seven huge waterfalls—the cascades can be seen at different points along the Krka river, each as thundering and stunning as the last.
#6: Stay in a luxury resort on Hvar Island
Hvar, off the Dalmatian coast, is an island that has just about everything you're looking for in a luxurious Croatian vacation. You'll find rolling hills blooming with lavender, tropical green forests, and sunny beaches. The medieval town of Hvar has red brick roofs and cobbled streets, similar to Old Dubrovnik (but less crowded), as well as ritzy nightclubs and restaurants. Go all-out while you're there and stay in a swanky beachside resort—you deserve it! Talk to your Croatian local to find the best one in your price range.
#7: Sail the Adriatic Sea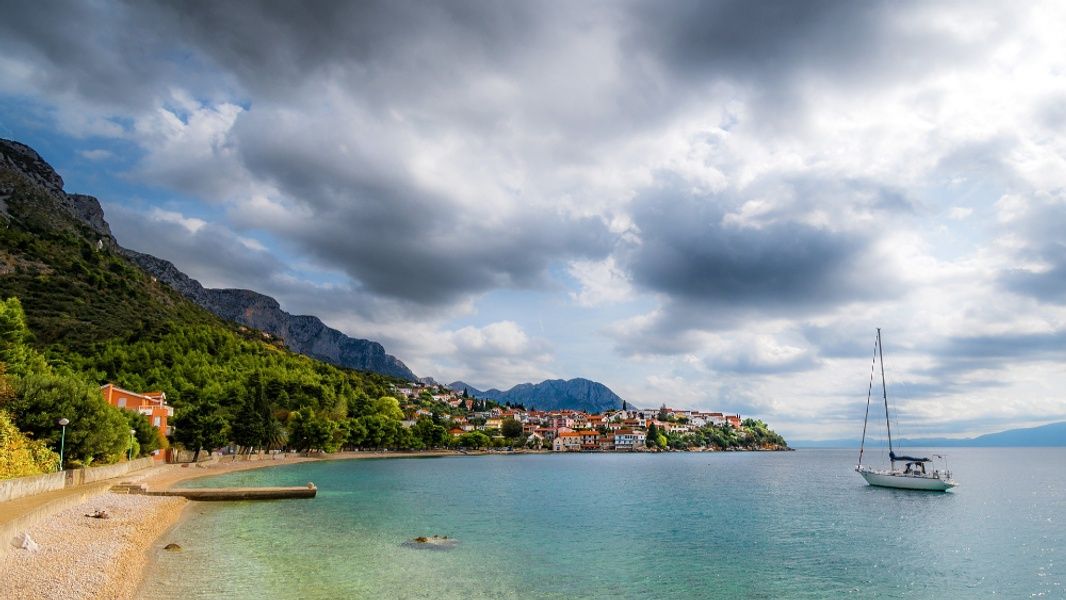 Croatia is a popular destination for yachters and sailing enthusiasts—with such temperate waters and so many charming harbor towns, it's not hard to see why. But you don't need your own boat to sail the Adriatic (or even your own obnoxious pair of Sperry topsiders). Sailing tours and cruises are available all along the coast—in Dalmatia, you can even order an UberBOAT to go island-hopping!
Chartering a sailboat is a great way to explore and relax on the crystal clear water, but be careful—there are tons of companies out there offering tours, some way pricier than others. You'll definitely want to connect with a local to be sure you're getting the best deal.
#8: Explore Tito's secret tunnels in Paklenica
In the rocky mountains of Paklenica National Park, you'll find a secret network of underground tunnels from the early 1950s. The tunnels were built by Yugoslav leader Josip Broz Tito—they were meant to be a hideout for political leaders in case of a nuclear attack during the Cold War. Today, they're a fun underground exhibit for curious travelers.
You can explore the narrow halls and cavernous rooms of the old bunker, immersing yourself in Croatia's Cold War history. It's educational, but definitely not boring—indoor climbing walls and interactive exhibits make the secret tunnels a fun stop for the whole family.
#9: Lounge on the "Golden Horn" beach near Bol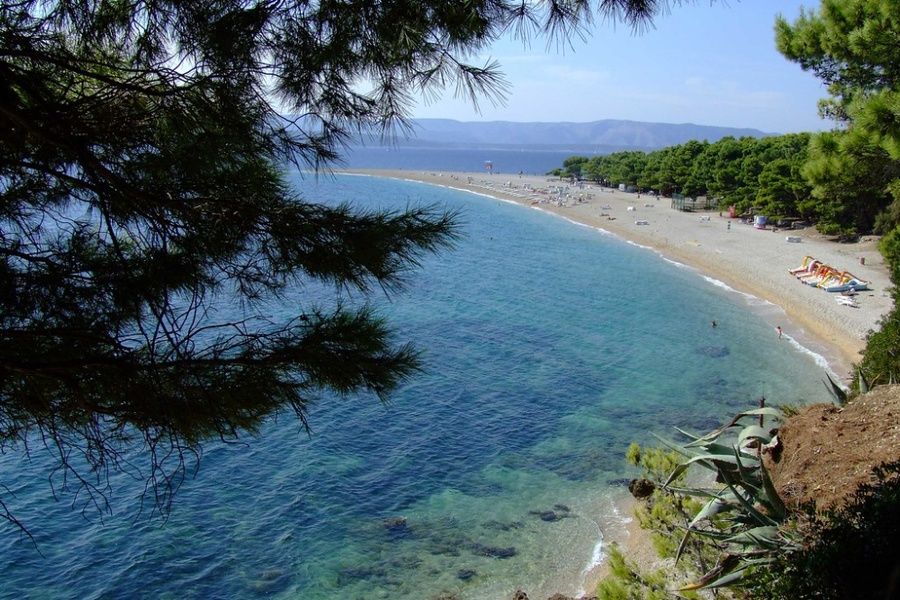 Zlatni Rat, on the island of Brač, has long been considered one of Croatia's best beaches. It's a short walk from the charming island town of Bol, and attracts tons of travelers year-round. The beach's name means "golden horn"—it forms a sandy golden peninsula, jutting out into the clear blue waters of the Adriatic. The long stretch of coast and blue sea makes for a surreal, beautiful setting. This is a pretty popular spot, but the beach is big enough to accommodate crowds. Make sure to bring your camera for that Instagram-worthy shot!
#10: Take a Game of Thrones tour across Dalmatia
If you're a Game of Thrones fan, you probably already know that much of the series was filmed in Croatia—mainly along the Dalmatian coast. Your local Croatian can help you locate the most famous spots—you'll find tons of the iconic King's Landing sets in Old Dubrovnik and Split, and you can see the real-life Mereen at the Fortress of Klis. Don't be embarrassed to grab a sword and re-enact your favorite scenes (trust us, you won't be the only one). Just don't mention Season 8…
#11: Visit the Roman amphitheater at Pula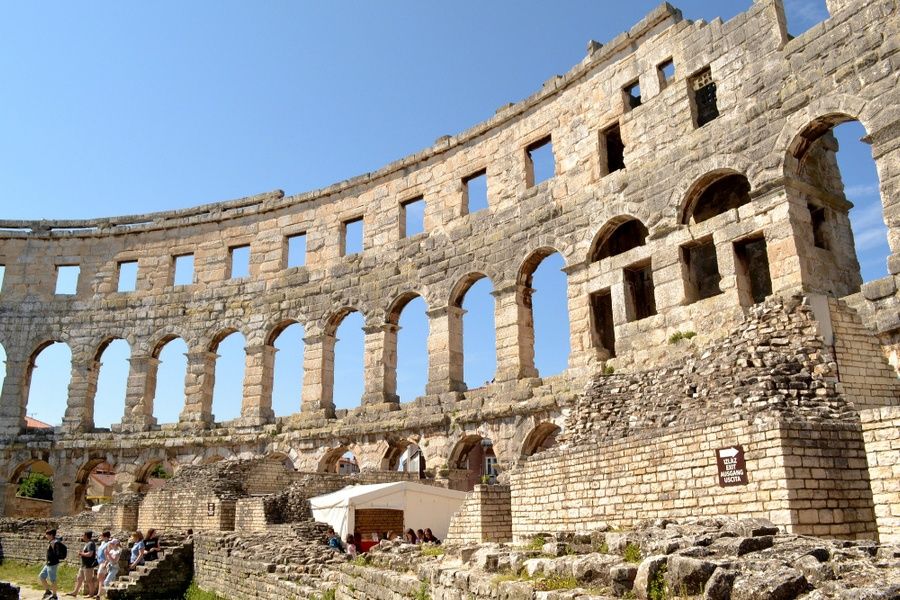 Did you know there's a huge, perfectly preserved Roman amphitheater in Pula, Croatia? It's actually more intact than most remaining Roman amphitheaters and is believed to be the only one that still has all four side towers. The arena was built to host gladiator battles—these days, it still serves as a site for entertainment, hosting the occasional film festival or concert. After you take a tour, you can stop by one of Pula's sunny beaches to relax away the rest of your afternoon.
#12: Take a healing retreat on Mali Lošinj
Like many places in Croatia, Mali Lošinj is an island, packed with gorgeous sunny beaches and lush forests. But Mali Lošinj stands apart: For centuries, locals have believed the island has healing properties—the clean water, refreshing sea breeze, and nearly constant sunshine was said to improve health and help recovery from illness or injury.
People have been visiting the tropical breezes and sands since the 13th century, but it was officially declared a health resort in 1892. You can camp on the beach or get pampered in a luxury hotel. A new airport recently opened on the island with connections from Split, so right now is the best time to go (before it gets too popular).
#13: Witness the glowing water of the Blue Cave of Biševo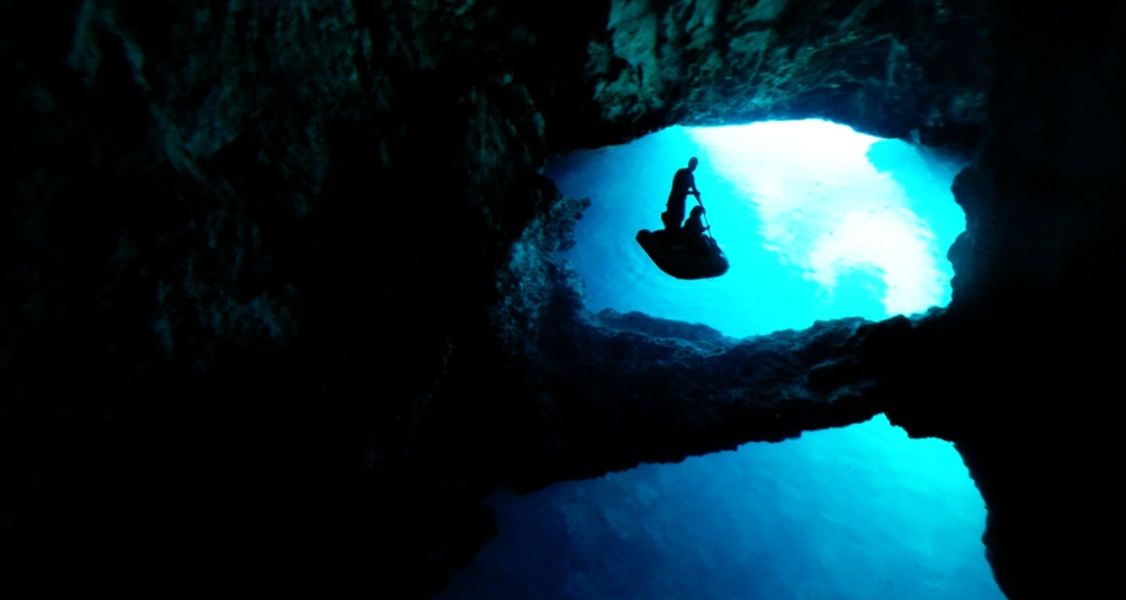 If you're up for a unique sightseeing adventure, take a trip to the famous glowing blue grotto on the island of Biševo, not too far from Vis. The way the sunlight shines through the bottom of the cave makes the water glow an ethereal blue—it's a surreal sight, and totally worth the trip if you can get there. This can be a tricky journey (at least two boat rides), but with some help from a local trip planner, you should have no problem finding your way.
#14: Dance to the music of the Zadar Sea Organ
Here's something you don't see every day: a giant organ set into the shoreline, played by the ocean's waves! The Sea Organ can be found in Zadar, a super charming harbor city in Dalmatia. A glowing solar dance floor is built over the top of the organ, where visitors can dance, run, and play to the ocean's "song". If you're exploring the Dalmatian coast, this is an absolute must-see. This our jam, y'all.
#15: Nosh on the best seafood of your life in Trogir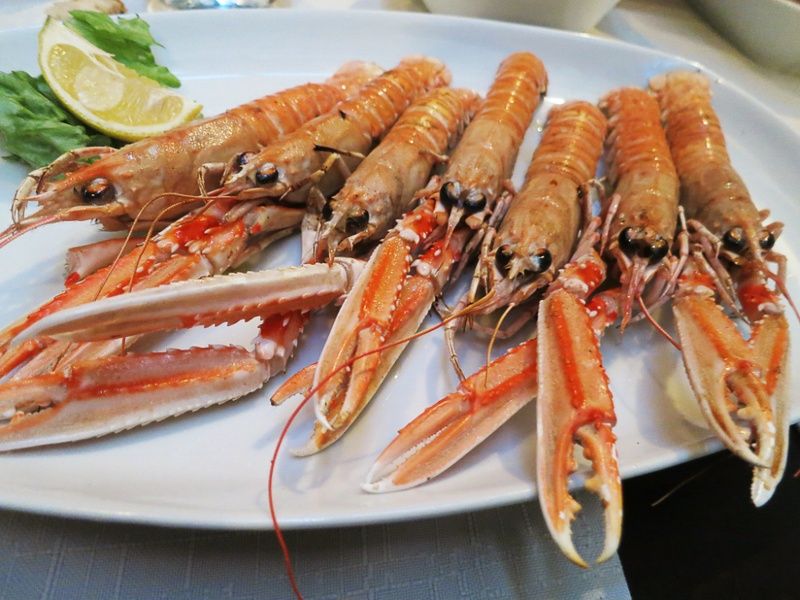 Trogir, an ancient fishing town on the Dalmatian coast, is loved for its Venetian architecture and historic old town. It's a great stop for sailing and sightseeing, but our favorite attraction in Trogir is the green market, where vendors hawk fresh produce, Mediterranean delicacies like cheese, olives, and cured meats, and—of course—fresh-caught seafood.
Get there early in the morning for the catch of the day, and don't be afraid to taste something you've never heard of before ("Mediterranean sashimi", raw fish with olive oil, is increasingly popular with locals—give it a shot!)
#16: Go island-hopping across the Kornati Archipelago
Did we mention there are over 1000 islands in Croatia? The Kornati Archipelago makes up 140 of them. This scenic island chain off the Dalmatian coast is mainly uninhabited and awesome to explore by kayak, sailboat, or ship. It's a quick day trip from Split or Zadar, but you'll feel like you're miles out in the wild sea. The climate is tropical, but you won't find many sandy beaches in Kornati—rather, you'll see high rocky cliffs and rugged shorelines, spotted with caves and grottoes.
#17: Get lost in Plitvice Lakes National Park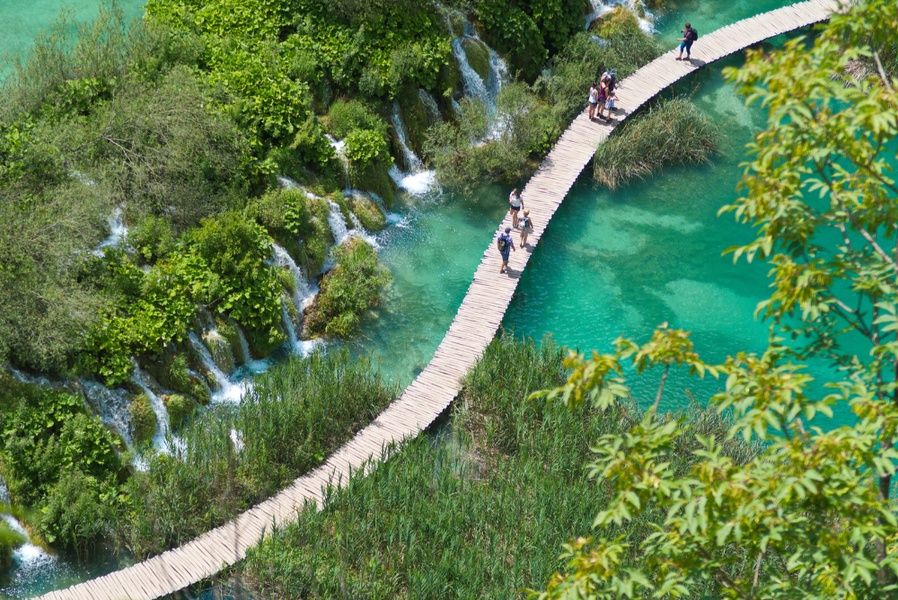 Your trip to Croatia wouldn't be complete without exploring its 8 amazing national parks. If you only have time for one, we recommend Plitvice. The expansive lakes there are among the most beautiful in the world. Take a hike through forests buzzing with diverse wildlife and have a picnic on a rocky ridgetop, overlooking the blue water. This is the most popular park in Croatia, so you should try to get your tickets ahead of time and start your day early to beat the crowds.
#18: Roam the rolling hills and villages of Istria
With so many travelers headed to Dalmatia in the south, Croatia's northern peninsula of Istria often gets forgotten. If you're looking to avoid crowds, you might want to opt for a road trip through the rustic Istrian hills and coastline. Check out the hilltop village of Motovun, the tiny hamlet of Hum, and the adorable town of Livade, where you can taste the rarest and most expensive truffles in the world. You won't find many people who speak English in these teeny towns, so you'll definitely want to work with a local who can help you with translation 24/7.
#19: Escape to a quiet beach cove on Korčula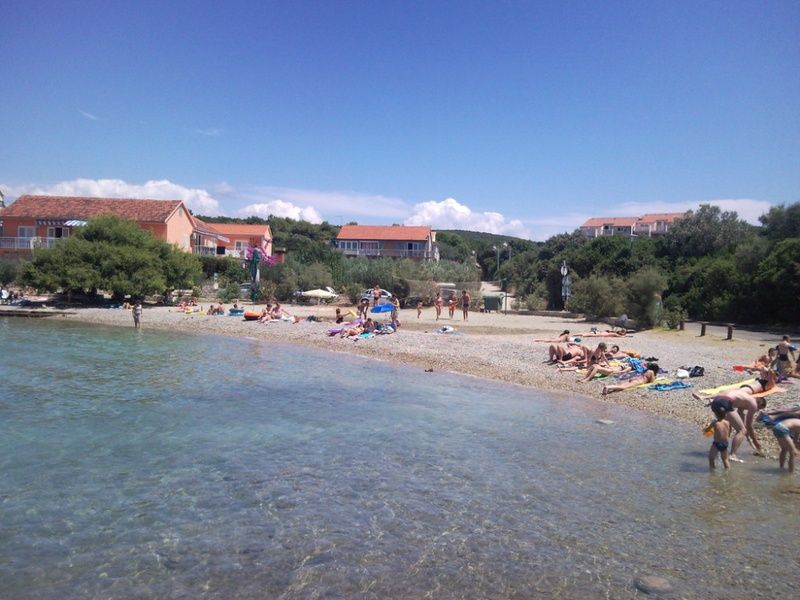 It's tough to pick a favorite Croatian island (there are so many! and they're all so amazing!), but Korčula is high on our list. It's one of the larger islands off the Dalmatian coast, and a little harder to get to than others (there's still no airport there). You'll find some beautiful beaches and secluded coves on the island, as well as cute little towns. Odds are—especially if you're exploring Korčula by boat—you can find a quiet spot all to yourself.
#20: Go back to the middle ages on Krk
The last (but not least) stop on our list is Krk, an awesome island in the northern Adriatic Sea where you'll find an unbeatable combination of Croatia's natural scenery, sunny beaches, and awesome medieval history. There's a huge monastic library there, as well as a cathedral—plus a town with the world's narrowest streets. Krk is easy to get to by plane, but still not as popular as Dubrovnik or Split—especially if you go in the off-season, you can easily immerse yourself in the medieval scenery without a swarm of fellow travelers.
--
These things to do in Croatia are pretty great, but it's only the tip of the iceberg. To experience everything Croatia has to offer, connect with a local to plan your trip. Our trip planners create an itinerary based on *their* knowledge and *your* interests—which means you feel at home the moment you arrive. Why see Croatia like a tourist when you could see it like a local? Learn more.