Wondering where to stay in Croatia? Whether you're looking for a tropical coastal resort or a historical European getaway, we're here to help you find your ideal spot. Here are the 16 best places to stay in Croatia, from awesome medieval cities to off-the-beaten-path coastal towns.
Wherever you stay in Croatia, connect with a local to get the most out of your trip. With their insight and advice, you'll see Croatia like a local—not a tourist. Learn more.
Table of Contents
#1: Zagreb: Croatia's charming inland capital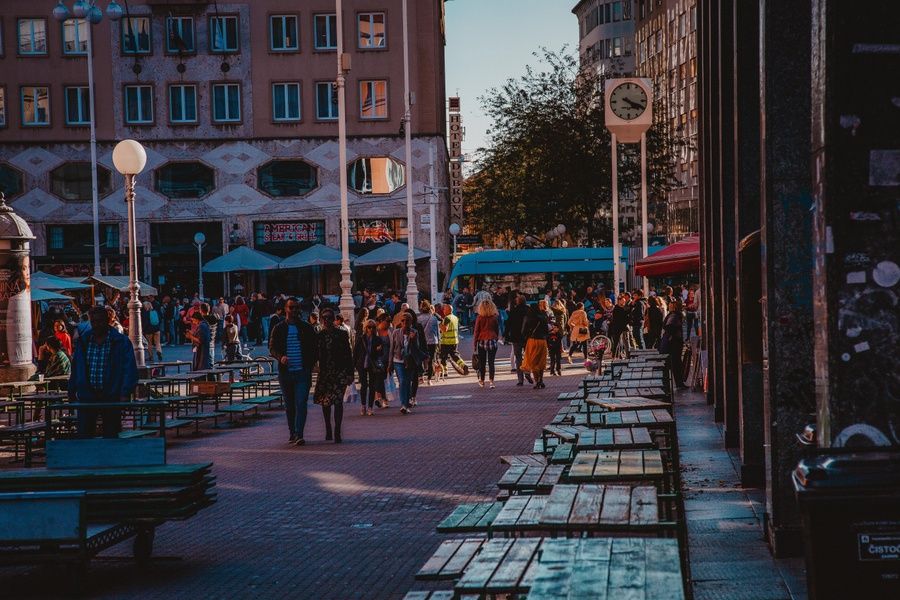 Croatia is well-known for its sunny beaches, but its capital city is actually not on the coast. Zagreb is a lovely European city in the north of the country, close to the Slovenian border. This can be the perfect stop if you want to see "real Croatia," away from the touristy coastline, or if you're on your way into Northern Europe.
Zagreb is small, but popular for its colorful Renaissance architecture and lively arts culture—you'll find tons of museums and unique exhibits here (if you're looking for something really quirky, be sure to check out the Museum of Broken Relationships). Must-sees in Zagreb? The medieval Upper Town, and, if you're there in December, one of the best Christmas markets in the world.
#2: Pula: Gorgeous coastline and Roman ruins
Pula is the capital of the Istrian Peninsula, in the north of Croatia. It's best known for the remains of a giant Roman amphitheater, much like the Colosseum in Rome, and tons of travelers flock to see the Pula Arena year-round. Other Roman sights include the Forum (main square), Arch of the Sergii, and Temple of Augustus.
But there's more to Pula than just Roman history! Still in the realm of history, don't skip Kastel, a 17th-century Venetian fortress. When you're ready to relax, you'll also find some beautiful sandy beaches, not to mention nonstop nightlife. It's a great place to stay if you're looking for a sunny beach vacation without all the crowds that you'll find in the south of the country and with a little extra history and culture thrown in. A local can create an itinerary for you that's a balanced mix of historic sights, lazy afternoons at the beach, and evenings on the town.
#3: Split: The sunny heart of Dalmatia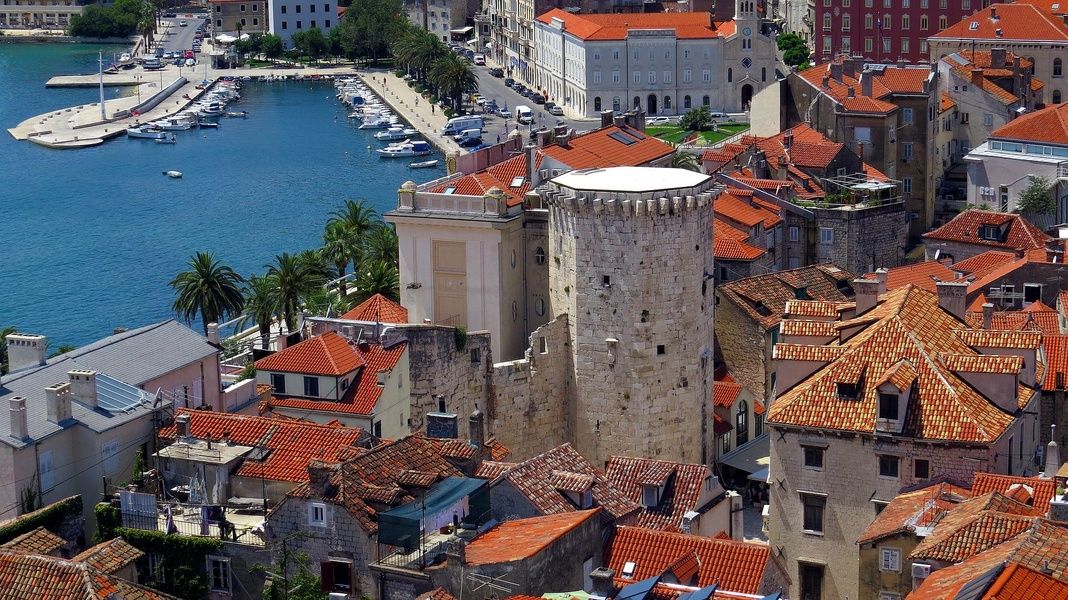 Dalmatia is the southern coastal region of Croatia, where you'll find a lot of the most popular island and beachside destinations—including Split, Croatia's second-largest city. A trip to Split is sure to be endlessly entertaining, with centuries of history visible in the architecture, tons of gorgeous pebble beaches, and some delicious regional cuisine (fresh-caught fish is on the menu everywhere).
One of the coolest things about staying in Split is that it's so close to other popular seaside destinations in Dalmatia—connect with a Croatian local for help planning the perfect island-hopping day trip!
#4: Dubrovnik: A medieval town with a modern lifestyle
If you're a fan of Game of Thrones, you've probably heard of Dubrovnik—it's the Dalmatian port city where many of the show's filming locations can be found and a Game of Thrones tour is one of the top things to do in Croatia. The medieval old town is super well-preserved and will make you feel like you've stepped back into the Middle Ages. You can also take a cable car to see the walled city from above (yes, sort of like riding over King's Landing on a dragon).
It may look old, but Dubrovnik and the surrounding riviera actually have some incredible bars, restaurants, and beach resorts—it's the perfect spot for a luxurious riviera vacation, at half the cost of the French or Italian rivieras.
#5: Hvar Island: Lavender hills and coastal vistas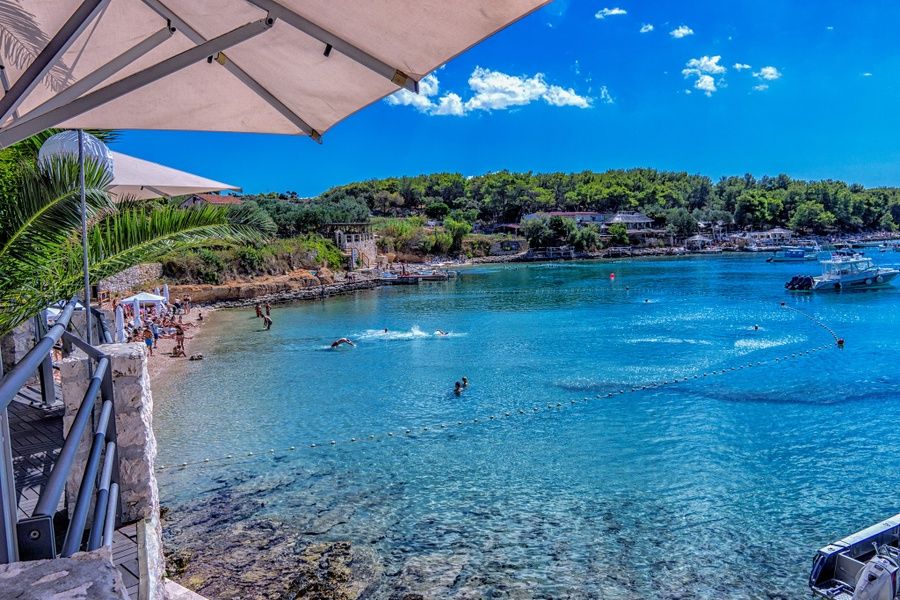 One of the things travelers love most about Croatia is that you don't have to choose between a gorgeous natural setting and a lively city—Hvar is just one example of a place that features the best of both. One of the most popular island destinations off the Dalmatian coast, Hvar features rolling purple hills blooming with lavender and picturesque coastal views. Head into Hvar town and you'll find super vibrant nightlife—anyone you ask will direct you to Carpe Diem beach club for a 24/7 party, but locals have the inside scoop on lesser-known, insanely fun spots. Celebrities like Beyonce and Kiera Knightly are big fans of vacationing on Hvar Island (see if you can spot their yachts in the port).
#6: Zadar: A unique historical town
Also located in Dalmatia, Zadar is a medieval town with a complex history, serving as a crucial harbor for the Byzantine and Venetian empires. Today, it has just the right combination of history and quirk—you can see St. Donat's church, the circular 9th-century cathedral, as well as the Zadar Sea Organ, a giant harmonica played by the ocean's waves. There's also a strong culinary tradition here, and Zadar is full of awesome places to try local, fresh-caught seafood.
Pro tip: Zadar isn't the most popular destination in Croatia, so a lot of the best attractions and restaurants aren't well advertised—you'll definitely want to have a local plan your trip to make sure you see the best of what the city has to offer!
#7: Krk: Small towns, sunny beaches, and island vibes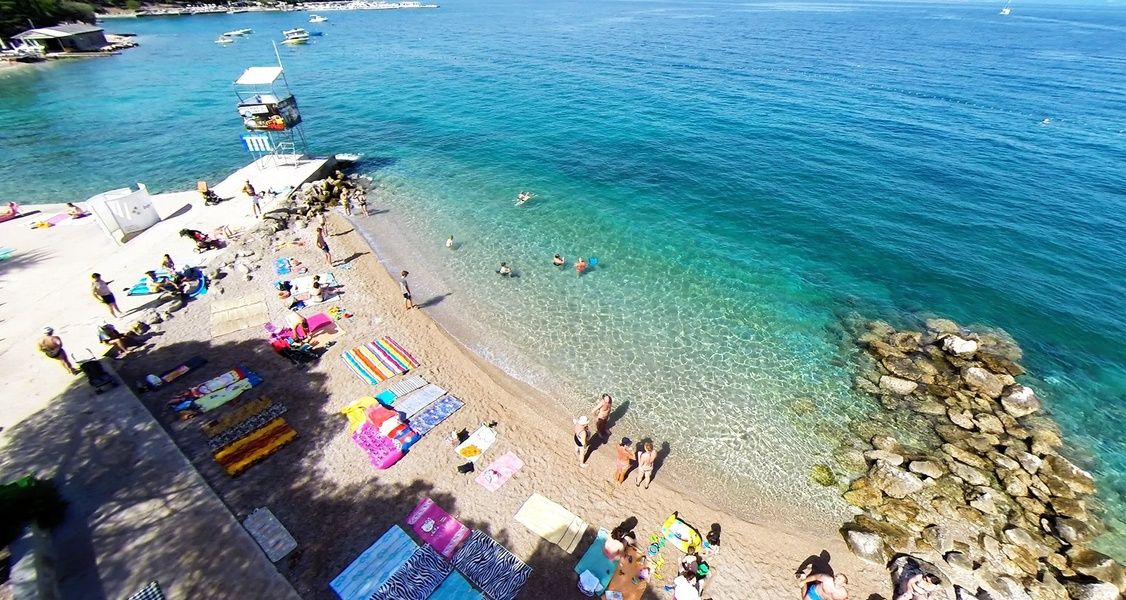 Krk (pronounced like kirk) is the largest and most accessible island off the coast of Croatia. It's connected to the mainland by a bridge, so you can easily get there by car or bus. This island has everything you need all in one place—busy beaches, secluded coves, charming villages, and buzzing bars and restaurants.
In the ancient village of Vbrnik you'll find one of the narrowest streets in the world, and on the tiny islet of Košljun, an insanely huge monastic library. In the western part of the island, you can hike through diverse Mediterranean forests. With so much to explore, the only problem you'll have on Krk is convincing yourself to leave!
#8: Rovinj: Istria's charming seaside town
This fishing port on the Istrian peninsula is a little off the beaten path but well-loved by backpackers and resort-goers alike. It has some stunning beaches, less crowded than those in Dalmatia, and an old town reminiscent of Venice. While you're there, stroll along the cobbled streets and immerse yourself in the sights, sounds, and smells of a busy seaside town. Make sure you stop by the open-air market for some fresh produce and local treats, including fresh fish and cheeses. For an incredible view of Rovinj, climb the 192 steps to the top of the bell tower at the Church of St. Euphemia.
#9: Vis Island: Grottos, coves, and fishing towns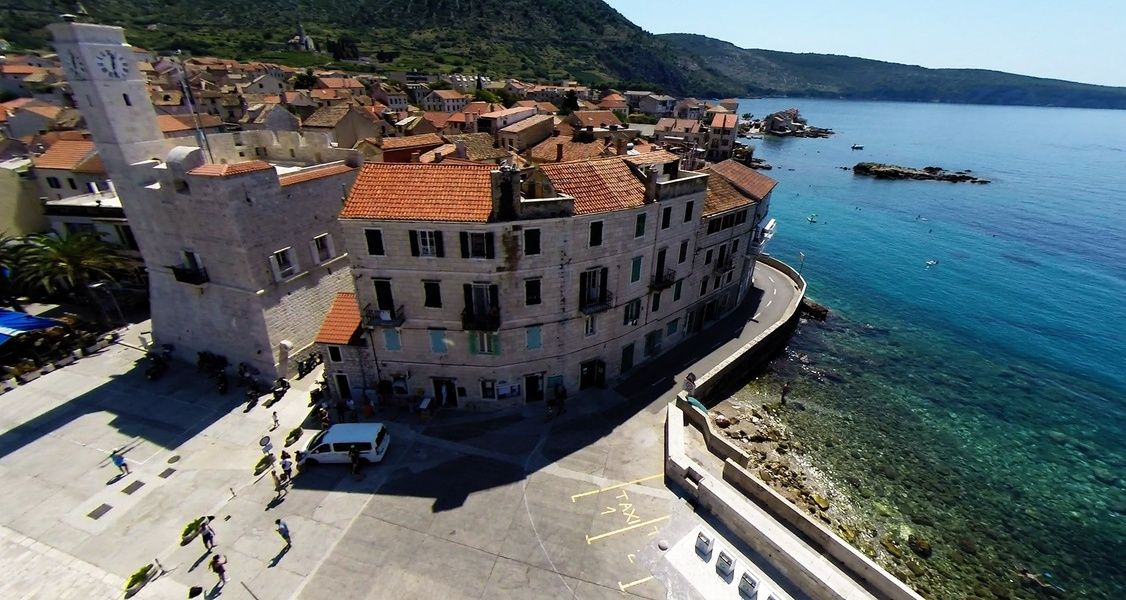 Vis is a large and well-traveled island off the Dalmatian coast. Despite being a little farther from the mainland, it's home to some of Croatia's most appealing attractions including Stiniva beach—voted the best beach in Europe back in 2016. The fishing village of Komiža offers a view of traditional island culture, with old-school fishing equipment and traditional Christmas festivals. On neighboring Biševo, you can find the Blue Cave, an ethereal glowing grotto.
#10: Poreč: A family-friendly resort town
This little coastal town in the north of Croatia is best known for the Euphrasian Basilica located there—a perfectly preserved basilica and UNESCO World Heritage Site. It's named for Bishop Euphrasius, who renovated it in the 6th century. Poreč is a pretty popular destination for travelers and for good reason. With 21 public beaches, a historic old town, and a super-fun water park, it's the ideal destination for families with young kids. On top of all that, Poreč is centrally located in Istria—a great base for exploring the rest of the peninsula.
#11: Mali Lošinj: A healthy Mediterranean retreat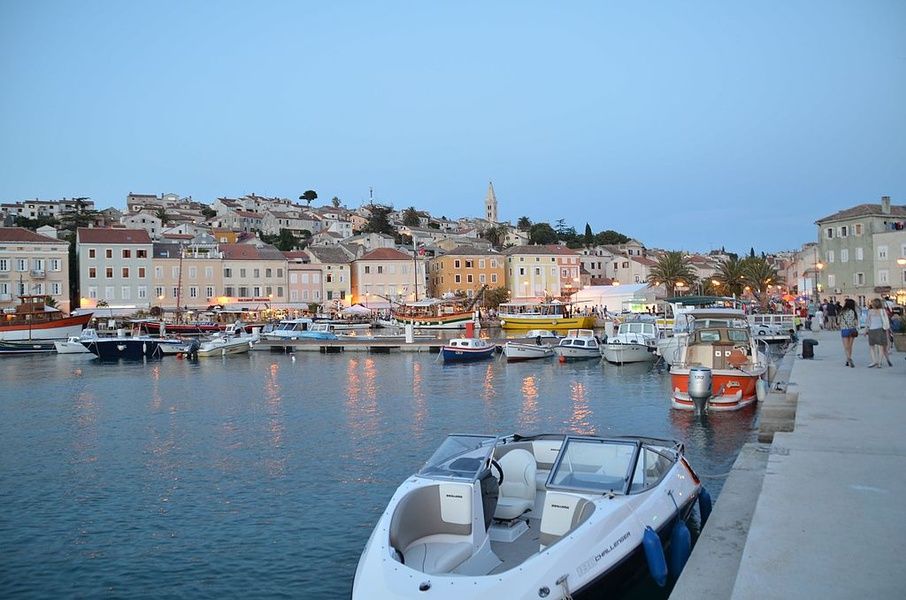 Until recently, the secluded island of Mali Lošinj was difficult for travelers to access, but these days, you can get there on a quick flight from one of Croatia's main cities. The island is known for its respiratory health benefits—since the 1890s, it's hosted health resorts and rehabilitation centers. There's also tons of untouched natural scenery, diverse wildlife, and (of course) countless sunny beaches. Travel to Mali Lošinj is becoming more and more popular, so now is the time to go! Plan your trip with a local as soon as possible to see the healing island before it gets too crowded!
#12: Pelješac Peninsula: Authentic Croatia in a rocky mountain landscape
Looking for a less-popular destination in Dalmatia? Check out the Pelješac Peninsula, a sparsely populated mountainous peninsula in the south of the region. There are some gorgeous secluded beaches here, as well as medieval walled towns and high rocky peaks. We recommend finding accommodation in the village of Stol (a homestay or B&B would be awesome for an authentic experience), where you'll have a good view of the untouched natural landscape and be able to explore the rest of the peninsula.
#13: Korčula Island: A less-crowded island escape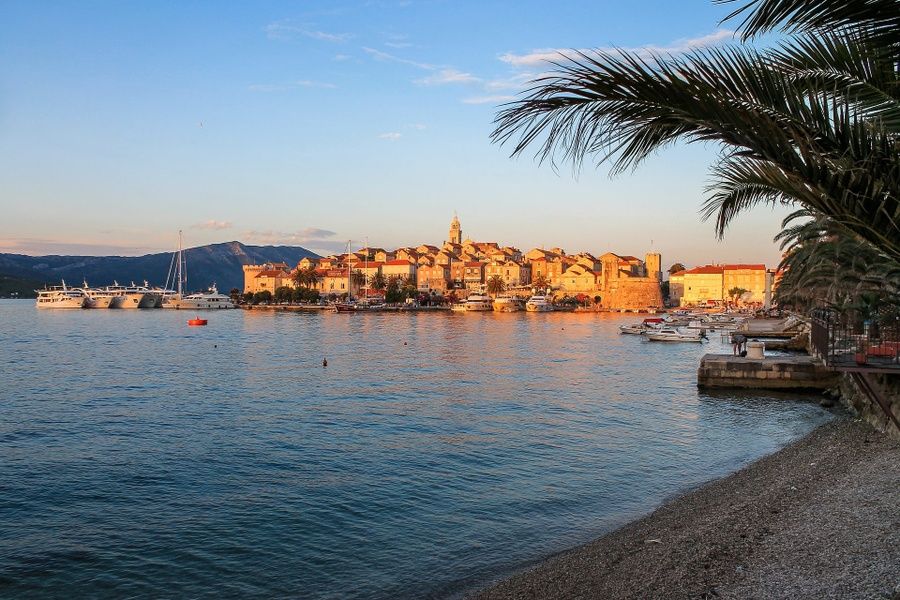 The sixth-largest island in Croatia has all the natural beauty and breathtaking architecture of coastal Dalmatia but without the bustling crowds. There is no airport on the island—visitors have to come by ferry. It takes a little longer to get there, but that means you won't get caught up in a swarm of tourists while you're exploring. We recommend checking out the little village of Blato, or Pupnat, where you can experience some traditional Croatian festivals. In between, of course, there are tons of rocky and sandy beaches.
#14: Trogir: The "Little Venice" of Dalmatia
Croatia has no shortage of historic old towns, but this one is particularly remarkable for its charming main square, winding cobbled streets, and peaceful Venitian feel. The old town of Trogir is a UNESCO World Heritage site—it feels a lot like stepping back in time to the ancient Venetian Empire. Like a lot of Dalmatian cities, the fishing port of Trogir is really proud of its culinary heritage, so make sure to try out a cooking class or taste some fresh seafood and pastries while you're there. Locals can clue you in on the can't-miss dishes before you depart.
#15: Korenica: Gateway to outdoor adventures
Korenica's close proximity to Plitvice Lakes National Park makes it an ideal spot for hikers and nature lovers. Both the upper and lower lakes and the numerous waterfalls in the national park are worth a visit. Whether you're newly outdoorsy or a seasoned hiker, locals in Croatia can plan an itinerary that includes the best scenic experiences for your skill level, both in the national park and beyond its borders.
#16: Makarska: A secret seaside retreat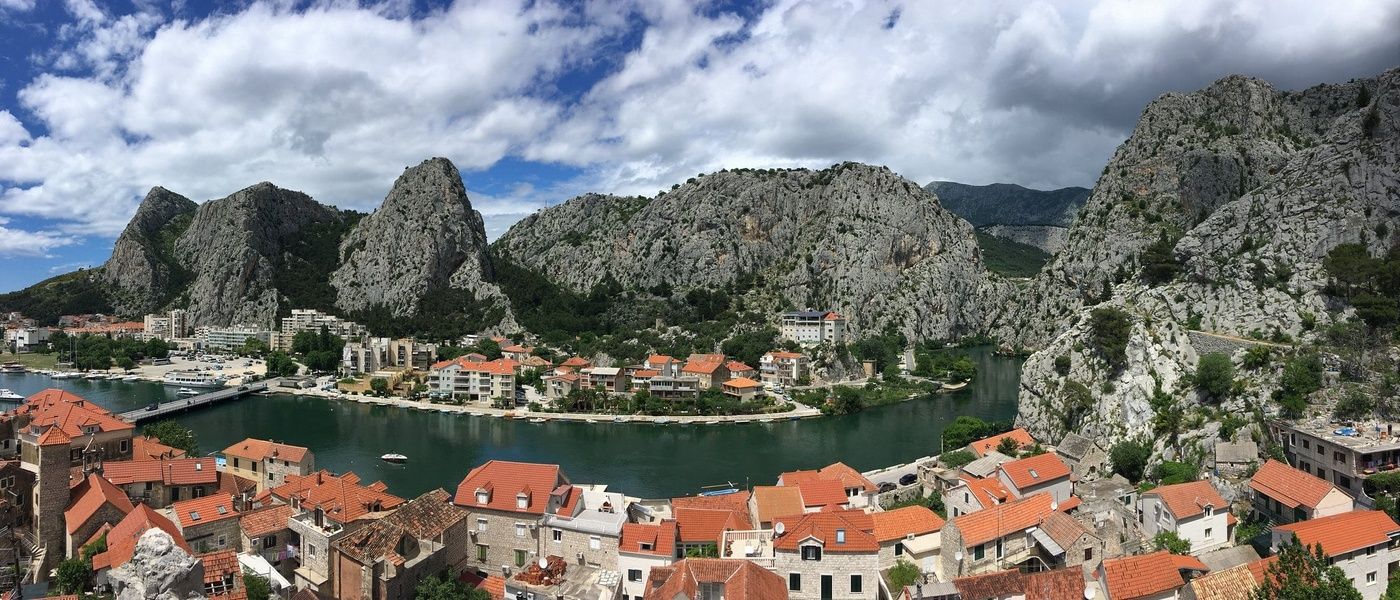 The last stop on our list is another Dalmatian port city. Not a lot of people have heard of Makarska, mainly because it's a little smaller than neighboring Dubrovnik and Split. That said, it's an awesome seaside city with a charming town square, access to gorgeous sunny beaches, and mountain hiking trails all around. Biking, hiking, and kayaking are all available during the day, which is great for families. For night owls, there's a busy and exciting nightlife. Because this is one of the lesser-known parts of Dalmatia for travelers, we definitely recommend planning your trip with a local so that you can know exactly what to expect.
--
No matter where you stay in Croatia, connect with a local trip planner to get the most out of your experience. Whether you're looking for unique experiences in Zagreb, or hoping to get off the beaten path, locals are full of insight that you never find online. Basically, it's like having a best friend in Croatia—and that beats endlessly scrolling through Internet lists every time. Learn more.