People often ask me if Cuba is expensive, and the best response we can give is: it depends. Saving money in Cuba is easy. If you do things like a Cuban, it's dirt cheap. But if you do things like a tourist, you're going to cry at how expensive it can be. Read on to learn the best ways to travel to Havana on a budget. Once you do, feel free to contact us directly with any questions about cheap Havana travel, or on all things Cuba!
Want to explore Cuba differently? Have a local your trip.
Breakdown:
I've spent months in Havana, which is arguably one of the cheapest places to travel in the country, and I've gotten pretty damn good at spending little to no money in Cuba. And I'm not eating peanuts for dinner and sleeping in parks – oh no, I sleep in a room with AC and eat all three meals, almost to a point of excess! I've figured out some tricks to help navigate the city in the least touristy way possible, and that has made all the difference. If you make smart decisions about where to stay, what to eat, and how to get around, you can easily spend less than $300 a week in Havana.
The biggest way to save money in Cuba is on accommodations. Hotels and other tourist-level accommodations (like a private Airbnb apartment) are expensive, and under the new regulations, Americans can't stay in most hotels anyway. But if you are interested in having a true Cuban experience, then staying in a casa particular, or a homestay will save you tons.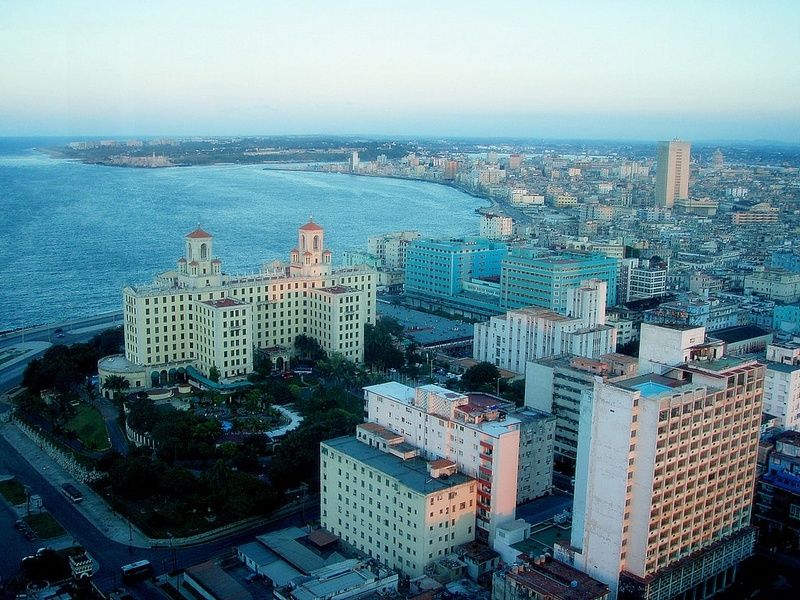 The going rate for a room in a casa particular in Havana is $25/night/room. This is a decent price if you've got someone to share that room with, otherwise, it starts to add up. As a solo traveler, a more efficient way to spend your money in Cuba is to check out the island's handful of hostels. Rolando Backpackers offers dorm-style bedding for about $8/night. Hostels will often offer breakfast and dinner for a small cost. However, I'd recommend getting at least breakfast on the street (you could find a jamón, queso y huevo sandwich on the street for around 50 cents).
I've found a wonderful house in Centro Havana that only charges $20/night, including breakfast and dinner. Cuba doesn't have a strong culture of eating out and not only is home cooked food always made with much more love it's also way cheaper (and better)! Many houses will make you breakfast and dinner if you ask, and pricing is always negotiable. Give it a try!
Watching what and where you eat is another important way to save money in Cuba. Touristy restaurants are expensive. Go to where the Cubans eat and your wallet will thank you. A Cuban cafeteria will get you a decent meal for $1-3. There are cafeterias sprinkled all throughout the city. Obviously some are better than others—so see which ones are most crowded; otherwise, ask some locals to recommend a spot! The point is: eat where you see Cubans eating.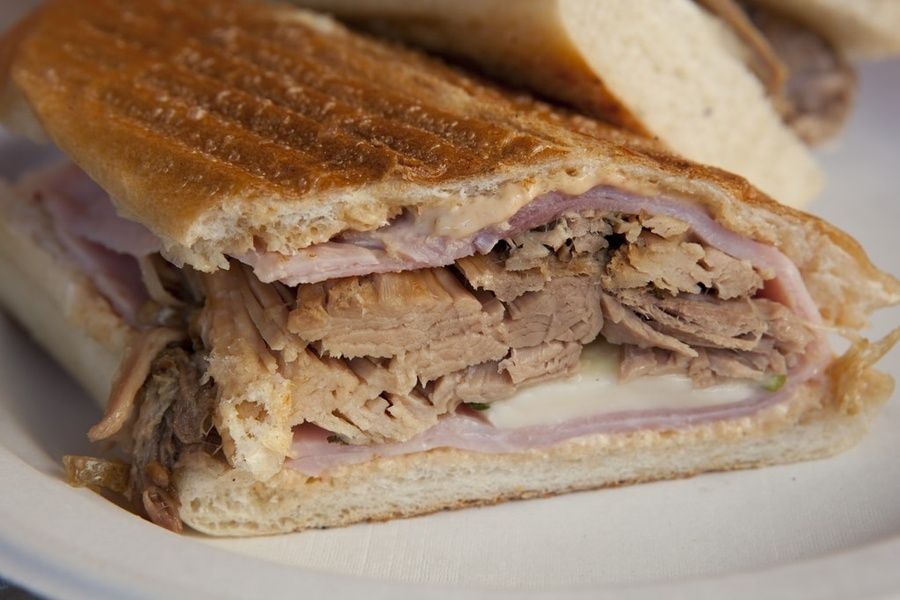 Being conscious of your money in Cuba doesn't mean you can't have any fun! Cubans are masters of having fun without spending, and one of their tricks involves a handful of friends, a bottle of rum, and a Havana staple: the Malecón. The Malecón, which is the wall that lines the oceanfront in Havana, is an excellent spot to sit, people-watch, and pass the time.
In a best-case scenario, a beer at a bar will cost you $1.50 and a mojito will cost you $2. If you're someone who might have more than 2 or 3 drinks throughout the night, and you've got at least one buddy with you, buy a bottle! This is one of the most effective ways to save money in Cuba on your nights out. Rum is very cheap in Cuba, so it's almost always cheaper to buy a bottle, whether you're on the street or already in a club. A liter of delicious dark Cuban rum will cost you $5.90 from the store, and a liter of soda will put you back only a dollar. Bring those over to the Malecón before you head out for the night, and you're good to go!
Lots of bars don't have covers and offer cheap drinks, like El Chanchullero in Old Havana. Art Pub also has a great happy hour with 50% off drinks. If you want to splurge on a Wednesday night you can check out fantastic live music for only $5 at Brecht. It's a small theater/bar where Interactivo, a salsa/fusion/funk band plays. One of my favorite spots to go out is La Fabrica de Arte - an incredible art-museum-meets-club. The cover is only $2 and the drinks are cheap, making it a great place to spend a night out without spending too much money in Cuba. The main takeaway is: splurge on a cover fee, don't splurge on drinks!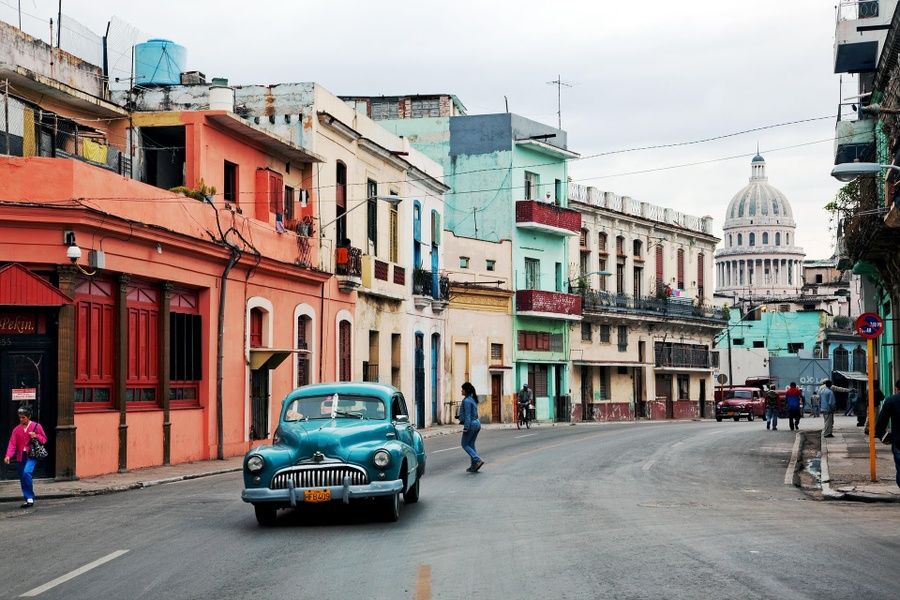 Lastly, save money by taking public transportation. Don't worry, though, public transportation in Havana is fun! It's hot and sweaty and usually involves blasting reggaeton music - all for only $.50 cents! , which are the old cars from the 50s that act as shared taxis (or taxis colectivos), drive along certain routes and let you off wherever you ask along the way. Figuring out how to use them can be a little challenging if you don't speak Spanish, but that's all part of the fun. Ask the house you're staying in to help you figure out which route to take, and go for it. And as far as airport transport goes – make some friends and share the ride. The standard rate is $25 each way, so why not save some money in Cuba while making a few new friends?
Check out some of the suggestions I've listed below to help you plan your week in Havana for under $300!
Accommodations
567 San Miguel between Gervasio and Padre Varela, Centro Havana, Cuba
More traditional hostel environment, $8/night for a dorm-style bed, food not included
Teresa and Cristina Saborit, Casa Particular ($20)
San Nicholas 263 between Concordia and Neptuno, Centro Havana, Cuba
7866-6467
Look for Teresa on FB as "Teresa Saborit"
$20/night includes breakfast and dinner, some rooms are shared, some are private and all come with the most incredibly warm and hilarious Cuban family!
Food
Good spot for an in-budget splurge!
Teniente Rey #457A Bajos between Bernaza and El Cristo (Plaza del Cristo)
This spot is itsy-bitsy but full of character, and got some of the best affordable food in Havana. Plus, it's for having the coldest beers AND the newly opened roof deck make it a staple in my books. Average entree is $5.
A great happy hour with a small garden
Teniente Rey #306 between Aguacate and Compostela
In addition to 50% drinks during happy hour, this place has sweet little sandwiches and salads, and a beautiful garden out back. Average entree is $7.
Cafe Habanera ($1)
Land of the $1 burger!

San Nicholas between Concordia and Neptuno
Cubans all tell me this is the best hamburger spot in Havana. Lower your foreigner expectations and you'll be quite pleasantly surprised. It closes in the late afternoon, so its strictly a lunch spot. Prices listed are in , so don't be scared!
Nightlife
Art museum meets club, a lo cubano!
Calle 26 Corner 11, Vedado
Entrance is only $2 and mojitos are $2 as well! This is a must-see spot, whether you like are or not! One of the best parts of this place is that it is accessible to Cubans, meaning there is usually a really nice mix of tourists and Cubans. From Thursday to Sunday there is always something different happening here, check their website for the weekly schedule: http://www.fac.cu/
Bertolt Brecht Cultural Center ($5)
A local theater/bar with great live music
Calle 13, Corner I, Vedado
Wednesday nights are my favorite here. For a $5 cover, you get 2 incredible hours of salsa/funk/fusion with , one of the most exciting and funky bands in Cuba. Considering the quality of musicianship and the level of hype in the audience, $5 is really worth it. Arrive around midnight and get ready to stay out late!
--
Have more questions about how you can travel to Cuba on a budget? Here is a list of local Cuban Travel Experts who can help you or you can chat with us to get answers to any questions you have. And before your trip, make sure to check out: