It's easy to find cheap food in Cuba if you know where to look. A budget of $5USD per day can easily cover three square meals and a few snacks. Below is a list of our favorite budget finds to help thrifty travelers stay well-fed in Havana. And as always, feel free to contact us directly for more information on all things Cuba!
Want to explore Cuba differently? Have a local plan your trip.
Cheap Food in Cuba
1. Pizza Cubana

Where: Cinecitta on the corner of 23rd and 12th in Vedado, Havana
While Cuba is not world renowned for pizza, it is abundant, decent and most importantly: cheap. There are varying degrees of quality, easily determined by price. The small, individual-size pizzas for 10 pesos Cubanos (less than 50 cents) are not the best, I recommend upgrading to the dollar pizza, double the price but twice the size and quality, too. Pizza is usually served on a piece of paper, making it the perfect meal to eat on the go. Cinecitta on the corner of 23rd and 12th in Vedado neighborhood has lots of dishes (pizza and pasta) starting at 50 cents. Or if you're in Centro Havana my favorite pizza spot is on Aguila 2 blocks before the Malecón.
2. Little boxes of Heaven
Where: Boulevard San Rafael in Centro Havana
Cubans by nature and circumstance, have garnered a reputation for their inventive resourcefulness and this little box of Heaven is a great example of that industrious spirit. Food stands throughout the city and along the beach sell small cardboard boxes filled to the brim with Cuban staples like arroz moro y cerdo (mixed rice and beans with pork). Because plastic cutlery is often hard to come by these boxes have a small cutout in the shape of a spoon that pops out and can be used to shovel the boxes' delicious contents. It's a perfectly self-contained meal for $1. You can find several of these food stands along the Boulevard San Rafael in Centro Havana, right behind the Capitolio.
3. Everybody loves a good burger!
Where: Cafeteria Havanera, on San Nicholas between Concordia and Neptuno
Havana has many cafeterias spread throughout the city, and these are great places to score cheap food in Cuba. Hamburgers are my pick, and they can be found virtually everywhere. The best are in Centro Havana at a small cafeteria called Cafeteria Havanera, on San Nicholas between Concordia and Neptuno. The burgers are made of pork, standard for Cuba, and come topped with tomato, cheese, and ham. Priced in the $1 range, what these burgers lack in tradition they more than make up for in value. If you're in the Vedado neighborhood there is another great burger spot on Calle 24 between Linea and Calle 11. It's open late and located right around the corner from one of Havana's coolest nightclubs, La Fabrica de Arte.
4. Breakfast sandwiches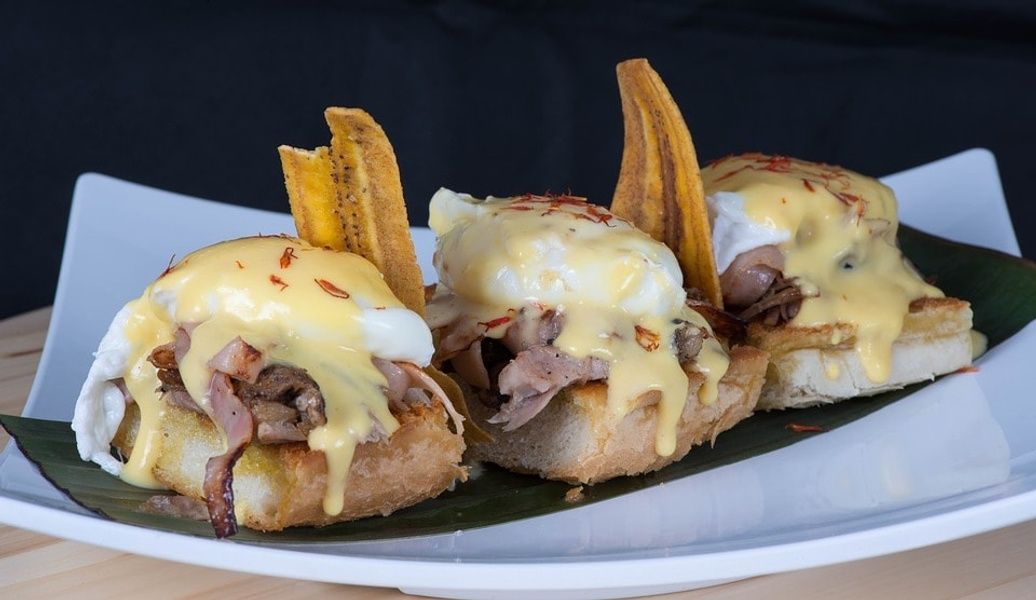 Where: Cafeteria on the corner of Neptuno and Campanario in Centro Havana
Breakfast, and more specifically breakfast sandwiches, are a staple you won't have to forgo in Cuba. Tragically for mornings as a whole, this island nation is completely devoid of bacon. Hope can be found, however, in the form of a jamon, huevo y queso sandwich from one of Havana's cafeterias. This classic ham, egg, and cheese sandwich can be found at just about every cafeteria in Havana and usually costs less than 50 cents. Be sure to get a Cuban coffee on the side, and you've got yourself a filling and appropriately caffeinated breakfast for under $1. These spots are usually only open for breakfast and lunch, so get your fix early in the day. The sandwiches at the cafeteria on the corner of Neptuno and Campanario in Centro Havana are humongous and delicious.
5. Fresh fruit smoothies are never a bad idea
Where: any cafeteria in the city
While not quite a meal, a smoothie still makes for a delicious, balanced snack. The fruits will vary depending on what's in season, and this variability provides a great opportunity to try some more exotic fruits like mamey or guanabana. These smoothies sell for less than 50 cents and are served in a glass, so the expectation is that you drink it right then and there and return the cup when you're finished. You can find smoothies at just about every cafeteria in the city and they provide a healthy and fresh alternative to standard street fare.
BONUS: How to eat for 5 USD per day
Here's a quick breakdown of how you can eat for $5 or less per day with the dishes mentioned above.
Breakfast: $1 - ham, egg, and cheese sandwich and a coffee
Lunch: $1 - little box of Heaven
Afternoon snack: $0.50 - fruit smoothie
Dinner: $1 - burger or a large pizza
TOTAL: $3.50
And that still leaves you $1.50 for a second snack, dessert, or a beer!
Have more questions about Cuba? Here is a list of local Cuban Travel Experts who can help you or you can chat with us to get answers to any questions you have. And before your trip, make sure to check out: