Planning your dream trip to Cuba but not sure where to stay? Read on to learn about the best lodging options in Cuba; once you do, feel free to contact us with any questions directly.
Want to make the most out of your trip? Tap into our network of local travel planners—Heroes—who build unique, locally-curated trip plans, designed just for you. Get started.
Table of Contents
There are three main options for lodging in Cuba: casa particulares, resorts, and hotels. Most travelers can choose any option, but Americans may only stay in casa and select hotels as of Fall 2017. For a complete list of hotels, Americans are not allowed to stay at, visit the US State Department website.
Casa Particulares
Casa particulares are private homestays in Cuba. They provide an experience similar to staying in an Airbnb or at a bed and breakfast. Most travelers to Cuba stay in casa particulares for a local experience and love it. Hotels and resorts in Cuba are very expensive because there aren't enough hotel rooms to fulfill demand and Americans won't be able to spend money at many hotels as of Fall 2017, so casa particulares are your main option.
Pros
You get a real sense of Cuban neighborhoods, everyday local life, and culture.
You are supporting the Cuban people directly.
The food is often cheaper and tastier than the food at restaurants.
The average casa in Havana is $45/night and $25/night is the average elsewhere in Cuba.
You are allowed kitchen access for cooking your own meals in most casa .
Your hosts will give you local, insider recommendations for things to do.
You'll have local support making reservations for dinner, taxi rides, or other excursions.
Cons
It's best to confirm a casa around 48 hours in advance because sometimes hosts will give your reservation to the first person physically in the door on the day you reserved. Confirming 24-48 hours in advance helps prevent this. Don't worry, though, you'll always have a bed to sleep in because the casa community is tight-knit and if they give away your reservation locals will always find you a place to stay that's equivalent.
Not all have air conditioning, but most do have bedroom wall or window units.
Beds in often have thin or too-soft mattresses that are less comfortable than hotel beds.
How to Book
To book a casa directly, including on the go, download the Cuba Junky app. From here, you can easily search their directory and contact them via email or phone, usually getting a cheaper price than you'd find elsewhere.
About 60% of are listed on Airbnb and this is a great way to pay for your casa ahead of time. Plus, the Airbnb site is very user-friendly.
Other Details
All legal have a little blue sign posted outside with the words Arrendador Divisa, which helps you find them.
All casa owners are going to need your passport number for the first night, which they take to the Tourism Ministry. Generally, a copy of your passport is sufficient to give them, this way you can hold on to your actual passport.
Our Cuban travel planner Yoli can help you find a wonderful casa particular.
Resorts
Most of the beach destinations in Cuba have nice resorts and this is where you'll find the luxury accommodations in Cuba. The most popular resort spots are Holguin, Varadero, Cayo Coco, Cayo Largo del Sur, and Cayo Santa Maria.
Pros
Most resorts are all-inclusive so your meals are included.
Resorts offer direct beach access to some of the most beautiful beaches in Cuba.
Most resorts have staff that speaks excellent English.
Most have air conditioning and a lockbox for valuables.
A maid will clean your room daily.
You can often exchange money at resorts.
You can reserve ahead of time and pay with a non-American credit card at the counter.
The resort standards are on par with many resorts around the world and they are often surprisingly cheaper than many of the nicer hotels in Havana.
Cons
Internet access usually costs $5-15 per hour.
Your exposure to the Cuban locals and culture will be limited.
Some resorts are on the US State Department restricted list and Americans cannot stay at them.
How to Book
Trivago seems to have the best inventory of resorts in Cuba.
Hotels
Hotels in Cuba are a bit different than hotels in other parts of the world, but they can be a good option for travelers from many countries. However, Americans will not be allowed to spend money at many hotels starting in Fall 2017; if you're American, book casa (see above) or double-check this State Department list before choosing a hotel.
Our Cuban Hero Lisa can give you some great insight into which hotel best fits your trip.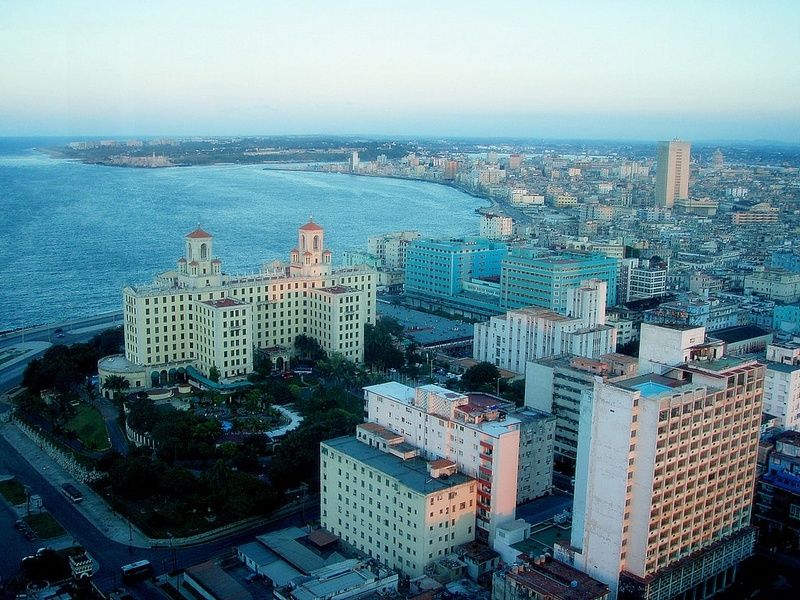 Pros
Most hotels have a front desk clerk that speaks English and who can answer practical questions and help arrange taxis.
Most have air conditioning and a lockbox for valuables.
A maid will clean your room daily.
You can usually exchange money at the front desk.
You can reserve ahead of time and pay with a non-American credit card at the counter.
Cons
The hotel standards in Cuba are much lower than in North America or Europe. A 4-star hotel in Cuba generally equates to a 2-star hotel elsewhere.
Hotels often cost 5+ times what an equivalent casa particular costs. A nice hotel in Havana will run you $300-600/night for a standard room.
The beds can often be hard and uncomfortable.
The internet costs $5-15 per hour to use.
How to Book
With many hotels, you can book direct on their website or via email.
Cuba Travel Network and Trivago have the best inventory of hotels in Cuba.
--
Have more questions about lodging in Cuba? Here is a list of our Cuban Heroes who can help you or you can chat with us to get answers to any questions you have. And before your trip, make sure to check out: