Although there are tons of great things to do in Holguín for travelers, this Cuban town is generally looked over by tourists due to lack of all-inclusive resorts and major attractions. This is precisely why we absolutely love Holguín! The people here are eager for visitors, but compared to cities like Trinidad, they tend to receive very few. Hosts of Casas Particulares are eager to please and provide the best experience possible by doing everything from recommending local favorite things to do in Holguín to cooking you an authentic, Cuban meal.
Holguín also has one of the better foodie scenes in Cuba, with several pioneering new restaurants taking advantage of their recent access to a greater variety of ingredients served alongside glasses of (often locally brewed) beer or imported wines. After you give the article a read, feel free to contact us with any questions you have about traveling to this local Cuban gem!
Want to explore Cuba differently? Have a local your trip.
Table of Contents
Museo de Historia Provincial
Once an army barracks, this building is now a national monument and local history museum. Stop in this cheap museum to learn a bit more about local history at the start of your stay in Holguín. Two weapons are the chief highlights of the museum. One is an ax head carved to look like a man; it was likely created by indigenous inhabitants in the 1400s. And the other? It's a shiny sword that belonged to national hero Jose Marti.
Catedral de San Isidoro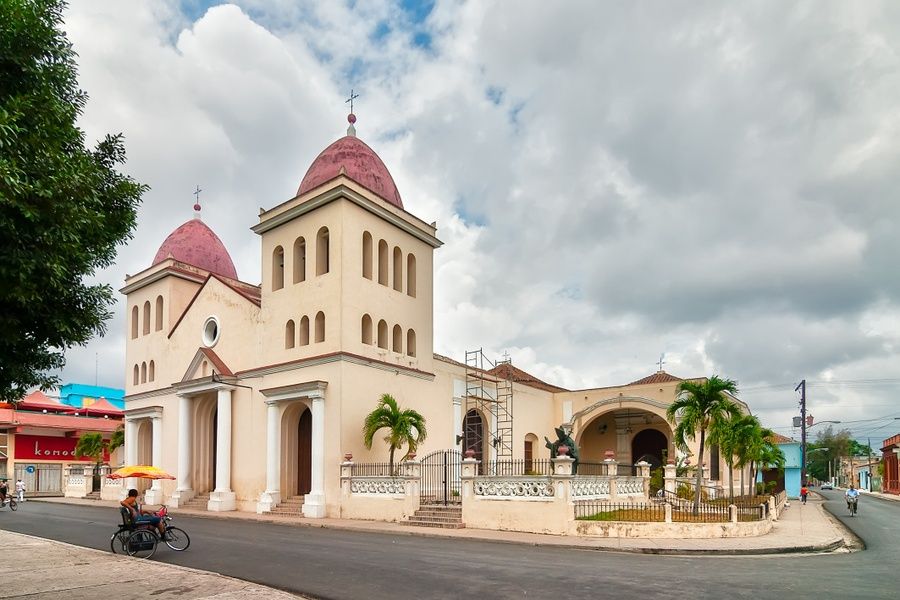 Bright white with twin domed towers this cathedral is easy to spot. It is one of the town's original buildings, dating from 1720 when it was simply a church. Elements have been added over the years (like the towers) and the church became a cathedral in 1979 that we now know as Cathedral de San Isidoro. One of the great things to do in Holguín on a lovely day!
La Loma de la Cruz
Hike up 465 steps to the top of a hill with a massive cross on it to enjoy panoramic views of the city and one of the prettiest things to do in Holguín. The cross was raised in 1790 in an effort to end a long drought. At the top of the hill near the cross, there's a restaurant and a 24-hour bar where you can enjoy a cool drink and amazing views after your hike.
Romerias de Mayo
This annual religious festival is one of the most authentic things to do in Holguín. If you happen to be in the city on May 3rd, be sure you don't miss it! Locals process from Catedral de San Isidoro up La Loma de la Cruz for a special mass.
1910
If you can only remember one restaurant with a date in it (there are many in Holguín), then make that date 1910 for 1910. Dine in this stately colonial house where you will be treated to impeccable service, their signature steak, and a selection of incredible South American wines.
Taberna Mayabe
Wooden tables and ceramic mugs give this place a distinctive old-world pub feel. Local beers on tap include the cheap local standby Mayabe, only sold in Cuban pesos and rarely in locations popular with tourists. There is, of course, the well-known brand Cristal, also brewed here in Holguín. Finally, Bucanero is darker and stronger and also brewed in Holguín. This is Cuba's beer city and Taberna Mayabe is a great spot to start (or end) a little pub crawl.
UNEAC
One of fourteen locations of the National Union For Writers and Artists, UNEAC is arguably the best one for travelers and certainly one of the best things to do in Holguín. Stop in for one or more of the many events that take place here - including theater on the patio, evenings with famous authors, and musical performances.
Have more questions about Cuba? Here is a list of local Cuban Travel Experts who can help you or you can chat with us to get answers to any questions you have. And before your trip, make sure to check out: