So you've landed in Cuba, now how do you get around? Want to rent a car? Rock public transit the whole trip? Chill out in the back seat of a taxi? Here's the scoop on transportation in Cuba.
Once you give the article a read feel free to message a local expert in Cuba if you have more specific questions about transportation in Cuba.
Want to make the most out of your trip? Tap into our network of local travel planners—Heroes—who build unique, locally-curated trip plans, designed just for you. Get started.
Table of Contents
Colectivos/Almendrones/Shared Taxis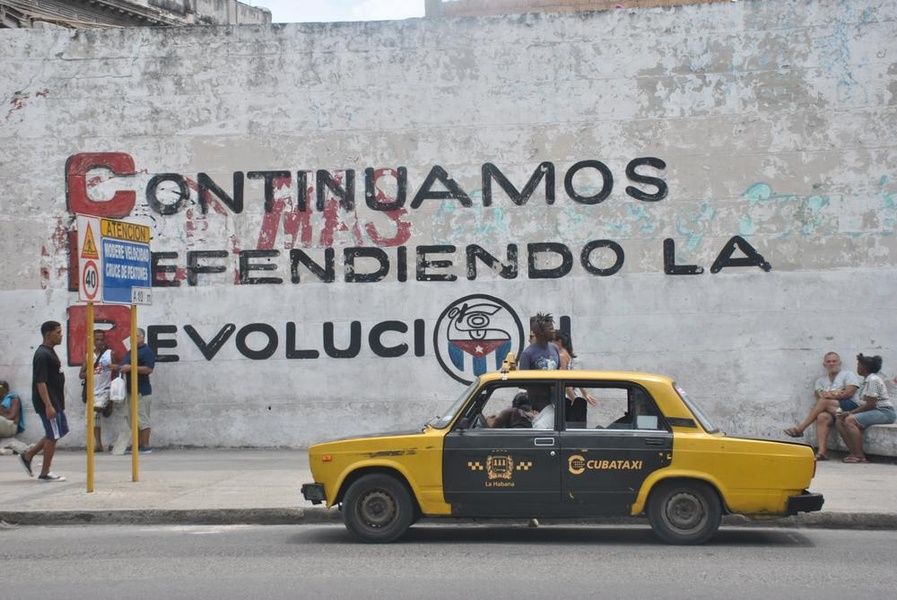 Colectivos, or as some Cubans call them, , are shared taxis that travel along a fixed route. You'll find these mostly in Havana and Santiago de Cuba. They are usually colorful, old cars from the 1950s with a taxi sign in the window. If you're new to Havana, it will be difficult to utilize them, since it helps to have a sense of where you're going, but for seasoned Cuba travelers or those who speak Spanish, it's a great way to move around—especially if you're spending a few days in Havana—for cheap. Here are a few tips for using :
To flag one down, stand along the route in the direction you want to go, and then raise your hand when you see one.
You can flag one down at any point along the route, but if you wait in front of prominent hotels or tourist spots, drivers are more likely to treat you like a tourist and ask you to pay a higher price.
The standard cost is 20 Cuban peso (CUP), which is about 50 cents USD. Confirm the price before getting in.
Drivers will only stop if they have room in the car when they see you. People hop in and out as needed along the route, so you might have to let a couple of passes by before you see one with enough space. The smaller your group, the more likely a will stop for you.
Tell the driver which crosses you need to get to and ask them to drop you off at the closest stop. If you ask them to drop you off at a hotel, they'll charge you normal taxi prices and treat you like a tourist.
Here's a map of the Havana routes.
Private Taxis
There are many types of private taxis in Havana. These are the ones you need to know about when traveling:
Coco Taxi - Yellow taxis are for tourists. You can safely negotiate the price ahead of time. You'll spend $10 most trips within the city, which is a decent price, but they are usually a bit more expensive than a normal taxi.
CubaTaxi - These are state-run taxis. You can ask them to use the meter, but if you negotiate the price ahead of time, it may be cheaper than the metered price.
Cuentapropista Taxi - These are taxi drivers who are independent or work as part of a small privately owned taxi companies. It's generally best to negotiate a price ahead of time - these taxis will more often give you a better price.
When you work with one of our local Cuban trip planners they can help you plan a route, arrange a day trip, and provide detailed directions to a specific spot if needed. They also can arrange taxis between cities or find alternatives that save money and time.
Private Car Services
Taking a private car between destinations in Cuba can be convenient enough to be worth the steep price, especially on short trips. Hiring a private car typically costs the equivalent of $50-60 USD per hour, so it is one of the most expensive options for transportation in Cuba. At this rate, a three-hour trip from Santiago to Baracoa will probably cost the equivalent of $150-200 USD. But, this allows you to be completely flexible with your itinerary. Plus, you get door-to-door service instead of taking a taxi to/from the bus station on either end.
These are the best options for hiring a private car:
You can use a site like GetYourGuide to arrange a private car in advance. This is often the cheapest and most reliable option for arranging transportation to and from the airport.
Contact one of our trip planners or your Airbnb host/casa particular owner in your city of origin. They usually work with someone they trust and can arrange a private car service for you.
Use Yo Te Llevo to book a driver online. The company takes your request and connects you with a driver that can make your trip. The only issue is that they don't always find a driver match and when they don't, they simply don't respond. So if you don't get a response, make sure to contact someone else.
Bici-Taxi
In some cities, particularly Havana and Camaguey, you might spot pedicabs/bicycle taxis. They're obviously slower than riding in a car, but they can be a fun way to do a little sightseeing in Old Havana. If you see one, just flag it down. Your ride will probably cost just a few USD depending on how far you go. As with all other taxis, ask for the price before getting in.
Intercity Buses - Viazul or Astro
Buses between cities are run by two companies: Viazul and Astro. Travelers generally choose Viazul. Viazul buses are safe, reliable, air-conditioned, and cheap by tourist standards. You can check schedules, make reservations, and pay for buses on Viazul's website. Here's what you need to know to successfully use Viazul in Cuba:
Book your ticket well in advance.
Print out your reservation confirmation ahead of time and bring it with you. (Remember: this means it before you leave the US since internet access in Cuba is limited.)
Most cities in Cuba have a few bus stations, you want the Viazul or Interprovincial bus station. The others are for regional or local buses. Make sure you go to the right one.
Arrive at the bus station an hour early. Your reservation is confirmed, but you will generally need to stand in line to get a ticket with your confirmation email. This is usually the same line for buying tickets, but it's good to ask around first so you don't waste time in the wrong line.
Bring a sweater. The buses are usually pretty chilly from the air conditioning.
Locals tend to take the intercity buses run by Astro. They're cheaper than Viazul buses, but our Heroes don't recommend using them if you're on a short trip with a full itinerary. Astro buses are hard to get a seat on, aren't air-conditioned, break down often, and are unreliable.
Avoid Transgaviota buses as these are affiliated with the Cuban military tour company and Americans are not allowed to spend money at businesses affiliated with it.
Intracity - Gua (public buses)
Metro buses (pronounced ''gua-gua") cover the majority of areas in Cuban cities. In Havana, they cover Old and Centro Habana, Vedado, and Miramar; there are 17 main routes, all with a P preceding the number from 1 to 16, and one named P-C. They run about every 10 minutes in peak hours. They're super cheap—they only cost 1CUP (about $0.05). But you'll have to deal with some inconveniences if you choose this method of transportation in Cuba. These buses are very crowded, there's no A/C, and pickpockets are common. You're going to stand out as a foreigner so keep a close eye on your bags and know which stop you need before getting on.
Here's the Havana bus network map.
Still not sure which bus is best for your trip? Our Cuban travel expert Maurice can offer guidance.
Camiones/Trucks
Large trucks are a complement to the public transit system in Cuba. Because public buses can be unreliable, there are plenty of trucks running similar routes both within and between cities. The trucks are usually hot and uncomfortable, but they're popular transportation in Cuba. Some even have their own schedules. Costs vary and their target market is locals, sometimes you'll even encounter a truck driver who won't let non-Cubans on board.
Car Rentals
Only 10% of travelers end up renting cars so this can be an adventurous and unique way to explore the country. Why don't most people rent a car? Car rentals are often expensive ($50+ per day) and you run the risk of them breaking down because many have mid to high mileage. Since there are so many other options for transportation in Cuba, most people don't want the hassle of a car. But if you think having your own car will be fun, here are just a few things to keep in mind...
First, let's bust a myth: you won't be renting old, classic cars from the 1950s.
There are four main companies to rent Rex, Havanautos, Via, and Cubacar. They are all owned by the government, so the pricing and car selection are generally the same no matter which company you choose.
Most car rental bookings can be made online.
Always book well in advance because availability is low.
You pay for the rental when you reserve the car. However, you have to pay for the mandatory car insurance and a full tank of gas in cash at the car rental office.
One-way rentals are possible. There is usually no additional cost if the company has an office at your drop-off point.
Rental cars have distinct, red license plates, so everyone will know that your car is a rental.
There is a major lack of road signage in Cuba, which can make navigating a challenge.
Some knowledge of Spanish is helpful when you need to stop to ask for directions.
Maps.me has a free app for offline navigation, which is extremely helpful in Cuba. Buying a road map or atlas as a backup is essential. You can't get a GPS unit as they are not allowed in Cuba at this time.
You'll drive on the right side of the road and driving in Cuba is otherwise very similar to driving in the US.
The road conditions are OK, but some back roads can be rough and you'll need to go slowly.
Most highways have a speed limit of 100 (62 mph).
Don't rent a car from Gaviota Tourism Group as this group is run by the Cuban military and Americans are not allowed to make purchases from any organization on the US State Department's Restricted List.
Flying
Yes, you can fly between cities in Cuba. Domestic airlines like Aerocaribbean fly between Havana and other cities throughout the island like Holguin and Santiago de Cuba. Almost all flight routes depart or arrive in Havana, the heart of air transportation in Cuba. Flying between Santa Clara and Baracoa, for example, is not possible without a transfer to Havana.
need to book your flight to Cuba? You can fly directly from New York, Miami, LA, Atlanta, and Orlando, as well as a few other airports in the US. Use Flighthub to browse your different options and book a flight.
Trains
Taking the train when you travel to Cuba can be just as much of an adventure as renting a car, maybe even more so. It's hard to find an accurate schedule and to purchase tickets. Trains are slow and unreliable. Plus, it's generally a 'bring your own toilet paper' situation. Overall, it's not the best form of transportation in Cuba. But if you've got the time to travel slowly, it's a unique, safe way to travel with locals. The train travel situation changes quite frequently, for the most up-to-date information, check out Seat61.
Hitchhiking
Locals hitchhike all the time in Cuba. Hitchhiking gained popularity as a mode of transportation in Cuba in the early 1990s during the gasoline shortage when the state required all private vehicles to stop for anyone asking for a ride. While people are no longer obligated to stop, hitchhiking is still common. Here's what you need to know:
Wait near a bridge or junction between roads among a crowd of locals to increase your chance of getting picked up.
You might get a free ride or you might need to pay for it.
While there are always risks to hitchhiking, the practice is so common in Cuba that many people are comfortable doing it.
In some spots, there are even official points (pickup points) where government officials oversee the hitchhiking.
However, it can be very inconvenient as you may end up waiting hours for a ride or not getting one at all.
--
Have more questions about transportation in Cuba? Here is a list of our local Cuban travel experts who can help you or you can message us any questions you have. And before your trip, make sure to check out: