ViaHero locals have helped literally thousands of travelers plan unforgettable trips to Cuba, Colombia, Puerto Rico, and Japan. Check out what those travelers and the press have to say about ViaHero—once you do, feel free to contact us with any questions at all!
Want to make the most out of your trip? Tap into our network of local travel planners—Heroes—who build unique, locally-curated trip plans, designed just for you. Get started.
Table of Contents

Travelers love our Heroes' insider recommendations
"I really got the inside track when I visited Puerto Rico with the help of Lindsay! Somehow we found ourselves at the Dorado Ritz Carlton learning beach tennis and drinking rum cocktails saying OMG OMG this place is heavenly. Then, we went hiking in the back woods 1.5 hours from San Juan, swam in the refreshingly cold clean rivers with a group of interesting people. Then, we stopped off at some street corner in the country and suddenly thousands of people arrived and there was Spanish music, amazing bbq pork and chicken, happy people and... did I mention the great food? It rained ...and nobody cared. We were in the thick of it all! Thanks Lindsay!"
"Planning my trip to Colombia at first was a bit scary but Margoth made all this go away! I had an amazing time. She knows all the best places for food and adventures, right up my alley. She's very kindhearted. I got to see and experience so many of the amazing things Colombia has to offer. Thank you!"
"She was able to send us to off the beaten path locations that we NEVER would have found on our own. This included restaurants, sporting activities and cultural experiences. Originally, I had only planned on using a hero b/c I was going to Cuba but I will definitely be using this service for other countries in the future."
"I was in Tokyo for a photoshoot and got some tips from Sven of places to visit in Tokyo. Those are definitely places I would never have found by myself. Who would have thought that I could enter an office go to the 33rd floor and sit in an office canteen with an amazing view for 1/5th of the price it would cost me on all those tourist destinations."
And they love that each trip is planned from scratch, just for them
"Elvy is an amazingly kind, efficient and well-organized trip planner. I contacted him only a few days before my very unplanned trip to Cuba. He was so helpful in organizing last minute tours, answering questions and assisting in making my holiday as amazing as possible. He always responded promptly, which is not easy in a country where internet access is not readily available. He organized my airport pickup and I was pleasantly surprised when a beautiful old vintage car arrived."
"Wow. Just wow. I can't believe how responsive and detailed you were in helping us with everything from transportation to food to a great view of Tokyo. It was so great to have a local consult us and arrange everything we needed. We couldn't have done it without you! I'm missing Japan (and the food) so much already."
"Laura Catana was such a wonderful hero! She was really great at getting suggestions to me before making the final itinerary and taking all of my opinions/thoughts into consideration. The itinerary she made was perfect and SO helpful. It was great to just have everything lined up for his when we got there and have something to guide us along each way. She also gave some really great tips for places that even locals didn't know of! We had a wonderful experience and would highly recommend her to anyone traveling to Cuba!"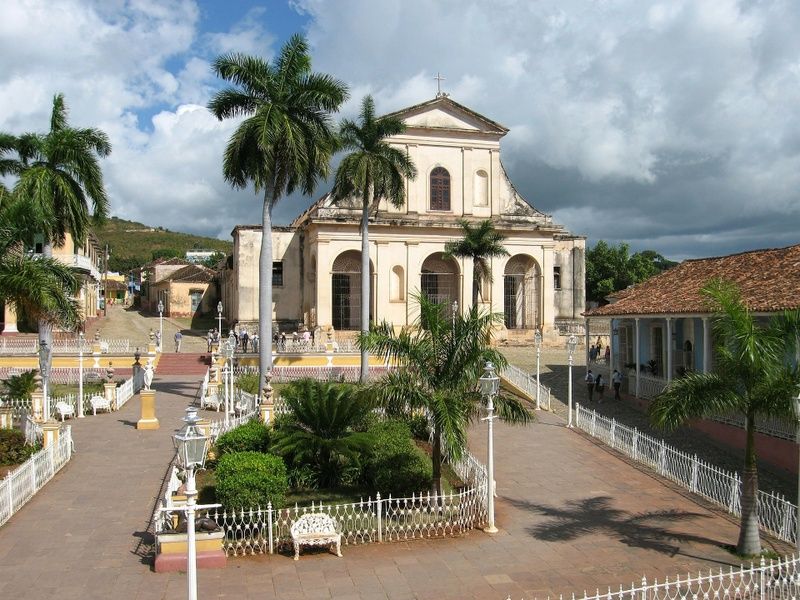 Oh, they also love the flexibility and 1:1 communication
"She [Lisbet] was very informative and communicated everything on time and professionally. We also had to move our itinerary for a future date due to hurricanes and she handled the situation very well and was able to keep all of our reservations in place."
"Lina was great! We had a very last minute request to help us plan as we were too busy with work/life/etc. to do all the research this time. Lina was responsive, listened to our wants, and was easy going when we liked or did not like a suggestion. During our trip, we contacted her several times and she was available to help!"
And how much time and money ViaHero saves
"ViaHero gave us confidence that we were making the most of our time in Cartagena. Having a custom-designed itinerary meant we did not have to spend hours perusing travel websites. Our Hero, Lina, gave us key insider tips and was quick to respond to questions."
"Ali put together the most amazing trip for 7 of us that wanted to see many parts of Colombia. Everything was perfect. The tour guides, transportation, and accommodations that she recommended were all excellent and exceeded my expectations. She recommended the right things to splurge on (like the finca in coffee country or a secluded beach resort) and helped us keep other things really reasonable (like transportation and some free tours). Would highly recommend working with Ali."
Plus, the press digs ViaHero too.
"Perhaps you'd like to visit an out-of-the-way restaurant or smoke a unique cigar. Perhaps you'd like to take part in native dances or infiltrate a foreign government at a classy cocktail party. ViaHero, a new app that lets locals help plan your trips can help." - ViaHero lets locals plan your trips abroad, TechCrunch
"ViaHero's model is also affordable, as little as $400 for a week in Havana — plus a $25-a-day trip-planning fee — compared with group tours charging $5,000 for a week." - New Trump rules on Cuba travel leaves winners and losers, Associated Press
"We're normally trip-planning startups but in the case of Cuba it's totally necessary to plan a trip to the country this way. There are multiple moving parts involved in a Cuba trip that require expert knowledge before you even step foot on the ground and it'll be interesting to see if other entrepreneurs see opportunities in tourism to Cuba." - 5 New Travel Startups Helping Travelers Get to New and Unknown Destinations, Skift
"Your personally assigned local "Hero" will recommend an itinerary for your trip, and will tailor it upon request if you have suggestions or concerns. ViaHero says 75 percent of proceeds go directly to the locals they employ, and the company is hoping to expand soon to other destinations. The local help and low price point make it the perfect millennial travel option." - 10 Trips Millennial Travelers Will Love, SmarterTravel
"It was amazing; we had the entire trip planned," she [Lynne Bangsund] said. Not only did they get to see sights they wouldn't otherwise have known about, said the pair felt like they had an edge over other travelers. As they made their way around Havana, they encountered other tourists at restaurants. "They would be waiting, but we had all our reservations planned ahead of time." -Pittsburgh startup ViaHero personalizes travel, TribLIVE
Looking for even more ViaHero reviews? Check out these on TripAdvisor.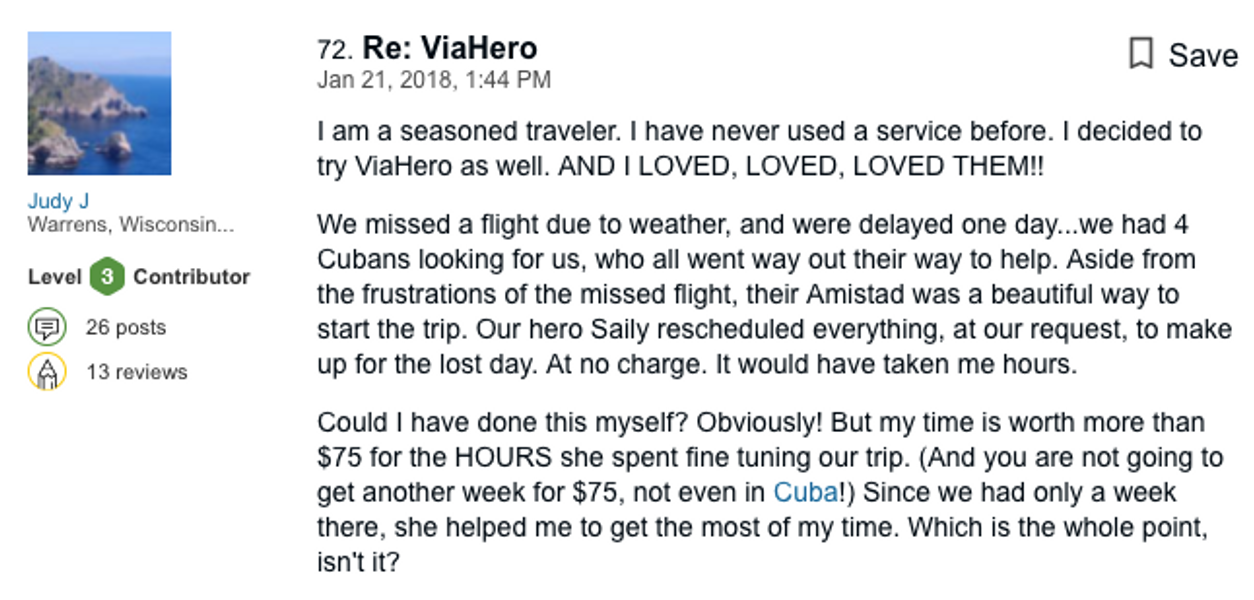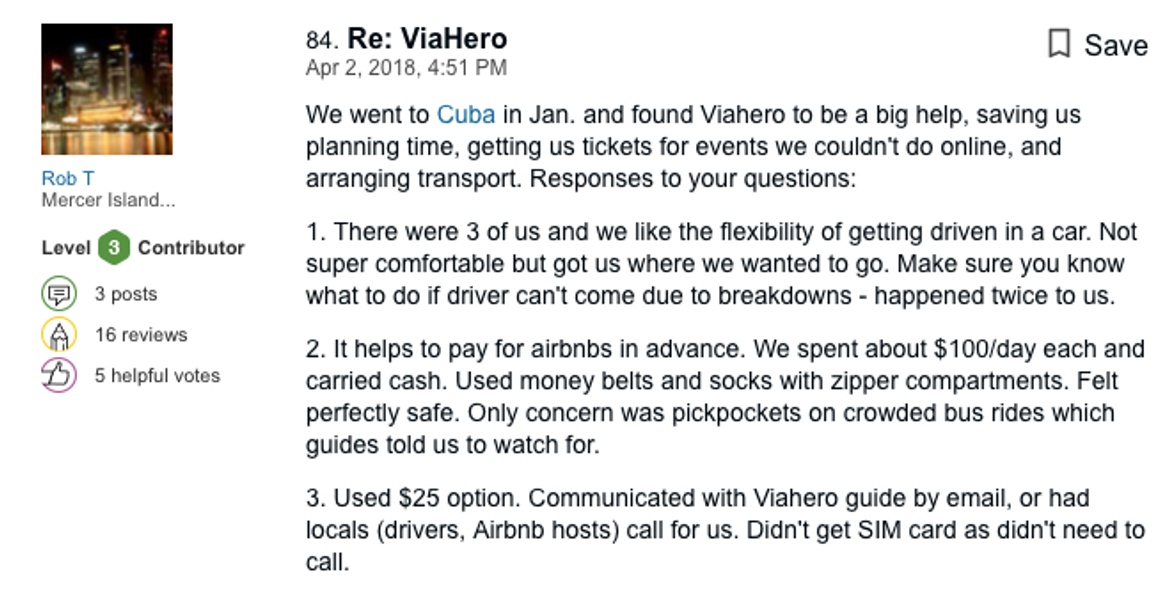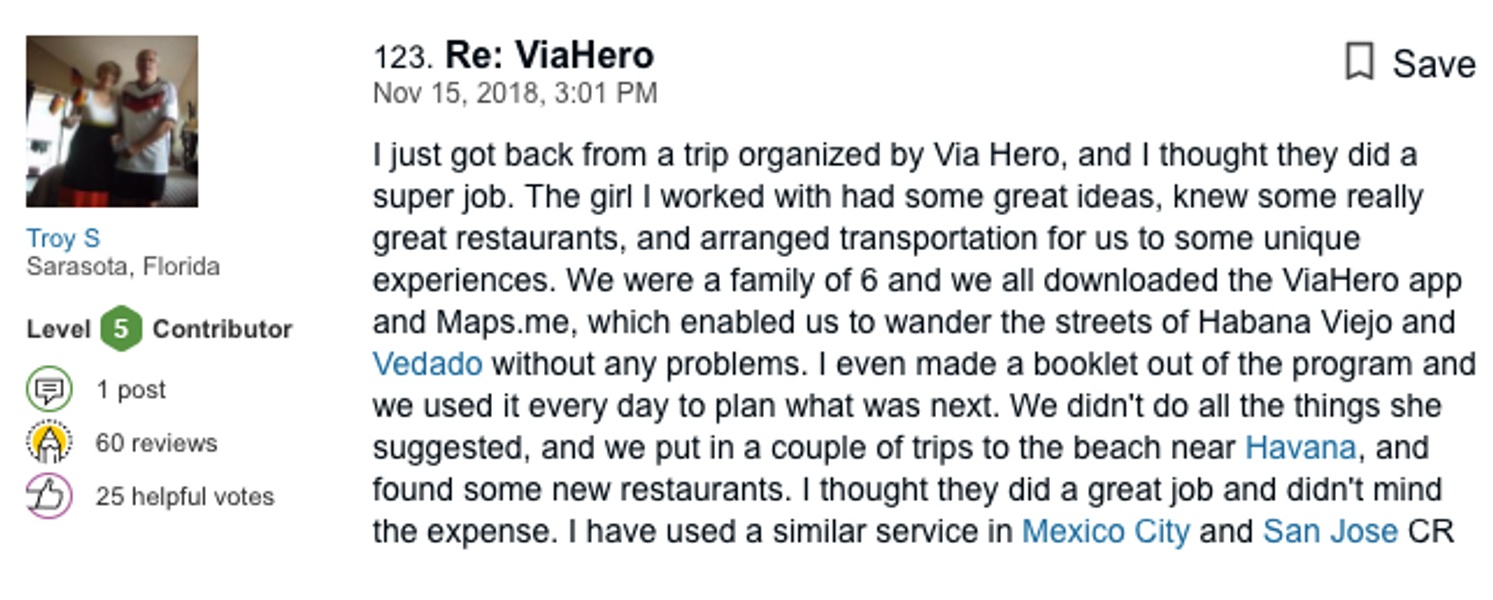 Have more questions about ViaHero? Schedule a schedule a chat with our support teamhttps://calendly.com/viahero-support/viahero-support-chat. Or, get started planning your own trip with our expert travel planners! And before your trip, make sure to check out: