The natural beauty and adventure of Iceland is the major appeal for the island's 2 million annual visitors. While Iceland is adjusting to the massive influx of tourists in recent years and adding more tours and packages, the best way to truly explore the country is by getting behind the wheel of a car and seeing it for yourself.
However, the same way you would never hop on a snowmobile, or go ice climbing without instruction, it is very important that you know what you are doing before hitting the roads in Iceland. Weather and road conditions are unpredictable at best, and frequently dangerous for the unprepared driver. While it is likely that you have driven before in your life, it is very unlikely you have ever driven in a place like Iceland. In Iceland, drivers are constantly battling ice, rain, the wind, and snow... not to mention stunning vistas, live animals, and ocean views!
The following guide will outline everything you need to know to have a fun and safe road trip in Iceland; after giving it a read, don't hesitate to message us with any questions.
Want to make the most out of your trip? Tap into our network of local travel planners—Heroes—who build unique, locally-curated trip plans, designed just for you. Get started.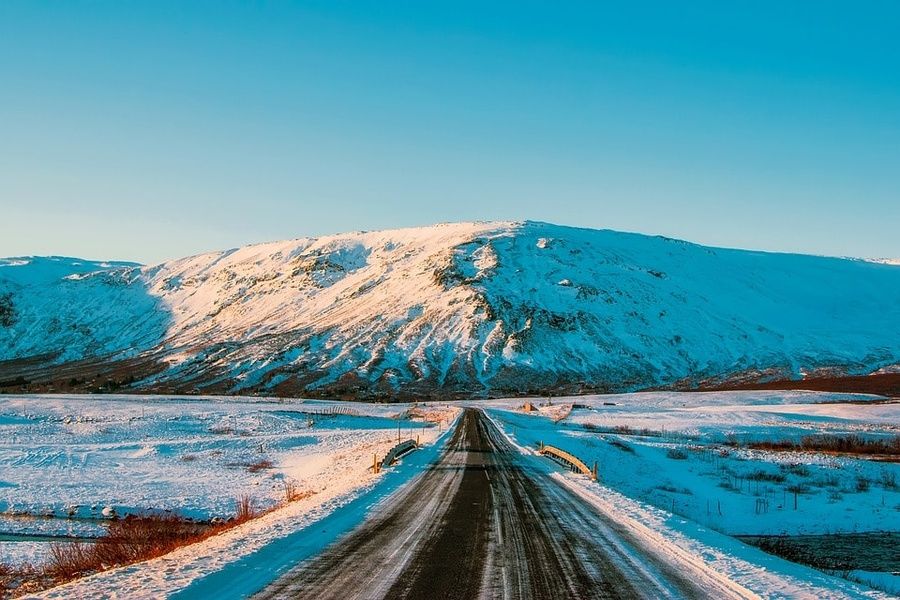 The 3 types of road surfaces in Iceland
Roads in Iceland have different types of surfaces:
Tarmac/Paved: Most major highways are paved.
Gravel: A large number of other roads are gravel. Roads in Iceland are generally in great condition, but it is important to stay alert for potholes and slippery patches. Additionally, the area where the road switches from tarmac to gravel is very dangerous and causes many accidents, so be sure to drive slowly in these places.
F roads/Mountain Tracks: These are the mountainous roads in the center of the country. Conditions are difficult, even when the weather is pleasant. They are often closed until June or later, and 4 Wheel Drive (4WD) is necessary for traversing them.
Keep an eye on your map to make sure your route has suitable road conditions for your car.
If you want to know more about driving in Iceland, Gunnar is a local expert and can help you out.
The Ring Road
Driving around Iceland's legendary Ring Road is one of the main reasons people travel to Iceland. The journey and its scenery are completely unforgettable, with the landscape switching from mountains, to glaciers, to lava fields within just a few hours.
Another thing that is unforgettable about a drive in Iceland is the weather, which also switches from sunny and clear, to snowy and windy within just a few hours. If you are planning on making a trip around the Ring Road while in Iceland, here are some tips:
The Ring Road (Road 1) connects all major towns around the perimeter of Iceland. There are plenty of hotels and campgrounds along the way.
The Ring Road is 1,332 kilometers (828 mi) long. Factor in how long you have, and what average speed you will need to be driving to be able to return your rental car in time.
Winter is not recommended for driving the Ring Road. It cannot be guaranteed that the roads will be open and/or safe to travel. Additionally, daylight is very short, and there will not be many hours in the day that it will be safe to be on the road.
Even if the weather looks clear when you leave Reykjavik, that could change dramatically after a few days on the road.
Be careful in spring and fall. Even though the weather is better, nothing can be guaranteed. Be prepared for anything, and check road conditions frequently.
To be able to see everything you will want to see and not feel rushed, allow 1-2 weeks for the trip.
The journey may take longer than expected because of weather, so don't plan a trip where you are already crunched for time as soon as you set out.
The Central Highlands
The area in the center of Iceland (the Central Highlands) is known for its stunning vistas… and extreme road conditions. These roads are not open until the middle of summer, and even then, proceed with caution. If you plan on traversing the Central Highlands on your own:
A 4x4 vehicle is necessary.
Rough terrain, high winds, and rivers without bridges are not uncommon.
Do not rush your trip.
Drive with another car in case of emergencies.
Always bring a paper road map in addition to a GPS.
Plan your trip carefully before setting out - it is common to get lost.
The Golden Circle
The Golden Circle is the extremely popular tourist route that includes stops at the national park Pingvellir, the waterfall Gullfoss, and the valley of Haukadalur (geysers Geysir and Strokkur). Because this is such a popular tour, compare costs of renting a car for that day and paying for gas, and just signing up for a tour. If you are not immediately continuing on to the Ring Road, it might be more cost efficient to just take a tour. While these roads are safe, they are often crowded with other cars.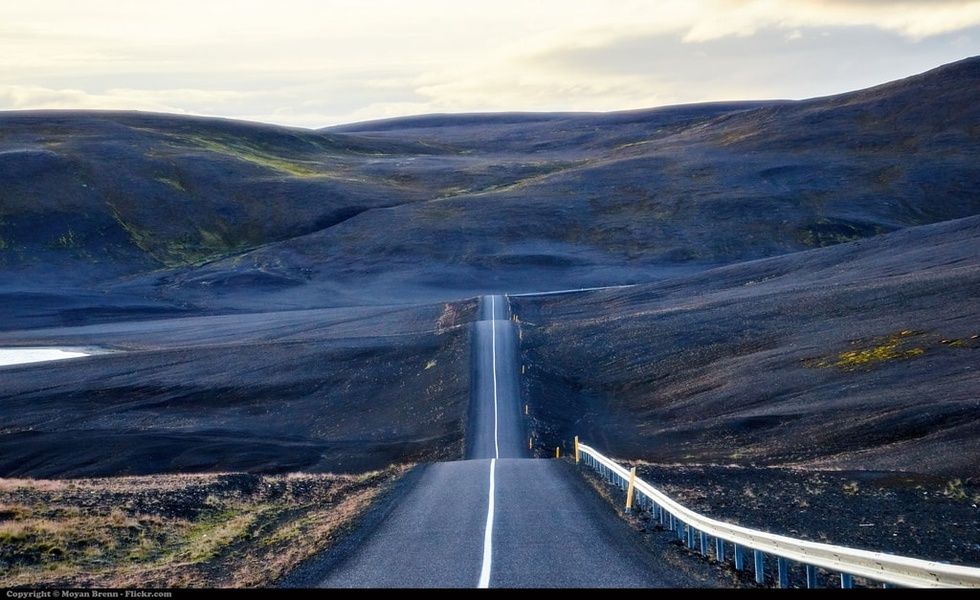 Don't take long road trips in the winter
It is not recommended to set out on long drives in the winter in Iceland, but if you do, here are some tips:
Drive a car with studded tires.
Always stay up to date on weather conditions.
Don't set out on trips with crunched deadlines, as unpredicted hold ups are common.
Plan your driving around the limited daylight.
Speed Limits in Iceland
Speed limits are not posted frequently in Iceland, but these are the general speeds. Drivers are asked to drive at a speed appropriate for the road and weather conditions.
50kph in populated areas
80kph on gravel roads
90kph on paved roads (This is the top speed in the country.)
If you want to know more about Iceland's speed limits, Karolina is a local expert and can help you out.
Renting a Car
There is nothing like the freedom of renting your own car in Iceland, and being able to go where you want to go, when you want to go there. However, driving in Iceland is not for the faint of heart. While the scenic vistas cannot be beaten, it is important to stay safe while driving, especially when you are renting a car, and liable for all damages. Here are some top tips for renting a car in Iceland:
Iceland has no trains, and buses are limited and expensive. If you want to travel far outside of Reykjavik, renting a car will probably be necessary.
Debate if you will need a 4WD or a 2WD for the trip. If it is winter, or you plan on straying from major highways, 4WD is highly recommended. If you are just sticking to the Ring Road in summer, 2WD should be fine.
Pay for insurance, and make sure it covers F roads and gravel damage.
Make sure you have a kilometer/mile limit that matches to the length of your trip.
Go with friends to make the trip more affordable.
Research if it is cost effective to rent a car.
If you are visiting Iceland in the High Season (June-August), book your car far in advance, as many of the good cars will be gone by the time you get there.
Steering wheels are on the left, and cars drive on the right side of the road.
Generally, you must be 21 to rent a regular car, and 23 to rent a 4WD vehicle. It is possible to shop around and find a rental company with different ages, but you may pay more.
All national driver's licenses are recognized.
Gravel can dent the car, so do not drive recklessly on gravel roads.
Cars can be booked online, or at airports after arrival.
Get a diesel car for long trips. Even though they are more expensive, you will probably save money on fuel.
A local can help you find a fair and sufficient rental car.
Bring a gas card or credit card to pay for your gas.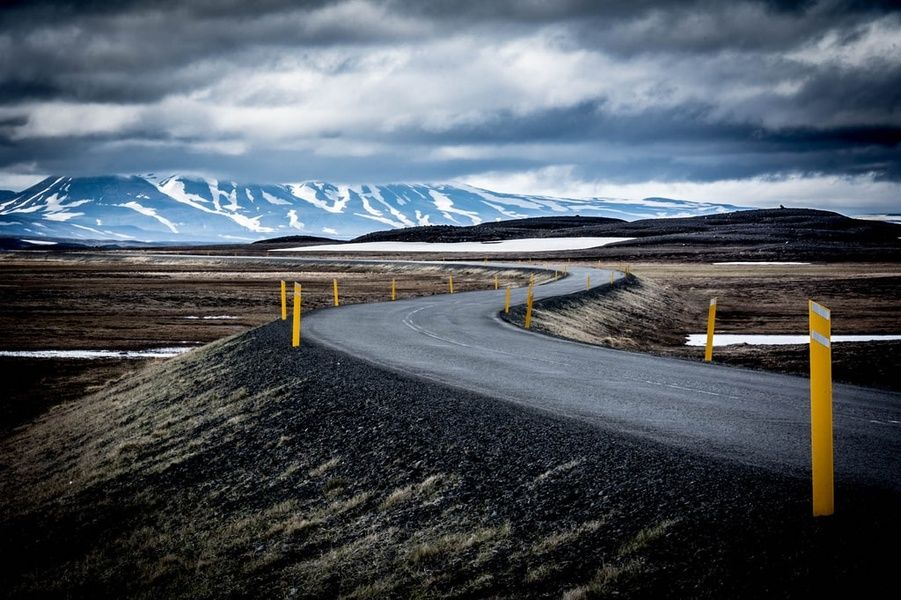 Camper Van
A camper van in another popular way to drive around Iceland. Although they are more expensive to rent than a regular car, they may help you save money on accommodations. Here are some Iceland camper van tips:
There are camping grounds throughout Iceland.
It is best to do this type of trip in summer when the road and weather conditions are better.
Stock up on groceries before leaving Reykjavik.
A local can help you find a suitable campervan for your trip.
If you are bringing your own camper van to Iceland, check to see if you will need a special permit.
Driving Etiquette
When in Iceland, abide by the proper rules of the road:
Many bridges are one lane - be courteous and safe. The closer driver goes first.
Drive on the right side of the road.
Do not stop in the middle of the road to take pictures.
Do not pull off to the side of the road - this can block people from being able to pass.
Never drink and drive.
Always drive on marked roads - it is very illegal to off-road, and you can face fines of over $3000.
You must have your headlights on at all times.
It is illegal to talk on the phone or text while driving.
What you need to stay safe on a road trip
Bring a rope, shovel, food, water and warm clothing
Bring a cell phone - they are reasonably priced and easy to find in Reykjavik.
112 is Iceland's emergency number.
The 112 Iceland app makes it possible to call for help using GPS signal. Download it before you go on your trip.
Stay up to date on the weather.
Stay up to date on the road conditions.
Be prepared for anything
There are often sheep or other animals on the road, so stay alert.
Road closings are frequent - don't make your trip contingent on needing to be anywhere on a specific date.
Although it is beautiful, don't get too distracted by the scenery.
Don't forget your camera! If you don't take pictures, how will people know you went?
Always be aware of the road, weather, and wind conditions.
There will be snow on the road - know how to drive in this situation.
Always have a detailed paper map in the car.
Top Iceland driving tips
Summer is the best time to plan for a road trip - there are better weather and more daylight.
Always bring a cell phone.
Stay calm when on the roads - getting worked up will impair your driving.
Driving after consumption of alcohol or drugs is very illegal.
While buses and trains are tricky in Iceland, plane and ferry transit is possible. Look into domestic airfare, or ask a local about the ferry schedule.
Keep sunglasses in the car - snow is very reflective.
There will be many tourists on the road, but the further you get from Reykjavik, the less crowded it will be.
Samferda is wonderful for ride-sharing postings.
When you see gas, stop. Tripcreator's blog even provides a map of all the gas stations in Iceland
If possible, don't pull over during a snow storm - you may get snowed in.
Pay attention!
Check out these sites to get more information on driving in Iceland
Have more questions about driving in Iceland? Here is a list of local Iceland Travel Experts who can help you or you can message us any questions you have. And before your trip, make sure to check out: