Iceland, the tiny volcanic island located 850 miles northwest of the United Kingdom, has made its way to the top of everyone's travel bucket list. It only takes a few seconds on Google Images to understand why. Glaciers, geysers, waterfalls, black sand beaches, and puffins dominate the landscape, and completely make up for the freezing temperatures.
Read on to learn all about seeing one of Iceland's most incredible natural wonders: the Northern Lights! Once you do, feel free to message us any questions you have about viewing this incredible Icelandic phenomenon.
Want to make the most out of your trip? Tap into our network of local travel planners—Heroes—who build unique, locally-curated trip plans, designed just for you. Get started.
Iceland is known as "the Land of Fire and Ice" because of its varied terrain of volcanic hot springs, and glacier lagoons. However, despite the appeal of Iceland's breathtaking natural landscape, one of the main reasons people visit Iceland is to see the Northern Lights. Iceland has a prime location in the Aurora Borealis ring and is one of the top places to visit for someone on the hunt to see the Northern Lights.

However, despite the wonders of modern technology, tracking down the Northern Lights really is a hunt. A myriad of factors including weather, time of year, time of day, and location all matter when trying to catch a glimpse of the Northern Lights.
However, never fear! ViaHero has put together the following guide that details everything you need to know to have the best chance of seeing the Northern Lights in Iceland.

Is it called Aurora Borealis or Northern Lights?
Both names are correct! The Northern Lights and Aurora Borealis are used interchangeably to refer to nature's most famous light show. Galileo Galilei actually coined the term Aurora Borealis in 1619 in reference to Aurora, the Roman goddess of dawn.
What are the Northern Lights?
Beyond recognizing these green and purple wonders in pictures, not many people understand the science behind the Northern Lights.

The Northern Lights are the colorful reaction of solar winds being pulled into earth's magnetic field near the poles and responding to the chemicals in our atmosphere. The different colors (red, purple, white, and most prominently, green) are caused by the solar electrons reacting to different chemicals in our atmosphere, like nitrogen and oxygen, at different altitudes.

If you are interested in learning more about the science and history of the Northern Lights, check out the Northern Lights Center in Reykjavik while in Iceland!
What factors are necessary to see the Northern Lights in Iceland?
There are three main factors that determine Northern Light visibility:
Darkness—the darker an area is, the more optimal it is for seeing the lights. The Northern Lights cannot be seen in daylight.
A clear sky—because the Northern Lights occur high up in the atmosphere above the clouds, poor weather and dense cloud coverage will obstruct them from view.
Patience—while its possible to predict cloud coverage and the level aurora activity on any night, it is impossible to pin down exactly when a light show will be at its most dramatic.
When is the best time of year to see the Northern lights?
There isn't a straightforward answer to this question, but in general, winter is the ideal time for seeing the Northern Lights in Iceland. During the summer, Iceland has the Midnight Sun phenomena, and daylight can hang around for as long as 21 hours out of the day.
The Northern Lights are spotted in Iceland from August to April, with a documented peak from September to March. March is a favorite month because the winter weather is tamer, skies will be clearer, and roads will be less icy. For those trekking far into the secluded Icelandic countryside for maximum darkness, clear roads are essential. A new moon is also favorable for seeing the Northern Lights, as a full moon brightens up the sky and drowns out the Northern Lights. A local can help you plan a safe and exciting route around the country.

How can I find out if it's a good night for an Aurora Borealis viewing?
There are many resources for tracking the weather and level of solar activity in Iceland. Some of the top choices are:
How long do I need to stay in Iceland to see the Northern Lights?
As long as you can manage. Research suggests that solar flares work in 4-5 day cycles, so staying for a week would allow you to see two separate cycles, which is good security if solar activity is low at the beginning of your trip.
If you plan on driving around the outskirts of Iceland on the Ring Road, 1-2 weeks is necessary for a proper road trip.
Where is the best place to see the Northern Lights?
This answer changes every night! The entire country of Iceland is close enough to the Arctic Circle that any dark area with the least amount of cloud coverage is the correct answer.
While traveling across the country into remote areas can be helpful, it is really only necessary to travel 15-20 minutes outside of Reykjavik to see the lights. That being said, many people like to travel to smaller villages and towns for an even more dark, and secluded experience. Additionally, viewing the lights over a thermal lake, hot spring, or glacier can make the experience (and your pictures) even more stunning.
A local can suggest some of their favorite spots, but some popular areas for viewing the lights are:
North: Akureyri (second largest city), Siglufjörður (small fishing town), Hvitserkur Rock (photogenic rock)
South: Landmannalaugar (nature reserve)
West: The Westfjords (lakes), Reykjanes (thermal pools), Grotta Lighthouse (near Reykjavik), Thingvellir National Park (volcanic park), Seltjarnarnes (near Reykjavik), Akranes Lighthouse (near Reykjavik)
East: Jokulsarlon (highly photogenic glacier lagoon)

How can I get around Iceland?
The best way to travel around Iceland on your own schedule is to rent a car. Otherwise, you are at the mercy of tour company. With your own car, you can choose the locations you visit, and the time you are visiting them. While car rental gives tourists the most amount of freedom in Iceland, road conditions need to be monitored frequently, as the weather in Iceland is very temperamental, and roads are subject to frequent closing. Iceland has a website that provides live updates on road conditions and closing information. There are even live webcams placed periodically on Route 1, or the Ring Road, that goes around the entire country.
ViaHero can help you organize an affordable and suitable car rental, and negotiate the insurance, cost, and pickup location. Your Hero can also help you plan a route with suggested stops for your preferences. Otherwise, it is possible to book a Northern Lights tour or ask a cab driver in Reykjavik to take you outside the city at night, though those options are often expensive and crowded.
How do I take a picture of the Northern Lights?
The only thing harder than finding the Northern Lights is taking a picture of them. While capturing the true beauty of the Northern Lights is impossible, the following tips should help novice photographers take home a great picture from their trip:
Find a dark location.
Use a tripod. It is nearly impossible to capture the lights without one.
Find a location with objects in the foreground to increase the picture's depth (a lake, trees, ect.),
Turn off your LCD screen - it can alter the pictures of everyone around you.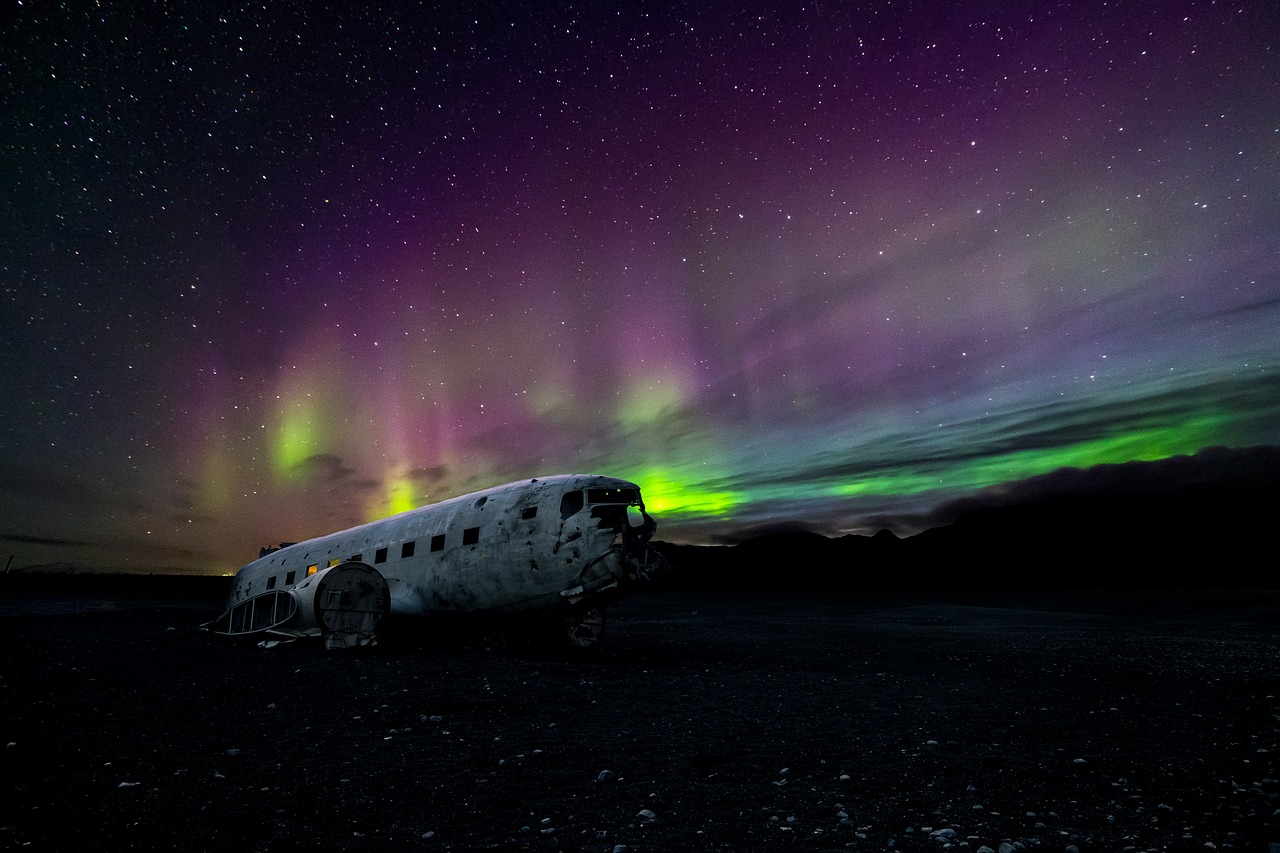 Put your camera in manual mode with these settings:
Wide aperture (between f1.4 - f4) to let in light
High ISO (between 800 and 1600) to let in light
Use a shutter speed of around 15- 30 seconds
Focus set on infinity
Use a shutter remote, or a 2-second timer so the movement of pushing the button doesn't affect your picture.
What should I wear?
Every piece of clothing you brought. Iceland is very cold, and temperature remains below freezing during the winter. When heading out to chase the lights, don't forget a hat, gloves, scarf, thermal underwear, thick socks, and trekking shoes, as the ground in remote parts of the country is usually uneven and icy.
Top tips for Nothern Lights-hunting in Iceland
Start your hunt early in the night for the best chance of seeing the lights.
Look out your plane when arriving and departing. This is an optimal time to view the lights because you are above the cloud coverage.
Bring tea or coffee (or booze) to stay warm while searching for the lights.
Speaking of which, buy alcohol in the airport after landing because it is difficult to find liquor in shops in Iceland.
Iceland is visited by over 2 million tourists every year, all of them using the same resources and websites for places to visit. Use ViaHero to get personalized tips and information on local spots to beat the tourist herds.
The weather changes very fast, so any weather predictions past 12 hours are not accurate.
Get a cell phone, especially if you are driving around the country. Sim cards are cheap and can be useful as a GPS while exploring. Also bring a roadmap, just in case.
If you rent a car, get lost - this is one of the best ways to see Iceland's stunning countryside.
Don't look at your phone when viewing the lights - it will make it harder for your eyes to adjust to the darkness and see the lights.
There is an Iceland app for emergencies that don't require cell service.
BONUS: Learn some basic Icelandic
Hello: Hall-o
Goodbye: Bless
Thank You: Takk
Please: Takk
Yes: Yow
No: Nay
Have more questions about packing for your trip to Iceland? Here is a list of local Iceland Travel Experts who can help you or you can message us any questions you have. And before your trip, make sure to check out: