What comes to mind when you think about food in Iceland? Warm, hearty stews? Strong alcohol and fried snacks? Hot dogs? Fermented shark? You'll find all this and more at the best restaurants in Iceland. Read on to learn all about the best restaurants in Iceland; after, feel free to message us with any questions.
Want to make the most out of your trip? Tap into our network of local travel planners—Heroes—who build unique, locally-curated trip plans, designed just for you. Get started.
DILL
The first restaurant in Iceland to earn a Michelin star tops our list of best restaurants in Iceland. DILL earned their Michelin star through their attention to detail in every aspect of the dining experience, including the salt that Chef Gunnar Gíslason makes himself. The chef focuses on Icelandic dishes made with local, seasonal ingredients. You might have dishes like tusk (fish) with kale and black garlic or potato with smoked cod roe and skyr. Reservations are required and should be made well in advance.
Find it: Hverfisgata 12, 101 Reykjavík, Iceland
Kjöt og Kúnst
This restaurant makes use of not only local ingredients, but also local energy. Part of the kitchen runs on geothermal steam heat and everything cooks quickly because the steam runs so hot, for example, huge pots of water boil in 10 seconds. If you order a dish that is "earth cooked" in the outdoor section of their kitchen, you can follow it out back to see how it is prepared before enjoying it back in their beautiful dining room. Chef Olafur Reynisson is the only chef in the world currently using these kinds of earth cooking techniques. It sounds simple but the earth cooked soup of the day with fresh baked bread is one of the best things on the menu.
Find it: Breiðamörk, Hveragerði, Iceland
Bæjarins beztu pylsur
This isn't a restaurant, it's a roadside stand. But you must eat here when visiting Iceland. They're famous for their lamb hot dog with "the works:" fried onions, raw onions, mustard, ketchup, and a mayonnaise and sweet relish sauce. Hot dogs are often called the national food of Iceland and there's no better place to eat them than this stand right in the center of Reykjavik.
Find it: Tryggvatagata 1, 101 Reykjavík, Iceland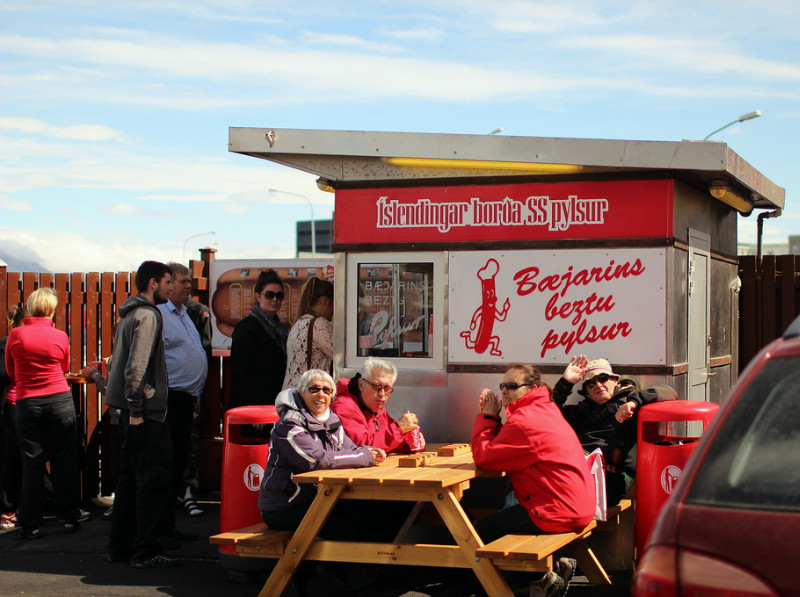 Fish Company
For the best seafood in Iceland, make a reservation at Fish Company. The set menu "Around Iceland" is a culinary tour of the country; the menu changes seasonally but you might find something like haddock with birch-scorched onion and brambleberry granit among the dishes you're served. Or you could order a la carte and try things like caraway cured salmon or arctic char with beer foam.
Find it: Vesturgata 2a, Grófin, 101 Reykjavík, Iceland
LAVA
LAVA is the restaurant at the Blue Lagoon and definitely worth the splurge on a special occasion trip. It's built into a lava cliff with a view of the lagoon. Their style is contemporary, but the food is inspired by Icelandic tradition and features local ingredients. A hearty lamb fillet and shoulder of lamb might just be the perfect meal after a few hours relaxing in the Blue Lagoon.
Find it: Nordurljosavegur 9, 240 Grindavík, Iceland
Rub23
This is another great spot to enjoy seafood in Iceland. It's pretty far off the beaten path, but worth the journey. You can order a la carte from their extensive menu or mix and match your own creations by choosing a protein like lamb to pair with one of their in-house-made spice rubs. Or leave it to the chef and try one of their four tasting menus. The Ultimate Food Festival tasting menu is the best way to sample as many of Rub23's dishes as possible in one visit.
Find it: Kaupvangsstræti 6, 600 Akureyri, Iceland
Restaurant Laekjarbrekka
When the chef here says that he specializes in Icelandic specialties, he means it. This is one of the places where you can regularly sample hakarl, fermented shark. Hakarl was first carefully prepared by the Vikings, who knew that the meat of the Greenlandic shark is poisonous to humans without careful preparation. It smells putrid and tastes rotten, but if you want a taste of an historic Icelandic food try a bite of it on the "Icelandic taste" appetizer plate, which also includes herring, gravlax, and lamb. If fermented meat isn't your thing, there's plenty on the menu you might enjoy such as lamb shank with roasted vegetables.
Find it: Bankastræti 2, 101 Reykjavík, Iceland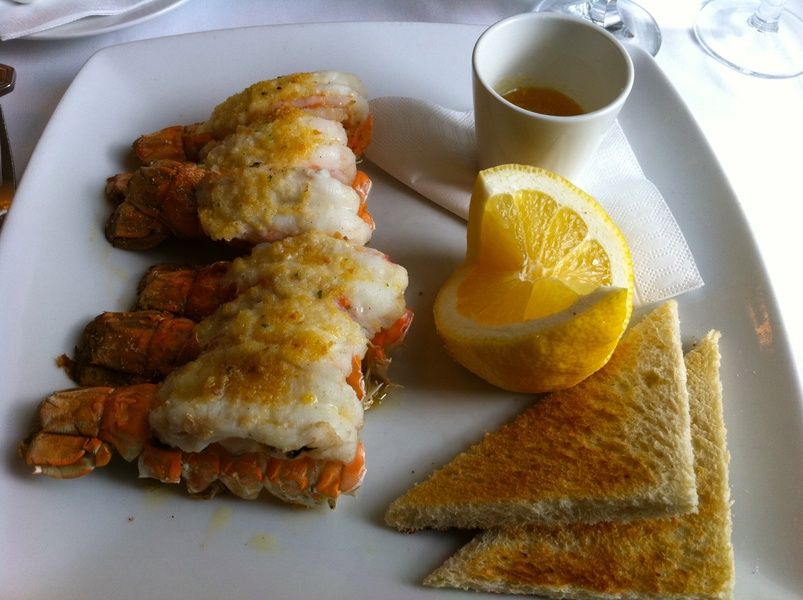 Cafe Loki
This casual eatery is the best place to get homestyle Icelandic dishes and locally brewed beer. It's also another place to try fermented shark. But we recommend going for something homier like the smoked trout or mashed fish on rye. For dessert, they're known for rye bread ice cream. No reservations or fancy attire needed.
Find it: 28, Lokastígur, 101 Reykjavík, Iceland
Have more questions about food in Iceland? Here is a list of local Iceland travel experts who can help you or you can message me any questions you have. And before your trip, make sure to check out: