We love Irish cities. We love their color and history and the fact that most of them are by the water. And if we're being honest, we also can't get enough of Irish music (or beer). With that in mind, read on to learn about the 8 best cities to visit in Ireland, organized by region.
To get a real sense of the best cities in Ireland—and so, so much more—connect with someone who actually lives there. Why see Ireland like a tourist when you could see it like a local? Learn more.
Eastern Ireland: Dublin and Waterford
Obviously, delightful Dublin will make any list of the best cities to visit in Ireland—it's an absolutely fantastic place to explore. But don't discount nearby Waterford—Ireland's oldest city—which offers visitors ancient Irish charm without the crowds that descend upon the capital.
Dublin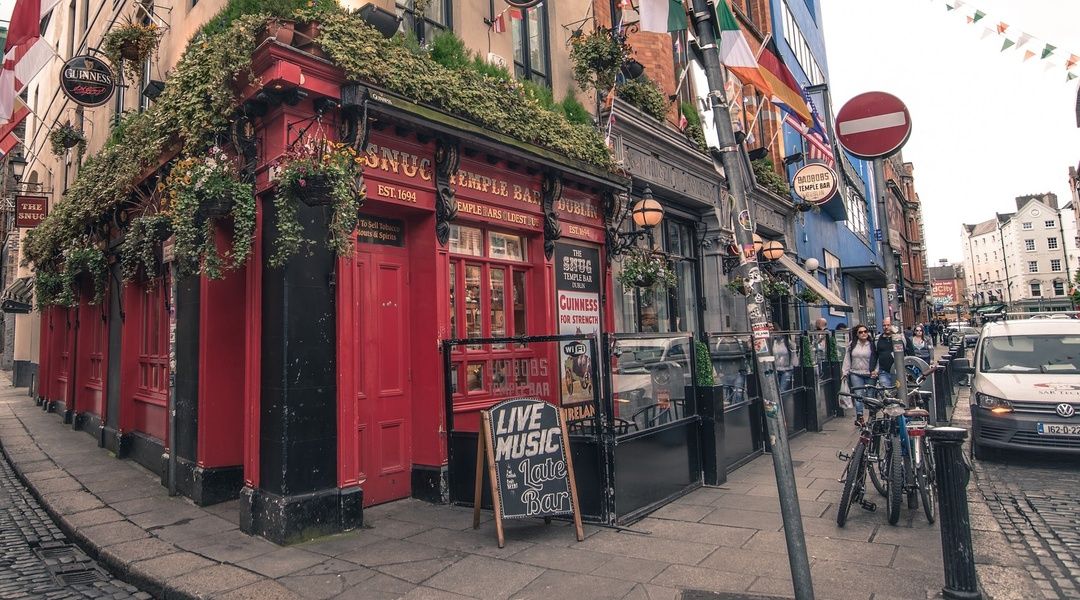 We love to wax poetic about Dublin—just like the many Irish poets who've wandered through its cobblestone streets—but we'll keep it short and simple. Dublin is awesome. It's the capital of Ireland and the country's biggest city, which means anyone can find their niche.
Admire Dublin's famous colored doors, explore the gorgeous stacks at Trinity College Library, go wild in the Temple Bar neighborhood, and hoist a pint of Guinness at the St. James Gate brewery. Just remember: the secret about Dublin is out, so connect with a local for tips on how to explore the city's hidden gems and avoid those Lonely Planet tourist traps.
Waterford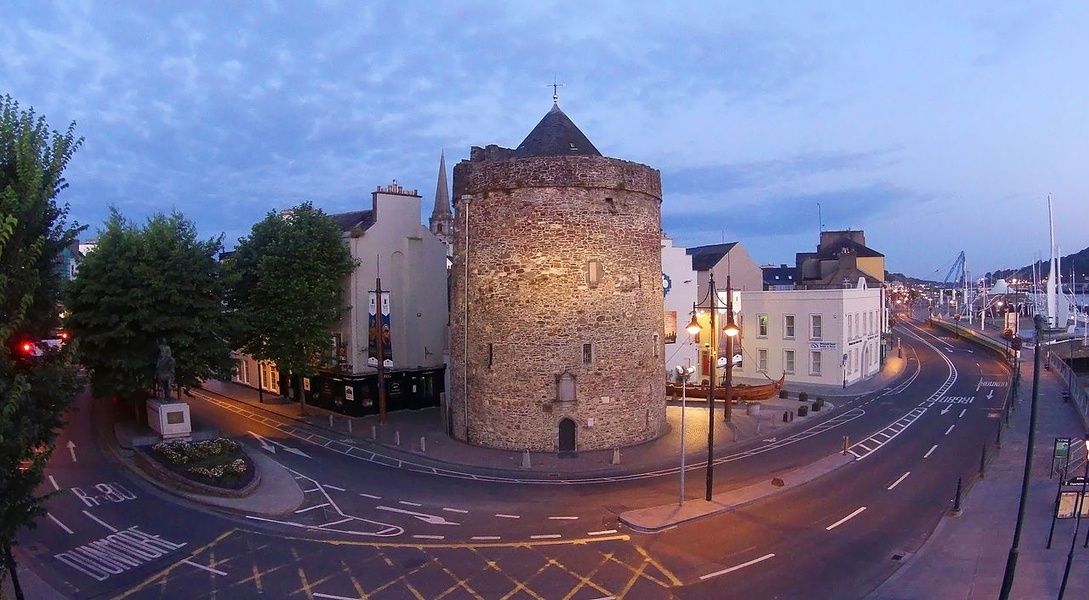 Some of the best places to go in Ireland are also the most historical—and Waterford, the oldest city in Ireland, falls happily into this category. About two hours south of Dublin, Waterford's history stretches back to the days of the Vikings, who founded the city around 914 CE. The crown jewel of Viking history in Waterford (and the oldest civic building in Ireland) is the stout, stone Reginald's Tower, now a museum.
Aside from retracing the steps of the Vikings, visitors to Waterford adore the House of Waterford Crystal Factory and Store and the Copper Coast, a stretch of coastal land and UNESCO geopark about thirty minutes from the city proper.
Northern Ireland: Belfast and Derry
The cities of Northern Ireland have experienced an incredible renaissance in the last couple of decades. Casting off the legacy of "the Troubles", cities like Belfast and Derry have become hubs for incredible food, amazing nightlife, and unparalleled history. Keep in mind you'll need pounds (£) here, not euros (€)—Derry and Belfast are part of the United Kingdom, not the Republic of Ireland.
Belfast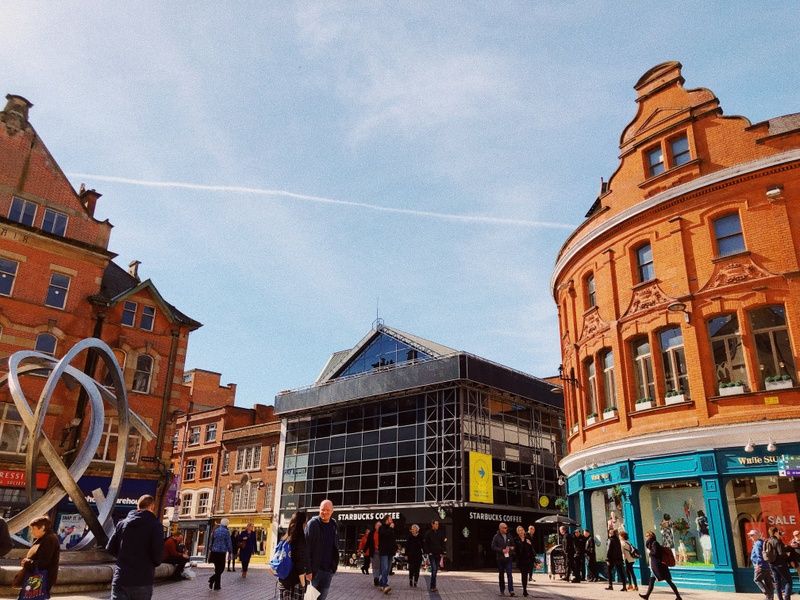 Since the dark days of the Troubles, Belfast has bloomed into a wonderful metropolis. The city's awesome mix of diverse history, incredible food, and seaside activities make it one of the best Irish cities to visit. Plus, as the capital of Northern Ireland, Belfast always has something going on.
Explore the harbor sights alongside the Maritime Mile (this is especially fun to do with kids), check out the world-famous Titanic Belfast museum, and definitely, definitely, get some local recommendations about where to grab the best dinner in town.
Derry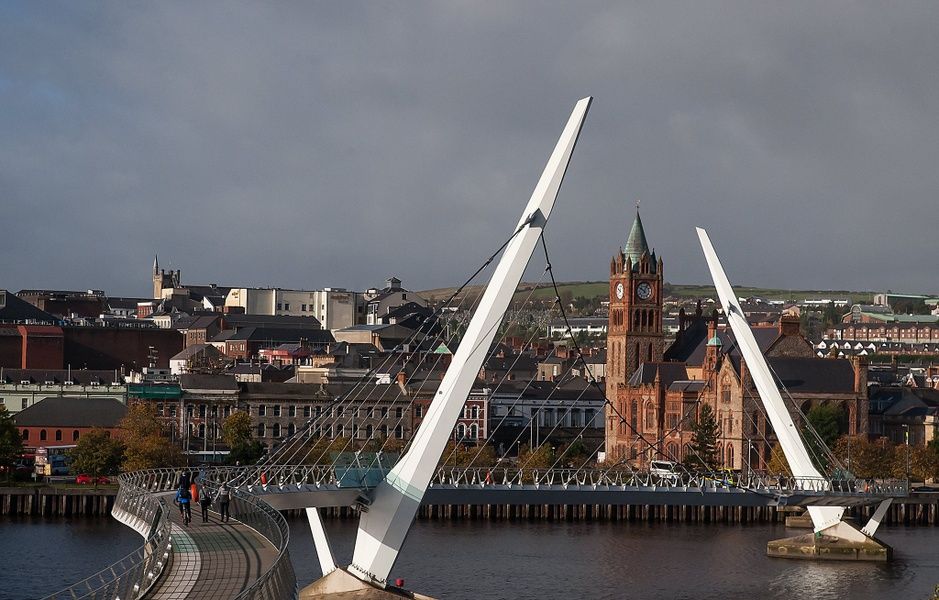 If you're looking to experience all of Belfast's charm without its crowds, consider Derry. The second-largest city in Northern Ireland, Derry has about 400,000 fewer people than the capital. Once the poster child for conflict in the region, Derry today is one of Ireland's coolest places to visit—we especially recommend scaling the 17th-century city walls and searching for authentic souvenirs in Derry's adorable Craft Village.
But the city doesn't shy away from its past—Derry does an excellent job remembering its harder days through museums like the Museum of Free Derry, and of course, the gorgeous Peace Bridge that stretches across the River Foyle.
Western Ireland: Galway and Limerick
If you're looking for an Irish getaway that features incredible nature, romantic coasts, and (of course) amazing food and music, you have to visit Galway and Limerick. Nestled along Ireland's gorgeous Atlantic Way, both cities offer a lot—and tons to see nearby as well.
Galway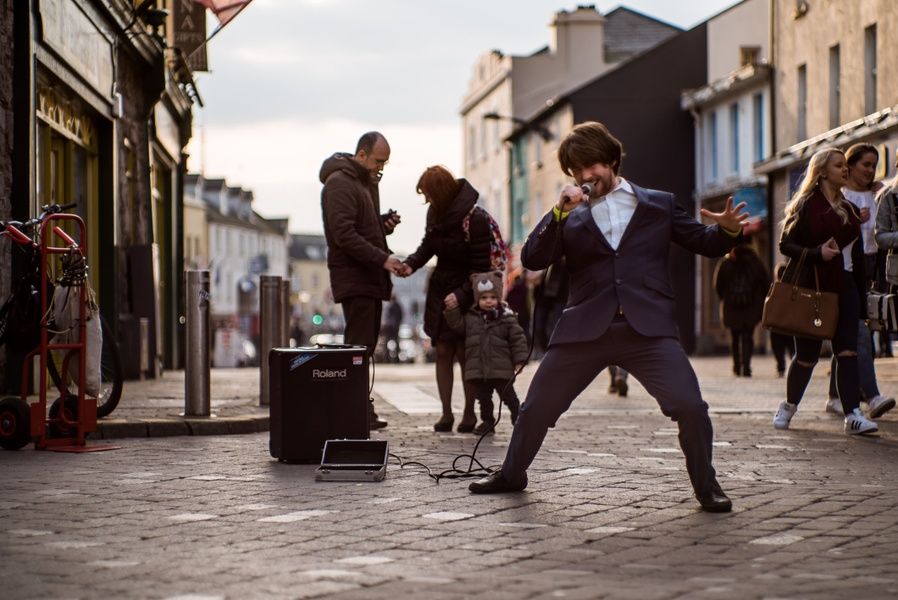 We love Galway's pops of color, winding canals, medieval buildings, and salty sea air. Hang out with locals in Eyre Square (also known as John F. Kennedy Memorial Park, in honor of the president's 1963 visit to Galway), explore medieval sights like the 16th-century Dunguaire Castle, and take advantage of the city's easy to access to one of the most unique places to visit in Ireland—the isolated and beautiful Aran Islands. Galway is also a great place to catch some Irish music—you'll see buskers everywhere—so make sure to catch a live show!
Limerick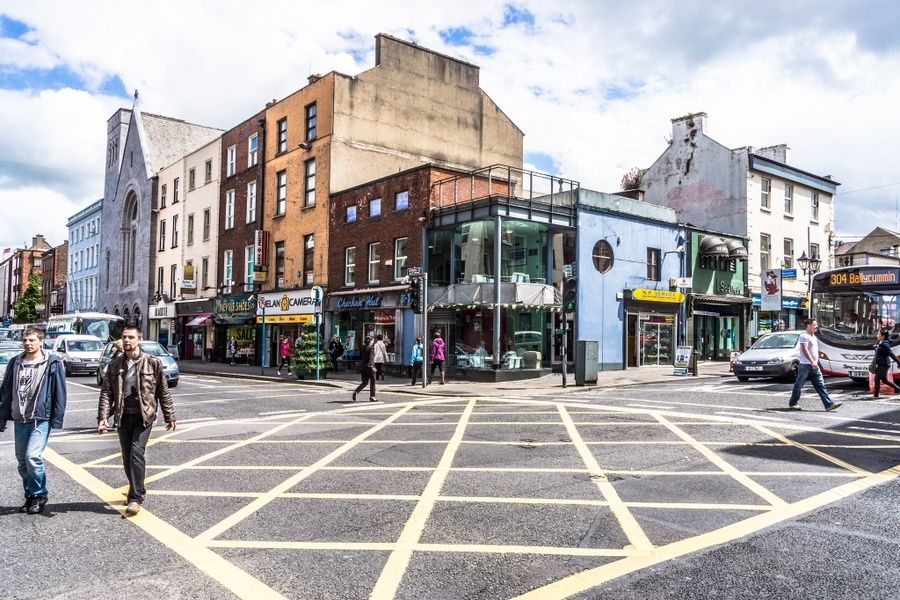 If you want to do it all, go to Limerick. There are so many lovely things to do in Limerick—from catching a rugby game at Thomond Park, to taking a magical bike ride through the mystical Ballyhoura Woods, to simply exploring the amazing pubs in town where you'll find plenty of traditional Irish music. Limerick has emerged as one of Ireland's hubs for craft beer, so keep an eye out for labels like Treaty City—or just ask your Irish local about their favorite ales.
Southern Ireland: Cork and Kinsale
Cork, Ireland's second-largest city, shines on its own—and its proximity to many of Ireland's big sites and attractions makes it an excellent city to visit. Kinsale, about thirty minutes south of Cork, awes visitors with its windswept beauty and Irish authenticity.
Cork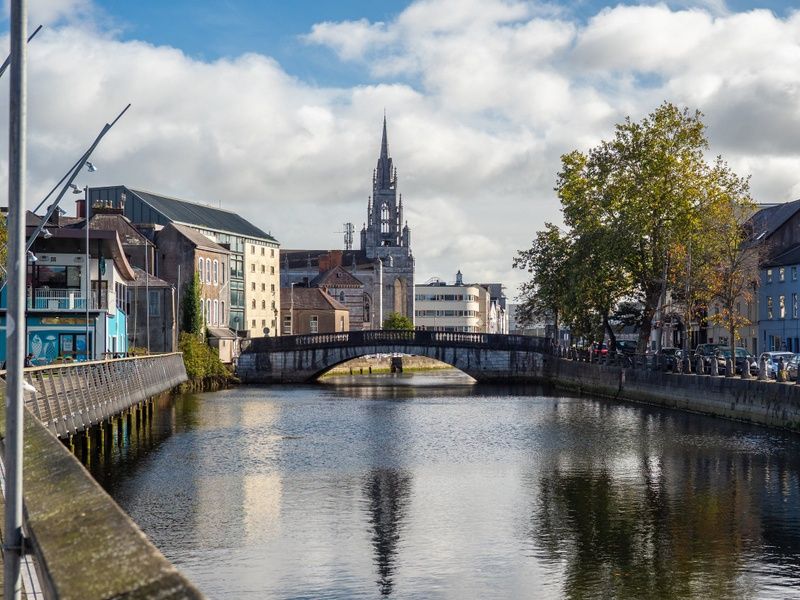 Cork grew around the beautiful River Lee, which gives the city a brightly romantic feel—you'll definitely fall in love as you traverse Cork's old stone bridges. The wide variety of historic sights, from cathedrals to monuments, makes it easy to appreciate Cork's rich history.
Grab a snack from the 18th-century English Market, explore the city's incredible Saint Finn Barre's Cathedral, and wander the gorgeous grounds of the University College Cork. Then, check out all the amazing stuff to do in the surrounding County Cork—from the Blarney Stone to Ballycotton Cliffs, you'll have plenty of exciting options.
Kinsale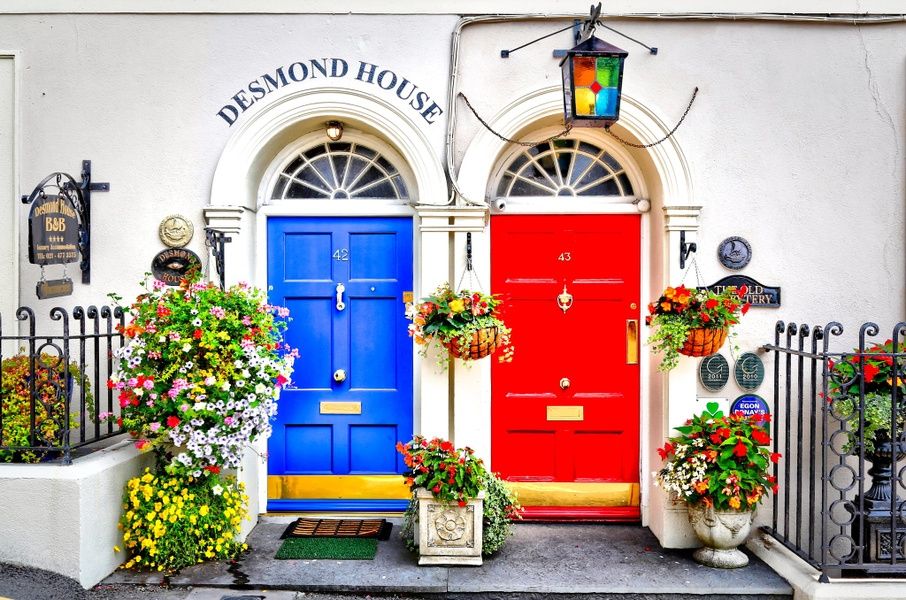 Colorful Kinsale, about thirty minutes south of Cork, may be small—it notched a population of just 5,000 souls in 2016—but it packs a major punch. Often referred to as one of Ireland's prettiest towns, as well as Ireland's seafood capital, Kinsale's cobblestone streets are filled with incredible food, gorgeous architecture, and amazing history. Explore Kinsale's forts (Charles Fort and James Fort), wander through the vibrant town center, and trek the breathtakingly beautiful Kinsale Loop.
--
We adore Ireland, but we're not Irish. For the best advice on visiting cities, towns, and villages, connect with an Irish local for help planning your trip. No matter where you're headed, they'll help you get the most out of your destination by pointing out hidden gems, suggesting activities based on your interests, and letting you know which bars and restaurants are just hubs for tourists. Basically, it's like having a best friend in Ireland—which is a million times better than using a guidebook. Learn more.