Ireland may have a reputation for history and pubs, but it's also an excellent destination for the entire family. Here are 20 fun things to do in Ireland with kids, from kayaking with dolphins to wandering the Hogwartsian shelves of Trinity College Library.
Whether you're visiting Ireland or planning a staycation, work with an Irish local to plan your trip. Our locals in Ireland will plan a safe trip away from the crowds—full of up-to-date info you might not find on#13-kiss-a-magic-stone-at-blarney-castleline. Learn more.
Table of Contents
#1: Clamber up the cliffs of the Giant's Causeway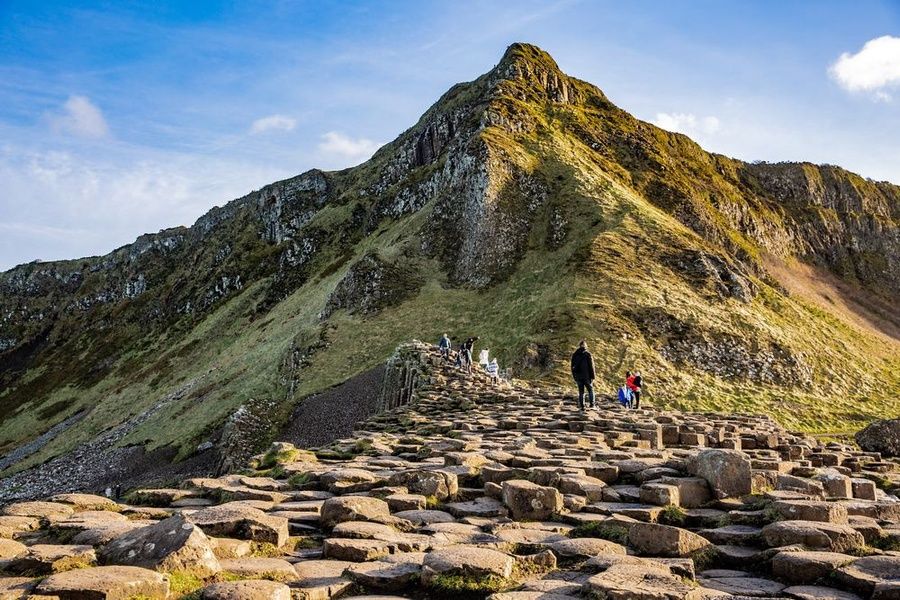 Clocking in at 50-60 million years old, the Giant's Causeway "cliffs" are actually gigantic hexagonal basalt columns, reaching up to 80 feet tall. At this Northern Ireland must-do, kids love clambering all over the rocks to their hearts' content—really, what other place encourages kids to climb on the scenery? Plus, the legend of the Giant's Causeway is enough to make any kid's imagination soar. Plan to get to the Giant's Causeway bright and early to beat the tourist crowds.
#2: Traipse along the Cliffs of Moher
One of Ireland's most popular tourist attractions, the 700-foot Cliffs of Moher boasts jaw-dropping views of the Atlantic Ocean. If you're wary of getting close to the cliffs' edges (especially if your kids like to get up close to cool stuff), there's still lots to check out, like hiking to O'Brien's Tower or looking for puffins with local birdwatchers. Either way, both kids and adults with be totally awed by the gorgeous landscape.
#3: Discover the immense libraries at Trinity College
A visit to the Trinity College Library is a total must-do in Dublin, especially if you're riding out on one of the city's rainy days. Kids will be enchanted by the library's Hogwartsian vibes, complete with spiral staircases, arched ceilings, and mysterious books.
#4: Muckross House and Traditional Farms
Muckross Abbey and Traditional Farms, an 1800s mansion with working farms and sprawling gardens, is one of Ireland's coolest places to visit. Give your kids a taste of what life was like 200 years ago with a tour of the thatched cottages, farms, and the ultra-fancy Muckross House (a massive Victorian mansion). Muckross also hosts activities that kids can dive right into, like a Gaelic Games workshop, Irish dancing lessons, and a traditional baking class.
Pro tip: Many of Ireland's best things to do are seasonal, like the St. Brigid's Day Festival at Muckross Abbey: a popping party with Irish dancers, traditional music, and plenty of Irish culture. Ask a local travel expert about which Irish festivals line up with your itinerary dates.
#5: Train a falcon or owl at Crag Cave and Kingdom Falconry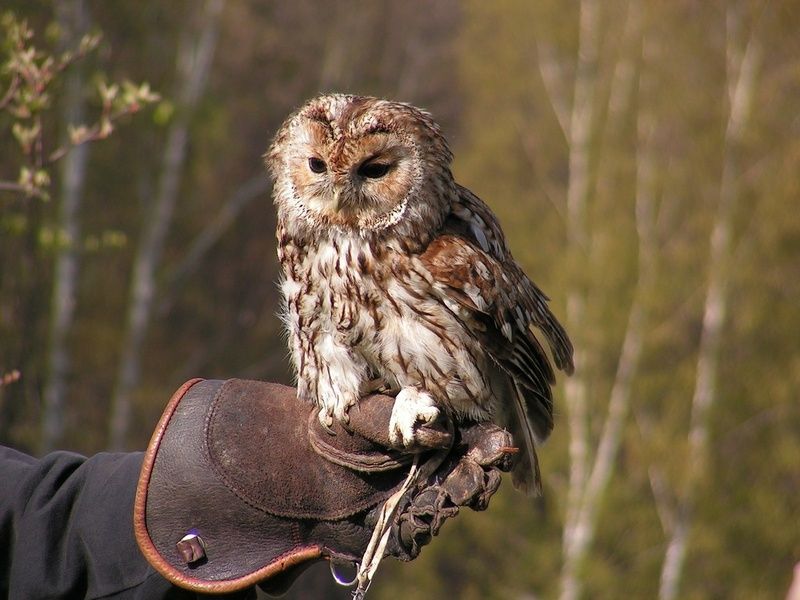 Looking for incredible things to do in Ireland that your kids will be telling their great-grandkids about? Hit up Crag Cave and Kingdom Falconry in County Kerry, home to majestic falcons and 1-million-year-old caverns. Kids and adults enjoy ducking and climbing through tunnels of stalactites, but the highlight is a personal tour of Kingdom Falconry from expert bird trainers, who teach you to train falcons, hawks, and owls (AKA your kids' Harry Potter dreams come true).
#6: Search for fairies in Cootehill
It's well known that Ireland has always been home to the "wee folk"—you just have to go off the beaten path to find them. Enter Erica's Fairy Forest, tucked away in County Cavan near Lough Gowna. Totally free and open from dawn to dusk, the forest features easy walking paths through the woods, where you can find fairy castles, hobbit houses, and wishing chairs. Fairy trails like Erica's Fairy Forest tend to be best for ages 10 and under, but teens and adults also love the imaginative, super-cute scenery.
Pro tip: Due to its distance from other popular sites, Erica's Fairy Forest can be a little tricky to find—have a local trip planner make you a personalized map to avoid getting lost.
#7: Take a spooky tour of Hook Lighthouse...if you dare...
As the world's oldest operational lighthouse, Hook Lighthouse has its fair share of ghosts. One of the coolest things to do in Southern Ireland is to tour the 800-year-old lighthouse—and it's the perfect activity for older kids and teens who want something unique and not too "baby-ish." Halfway between Cork and Dublin, this Ireland point of interest offers regular, non-spooky tours of the lighthouse daily, but the annual Halloween ghost tours will mesmerize even the pickiest family member.
#8: Attend a tea party at Kylemore Abbey
Definitely one of Ireland's most gorgeous places to see, the 150-year-old Kylemore Abbey and its sprawling gardens are perfect for grown-ups in need of a breather. But it'll entertain kids, too!
Younger members of the family especially adore the Chocolate Kitchen (where chocolatiers teach you how to make your own delicious, personalized chocolates). For a really special treat, take tea in the Victorian Walled Garden Tea House, known for its panoramic views of nearby Connemara and delectable tea cakes.
#9: Spot dolphins along the Dingle Peninsula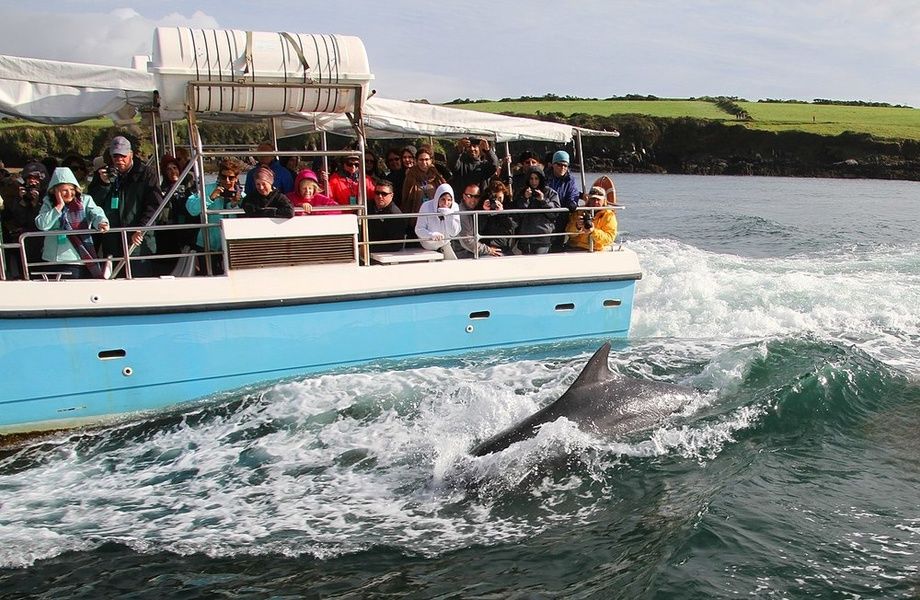 No trip to Ireland is complete without dolphin and whale watching along the Dingle Peninsula. In fact, the Dingle Peninsula is known as the home of Fungie the Dolphin, a wild but friendly dolphin who cruises alongside fishing boats. Get a local's input on which boat tours offer the best chances for spotting Fungie, dolphin pods, and whales. And don't forget that the city of Dingle is full of awesome things to do—so make sure you set aside at least a day to explore.
Pro tip: Kids can't get enough of Ireland's ocean wildlife. Take your future marine biologists to Glengarriff, where the Garnish Island Ferry gets passengers up close and personal with seal colonies on the aptly-named Seal Island. (And seriously, who doesn't want to see baby seals?)
#10: Feast like kings at Bunratty Castle's medieval banquets
With its ancient towers and lofty halls, Bunratty Castle is about to fuel your child's obsession with medieval times. One of the truly spectacular things to do in Shannon, Bunratty's medieval banquets features 4-course meals and live medieval music. Before you dine like royalty, check out the neighboring Bunratty Castle Park, a spot-on recreation of a 19th-century Irish village.
#11: Become BFFs with a penguin at Fota Wildlife Park
Kids of all ages go bananas for Fota Wildlife Park (even the teens who claim to be too cool for penguins—you're never too old for penguins). A 20-minute drive from Cork, Fota Wildlife Park is one of Ireland's best places to visit for its "behind-the-scenes" tour, during which guests feed penguins, get super close to baby cheetahs, and stroll with giraffes.
#12: Catch an outdoor play at Powerscourt Estate
A 1700s-era paradise, the Powerscourt Estate boasts a "house" (which we all know is a mansion) surrounded by 49,000 acres of gardens and forests. As one of Ireland's top 10 things to do, the Powerscourt Estate is ideal for letting the kids explore to their hearts' content, then settling in for the estate's world-famous outdoor plays—currently, Peter Pan. Ireland travel experts recommend purchasing tickets online ahead of time.
#13: Kiss a magic stone at Blarney Castle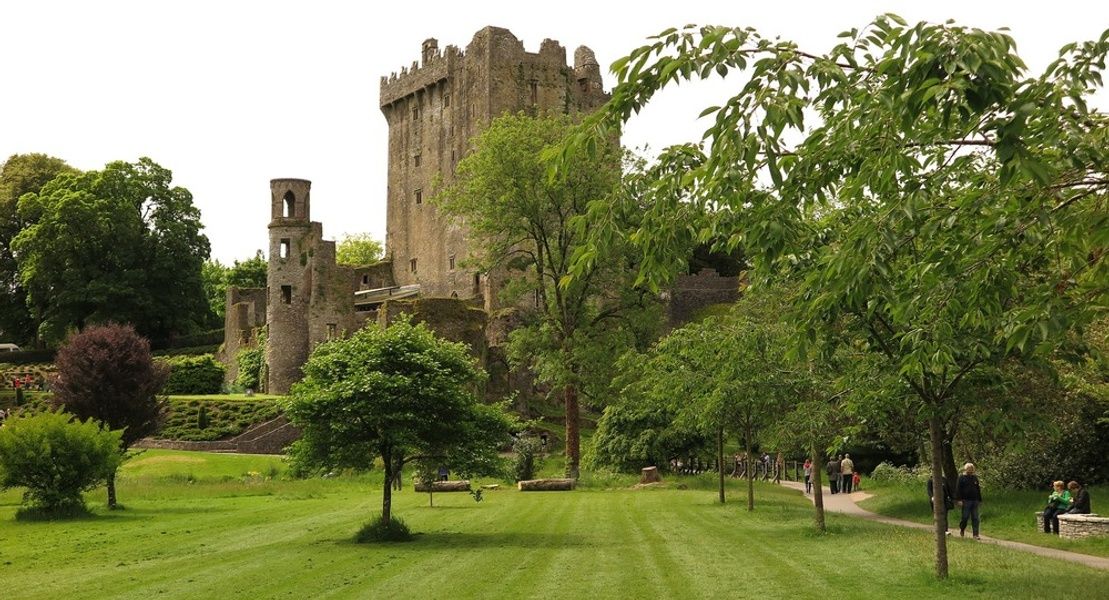 Planting a kiss on Blarney Castle's magic stone is a total must-do in Ireland, not in the least for the incredible legend behind it. Kids and adults alike will get a good laugh out of being carried upside down to kiss an ancient stone. Blarney Castle is only a 15-minute drive from Cork, so be sure to allow at least a day to check out Cork's awesome things to do.
Pro tip: Looking for more awesome day trips from Cork? Ask your Irish trip planner for their suggestions—they'll whip together an itinerary that hits all of County Cork's coolest spots.
#14: Take a moonwalk at Burren National Park
Okay, so this essential Ireland must-do, unfortunately, doesn't involve bouncing around in zero gravity, but the strange rock formations and cliffs at Burren National Park will make your kids believe they're walking on the moon. This unique activity is perfect for encouraging your kids' sense of adventure—the entire family can interact with nature by hiking Burren's trails, meeting farm animals at the Burren Nature Sanctuary, and discovering fossils in the rock fields.
#15: Sink into history at the Titanic Museum Belfast
As one of Belfast's best things to do, the Titanic Museum's immersive atmosphere and interactive exhibits are very kid-friendly and hands-on. (Essentially your kids will be learning without even knowing it.) You'll explore the Titanic's nine recreated decks, sip tea by the infamous Grand Staircase, and see rescued artifacts firsthand. While the Titanic's demise can be a fairly heavy subject, the museum does a fantastic job of making the information accessible and appropriate for kids.
Pro tip: Not many tourists also know about other incredible Titanic locations around Ireland. Ask a local history expert about visiting the Titanic's final departure point in Cobh (one of our favorite Irish towns to visit) and the Titanic Pub and Kitchen in Belfast.
#16: Channel your inner Jedi on the Skellig Islands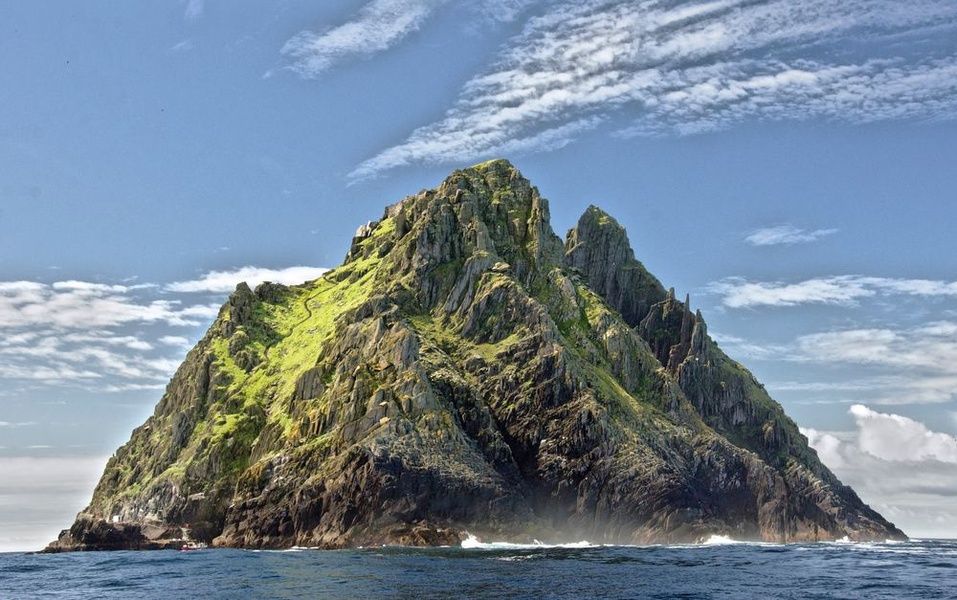 Bring your kids' dreams of becoming a Jedi (and let's be real, yours too) with a visit to Skellig Michael. Yes—the craggy islands featured in Star Wars: The Force Awakens and The Last Jedi, actually exists! Found off Ireland's west coast, you'll have to hop on a boat to access Skellig Islands—you can grab a ride from Portmagee, Caherdaniel, or Ballinskelligs Pier.
Pro tip: Talk to an Irish local about the best ways to see more real-life movie locations that both kids and adults simply adore, like the Cliffs of Moher (The Princess Bride), Lemon Rock (Harry Potter and the Half-Blood Prince), and the Magillycuddy Mountains (Lassie).
#17: See stars at the CIT Blackrock Castle Observatory
Just 15 minutes from downtown Cork, the CIT Blackrock Castle Observatory is far enough from the city lights for perfect views of constellations, galaxies, and planets. The CIT Observatory is easily one of Ireland's best things to do, namely because it blends Irish history and alien encounters, an unlikely pairing that you won't find anywhere else in the world. The CIT Observatory also offers tour suggestions specifically for teens and kids—talk about out-of-this-world.
#18: Gallop around the Irish National Stud and Gardens
Just 45 minutes away from Dublin, you'll find 800 acres of rolling pastures, peaceful gardens, and hundreds of gorgeous studs. (Disclaimer: We're talking studs as in horses.) They're all part of the Irish National Stud and Gardens, where your kids can fulfill their lifelong dreams of riding ponies, petting baby horses, and caring for majestic stallions. In addition, the Irish National Stud and Gardens offer plenty of fun for all ages, like Japanese gardens and fairy trails.
#19: Brave the white water rapids in Donegal
Want to add some adrenaline to your family trip? Donegal's white water rapids will feed your kids' wild side. Plus, on a hot summer day, there's nothing better than catching waves on the River Este. If you have small children, take the intensity down a notch with canoeing or kayaking nearby Lough Derg. Whichever you choose, ask a local expert which water tour groups are most locally-trusted and reliable.
#20: Descend into the Maghera Caves
For a family vacation filled with adventure, prioritize a day trip to the Maghera Caves, a Donegal must-do that curious kids love to explore. These 20 eerie caves and tunnels are located beneath Donegal's Slievetooey Mountain. When you're finished adventuring, kick back at Maghera Beach—also a perfect opportunity to let the kids' energy wear down (but does it ever truly?).
Pro tip: Locals report that the tides near the beach can be strong, so ask a Donegal local about beach conditions before you go.
--
These fun things to do in Ireland with kids (whether you're exploring with toddlers or teens) are bound to make everyone a fan of the Emerald Isle. But to get the most out of your trip connect with a local to create a personalized itinerary. Based on their insider knowledge of Ireland, they'll build a one-of-a-kind adventure that suits your family's interests and budget perfectly. Learn more.