Since Ireland boasts so many amazing things to do, it can be tricky to know which ones to put on your itinerary. That's why we've hand-picked the top 10 things to do in Ireland, organized by traveler type. Now you're one step closer to your personalized Irish adventure—you're welcome.
Don't stop with Ireland's top 10 things to do—explore Ireland the way it's meant to be seen by having an Irish local plan your trip. They'll customize your itinerary according to your interests and budget, all while taking you far off the tourist path. Learn more.
Table of Contents
For the adventurer: The Cliffs of Moher
For a guaranteed adrenaline rush, get up close and personal with the 700-foot Cliffs of Moher. While visiting this beloved Ireland tourist attraction, keep in mind that it's super dangerous to sit right on the edge (don't say we didn't warn you), but the view from even a dozen feet away from the edge is unmatched. With miles upon miles of crashing Atlantic waves and verdant sandstone cliffs, it's little wonder that this essential Ireland must-do captures the hearts of adventurers worldwide.
Pro tip: Featured in The Princess Bride as "The Cliffs of Insanity," the Cliffs of Moher are one of many IRL movie locations throughout Ireland. Find them all with a personalized map from an Ireland local.
For the road trip guru: The Wild Atlantic Way
The Wild Atlantic Way features over 1,500 miles of highway and stunning ocean views, complete with incredible Ireland landmarks like the Cliffs of Moher and the Ring of Kerry. This bucket-list road trip begins in Greencastle, near Northern Ireland, and sweeps along Ireland's west coast, ending in southern Cork. This incredible must-do in western Ireland takes about 3 weeks to complete, but you can also rent a car for a few days to explore the route's major highlights, such as Galway City and the Dingle Peninsula.
For the artistic soul: The Giant's Causeway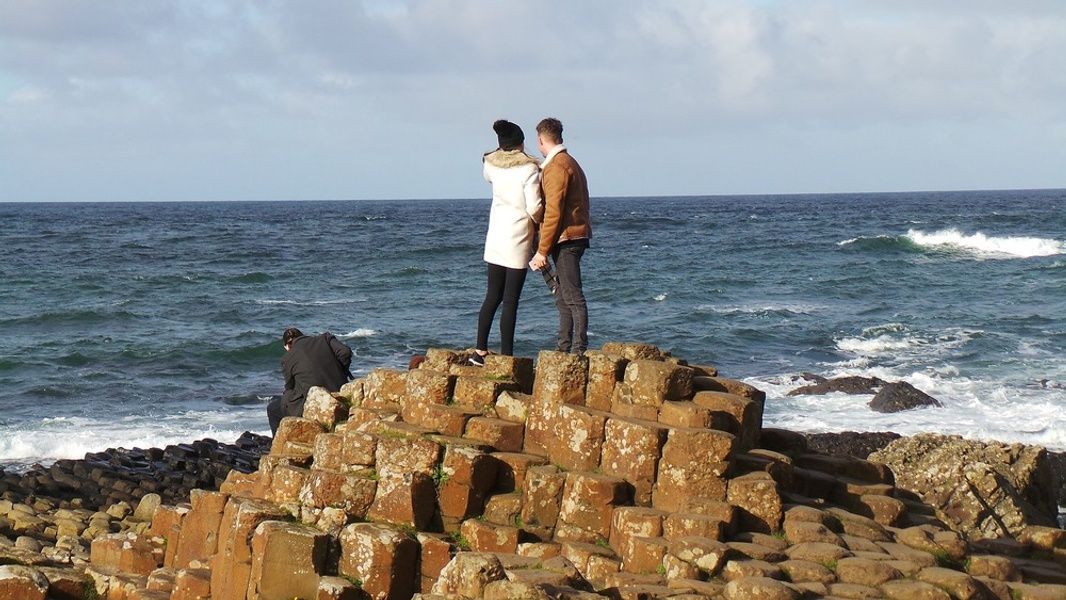 Break out the cameras (or canvases if you're a hipster)—the iconic Giant's Causeway is about to take your breath away. One of the most popular things to do in Northern Ireland, the Giant's Causeway is made up of thousands of hexagonal basalt columns, clocking in at 82 feet tall and 50-60 million years old. Ireland travel experts recommend getting to the Giant's Causeway as soon as it opens at 9 AM since the tourist crowds arrive in the late morning.
For the rebel at heart: Kilmainham Gaol in Dublin
Ireland's tumultuous history is immortalized at the Kilmainham Gaol Museum, a jail built in 1796 to house Dublin's rebels, vagrants, and other prisoners. A true must-do in Dublin, Kilmainham Gaol's immersive tours take you through the eerie East Wing's iconic main hall and spiral stairs, the West Wing's narrow walkways, and the sobering Stonebreakers' Yard. It's heavy stuff, but you'll come out of this must-do with a new understanding of Ireland's independent spirit.
Pro tip: The tickets for Kilmainham are super limited and always in high demand, and often sold out 2-3 weeks in advance—plan accordingly!
For the literature lover: Trinity College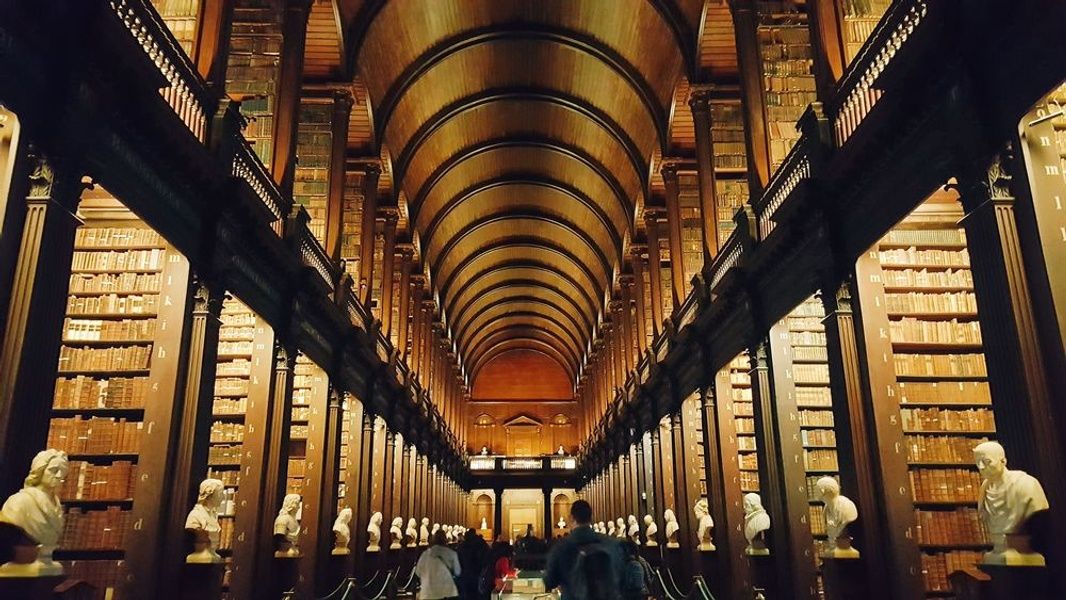 Did you drool over Belle's library in Beauty in the Beast? Are a few hours at the Hogwarts library all you ever wanted? Then a tour of Trinity College is about to blow your mind. This Ireland point of interest is home to the 1,200-year-old Book of Kells and 200,000 ancient and modern manuscripts—AKA a bookworm's dream come true. If you're hoping to see all things literary in Dublin, have a Dublin travel guru design an itinerary that hits the city's best bookish spots.
For the history buff: Titanic Belfast
As far as the top things to do in Ireland go, the Titanic Belfast Museum belongs at the top of your itinerary. The museum's majestic boat-shaped exterior is only the tip of the iceberg (too soon?). History lovers, film buffs, and, well, everyone, will adore the Grand Staircase and dining room, as well as the ship's nine recreated decks. Only a 10-minute drive from downtown Belfast, a visit to the Titanic Museum brings you close to more awesome things to do in Belfast, like St. George's Market and the Peace Lines.
For the foodie: Guinness Storehouse
One does not simply travel to Ireland and not go to Dublin's Guinness Storehouse. Actively producing Guinness beer since 1759, the Guinness Storehouse is 7-stories tall and features a hands-on, immersive tour of Guinness' history, brew process, and tasting techniques. But what really makes the Guinness Storehouse one of Ireland's best places to visit is the free pint after the tour, enjoyed with a birds-eye view of Dublin from the 360° Storehouse Gravity Bar.
Pro tip: Love Guinness but hate crowds? Ask an Irish local like Aine for pub recs—and enjoy a pint surrounded by locals, not tourists.
For the beach bum: Mullaghmore Beach
The very definition of beachside paradise, Mullaghmore Beach is world-renowned for its mountainous skyline, crashing Atlantic waves, and boundless white sands. Since Mullaghmore is located on Ireland's far northern coast, the beach is ideal for surfing and swimming, two things you absolutely must do in Ireland. Mullaghmore is also within driving distance of some of Ireland's best towns, so you'll have no shortage of great places to stay.
Pro tip: If you want to get off the beaten path in Ireland, Mullaghmore is a 30-minute drive from Strandhill, an Irish town known for its strangely relaxing seaweed baths. Ask a local for the deets on reserving your full-body seaweed wrap (or maybe just a facial).
For the sports fanatic: Croke Park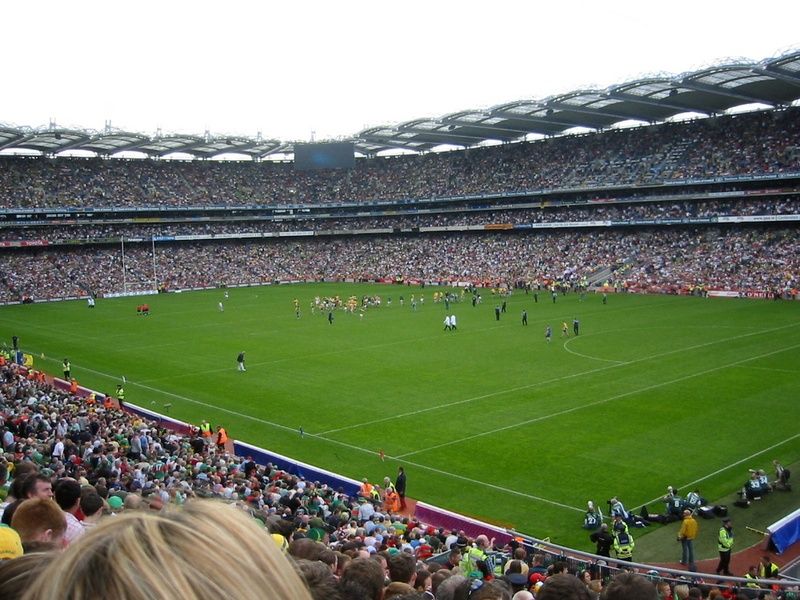 Even the most experienced sports fans will be blown away by the roaring crowds in Croke Park, home of the Gaelic Games. As Ireland's largest stadium, Croke Park hosts Ireland's Gaelic football games (not to be confused with soccer, rugby, or American football). Even if you're only traveling Ireland for a few days, witnessing just one game at Croke Park is a total must, especially if you live for wild crowds and intensely competitive games.
For the hopeless romantic: Powerscourt Estate
Rated as National Geographic's #3 garden in the world, the 1700s-era Powerscourt Estate practically oozes romance, from the house *cough*MANSION*cough* to the 49,000-acre gardens and forests. A must-do in Ireland for love birds, the Powerscourt Estate is nestled near the Wicklow Mountains, where you can find Ireland's tallest waterfall, the unusual Pepperpot Tower, and a serene Japanese garden—the perfect romantic equation.
--
Before you make your plane ticket reservation for Ireland, there's something you should know—there's FAR more to Ireland than these top 10 things alone. For a truly authentic Irish experience, connect with an Irish local to create your personalized, one-of-a-kind itinerary. They'll clue you in on all the ins and outs of Ireland travel, taking you off the tourist path and onward to Ireland's hidden gems. You won't just see Ireland—you'll experience it like a local. Learn more.