You'll find so much great stuff to do in Ireland—but there are definitely some things you should avoid doing. Avoid an Irish travel faux pas! From skimping at the pub to complaining about the weather, here's what not to do in Ireland.
Whether you're visiting Ireland or planning a staycation, work with an Irish local to plan your trip. Our locals in Ireland will plan a safe trip away from the crowds—full of up-to-date info you might not find online. Learn more.
#1: Neglect to pay your round at the pub
So you've made some local friends, and you're all enjoying pints of ale at a great pub—you're happily participating in one of the best things to do in Ireland. Noticing that your new pals are getting quieter and less friendly as the night goes on? Have you offered to buy a round?
Rather than buying individual drinks, the Irish buy rounds. It's easy: each person in a group buys drinks for the others in the group. Failure to do so is a quick way to offend everyone involved.
Pro tip: Speaking of Irish pub culture, don't order an "Irish car bomb." Just...don't do it. If you want a classic Irish drink, hit up one of the coolest things to do in Limerick: enjoying Irish coffees at the Foynes Flying Boat and Maritime Museum.
#2: Ignore Irish driving rules and common courtesies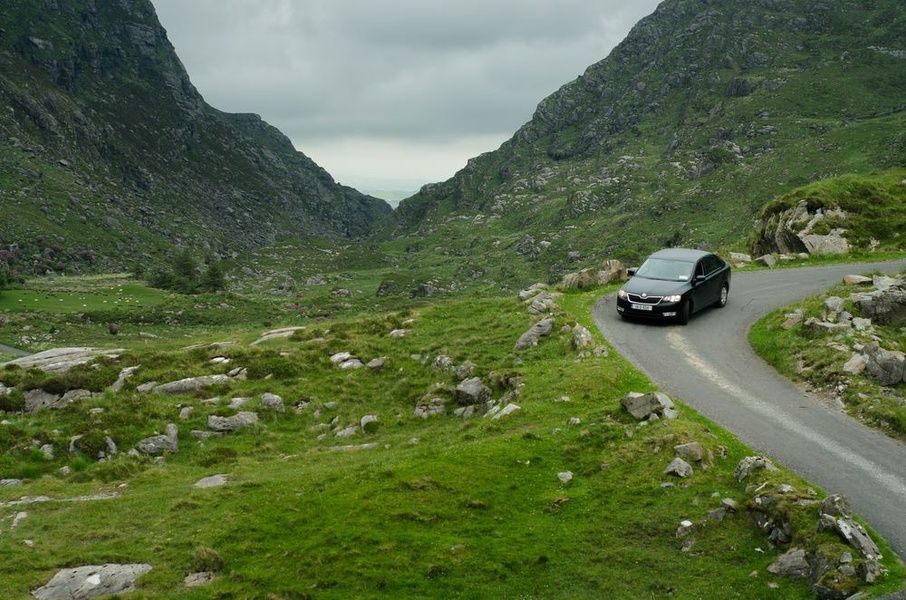 With so many great places to see in Ireland, chances are you'll spend some time on the road. Basically, you need to follow two rules:
Drive on the correct side of the road (the LEFT SIDE)

If someone waves, wave back. Irish drivers are friendly, and you should be too!
That's it. So easy. And especially important to know if you plan to visit Irish towns, or if you want to spend 7 days in Ireland driving from place to place.
#3: Brag about being "Irish"
Many Americans can claim Irish heritage. But whether your lineage is 100% or 10% Irish, avoid making the claim that you are Irish. It'll be met with silence and a forced smile.
That's not to say that you should avoid family history conversations entirely! If tracing your family tree is important, then one of the most fun things to do in Dublin is visiting EPIC: the Irish Emigration Museum. There, you can research your roots at the Irish Family History Centre.
Pro tip: You can also learn about your family history at the Glasnevin Cemetery in Dublin.
--
Are you into stories about travel history? Check out Yesterday in Travel, a podcast sponsored by ViaHero. The show covers fascinating moments in travel history:
Be sure to follow Yesterday in Travel on Spotify or Apple Podcasts.
#4: Say that Ireland is part of the United Kingdom
Do NOT suggest that the Republic of Ireland is part of the United Kingdom. The U.K. includes Northern Ireland, but the Republic of Ireland is an independent country. It's a touchy subject. So be mindful. Don't make an easy mistake like trying to use pounds in Dublin, or euros in Belfast.
What you should do is cross the border. The top 10 things to do in Ireland are in both the Republic of Ireland and Northern Ireland. So mix it up! It's easy to get from towns like Donegal (Republic of Ireland) to Derry (Northern Ireland), or from Belfast (Northern Ireland) to hidden gems like Carlingford (Republic of Ireland).
#5: Bellyache about the weather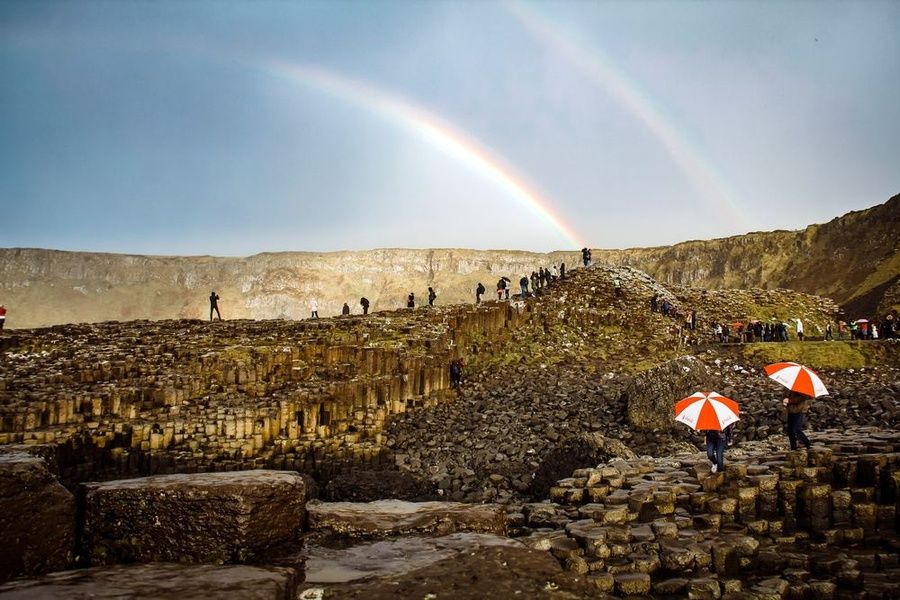 Yes, it rains in Ireland. Sometimes a lot! But the Irish have been dealing with their country's temperamental weather for a long, long time, and you'll find that many of the top things to do in Ireland are indoors.
Don't let the rain damper a trip to some of Ireland's coolest places to visit, like the Cliffs of Moher or Giant's Causeway. Bring an umbrella and a sense of adventure! (And definitely ask a local about the best pubs nearby to warm up afterward.) Whatever you do, don't spend the entire trip complaining to everyone you meet that it rains too much.
#6: Ask about leprechauns
Don't do it. Unless you're asking for directions to the Leprechaun Museum in Dublin.
#7: Talk excessively about the "Troubles"
Although the Troubles officially ended in the 1990s, it remains a sensitive subject in Ireland. If you're hoping to explore that part of Irish history, you'll find tons of great historical stuff to do in Northern Ireland. In Belfast, walk along the graffiti-splattered Peace Lines. In Derry, cross the Peace Bridge that stretches across the River Foyle. Just don't start blabbing about it at the pub. Locals do not care about your opinion!
And you'll find other historic Irish points of interest throughout the Republic of Ireland as well. Visiting the National Monument, which commemorates the fight for Irish independence, is one of the coolest things to do in Cork.
Pro tip: If you're hoping to hit all the Irish history highlights, connect with a local like Anda Maria to plan an immersive, history-heavy itinerary.
#8: Mock an Irish accent or try to speak Gaelic
Even if you've spent a whole week in Ireland, don't go around shouting about Erin go Bragh. Gaelic is the national language and an important part of Irish ancestry. So be chill.
#9: Stay in Dublin the entire time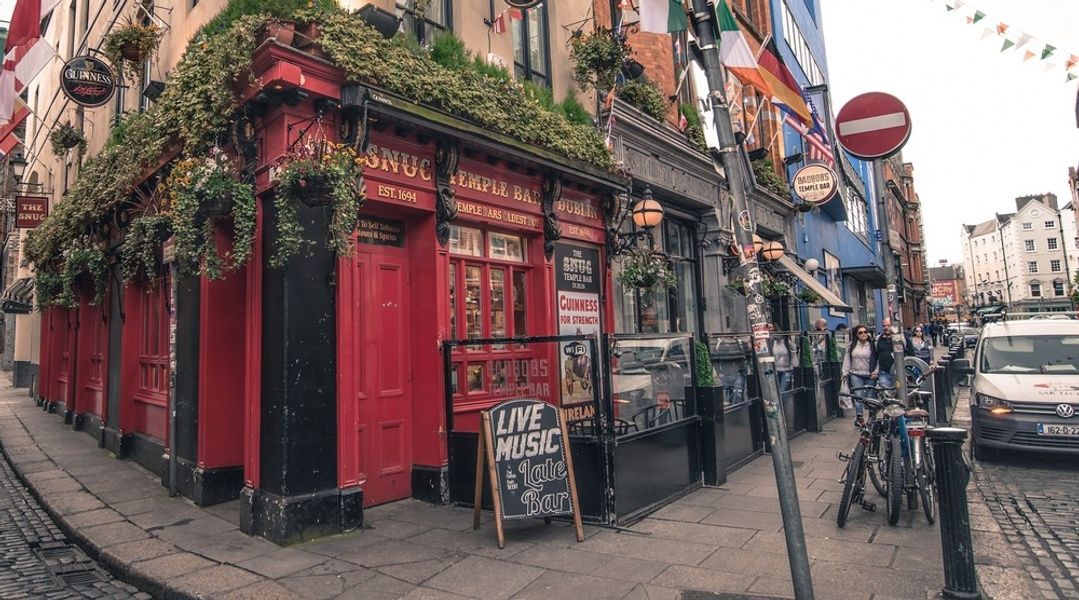 Dublin is amazing. We love Dublin. But it's a mistake to limit your entire trip to that one city. It's easy to get off the beaten path in Ireland (and definitely worth it). Whether you want to experience all the great things to do in Shannon or explore awesome activities in the south of Ireland, hit the road! We can't press this enough: Ireland is way more than just Dublin.
And visiting Irish cities besides Dublin is a great way to experience a unique side of the country. We love places like Galway and Belfast, which are less-traveled than Dublin, but full of incredible history, food, and things to do. Both are excellent places to stay in Ireland.
Pro tip: Because hidden gems are, well, hidden, find an Irish local who can design an itinerary that hits a few of the country's best, lesser-known spots.
#10: Try to see EVERYTHING in Ireland
That being said, Ireland is a big place. If you try to pack too much in, you'll miss out! So how to prioritize? The easiest way is to connect with an Irish trip planner. After discussing your interests, your local will design an itinerary customized to YOU. They'll create an immersive itinerary full of recommendations—no more fumbling through Internet lists. And you know it's going to be good, because no one knows Ireland like the Irish.
TL;DR: Working with a local means you don't have to hit up every single Irish tourist attraction—their trip plan, unique to you, ensures you'll see the stuff that you actually want to see.
BONUS: What not to do in Ireland...during a pandemic
If you decide to go to Ireland, make sure you're up to date on all the rules and regulations surrounding the coronavirus pandemic. For example, Americans can travel to Ireland—but will need to quarantine for fourteen days once you arrive. This does not apply to people traveling from certain other countries.
Once there, respect the rules! Locals in Ireland can help out. Not only can they explain regulations about face masks and social distancing in Ireland, but they can also help build a trip that's safe, off-the-beaten-path, and respectful toward Irish locals. Things like store hours and policies are changing all the time. So why not get some insight from someone who actually lives in Ireland?
--
For more about travel to Ireland, check out: