Your flights are booked, but now it is time for the next step—booking your accommodations in Japan! There are many different accommodation options in Japan, depending on your budget, and what type of experience you want to have.
Read on to learn everything you'll need to know about accommodations in Japan. Once you do, feel free to message us any questions directly!
Want to make the most out of your trip? Tap into our network of local travel planners—Heroes—who build unique, locally-curated trip plans, designed just for you. Get started.
The best way to plan accommodations in Japan is to have one of our Japanese experts give you suggestions. Our Heroes in Japan can suggest great apartments, hotels, and neighborhoods to stay in. Additionally, they will share insider tips and off-the-beaten-path recommendations for what to see in the area! These tips will be specific to your travel preferences (museum junkie? foodie? ViaHero's got you). Match with your Japanese travel planner today!
The main Japanese accommodation options for travelers include….
Ryokan
$150 - $250+ per night, per person
A Ryokan is a traditional Japanese inn. Instead of the Western amenities found in hotels (room service, mini bar, king-sized bed), guests are treated to a traditional Japanese experience.
Travelers throughout Japan have been staying in Ryokan for hundreds of years. These inns were popular on the Tokaido Highway, the Edo period highway that connected Kyoto and Tokyo. Traders, samurai, businessmen, and other vagabonds would stay in these inns when traveling between the cities.
Ryokan is a great way to immerse yourself in Japanese culture. When you arrive, you will trade in your shoes and clothing for slippers and a robe. The design is purposely minimalistic, and it is likely that the central common room of the inn will have just one low table and no other furniture.
Be sure to be respectful, and do not wear your shoes in these inns.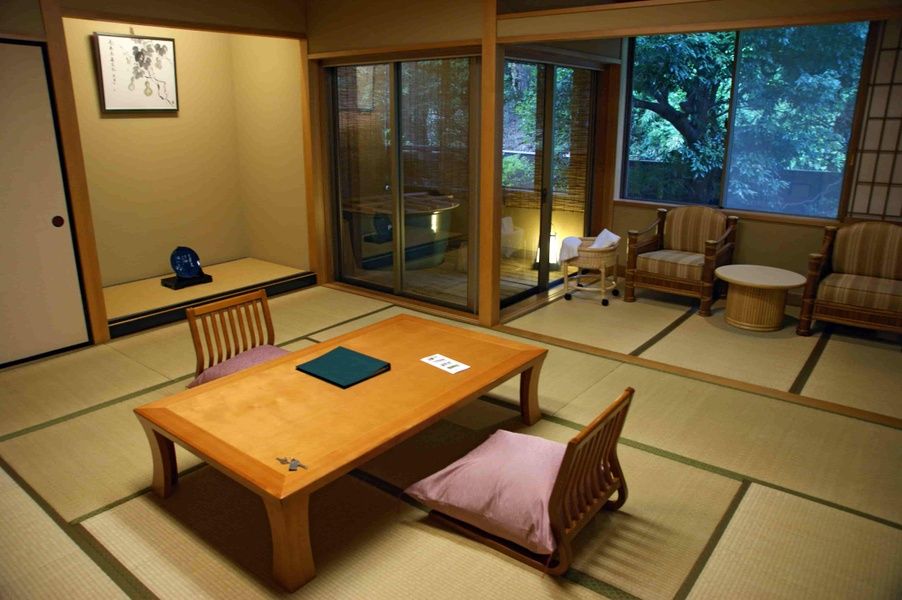 The quintessential way to experience a ryokan is in a hot spring/spa town. Although many major cities also have ryokan, the experience isn't complete without soaking in an onsen.
It is likely that you will share the onsen with other guests, if not with another ryokan nearby. Typical etiquette is to shower and enter completely naked. Know that this is part of the custom, but if you feel uncomfortable, some ryokan allow for private bookings of the spa. Also, cover up any tattoos before entering.
It is likely that you will sleep on a futon, and enjoy a traditional meal with the other guests.
The ryokan experience is very expensive, but if you are interested in immersing yourself in Japanese culture, it is worth it to try to stay in one once, especially in a geothermal village.
Minshuku
$50 - $80 per person, per night
A minshuku is very similar to a ryokan but is a more basic and family-run option.
Minishuku typically have fewer rooms and are smaller and more basic than some ryokan. However, this is a great way to get the ryokan experience for less money. It is also an excellent way to meet and spend time with a Japanese family, and learn more about their life and customs.
Hotel
$150+ per person, per night
Hotels are typically split into two categories in Japan: Western-style "comfort hotels," and "business hotels." Comfort hotels are similar to Western hotels—big rooms, big beds, lounge area, etc.
Business hotels are much simpler, and usually just have enough room for a twin bed, a desk, and small private bathroom.
Before booking a hotel, be sure to check bed size, and determine what type of hotel you are booking. Business hotels are smaller but more affordable.
Booking a hotel online can be difficult, as many descriptions are written in Japanese. Often, prices written in English are much higher than prices written in Japanese. Translate in your internet window to try to find deals in Japanese.
Also, hotels charge by the number of people staying in a room, even if they are sharing a bed. Check the internet months in advance to find good deals. Prices on the weekend tend to be higher, so try to stay in a hotel during the week.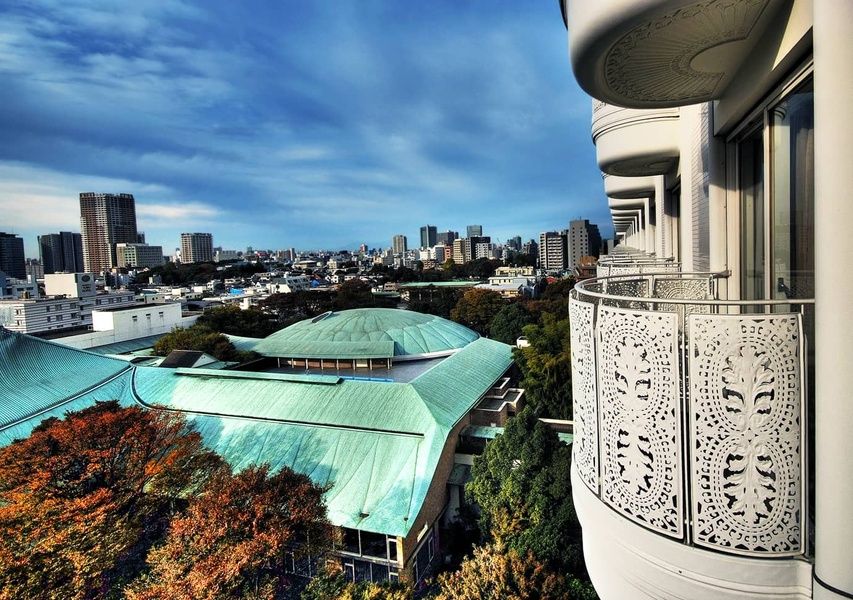 Apartment
$120+ per night
One of the most popular options for travelers is to rent an apartment in the city they are visiting.
This gives you more freedom, and the ability to feel like you have your own home in Japan. If you're staying in an area for a few weeks, it makes sense to find a place with more space, and a kitchen so you can get more settled.
Having a kitchen means cooking your own food, and saving money on restaurant costs.
Apartment sizes and prices vary, depending on how many bedrooms, and what neighborhood the apartment is in. Typically, apartments start at around $120 a night.
The hardest question is what neighborhood! If you are hoping to find an apartment in Tokyo, check out our guide to different neighborhoods before making your apartment selection. Also, our local Japanese travel planners can give great suggestions!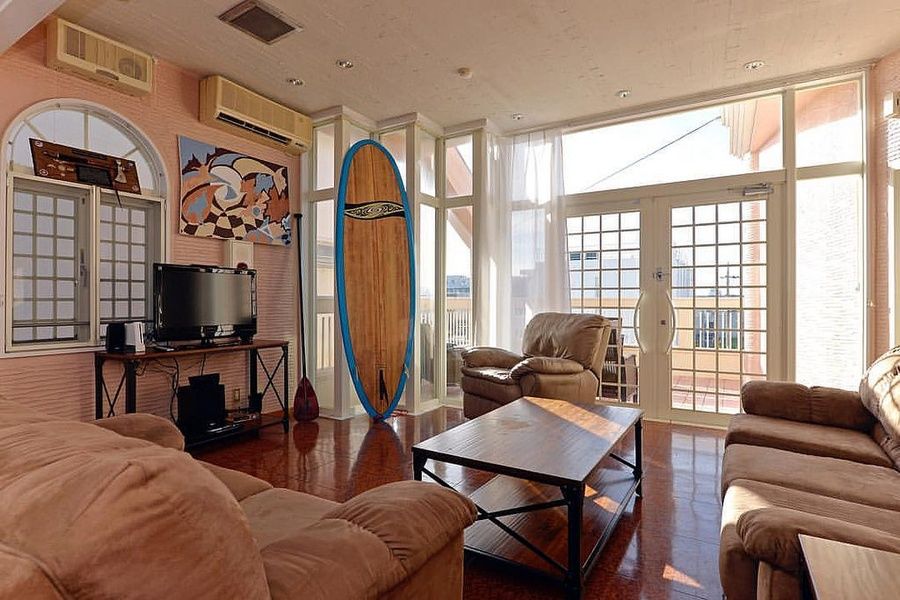 Hostel
$30-40 per person, per night
Backpackers will be happy to hear that hostels are abundant in Japan as well. For guests who don't mind sharing a room with other people, this can be one of the most budget-friendly options.
Hostels provide a common area to relax in, Wifi, and a communal kitchen.
It is likely that the host will speak English, and be happy to share a map and suggestions about the local area.
Hostels are not as cheap in Japan as they can be in other countries, but for budget travelers hoping to make friends and have a place to relax, a hostel is a great choice.
Love Hotel
$50-100+ per night
Well...if you have never heard of this concept before, it is going to be hard to explain.
Love Hotels are hotel rooms that can be checked into late at night to allow lovers and couples to have more privacy.
While, on the surface, this idea seems very seedy, this is actually a very common practice in Japan. Because of that, the hotels are kept very clean, and they are used not only for couples but by businessmen and travelers who are stranded late at night.
Check-in is very late (around 10 pm). If you arrive late to a city and are looking for a place to get some sleep, a love hotel could be a great option.
Amenities will be limited, or, *ahem* themed, but most people find Love Hotels to be rather comfortable...if not an excuse for a story to tell friends when they return home.
One deal to look out for is "service" time during the day when the prices are lower. If you are looking for a place to ditch your luggage while exploring the city, this is an option.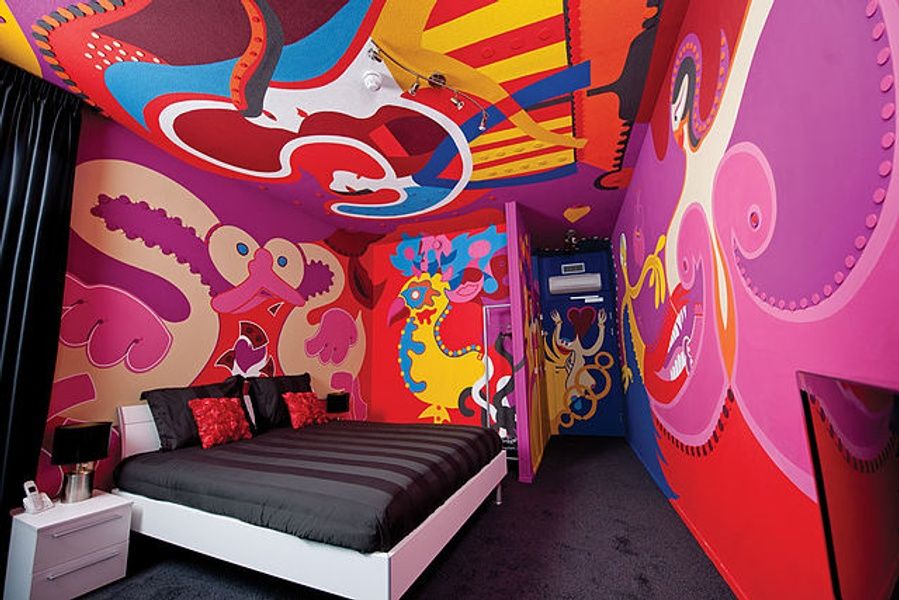 Capsule Hotel
$20-40 per person, per night
Capsule hotels are another option for budget travelers who arrive late. Capsule hotels give guests a tiny room, just big enough for a single bed. These pods are very tiny and provide guests with amenities like a TV, light, and alarm.
Bathrooms and luggage lock rooms are shared with other guests.
This is one of the most basic overnight accommodation for guests who don't want to pay the money for a full room (even at a Love Hotel).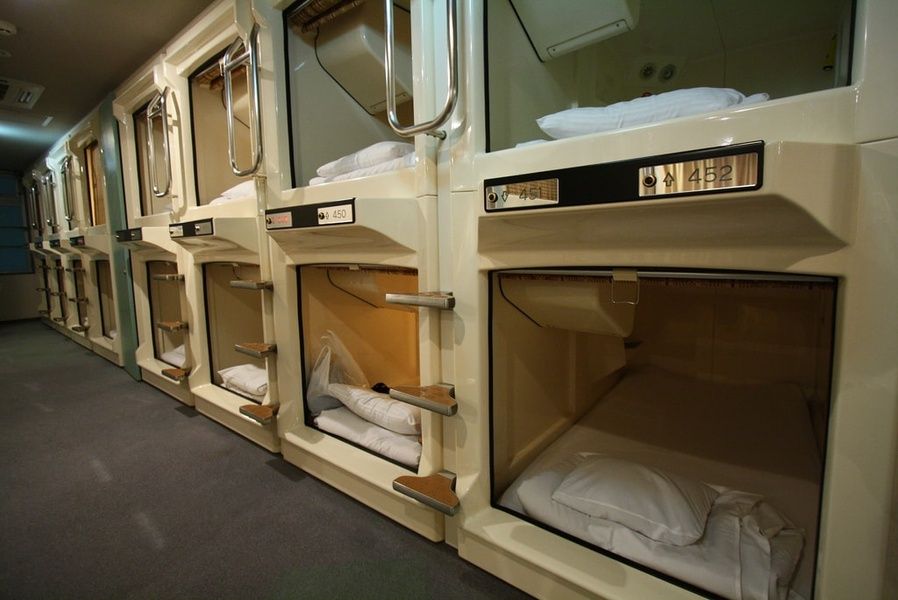 Manga Kissa Internet Cafes
$20 per person, per night
To understand what a "Manga Kissa" is, one must first understand Japan's obsession with manga and video games. Many people read comic books or play video games late into the night. To accommodate this, Japan has Manga Kissa Internet Cafes all over major cities.
In a Manga Kissa, guests are given a small room with a computer, comic books, wifi, video games, and a reclinable chair.
Some Manga Kissa even have communal shower rooms and food. This is another budget option for travelers in Japan.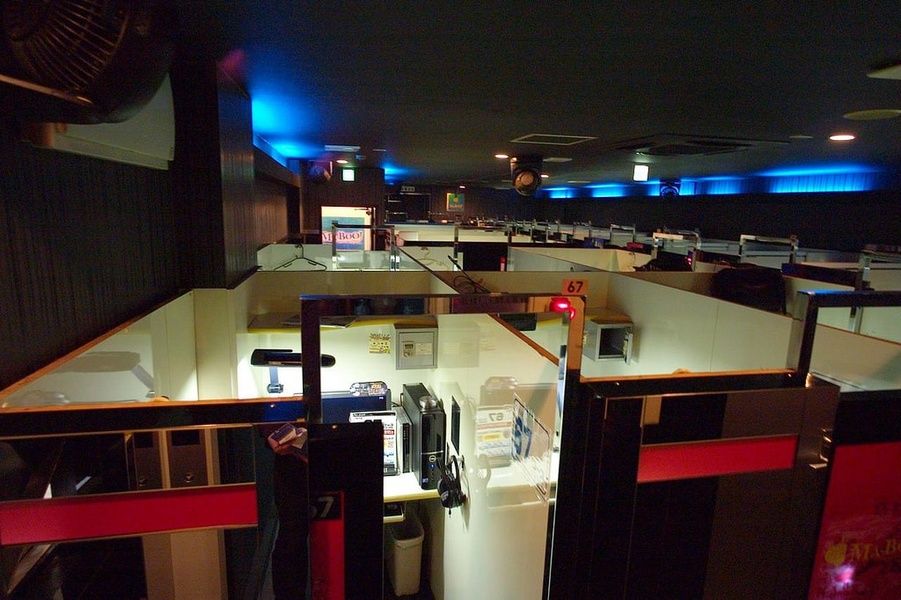 Have more questions about accommodations in Japan? Here is a list of our Japanese travel experts who can help you or you can message us any questions you have. And Before your trip, make sure to check out: