If you're all about budget travel, great news—your trip to Japan doesn't have to break the bank. With these 17 Japan travel budget tips, you'll be ready to take on new adventures without incurring crazy expenses. This essential guide includes everything from accommodations and transportation to food and attractions.
To see Japan on a budget without compromising the fun, connect with a local expert to plan your trip. They'll design a custom guidebook full of budget-savvy tips and local travel know-how. With their help, you'll see a side of Japan that most tourists miss. Learn more.
Transportation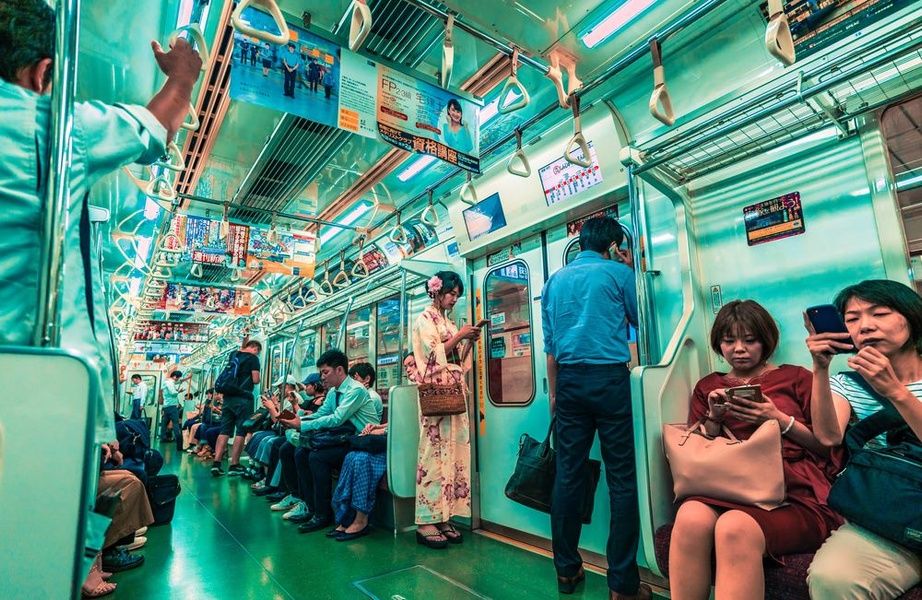 #1—Buy your plane tickets at least 2 months in advance
Finding inexpensive airfare to Japan can seem a little daunting, but the key is to purchase any plane tickets at least 60 days before you plan to leave. Locals in Japan tell us that ticket prices can rise $500 or more when you travel during major holidays, like Golden Week, Obon, Christmas, and New Year's.
Local tip: If you don't mind one- or two-stop flights, budget airlines like Cathay Pacific and Asiana Airlines usually offer flights to Japan that are several hundred dollars cheaper than those of major airlines.
#2—Pay for trains with a Japan Rail pass
Even if you're only staying in Japan for a short time, getting a Japanese Rail (JR) pass is one of the wisest budget moves you can make. The JR pass is essentially a discounted train pass for tourists in Japan, covering train lines in six regions. Each region offers different passes for different numbers of days, starting as cheap as $21 for the day with JR Kansai or as much as $248 for two days with JR Hakone.
Local tip: JR passes must be purchased online prior to arriving in Japan. It can be confusing to figure out, but since the result is so rewarding (and budget-friendly), work with a local to design your travel. You can also use apps like Jorudan to sketch out your public transit plans.
#3—Know which type of subway pass works best
Our local trip planners in Japan tell us you definitely will need a subway pass when visiting Japan's best cities, especially big metropolises like Tokyo and Kyoto. The type of subway pass you'll need will vary by where you are, how long you'll be there, and how much you'll use it. For example, the Tokyo Metro offers 24-, 48-, and 72-hour passes for under 1,500 yen (around $15)—significantly cheaper than paying 170-310 yen per trip. As they design your custom itinerary, our locals can help you decide what sort of pass to get—and how to use it.
#4—Use buses for short-distance travel
Since Japan is very safe, public buses are great ways to visit cities like Kyoto or Tokyo without spending beaucoup bucks on a taxi or Uber in Japan. Kyoto public buses charge a flat 230 yen fare within specific districts, and Tokyo public buses similarly charge a flat 210 fare per trip.
Overnight buses from companies like Willer Express are also available for cross-country trips, departing from two major hubs—the Yokohama City Air Terminal and the Shinjuku Expressway Bus Terminal. Overnight buses are known for their relatively low prices, averaging $90 for trips 10 hours and up.
Local tip: Overnight buses can add considerable travel time to your itinerary. You could also take more expensive domestic flights from Skymark, Peach Air, or Vanilla Air to cut down on travel time.
Food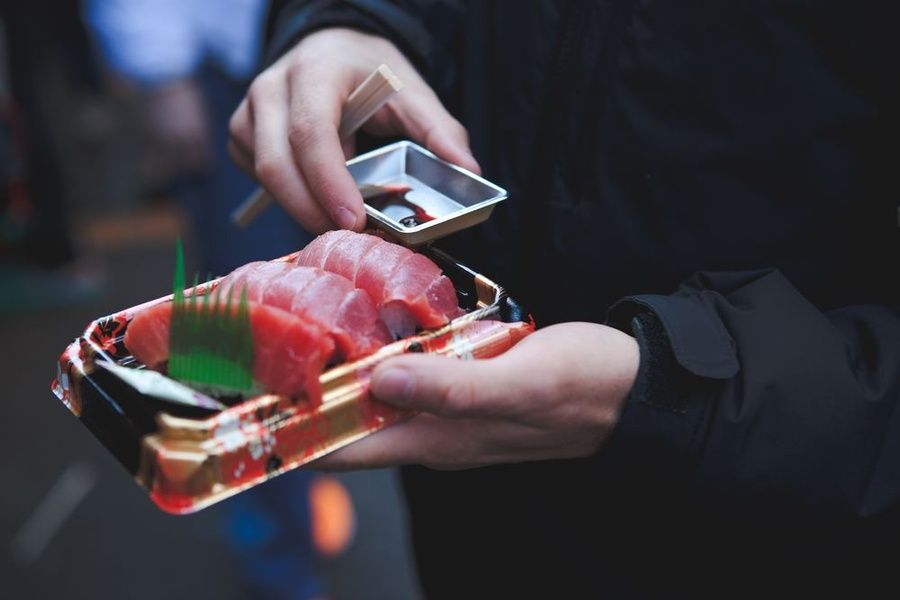 #5—Get cheap snacks at 100-yen shops
100-yen shops are like American dollar stores on steroids. Since 100 yen is roughly equivalent to $1, you can easily buy inexpensive but authentic Japanese food to supplement your meals throughout the day (or to count as meals themselves—no judgment here!). Just make sure to hang onto any pocket change—Japanese locals note that most 100-yen stores only accept cash.
#6—Go to 7-11 for meals under 500 yen (USD$5)
Japan's 7-11s are to American 7-11s as a gourmet steak is to a rock. Seriously! Japan's 7-11s take cheap, fresh food to another level, rolling out fresh sushi, bento (lunch) boxes, onigiri rice rolls, and pastries. Meals range from 120 yen to 600 yen, depending on how much food is included. Importantly, locals tell us that 7-11 is also the only conbini (convenience) store in Japan to accept foreign credit/debit cards.
Local tip: For other conbini stores that produce fantastic, cheap meals, Japanese locals suggest checking out stores like Lawson, FamilyMart, Circle K, and Ministop.
#7—Eat at conveyor-belt sushi restaurants
Conveyor-belt sushi (kaiten-zushi) restaurants prove that Japan has this whole fast food thing figured out. These futuristic restaurants are popular just about everywhere in Japan, especially since you pay by the plate, averaging only about 100-300 yen ($1-3) per dish. In terms of places to go in Japan, kaiten-zushi restaurants are a must-go for happy tastebuds and wallets.
#8—Fill up on street food
No matter which Japan destinations you choose, street food is a staple of diverse, delicious, and cheap travel. The key is to know where the locals eat—for example, locals tell us that tourists generally don't know that you can get a fabulous monjayaki pancake for under $10 on Tsukishima Street in Tokyo. You can also get some mean takoyaki (octopus balls) for $8 in Osaka's Kougaryu neighborhood and okonomiyaki (noodle crepes) for $4 in Hiroshima.
#9—Remember that some restaurants charge unusual fees
Since many Japanese customs differ from those in the U.S., it's important to know what is expected in restaurants, especially since you'll encounter unfamiliar fees. It's true that there is no tipping in Japan; however, you may be charged 500-700 yen for otoshi, a table fee added when a server gives you a small, unordered appetizer. (Think free chips and salsa, but without the free.)
Accommodations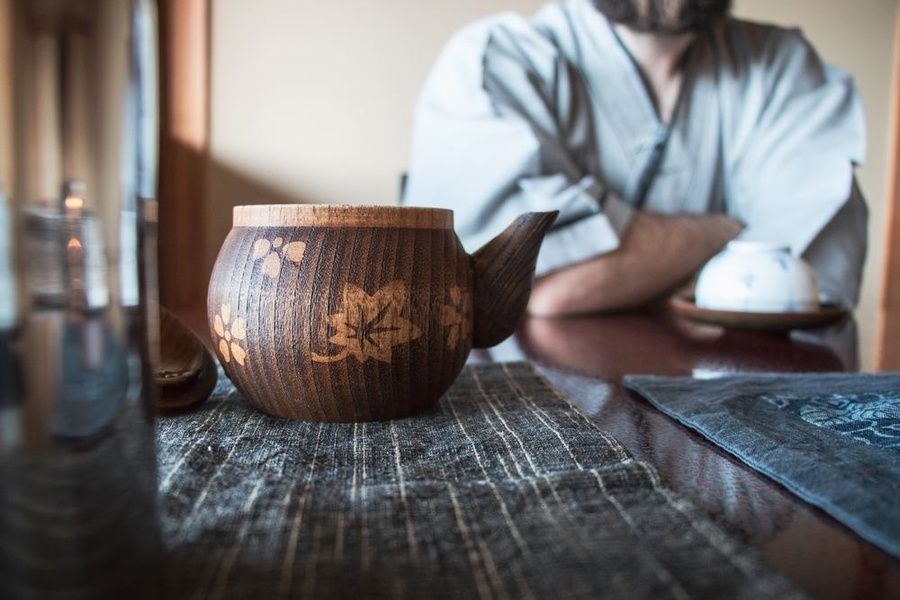 #10—Keep it minimalist at a capsule hotel
Capsule hotels are slightly bizarre but fun Japan accommodations for travelers on budgets. Guests sleep in their own futuristic pods, stacked on top of each other and containing a single bed, TV, and clock. Bathrooms, storage, and common rooms are shared, but it's worth it for just $20-$40 per night.
#11—Spend the night at a Buddhist temple
If you want to travel in Japan in a different way, consider spending the night at a Buddhist temple. Ask a local trip planner where you can find shukubō, temple lodgings for pilgrims and adventurous travelers. Averaging USD$50-$90 per night, there are few shukubō in Japan, but they're 100% worth the addition to your Japan itinerary.
Local tip: For other traditional Japanese lodgings, think about staying overnight at ryokans (traditional inns) and minshuku (family-owned B&Bs). Both cost USD$150-$250—a little pricier than shukubō but a unique way to enjoy Japanese culture.
#12—Rent an Airbnb
Airbnbs became legal in Japan in 2018, so you're now good to book your Japan Airbnb anytime and anywhere. One-bedroom apartments average $40-$70 a night, with the price dependent on how long you stay, how many rooms you need, and what features you want (i.e., pool or balcony). Some Airbnbs in Japan also charge a $40-$50 cleaning fee.
Local tip: If you're staying in an Airbnb in Japan, bring a small gift for your host. Gifts are a big and important part of Japanese culture, and our local trip planners tell us that people really appreciate the gesture.
#13—Bed down at a hostel
Budget travelers in Japan often choose to stay in hostels, which average $30-$50 a night and are usually close to cool things to do in Japan. You'll find different types of hostels depending on which city you're in—for instance, Tokyo is known for its "love hotels" ($50-$100 rooms used for under-the-radar romance) and manga kissa (manga cafes where you can play video games and catch some Z's).
Attractions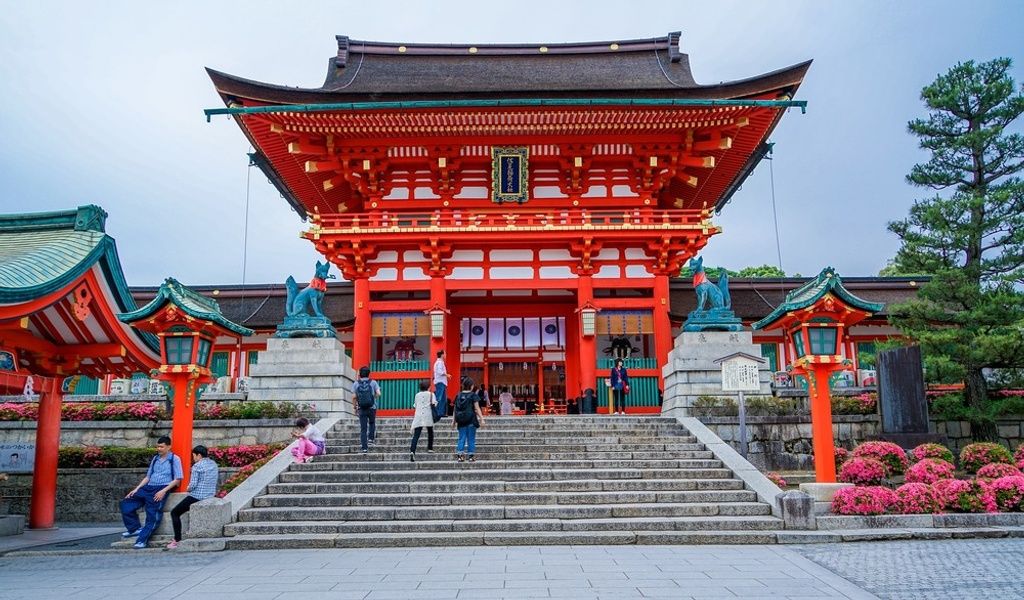 #14—Travel during Japan's off-peak season
Save hundreds of dollars on airfare to Japan and accommodations by exploring Japan during the country's off-peak season. Actually one of the best times to visit Japan, the off-peak season lasts from October to March (with the exception of Christmas and New Years). With fewer tourists vacationing and sightseeing, you'll encounter much shorter lines and significantly lower prices.
Plan your trip to Japan with someone who actually lives in Japan. They can help you find the best budget-friendly deals, especially during Japan's major events like Golden Week and Obon.
#15—Take advantage of free activity passes
Japan's free activity passes can be more aptly called comprehensive or all-inclusive. The passes sell for around $50 and cover a range of attractions in Japan's coolest places to go, including Tokyo, Kyoto, and Osaka. For example, you can buy the Hakone Free Pass for around $60, which gives you 2-3 days worth of unlimited bus, ferry, and train rides, as well as discounted rates on the top things to do in Tokyo.
Local tip: Buy your free activity pass at a subway or train station within the city you want to explore. For easy access to important places to know, such as subways and train stations, ask a Japan local for a personalized map of any city.
#16—Know which attractions offer free entry
When it comes to budget travel in Japan, it pays to know which fun things to do have low entry fees or (even better) are totally free. For example, locals report that the Tokyo Metropolitan Government Building offers free 360 birds-eye views of Tokyo (and Mt. Fuji, on a sunny day). LonelyPlanet also recommends major landmarks like the Hiroshima Peace Park and Kyoto's Imperial Palace, which are free to enter and have inexpensive tours.
#17—Design your own self-led tours
Since tours of Japan's cities and landmarks average $80 per person, your travel bill will add up pretty quickly with the more tours you take. In this case, the best solution is to create your own self-led tours, complete with tips and insider info from a local travel expert. Not only will you end up saving hundreds of dollars, but you'll get to visit off-the-beaten-path places in Japan that few tourists ever see.
--
Having fun in Japan and traveling on a budget actually go hand in hand—especially when you've got travel budget tips from a Japan local. They've got you covered with a customized guidebook that's built around your unique interests and budget. Find out more about planning your ultimate Japan adventure!