The pictures of beautiful geisha, delicious sushi, steaming matcha, and cherry blossoms have convinced you: it is time to book a trip to Japan! Next question - how are you going to get there?
This guide highlights some of the top tips for finding convenient, and fairly priced flights from the United States to Japan—so you can stop dreaming, and start booking.
Want to make the most out of your trip? Tap into our network of local travel planners—Heroes—who build unique, locally-curated trip plans, designed just for you. Get started.
Let's begin!
IN A PERFECT WORLD, YOU WILL...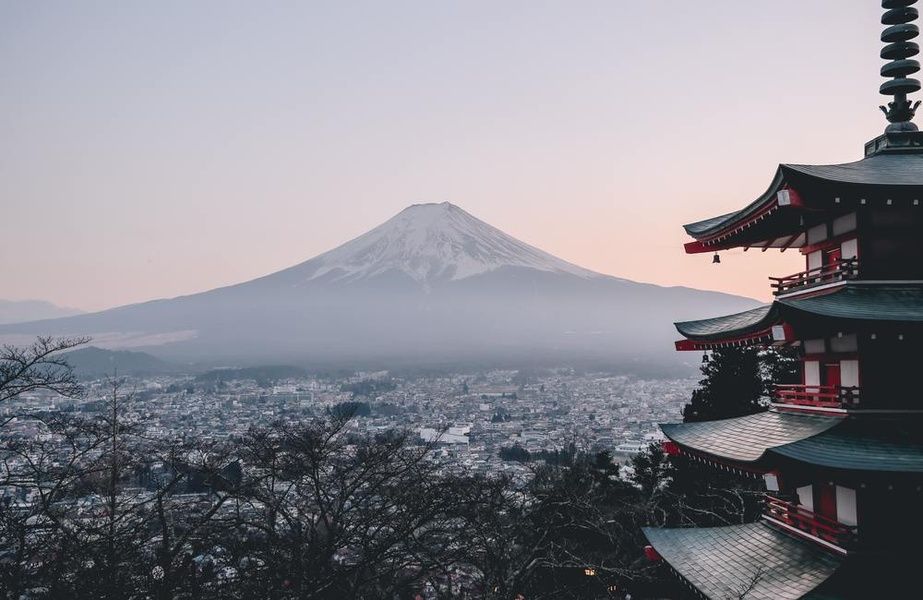 1. Be flexible in your route
2. Be flexible when your trip is going to occur
If both of those statements are true, you are in luck - it will be extremely easy for you to find cheap airfare to Japan.
Steps:
Go to skyscanner.com
Type in your starting destination, and then put "Japan" as the destination
For depart click "Whole Month," and then "Cheapest Month"
Reap the benefits of being a flexible traveler, and see what the absolute cheapest time to visit it
However... the world the world isn't perfect, and most people have a very specific time frame for their trip. In that case, finding the perfect flight takes a little more work. Let's dive in.
Things to consider:
You don't need to fly directly into Tokyo. There are over 800 airports in Japan... it could be cheaper to fly somewhere else!
Consider having a layover in another country - then flying into Japan
Chepeast flights from U.S. To Japan
Most flights to Japan from the West Coast connect through Honolulu. If you can be flexible on your trip this is a great option.
Most Popular Cities to Fly into Japan From US
Honolulu (22 direct flights)
Los Angeles (9 direct flights)
San Diego (9 direct flights)
New York - JFK (6 direct flights)
Chicago - O'Hare (6 direct flights)
Top Places to fly into Japan Outside USA
Another option is to fly into a country that has budget flights into Japan.
South Korea
It is possible to fly into Japan from South Korea for under $100 (even as low as $25) round trip. Budget airlines to check include:
T'way Air
Hahn Air
Jin Air
Korean Air
Check skyscanner.com for more specific flight information
These airlines commonly fly into Japanese cities like Fukuoka, Oita, Saga, Kumamoto, Nagasaki, Hiroshima, Takamatsu, Osaka, and Tokyo.
Taiwan
Fly into Japan for around $100-$200 round trip. Budget airlines to check include:
Tigerair Taiwan
Peach
China Eastern
Korean Air
Jetstar
These airlines commonly fly into Osaka, Okayama, and Okinawa.
China
Fly into Japan for around $100-$200 round trip. Budget airlines to check include:
Juneyao Airlines
China Eastern
Tianjin Airlines
Peach
Asiana Airlines
ANA
These airlines commonly fly into Okinawa, Tokyo, Sapporo, Nagoya, and Fukuoka.
Direct flights from the U.S. to Japan
There are 80.
Hawaiian Airlines
Honolulu
from Honolulu International Airport to Fukuoka Airport
from Honolulu International Airport to Tokyo Haneda Airport
from Honolulu International Airport to Kansai International Airport
from Honolulu International Airport to Sendai Airport
American Airlines
Honolulu
from Honolulu International Airport to Tokyo Haneda Airport
from Honolulu International Airport to Chūbu Centrair International Airport
from Honolulu International Airport to Kansai International Airport
from Honolulu International Airport to Narita International Airport
San Diego
from San Diego International Airport Francisco International Airport to Tokyo Haneda Airport
from San Diego International Airport to Narita International Airport
Boston
from Boston Logan International Airport to Narita International AirportI
Dallas
from Dallas/Fort Worth International Airport to Narita International Airport
New York
from John F. Kennedy International Airport to Narita International Airport
Los Angeles
from Los Angeles International Airport to Narita International Airport
Chicago
from Chicago O'Hare International Airport to Narita International Airport
Air India
Los Angeles
from Los Angeles International Airport to Narita International Airport
Delta Airlines
Honolulu
from Honolulu International Airport to Fukuoka Airport
from Honolulu International Airport to Kansai International Airport
from Honolulu International Airport to Chūbu Centrair International Airport
from Honolulu International Airport to Narita International Airport
Atlanta
from Hartsfield-Jackson Atlanta International Airport to Narita International Airport
Los Angeles
from Los Angeles International Airport to Tokyo Haneda Airport
from Los Angeles International Airport to Narita International Airport
Seattle
from Seattle-Tacoma International Airport to Tokyo Haneda Airport
from Seattle-Tacoma International Airport to Narita International Airport
Detroit
from Detroit Metropolitan Wayne County Airport to Chūbu Centrair International Airport
from Detroit Metropolitan Wayne County Airport to Narita International Airport
New York
from John F. Kennedy International Airport to Narita International Airport
Minneapolis
from Minneapolis-Saint Paul International Airport to Narita International Airport
Portland
from Portland International Airport to Narita International Airport
Japan Airlines
San Diego
from San Diego International Airport to Narita International Airport
from San Diego International Airport Francisco International Airport to Tokyo Haneda Airport
Honolulu
from Honolulu International Airport to Tokyo Haneda Airport
from Honolulu International Airport to Kansai International Airport
from Honolulu International Airport to Chūbu Centrair International Airport
from Honolulu International Airport to Narita International Airport
Boston
from Boston Logan International Airport to Narita International Airport
Dallas
from Dallas/Fort Worth International Airport to Narita International Airport
New York
from John F. Kennedy International Airport to Narita International Airport
Los Angeles
from Los Angeles International Airport to Narita International Airport
Chicago
from Chicago O'Hare International Airport to Narita International Airport
All Nippon Airways (ANA)
Honolulu
from Honolulu International Airport to Tokyo Haneda Airport
from Honolulu International Airport to Narita International Airport
Los Angeles
from Los Angeles International Airport to Tokyo Haneda Airport
from Los Angeles International Airport to Narita International Airport
San Diego
from San Diego International Airport Francisco International Airport to Kansai International Airport
from San Diego International Airport Francisco International Airport to Narita International Airport
New York/Newark (NJ)
from Newark Liberty International Airport to Narita International Airport
from John F. Kennedy International Airport to Narita International Airport
Dulles (VA - serves D.C.)
from Washington Dulles International Airport to Narita International Airport
Houston
from George Bush Intercontinental Airport to Narita International Airport
Chicago
from Chicago O'Hare International Airport to Narita International Airport
Seattle
from Seattle-Tacoma International Airport to Narita International Airport
Denver
from Denver International Airport to Narita International Airport
San Jose (CA)
from Norman Y. Mineta San Jose International Airport to Narita International Airport
United Airlines
Honolulu
from Honolulu International Airport to Tokyo Haneda Airport
from Honolulu International Airport to Narita International Airport
Los Angeles
from Los Angeles International Airport to Tokyo Haneda Airport
from Los Angeles International Airport to Narita International Airport
San Diego
from San Diego International Airport Francisco International Airport to Kansai International Airport
from San Diego International Airport Francisco International Airport to Narita International Airport
New York/ Newark (NJ)
from Newark Liberty International Airport to Narita International Airport
from John F. Kennedy International Airport to Narita International Airport
Dulles (VA - serves D.C.)
from Washington Dulles International Airport to Narita International Airport
Houston
from George Bush Intercontinental Airport to Narita International Airport
Chicago
from Chicago O'Hare International Airport to Narita International Airport
Seattle
from Seattle-Tacoma International Airport to Narita International Airport
San Jose (CA)
from Norman Y. Mineta San Jose International Airport to Narita International Airport
from Denver International Airport to Narita International Airport
Singapore Airlines
Los Angeles
from Los Angeles International Airport to Narita International Airport
China Airlines
New York
from John F. Kennedy International Airport to Kansai International Airport
Honolulu
from Honolulu International Airport to Narita International Airport
US Airways
Los Angeles
from Los Angeles International Airport to Narita International Airport
Chicago
from Chicago O'Hare International Airport to Narita International Airport
Dallas
from Dallas/Fort Worth International Airport to Narita International Airport
Malaysia Airlines
Los Angeles
from Los Angeles International Airport to Narita International Airport
Dallas
from Dallas/Fort Worth International Airport to Narita International Airport
Chicago
from Chicago O'Hare International Airport to Narita International Airport
San Diego
from San Diego International Airport to Narita International Airport
Korean Air
Honolulu
from Honolulu International Airport to Narita International Airport
--
Before your trip, make sure to check out: