Soaking in a hot spring is a time-honored tradition in Japan. Here's everything you need to know to enjoy a soak on your trip. Once you've given the article a read, feel free to message us with any questions!
Want to make the most out of your trip? Tap into our network of local travel planners—Heroes—who build unique, locally-curated trip plans, designed just for you. Get started.
What is an onsen?
Traditional Japanese bathhouses, called onsen, are created around geothermal hot springs that gush water above 77 degrees Fahrenheit (25 degrees Celsius), but below 212 F/100C (the temperature at which water boils).
Onsens are subdivided into categories depending on water temperature:
Warm: 25°C - 33°C
Hot: 34°C - 41°C
Extra Hot: Warmer than 41°C
There are thousands of onsen in Japan and they are an essential part of Japanese culture. People have bathed in onsen for centuries to relax, heal ailments, and socialize. Most onsens are for public use, but if you prefer to relax solo, you may reserve private kashikiri-buro if you prefer to skip the social aspect.
Want personalized advice on hot springs and onsens for your trip? Get matched with a Japanese Hero who will plan your trip from start to finish with as many onsen visits as you wish.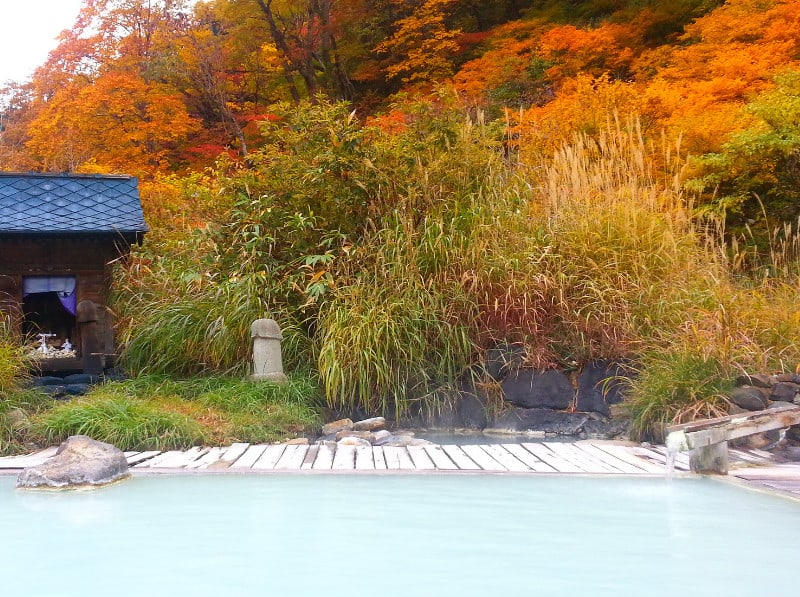 Benefits of an onsen
Every onsen offers bathers the opportunity to relax away the stress of life in the hot water, but there are actually eleven sub-types of onsen that could relieve various conditions.
Simple Onsen: hot water with minimal minerals relieves stress and joint pain
Carbon Dioxide Onsen: this onsen froths and bubbles, some note lower blood pressure with regular use
Sodium Bicarbonate Onsen: relieves skin rashes, minor cuts and burns, and gout
Chloride Onsen: relieves gastrointestinal conditions such as chronic constipation
Sulphate Onsen: skin conditions like psoriasis, cuts, and bruises heal more quickly
Iron Onsen: if you drink this water, it can relieve anemia; sitting in an iron onsen will help your body retain heat even after you get out
Copper and Iron Onsen: gives you increased energy and helps heal anemia
Aluminum Onsen: very acidic and good for sterilization, but should be avoided if you have cuts or burns
Sulfur Onsen: reduces hypertension and helps wounds heal more quickly
Acidic Onsen: not recommended for people with skin conditions, but does clean the body very well
Radium Onsen: look for this type of onsen if you need to soothe digestive issues
Onsen tips and etiquette
What to wear? Your birthday suit! Most Onsens don't allow bathing suits.
Most Onsens are gender separated. Make sure to check in advance if you want to enjoy an Onsen with your opposite-sex partner or you prefer to soak with only others of your same gender.
The word for mixed bathing is kon'yoku, look for this if you're in a mixed gender group.
Tattoos are associated with the Japanese mafia. If you have a tattoo, then you can't use a public onsen as it is forbidden in order to keep out those involved in organized crime.
Shower before you get in the Onsen. Sit on the stool, use the toiletries provided, and understand that this is necessary to keep the onsen clean. If you skip this step, someone else in the changing room will likely notice and correct you.
Get in slowly. The water is very hot. It's advisable to stay in for only 5 to 10 minutes your first time because the water is so hot.
Onsens are not for swimming. Soak and relax.
Don't let your onsen towel or bathrobe get in the water.
Don't put your head or hair underwater. If you have long hair, put it up in a bun.
Bring a small towel just in case there are no towels provided.
If you pee in the bath, everyone will know. Many onsens have chemicals in them that will turn the water purple if it comes in contact with urine.
Move slowly and rest after your time in the onsen to let your body adjust to the drastic temperature changes.
Drink plenty of water.
No photographs or video allowed!
Must-see Onsen
There are so many onsens you can visit in Japan. But where do you start? These are some Japanese Heroes' favorites. You can also have Hero advise you specifically on which onsen you should visit.
Traditional
Tsuboyu
This small, private bath is the only onsen classified as a UNESCO World Heritage Site. It's for one or two people for thirty-minute sessions. You can't make advance reservations, but if you have to wait, it's worth it for the experience of soaking in such a small, famous spring.

Dogo Onsen
This is the only onsen in Japan where the Imperial Family has their own private bath. It's a large complex with some of the oldest hot springs in Japan. If you want to bathe almost like royalty, add Dogo Onsen to your list.

Takegawara Onsen
This onsen has a very traditional atmosphere. It's perfect for those who wish to step back in time for a little while. To try something a bit different, don your robe, let an attendant bury you in hot sand up to your neck for ten minutes, and then soak in the onsen.
Quirky
I Love Yu
I Love Yu is a bright, fun onsen designed by Otake Shinro that has almost nothing in common with traditional bathhouses. The decor includes plastic pink palm trees and erotic magazine images. The walls are covered in mismatched tiles. But you'll still feel relaxed after a soak.
Shibu Onsen
The best part of this onsen might just be that it's walking distance from Jigokudani Yaen-koen (Monkey Park) where you can see wild monkeys bathing in an onsen. They seem to love it just as much as we humans do! There are monkey-free onsens for you to soak in, too.
Unique and Rural
Lake Kussharo
This Caldera lake is ringed by hot springs of all sorts. Most are open air and the sunset is supposed to be particularly lovely from Kotan Open Air Bath. On Sunayu Beach, the hot water is so close to the surface you can dig your own footbath. It's also one of the few places in Japan where you can wear a swimsuit in the onsen.
Takama-ga-hara Onsen
It takes a full day of hiking to reach this onsen in the Japan Alps. But what could be better after a day of hiking than a soak in a hot spring? Before hiking back down, spend the night in a nearby mountain hut.
Shirahama
The highlight here? Taking a dip in the onsen, running across the beach and jumping in the ocean, then hightailing it back to the onsen. You're right on the beach where the sound of waves crashing can relax you even when you're not soaking in a hot spring.
Urami-ga-taki Onsen
This semi-tropical onsen is set overlooking a waterfall that you can watch and listen to while you soak. Be prepared: this onsen is for all genders. If you're shy, you might want to skip it.
Jinata Onsen
The tide must be just right for visitors to be able to take a dip in this onsen in the Pacific Ocean. It's just a few hours from Tokyo by ferry to the island of Shikine-jima where you can soak in pools formed by sea rocks. And when the tide isn't right, there are two other onsens on the island as well as gorgeous places to go for walks.
Takaragawa Onsen
Chill out in the numerous slate-floored pools along the river. Couples like this onsen because most of the pools are mixed-gender bathing, but there is one ladies' only bath. After a little time in Takaragawa, you'll feel less fatigued, calmer, and have improved digestion.
Resorts and Parks
Kusatsu Onsen
More than just a hot spring, this resort is a wonderful place to spend a few days. Go hiking or skiing and then relax your weary muscles in the onsen at the end of the day. They say the waters here heal everything short of lovesickness.
Kinosaki Onsen
Wandering the streets in your bathrobe (yukata) to try different onsen is not completely unheard of in this hot spring town with seven public onsen to try. Spend a few nights so you can visit them all and choose your favorite.
Osaka Spa World
This onsen amusement park has hot springs themed to reflect communal bathing traditions from all over the world. Experience a Roman bath, a Finnish sauna, a Japanese outdoor bath, and more, all in one day. When you need a break for baths and saunas, then you can play arcade games, get a massage, workout in the gym, or eat food from all over Japan.
Odaiba Tokyo
If you don't have time to go exploring rural Japan, you can still experience an onsen right in the heart of Tokyo. This place is a mix of spa and amusement park, you could easily spend a full day there. The Big Common Bath provides the most traditional experience, but there are numerous other spa options to try. The Foot Bath is a great spot for those who want to feel the warmth and relaxation of an onsen but stay clothed because you're just submerging your feet in the spring. You could also try the rock salt sauna or a fish therapy pedicure. On the amusement park side of the experience, try local foods, visit a fortune teller, and play carnival games.
Tsurunoyu Onsen
One of the oldest hot springs in Japan, Tsurunoyu accepted its first guests in the late seventeenth century. Today, it's a beautiful resort with four baths. It's quite rural, but resort staff will pick you up from the bus station and after that the resort will provide everything you need. From luxurious beds to delicious local dishes, a few days at Tsurunoyu is an ideal retreat from the fast pace of daily life.
Are you ready to book your trip to Japan? Let a Japanese Hero do all the planning! And before your trip, check out these articles: