Japan is a foodie's dream come true, and every city has something special to offer. Check out these 7 destinations every foodie needs to visit and find out what makes each one so delicious. After, feel free to message us with any questions you still have.
Want to make the most out of your trip? Tap into our network of local travel planners—Heroes—who build unique, locally-curated trip plans, designed just for you. Get started.
#1: Tokyo
Like any big city, Tokyo is home to a ton of national delicacies. And while hitting up every restaurant in sight should definitely be on your Tokyo to-do list, these are the specialties that the city is most famous for.
Sushi (Edo-style)

If you've seen Jiro Dreams of Sushi (and if you haven't, do so ASAP), you'll know that sushi is at its very best in Tokyo. Sushi in Tokyo is like pizza in New York; sure, you can eat it anywhere, but it's just better here.
Pro tip: you can visit the famous Sukiyabashi Jiro yourself—just have your local trip planner make reservations!
Monjayaki

A large, runny pancake full of meat, fish, and cabbage, is a Japanese street food that's uniquely Tokyo. It's so popular, in fact, Tokyo's Tsukishima neighborhood actually has an official Monjayaki Street! Obviously, it's the best place in Japan to try the dish. And if you like that, check out these foods to bring home from Japan. Seriously though: eating monjayaki is a total must do in Tokyo.
Miso Soup

Every region in Japan has its own unique version of miso, but in Tokyo it's a must-do to try them all. Check out BAR 1CHIDO° for a sampler of Japan's many styles of miso, and decide for yourself which is the best.
#2: Osaka
Osaka has been called the best food city in Japan, and it's easy to see why. If you're trying to figure out what to do in Japan, you could do worse than eating your way through Osaka.
Takoyaki

A fried ball of dough stuffed with octopus, we know takoyaki might sound gross—but it's so, so, so good. Trust us on this one. It's also an Osaka staple, and the city boasts over 650 takoyaki restaurants (to Tokyo's 150 or so). Head to Kougaryu for what's often called the city's best takoyaki.
Okonomiyaki (Osaka-style)

Similar to , okonomiyaki is a firm pancake of flour, yam, cabbage, vegetables, and meat or fish toppings of your choice—all slathered in delicious brown sauce. It can be found nearly everywhere in Osaka, from restaurants to street stalls—though Mizuno is said to grill the best okonomiyaki in the world, right in front of you.
Kushikatsu

Everyone knows tempura, the batter-fried sticks of deliciousness you can get all around the world. Kushikatsu is basically tempura's way-more-delicious cousin. An Osaka specialty, is made by frying skewered meats, fish, and veggies in a breadcrumb mixture, giving it a deliciously crunchy texture. Nom. Head to one of Daruma's 3 locations to try this crispy Osaka treat.
#3: Kyoto
Kyoto is home to some of the finest breweries in Japan, and a tofu craze has made the city a foodie haven. Even if you only have a few days in Kyoto, you'll still want to stuff yourself with everything the city offers.
Tofu

Kyoto recently fell in love with tofu, and you can't blame them because WOW do they know how to make it delicious. Grilled, fried, boiled, and so on, the tofu is fan-freaking- (and everywhere). If you're looking for the best in the city, have your local trip planner create a custom tofu crawl just for you.
Sake

Japan's national spirit (as in alcohol, not ghosts), sake is at its very best in Kyoto. The city's Fushimi district boasts one of the world's largest concentrations of sake breweries and even has its own sake museum. Take a tour, grab and drink, and enjoy the liquid delicacy of Kyoto in for yourself—it's an absolute must-do while you're in Japan.
#4: Kobe
If you're a meat eater, you know where we're going with this. Kobe is a great city on its own, but it's also is a must-visit for any Japanese excursion. Because eating Kobe beef in Kobe is something you have to earn.
Kobe Beef

Frankly, you'd be silly not to indulge. Kobe beef is known as the very best in the world, and maybe the best restaurant to try it at is Steak Aoyama, which has been owned and operated by the same family for more than 50 years. Make sure to have your trip planner make you a reservation.
Gyoza

Not a steak person? No problem. Kobe is also known for its gyoza—delicious fried dumplings filled with seafood, meat, or veggies. Chaochao Sanjō Kiyamachi is said to make the best in the city, but you should probably eat a bunch just to be sure. You know, for science.
#5: Hiroshima
Every dish you love across Japan is made awesome and original all over again in Hiroshima, all of them deserving to be eaten—but especially these local favorites.
Okonomiyaki (Hiroshima-style)

Sure Osaka's Okonomiyaki is the "classic" way to do it, but Hiroshima's version might be even better. Pressing noodles between two crepes to make essentially sandwich, it's Hiroshima's crowning culinary achievement. This dish alone makes Hiroshima a must-visit Japanese destination for any foodie, so head to Mitchan Sohonten Hatchobori for some of the best in the city.
Tsukemen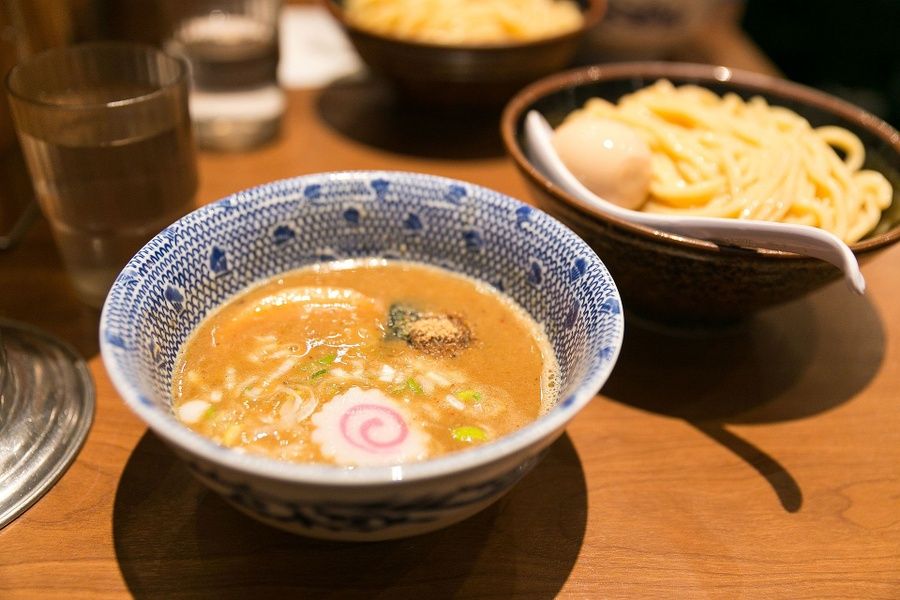 Again—you can find noodles all across Japan. But Hiroshima has , which is an original take on ramen that involves dipping cooled noodles into a hot and spicy broth, promising Hiroshima-style kickass flavors. This dish is not for the faint of heart, so have a local point you to the best spicy noodle goodness around.
#6: Yokohama
Despite being one of the biggest cities in Japan, people often miss getting to Yokohama. But going here is a treat all on its own because it features some of the best ramen in the country and has an omelet dish that you didn't know you've been missing out on all your entire life.
Ramen

Yokohama is such a well-known ramen destination, there's even a museum dedicated to it! Forget the junk ramen you ate in college—Yokohama's flavors range from spicy to savory and beyond. You can find delicious (and affordable) ramen across the city, and your travel planner can find some of the best restaurants for you (because there's almost too much to love).
Omurice
Omurice is technically an omelet… but it's SO much more than that. It's as Instagrammable as it is delicious—if you don't believe us, watch how it's made and get to Yokohama ASAP to try it for yourself.
#7: Nagoya
Only a short train ride away from Kyoto, Nagoya is one of Japan's hidden gems—for food as well as fun.
Hitsumabushi

A dish you won't find anywhere else in the world, is a grilled eel-and-rice dish that will seriously make you want to move to Nagoya. Head to Houraiken for some of the best around.
Miso Katsu

Katsu is a popular fried pork dish across Japan (and the world), but Nagoya's spin on the delicacy takes it to another level. Instead of serving the cutlet with a traditional broth, Nagoya katsu is served with a thick miso sauce that could be described as "a revelation."
--
More questions about where to eat in Japan? Talk to one of our Japanese travel experts or message us directly. Plus, check out: