Are you planning a trip to Tokyo and super stressed about making sure you see it all? We got you.
As the largest city in the world, there are no shortage of amazing things to do in Tokyo. As a visitor to the city, you want to see them all. However, it would be impossible to see all of Tokyo in a few years, much less a long weekend.
Here is the best piece of advice for tackling Tokyo as a traveler: slow down, and appreciate the places you do get to see. Once you give the article a read feel free to message us any questions you still have about discovering the very best Tokyo has to offer!
Want to make the most out of your trip? Tap into our network of local travel planners—Heroes—who build unique, locally-curated trip plans, designed just for you. Get started.
This video provides an informational overview of the city, and is a much watch before a trip to Tokyo:
The best way to ensure you have a unique visit to Tokyo is to have one of our local experts create your itinerary. Our Japanese locals will construct a completely personalized trip, packed with insider tips and off the beaten path locations. If you want to quit stressing about planning, let your Hero take care of it for you.
For the essential places, here is an itinerary of can't miss spots in Tokyo. As the city is very large, this guide is broken down into North, South, Central, and West Tokyo (for your sanity). However, don't neglect the small things, like browsing local supermarkets—these are often some of the most memorable experiences on a trip.
Tokyo Itinerary:
Central Tokyo
As one of the busiest parts of the city, many tourists cling to Central Tokyo. There are endless sights to see and places to go.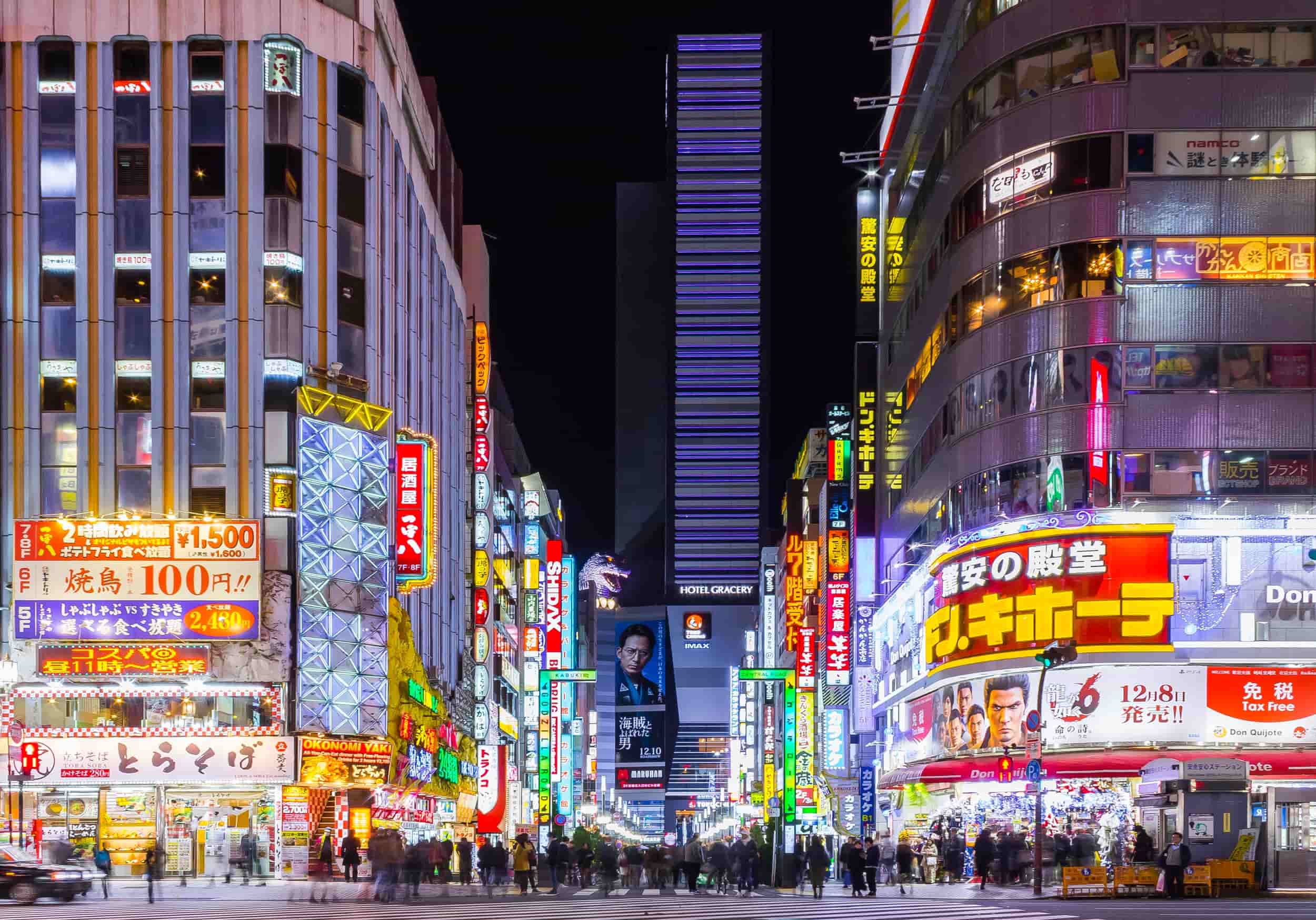 Tsukiji Fish Market
Everyone says that same thing—all visitors to Tokyo must see the Tsukiji Fish Market. This is the world's largest, busiest fish market. It opens very early in the morning, so stop by if you wake up from jet-lag and are looking for something to do. Be sure to get a sushi breakfast when visiting.
Ginza
Ginza is one of the most famous shopping districts in Tokyo, filled with over-the-top, high-end stores. Even if you don't plan on buying anything, it is worth it to window shop in these extravagant stores. Don't miss the nine-floor Uniqlo.
Yurakucho
This neighborhood is famous for its restaurant district, located under the JR train tracks. Restaurants range from tiny spots to grab a beer, to elegant dining experiences. The area is very popular with Japanese businessmen, so stop by after work hours to people watch (and grab a drink).
Ryogoku
Head into Ryogoku to catch a sumo practice or match. Ask one of our local Heroes if they have a favorite spot to catch a sumo match.
Hibiya Park
This sprawling park is a great place to escape the hustle and bustle of central Tokyo. The dense foliage and ponds are home to many rare species of bird, so keep your eyes and ears open while strolling the grounds.
Akihabara
Also known as "Electric Town," Akihabara is known for its dense collection of electronic stores, arcades, and manga shops. The main road is closed on Sunday for pedestrian traffic, which makes it a great time to explore.
Imperial Palace
This palace is the home to the Emperor of Japan. The castle is surrounded by lush and beautiful parks that are open to the public to explore.
Northern Tokyo
Shop and visit history in Tokyo's northern neighborhoods.

Tokyo Sky Tree
As the tallest building in Japan, there is no place better to get a view of Tokyo and its surrounding mountains. There is a cost to get in, and advance reservations are suggested, but if you are going to pay to see any view, this is the best one.
Sensō-ji Temple
There is nothing quite like the experience of seeing Sensō-ji, Tokyo's oldest temple, built in 645 AD. This spiritual place is sure to be a highlight of your trip. There are hundreds of temples in Japan—be sure to ask one of our travel planners what their favorite off the beaten path temple is.
Asakusa
Leading to Sensō-ji is the district of Asakusa, famous for its shopping. The covered Nakamise Arcade sells trinkets and souvenirs.
Western Tokyo
Ebis
Built on the site of a former brewery, it is no surprise that ebisu is known for its high concentration of bars and restaurants.
Meiji Shrine
A symbol of the city, Meiji Shrine was built in 1920 in honor of Emperor Meiji and his wife, Empress Shōken. There is a large Torii gate leading to the entrance of the Meiji Shrine complex, and the entire area is surrounded by a dense forest.
Shinjuku Golden Gai
Get ready to party the night away in Golden Gai. The area is renowned for its architecture because it is representative of what "old Tokyo" looked like. The area is six tiny alleys, lined by almost two hundred tiny bars (hence being known for drinking and architecture).
Shibuya Crossing
Is it touristy? Yes. Is it still an incredible thing to see? Yes. At this massive intersection, ten lanes of traffic come to a halt and nearly 1000 pedestrians scramble across the street.

Harajuku
Take a visit to the famed center of Japanese teenage culture. Japanese teenagers adore the Harajuku style, which is extreme and fashion forward. Wander down Takeshita Street and appreciate all the shops and boutiques.
Shinjuku
A major commercial area in Japan, a trip to Tokyo wouldn't be complete with experiencing Shinjuku. The area is known for its shopping and nightlife. Be sure to checkout the red-light district, Kabukicho.
Yoyogi park
If you're looking for a place to relax, Yoyogi Park is nearby. This park is a popular meeting place for all sorts of Japanese citizens, and it is not uncommon to see people practicing juggling, martial arts, dance, and more in this park!
Shimokitazawa
Another commercial entertainment district in Tokyo (you may have noticed, there are quite a few). This one is "for the hipsters." Wander streets of tiny cafes, shops, and restaurants. There are so many to check out, it is likely you will stop through again the next day!
Tokyo Metropolitan Government Building
If you want to see a view of the city, but don't want to pay for the Tokyo Sky Tree, head over to the Tokyo Metropolitan Government Building and visit the free observation deck.
Southern Tokyo
Roppongi
Another shopping area in the city, Roppongi is known for being one of the most diverse areas in the city. It is very popular for tourists and expats, and is one of the best places to meet people from around the world in Japan.

Mori Art Museum
What is a vacation without visiting a museum? There are endless museums scattered across Tokyo, but one of the most popular is the Mori Art Museum. This modern art museum has a unique collection of pieces, and is very close to the Roppongi area.
Nezu Museum
If you prefer pre-modern museums, check out the Nezu and inspect art like Edo folding screens, calligraphy, sculpture, ceramics, textiles and more. These pieces had to be hidden during WWII.
Minato
This list must end with another bar/entertainment district. Hang out by the sea, check out the famous Tokyo Tower, and temple hop around the exciting Minato district.
Have more questions about traveling to Japan? Here is a list of our local Japanese travel experts who can help you or you can message us any questions you have. And before your trip, make sure to check out: