When you go off-the-beaten-path in Tokyo, you're bound to find some of the world's weirdest attractions, complete with robot battles, hedgehog cuddles, and underground temples. Take a gander at our inside info about bizarre Tokyo hotspots.
Want to explore Japan differently? Have a local plan your trip.
#1: The Robot Restaurant: where you can witness robo-battles over dinner
In this choreographed laser show, women in glittering bikinis direct four-legged robots into a cabaret battle between good and evil. The shows here are absolutely unlike anything you've ever seen before; even if your itinerary is time-sensitive, the Robot Restaurant is a must-do while you're in Japan.
Tokyo's Robot Restaurant

dinner-theatre extravaganza sells tickets for about $50-100 USD a pop, but they're well worth it.

The restaurant also produces funky seasonal shows, like their spooky Happy Halloween and Merry Christmas specials.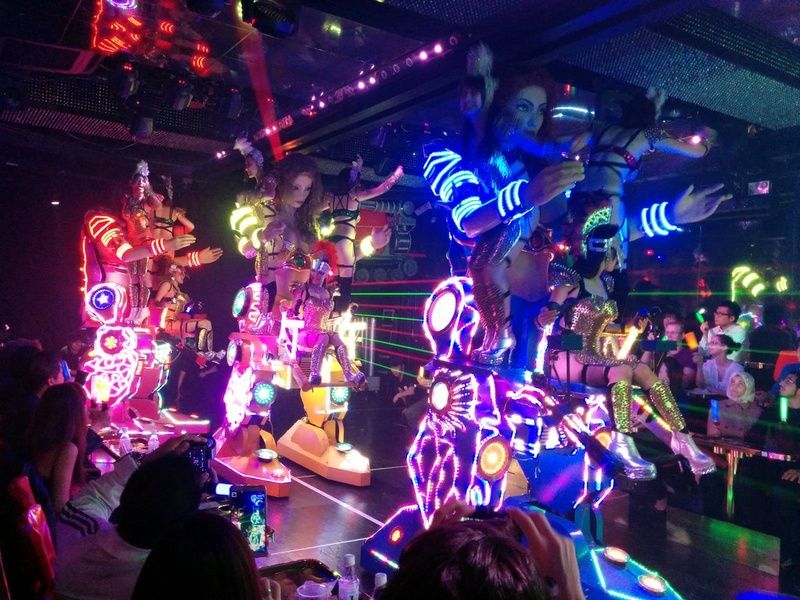 #2: Alcatraz E.R.—a prison/hospital themed bar
You haven't had the authentic themed bar experience until you've survived a night in the prison / hospital-themed Alcatraz E.R. Bar. Prisoners—ahem, visitors—are handcuffed and led to their cells, where they get the attention of waiters by hitting the prison bars.
Alcatraz E.R. is an

izakaya

, one of Tokyo's bars that also serves up snacks—although we're not sure if a "Blood Transfusion cocktail" with a side of spicy trail-mix "pills" are your typical snacks.

While Tokyo is a great

family destination

, themed bars like Alcatraz E.R. definitely have some adult themes that might be a little hard to explain to the kids.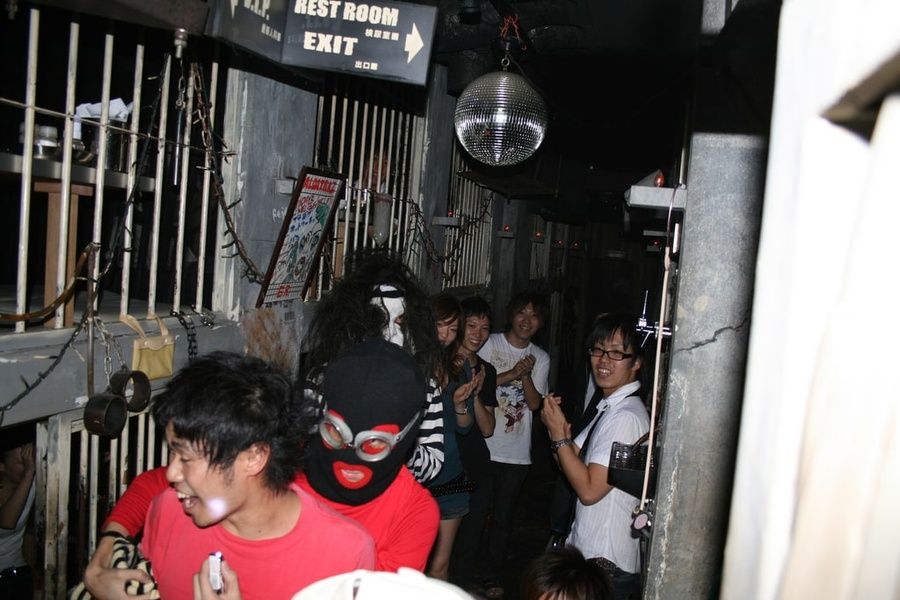 Update: As of October 2018, Alcatraz ER has permanently closed. Rest in creepy peace, Alcatraz ER.
#3: The Meguro Parasitological Museum
The Meguro Parasitological Museum makes for an off-the-beaten-path afternoon trip that gives a whole new meaning to "make your skin crawl"—especially with its displays of over 300 parasites with descriptions of how they infect their human hosts.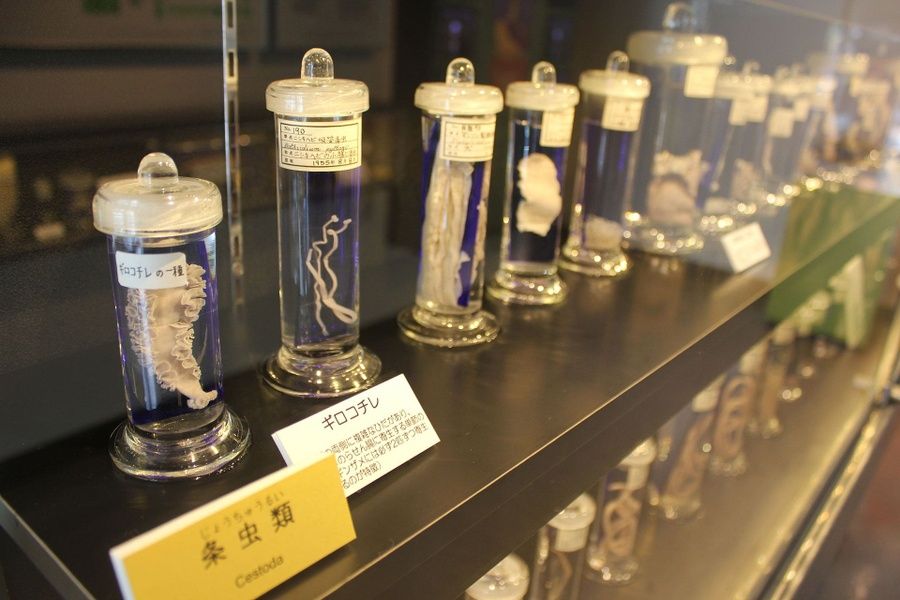 #4: The Kawaii Monster Cafe—the weirdest cup of coffee you'll ever have
The Kawaii (meaning "cute" in Japanese) Monster Cafe is the ultimate tribute to the Harajuku district's outrageous sense of style. An ultra-cute cafe during the day and a burlesque dinner theatre at night, the Kawaii Monster Cafe is basically The Powerpuff Girls on steroids.
Take the kids (or just your inner kid) during the day, when the cafe transforms into a playground-amusement park hybrid, complete with a

sugary menu

a la Willy Wonka.

The

Kawaii Monster Cafe

draws fans to Tokyo from all over the world—ask a local

Hero

about the best times to go so you don't get stuck in any lines.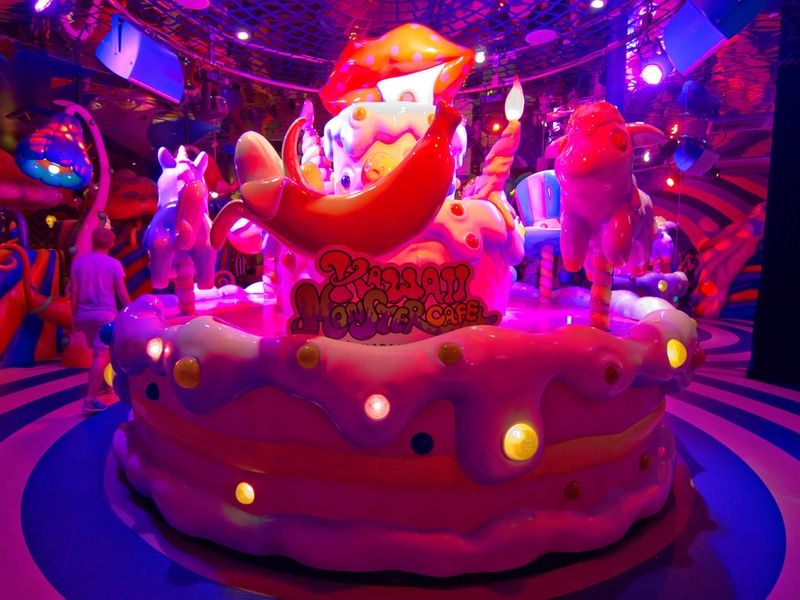 #5: The Zauo Fishing Restaurant—yeah, you actually go fishing here
You know the old saying, "Give a man a fish and you feed him for a day. Teach a man to fish and you feed him for a lifetime." Well, the Zauo Fishing Restaurant takes this saying quite literally, as guests get to fish out of tanks for dinner!
Rent a fishing pole for just 100 yen, grab some free bait, and go to town. The type of fish available varies, but you can almost always get the delicious red snapper.

If you just so happen to catch a fish, you get a discount on your meal. You get to choose how your fish is prepared:

sashimi

(raw), grilled/boiled, deep-fried, or sushi.

Japan

is one of the world's largest

seafood hubs

—what better way to get a

true Tokyo experience

than by bringing in the daily catch yourself?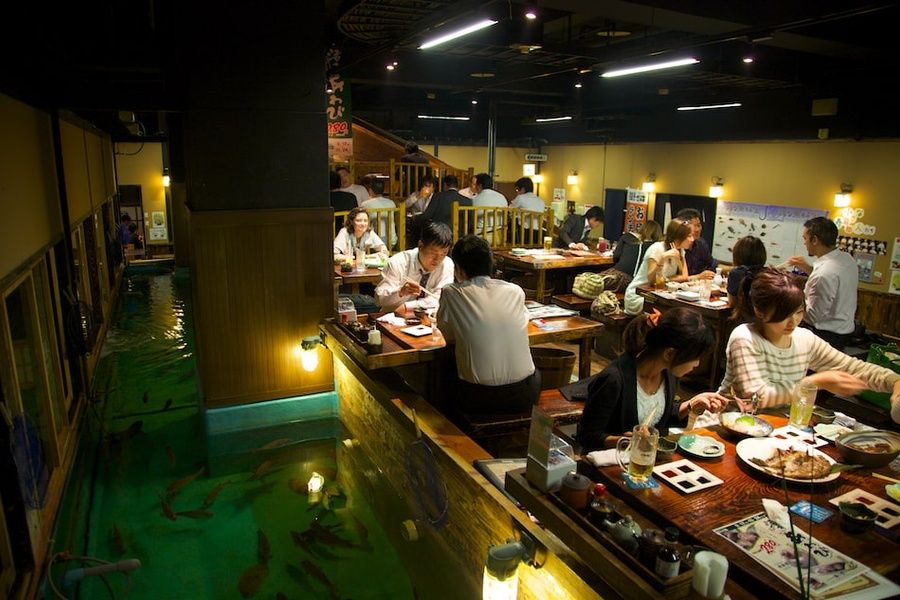 #6: Real-life Mario Kart races—challenge your friends, N64-style
As the birthplace of Nintendo, Japan is the ultimate place to go for testing your Mario Kart skills—why not bring it on the streets of Tokyo? MariCar Tokyo sets up game players with go-karts and costumes, but you have to bring your own game face.
The MariCar race/tour is an awesome way to see Tokyo's iconic spots like the Tokyo Sky Tree, the

Rainbow Bridge

, and Tokyo Station.

You'll need to have a

valid foreign license

and passport; after all, you're driving an actual car at 50 mph through

Tokyo

! Don't get left on the sidelines—check in with a

Hero

to make sure you have all your paperwork.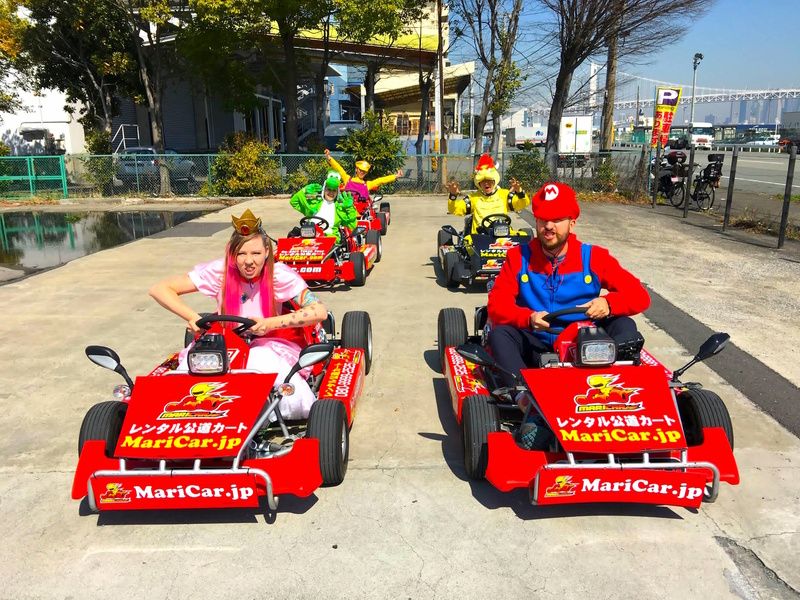 #7: The Anata No Warehouse Arcade—this isn't your dad's arcade
Bringing us back to the 80s with an apocalyptic cyberpunk vibe, the Anata No Warehouse Arcade is a faux-sketchy, rusted building replete with 5 floors worth of retro and contemporary games. The Warehouse is modeled after Hong Kong's Kowloon / "Walled City" and transports visitors into an alternate reality with pretend grunge, lakes of acid, and mysterious dentist offices.
It's only a 20-minute train ride from

Tokyo Station

to

Kawasaki Station

—totally worth it considering the crazy attention-to-detail the designers put into the arcade!

Tokyo

(and Japan in general) are the textbook definitions of retro-gaming capitals—don't miss out on an authentic Tokyo experience at the arcade.
#8: The underground Tamagawa Daishi Temple
Also known as "The Buddha's Stomach," the Tamagawa Daishi Temple looks like a typical Japanese temple on the ground level—it's what waits 16 feet below the ground that's the real experience. After you make an offering of 100 yen at the top of the underground staircase, you'll descend into total darkness, eventually coming to a candlelit grotto filled with hundreds of Japanese Buddhas.
Built nearly 100 years ago, the tunnels of Tamagawa Daishi go for about 300 feet, with darkened tunnels meant for contemplation and a soul's journey from darkness to enlightenment.

No pictures are allowed in this very sacred space—leave your phones and cameras off and be totally present. Not sure about

Japanese temple etiquette

? Check in with a

Hero

for some tips.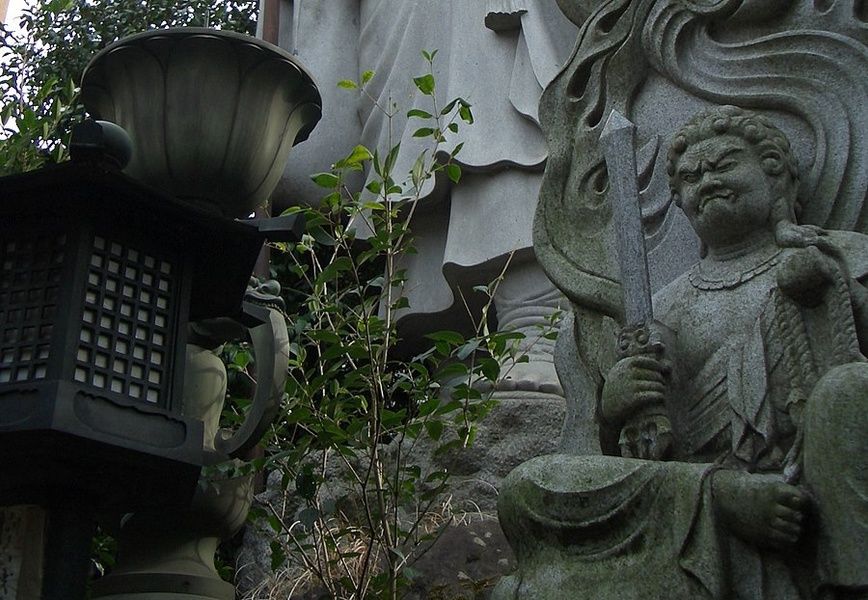 #9: The Ikebukuro Earthquake Museum—it's bizarrely interactive
Earthquakes are a fact of life in Japan—why not get the truly immersive Tokyo experience and see how you do in a 6.2-sized quake? The Ikebukuro Earthquake Museum is basically an obstacle course where you aim a fire extinguisher, crawl through a smoke maze, and find good hiding places during an earthquake.
While the odds are that you won't experience an honest-to-goodness earthquake during your travels, you'll have earned your "prepper" badge after taking

Ikebukuro's earthquake course

.

Definitely off-the-beaten-path in terms of your typical tourist activities, the Ikebukuro Earthquake Museum gets your adrenaline pumping—our

Heroes

know the best times to go to this rather immersive activity.

#10: The Harry Hedgehog Cafe—cuddle with adorable hedgehogs!
The Harry Hedgehog Cafe is a comfy little establishment in the Roppongi district where guests sip on hot tea while holding teacup-sized hedgehogs in the palms of their hands. It's absolutely as adorable as it sounds, and while hedgehogs might sound like a weird basis for a cafe, these cozy critters are guaranteed to become your new obsession.
Reservations

are a must—the 30-minute cuddle slots are in high demand, so pencil in the hedgehogs to your personalized itinerary way in advance.

If you can't get enough cuddles, the cafe owners also run little cafes for bunnies, chinchillas, otters, and fennec foxes—really, the sky's the limit for cute Tokyo adventures.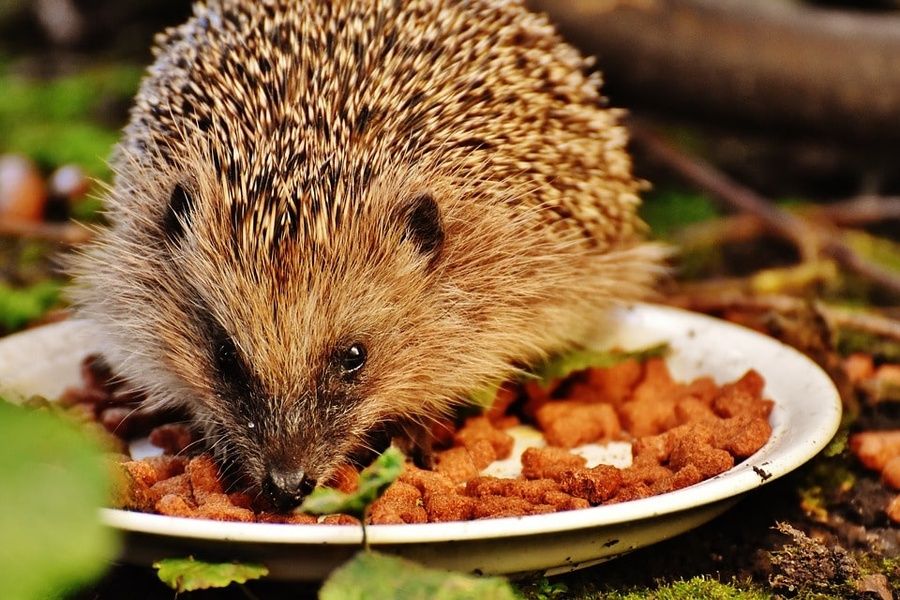 #11: The Gotokuji Cat Shrine
The birthplace of Japan's iconic waving red-and-white cat (Maneki-neko), you seriously can't miss the Gotokuji Cat Shrine. With hundreds of cat statues watching your every move, Gotokuji straddles the line between cute and creepy.
Maneki-neko statues cover almost every foot of space at

Gotokuji

, varying in size from a few inches to a few feet, and coming in almost every color in the rainbow for different kinds of luck.

Beckoning with their left paws to bring luck to businesses or raising their right paws for safety at home, these fortunate felines accept offerings and wishes for the future.

While the Maneki-neko is popular worldwide, not many tourists know that Gotokuji is actually easily accessible, making it one of

Tokyo's hidden gems

.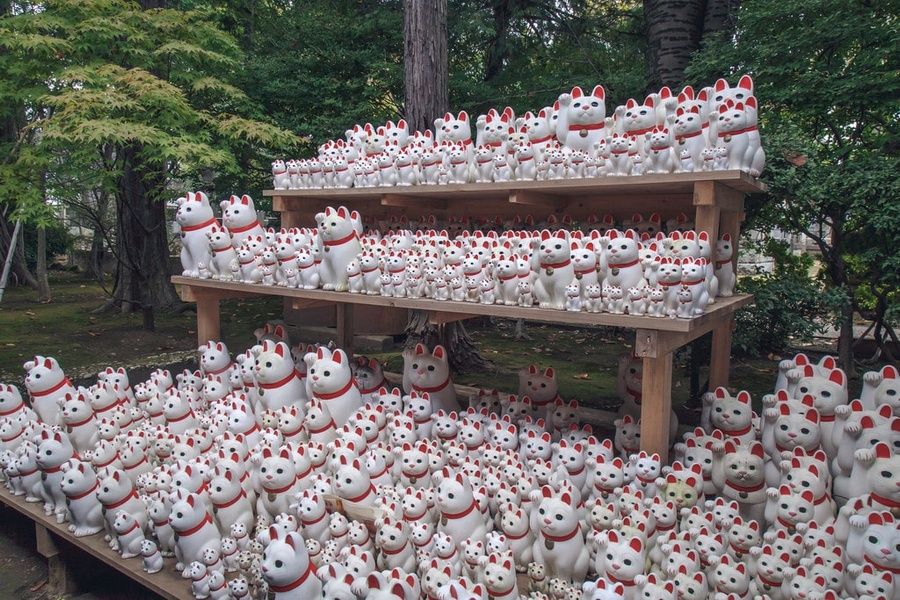 #12: The Yayoi Kusama Museum—wander among polka-dotted pumpkins
You know you've made it in the art world when you have an entire museum to yourself—enter Yayoi Kusama, whose life-sized surreal exhibits transport visitors to totally outlandish worlds. The 5 floors of the Yayoi Kusama Museum are all about immersion, bringing visitors into the hallucinations that Kusama experienced from a young age.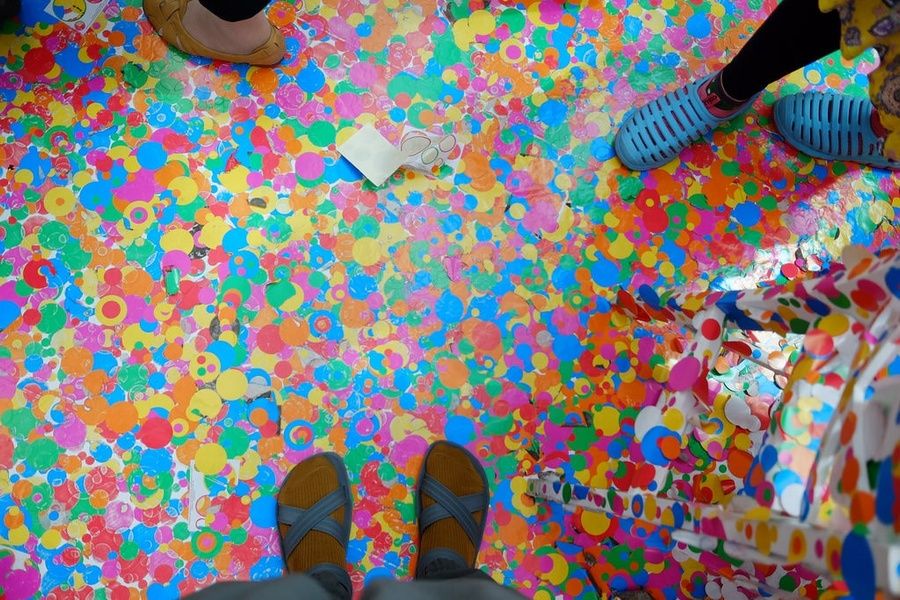 We see you packing your bags for Tokyo already! We seriously can't blame you—after perusing these weird Tokyo attractions, you're ready to start your genuine, off-the-beaten-path Tokyo adventure. Get connected with a Hero, and build your ultimate trip with these handy tips: