Super-cute, Insta-worthy, bizarre, and beyond—when it comes to Tokyo sightseeing, you get it all. Whatever you're into, make sure to add these 10 amazing Tokyo sightseeing spots to your list of must-dos in Tokyo.
As you read, remember: these 10 incredible spots are only the beginning of Tokyo's countless sightseeing adventures. With a local Tokyo travel expert planning your trip, you're bound to find even more Tokyo gems.
#1: Tokyo Tower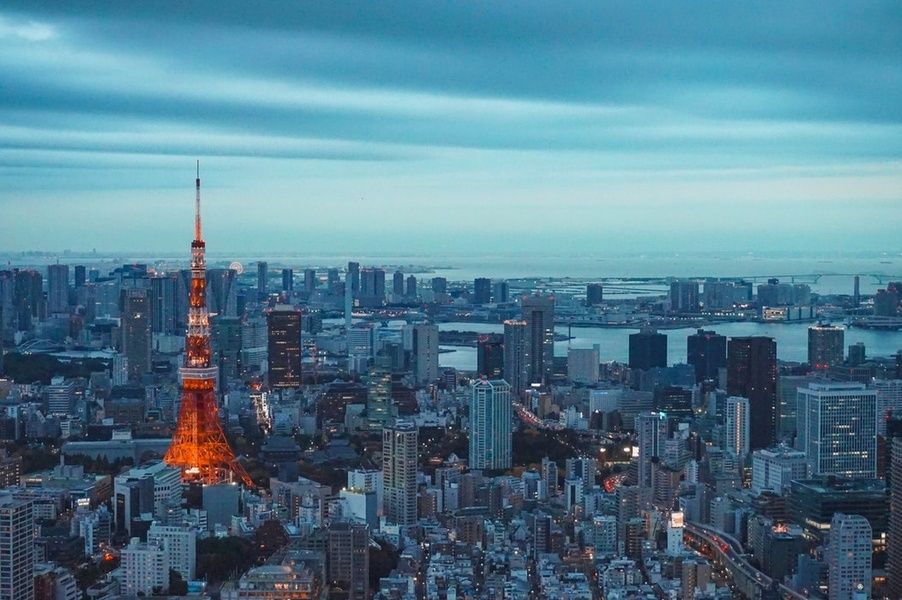 Tokyo Tower pierces the skyline of Tokyo's Minato ward, just a 5-minute subway ride from Tokyo Station. Most tourists visit at sunset for dramatic views of Tokyo and Mount Fuji, but the most unmissable view is actually from the ground. On Saturdays from 8 PM–10 PM, Tokyo Tower is illuminated with a "Diamond Veil," a gorgeous light show with different patterns and colors than the usual "Landmark Light" illumination.
#2: Golden Gai Alleys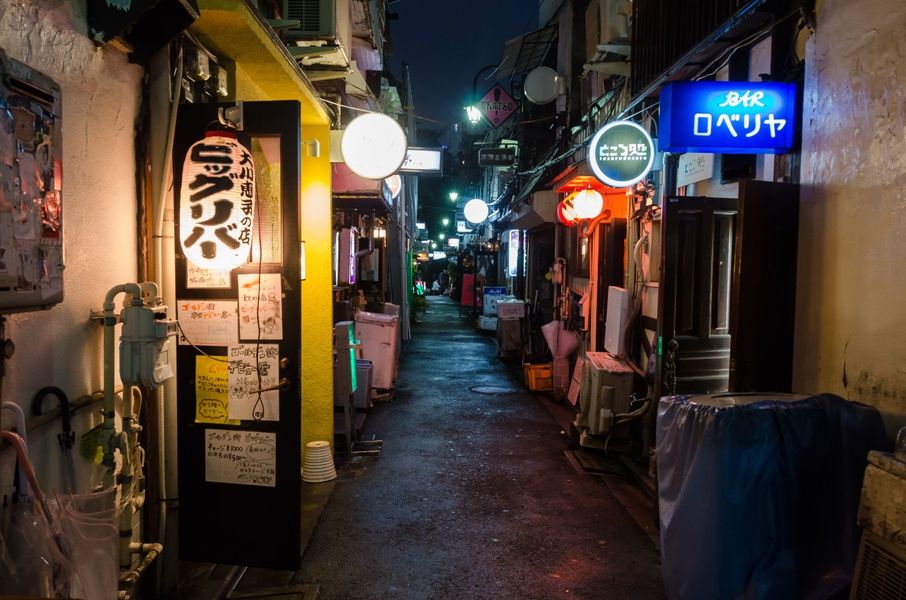 The Golden Gai alleys are some of Tokyo's most unique, picturesque spots. With around 200 bars packed into six small alleys, Golden Gai is not only a fantastic place to experience Tokyo's nightlife; it's also safe for foreigners and one of the best places to stay in Tokyo for a local experience. Although some bar signs / menus will be in English, get some local tips about what to order before you go.
#3: Tokyo Skytree Panorama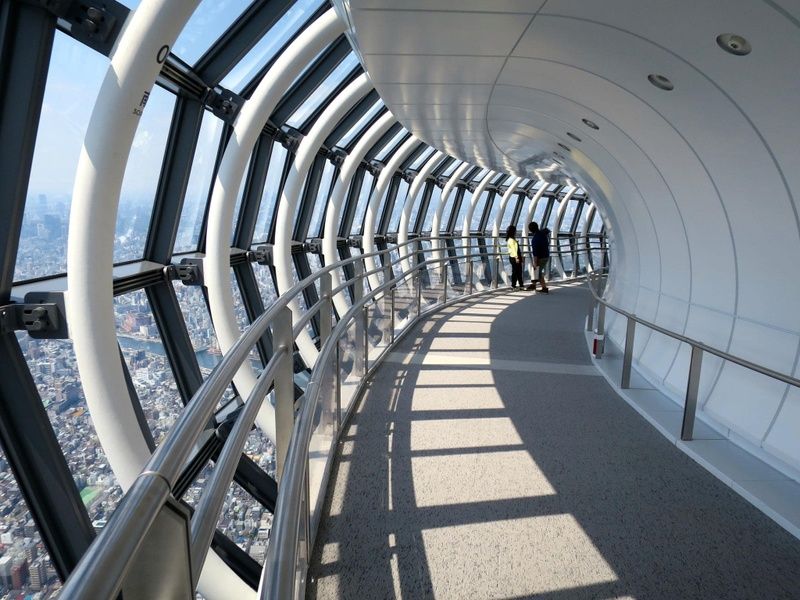 At nearly 1,500 feet high, the Tokyo Sky Tree Panorama is the perfect birds-eye view of Japan's capital. Since the Tokyo Sky Tree is a subway stop as well as a landmark, it's super easy to get to (one of our biggest tips for planning a trip to Japan: use the subway—it's so much easier and cheaper than getting a cab). Expect to pay around $30 USD to reach the Tokyo Sky Tree Panorama, or $42 USD for Fast Skytree Tickets, express tickets available to international tourists only.
Pro tip: If you're looking for fantastic, uncrowded views of Mount Fuji, take advantage of a sunny day and get over to the Bunkyo Civic Center, a 10-minute subway ride from Tokyo Station.
#4: Nakamise-dori Street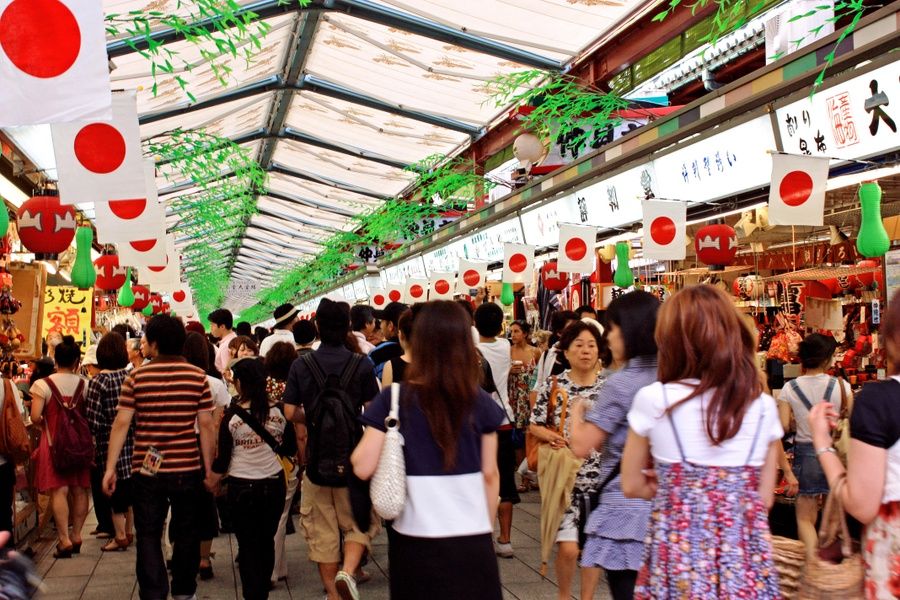 The main street of historic Tokyo, Nakamise-dori is smack-dab in front of Senso-ji, Tokyo's oldest Buddhist temple. Nakamise-dori is the #1 stop for finding cool things to buy in Japan (and you know you've got the real deal when Tokyo locals do their shopping here too).
Since the shops don't close until 7 PM, you'll not only find superb photo ops as the sun sets behind Senso-ji—you'll also be ready to bar-hop around Senso-ji, easily one of the most awesome things to do in Tokyo at night.
#5: Toyosu Fish Market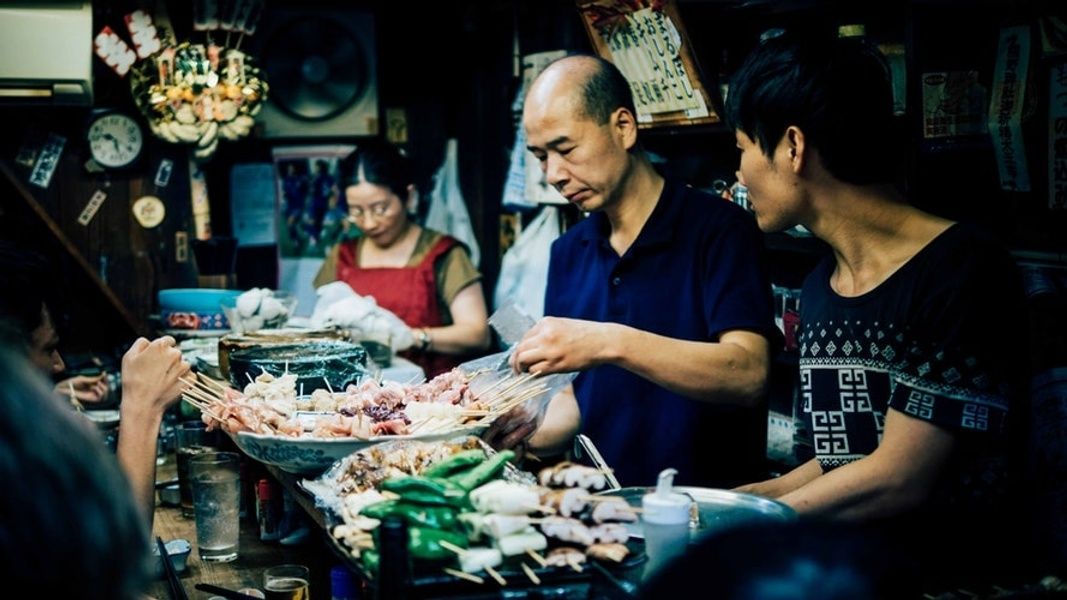 Bear witness to the organized chaos of seafood auctions at the Toyosu Fish Market. A 40-minute subway ride from Tokyo Tower, the Toyosu Fish Market is at its best from 8 AM–10 AM, when the crowds aren't unmanageable and restaurant buyers are still haggling. Like some other amazing things to do in Tokyo, Toyosu is closed on Sundays, so plan accordingly.
Pro tip: The Toyosu Fish Market is actually the reopened, revamped version of the Tsukiji Fish Market, which relocated in 2019 to its new location. Find more essential Japan travel tips by getting in touch with a Tokyo travel expert.
#6: Shibuya Crossing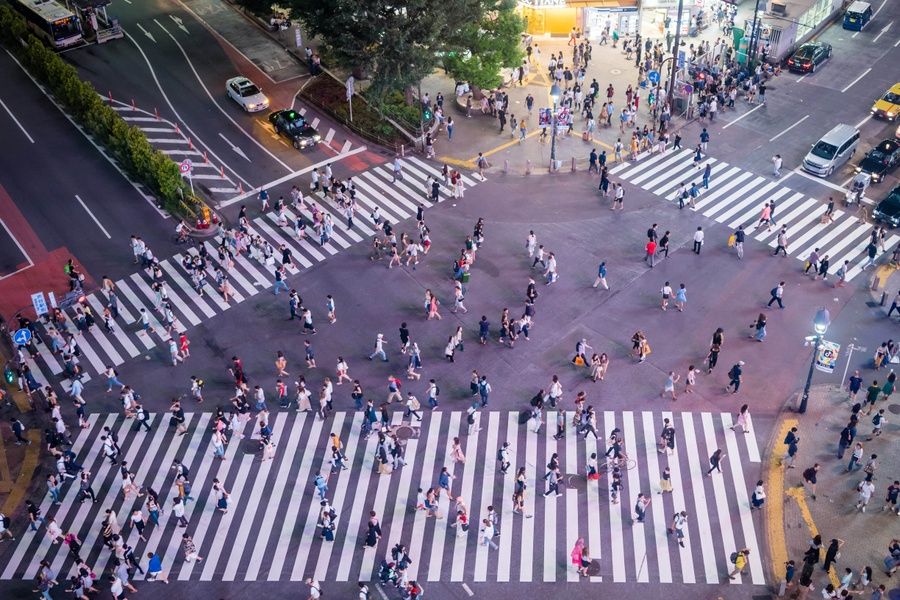 The busiest intersection in the world, Shibuya Crossing is the dictionary definition of organized chaos. This crazy Shibuya experience involves up to 3,000 people moving in the "Shibuya scramble," heading 7 different directions at once. For the full effect, Shibuya Crossing is best viewed after nightfall, from above, and for free at nearby shops like Starbucks or L'Occitane.
#7: Ginza Shopping Districts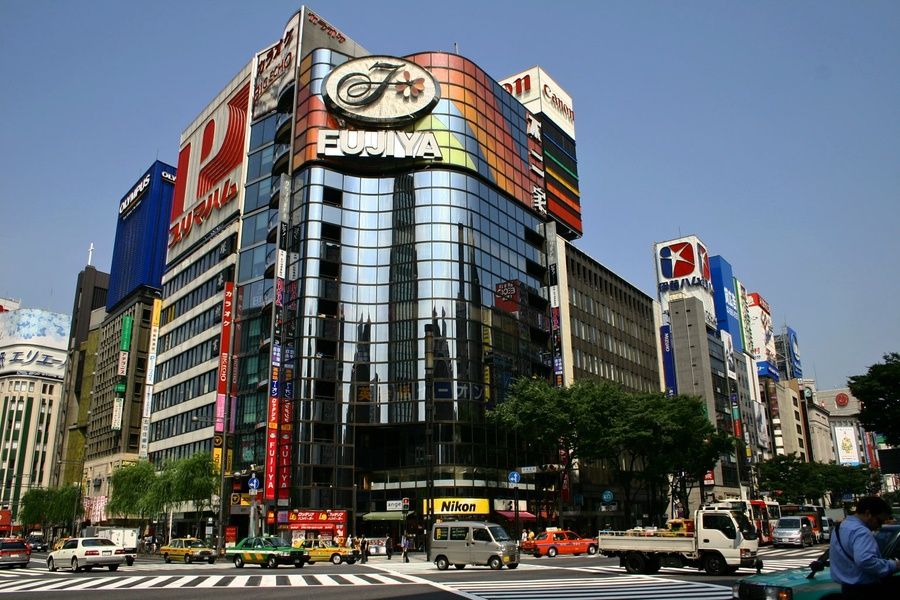 Japan's capital for the latest fashion trends, Tokyo's glitzy Ginza district is perfect for window-shopping and people-watching (we got you, Japan budget travelers) or buying out the 7-floor Ginza Mitzukoshi or the 12-floor Uniqlo. If you're spending just a few days in Tokyo and are limited on time, stick to Ginza's Chuo-dori, a pedestrian-only street on Saturdays and Sundays.
#8: Meiji Jingu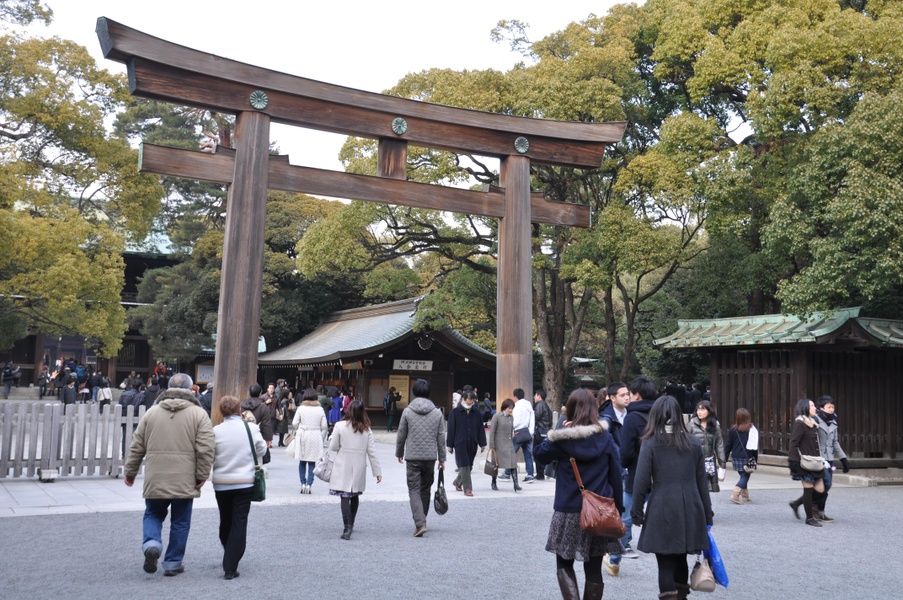 Free to enter and open from sunrise to sunset, Meiji Jingu is a massive Shinto shrine accessible via a massive 40-foot cedar torii gate at the entrance, which leads to 200 acres of parkland. Like many amazing things to do in Japan, Meiji Jingu is best toured with an official shrine guide, who can explain the shrine's practices and get you to the must-sees (rather than wandering 200 acres forever).
Pro tip: For something really special, get to Meiji Jingu on a Sunday morning to see traditional Japanese wedding parties pay their respects to the spirits.
#9: Harajuku's Takeshita Dori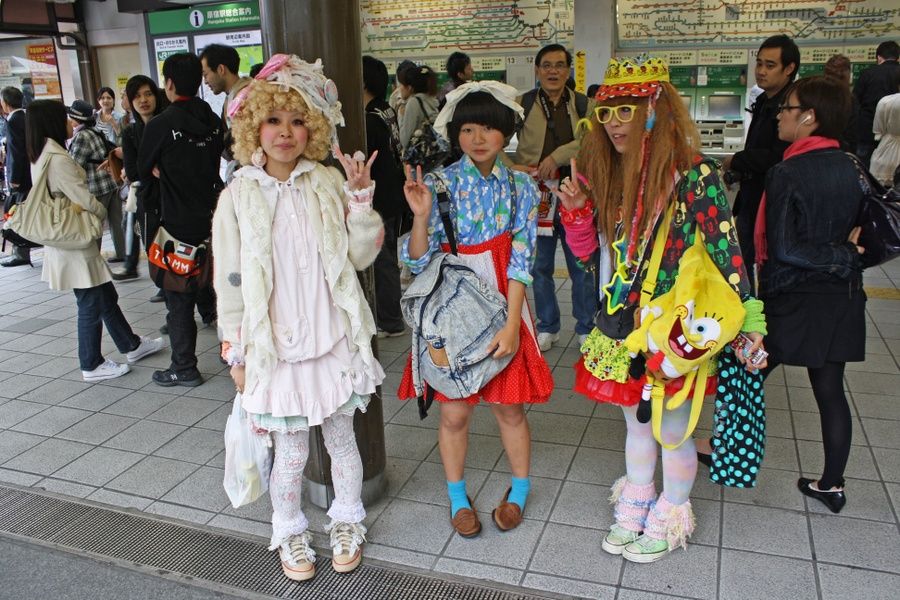 The perfect intro to Tokyo's crazy fashions and cosplays, Takeshita Dori is a main street of the world-famous Harajuku district, a whopping 4-minute walk from the Meiji Shrine. Takeshita Dori is packed with tons of Tokyo must-dos, from the locally-favorite Marion Crepes restaurant to crazy boutiques like DAISO Harajuku.
But the Sunday morning experience is what really makes Takeshita Dori one of those places in Tokyo that every nerd needs to go—it's when Japan's famous cosplayers come out to flaunt their crazy-imaginative styles.
Pro tip: Starting with crazy cosplays and creative crepes, let Takeshita Dori be your gateway to Tokyo's weirdest must-sees, like the nearby Monster Cafe or Tokyo's funky Robot Restaurant.
#10: Tokyo Imperial Palace Gardens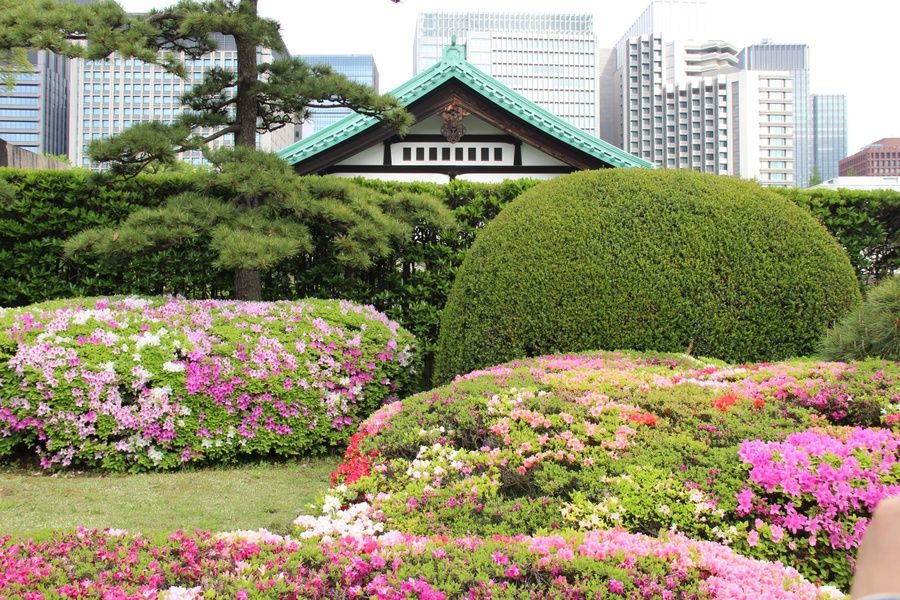 No matter when you go to Japan, the Imperial Palace Gardens belong at the top of your Tokyo itinerary—especially since entry to the gardens is totally free! The Palace Gardens are made up of three sections—Kitonmaru Park and Kokyo Gaien National Garden (which have free, unrestricted access), and the East Gardens (which is free to enter but closed on Mondays and Fridays).
--
The secret behind spectacular Tokyo sightseeing? Having a Tokyo local plan your trip! They'll build the best Japan itinerary imaginable, covering everything from highlights to hidden gems and fitting your interests to the T. Don't be a tourist—see Tokyo like a local. Any questions? Send us a message! And make sure to check out: