Visiting Japan and wondering where to go? That's understandable, as the country is packed with unique towns and must-see landmarks. If you are planning a trip, check out this helpful list and our Japan Itinerary to plan your route across the country.
Once you do, feel free to message us directly for more information on all things Japan!
Want to make the most out of your trip? Tap into our network of local travel planners—Heroes—who build unique, locally-curated trip plans, designed just for you. Get started.
Where to go in Japan?
Tokyo Sky Tree
Tokyo, Japan
As the tallest structure in Japan, the Tokyo Sky Tree provides an unmatched view of the city. The line for tickets to the observation deck can be very long, so be sure to book ahead online. Also, as the spot is popular with tourists, there are many souvenir booths in the tower. If you are looking for something specific (ie: Tokyo banana), there is a chance you will find it here.
Although the tower is big and crowded, it is organized very well. The observation desk is open until 10:00 PM, so consider visiting at night when you can see the entire nighttime skyline.
Golden Gai
Tokyo, Japan
History lovers who like to party will enjoy exploring the Golden Gai in Tokyo. Golden Gai consists of six tiny alleys crammed with almost two hundred bars. These alleys are truly tiny - no car could ever fit down them.
Each building is only a view feet wide, and shoved next to its neighbor. While you won't have any extra wiggle room in the Golden Gai, this is the reason you visit - to rub shoulders with new Japanese friends. Some bars are for tourists, and some are exclusive for local celebrities (yep). You could easily visit the Golden Gai every single night and have a completely different experience. Don't miss this spot when in Tokyo.
Matsumoto Castle
Matsumoto, Japan (2.5 hours from Tokyo)
Known as the "Crow's Castle," Matsumoto is one of the most splendid castles in all of Japan. Be prepared to take a trip back through Japanese history - this castle was originally built in 1054.
There is a lot of historical information on the castle provided, as well as costumed historical figures (who speak English). Between exploring the town, castle, and walking the castle grounds (which are stunning), Matsumoto is a worthy day trip from Tokyo. Be sure to bring good socks - shoes are not allowed!
Fuji-Hakone-Izu National Park
Hakone, Japan
Hakone is located inside of a national park, and is one of the most beautiful places in Japan. As it is very mountainous, there are tons of hiking trails and viewpoints that overlook the famous Mount Fuji. Fuji-Hakone-Izu National Park surrounds Hakone, providing memorable adventures, and the chance to soak in a onsen. Additionally, consider visiting the Open-Air Museum, which has a large Picasso collection.
One of the most famous views in Japan is the Torii Gate on Lake Ashinoko in Hakone.
A final tip: ride the Hakone Mountain Highway (train) in the autumn when the leaves are turning.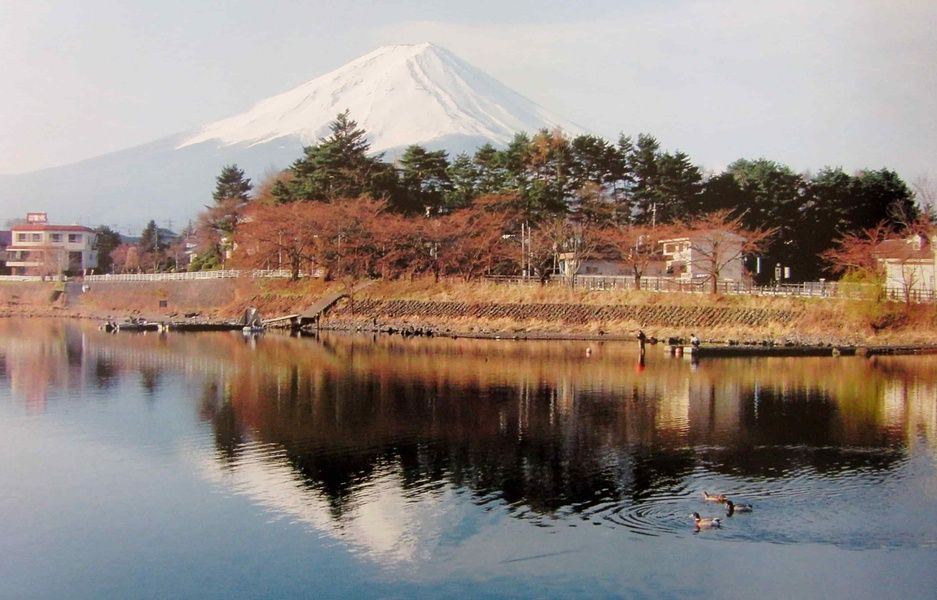 Kiyomizu-dera Temple
Kyoto, Japan
Kyoto is a town known for its impressive collection of temples, but one favorite to visit is the Kiyomizu-dera Temple, a registered UNESCO world-heritage site. This temple dates back to 780, and features a wooden stage that juts out over the hillside below. Although it is located outside of the city, it can get very busy with visitors.
Guests receive a nice view of of the cherry and maple trees below, as well as the city of Kyoto in the distance. Autumn is a great time to visit, as the leaves are changing and are very vibrant in color.
Fushimi Inari-taisha
Kyoto, Japan
This is one of the most famous shrines in Kyoto. The actual Fushimi Inari shrine sits at the base of a mountain. Behind the shrine is a winding trail of thousands of vermilion torii gates that climb up the mountain.
Although this site is very popular and crowded with tourists, the longer you stay on the path, the fewer people you will see. One popular option is to climb the trail at night and see everything lit up. A great mix of religion and nature, do not miss Fushimi Inari-taisha when in Kyoto.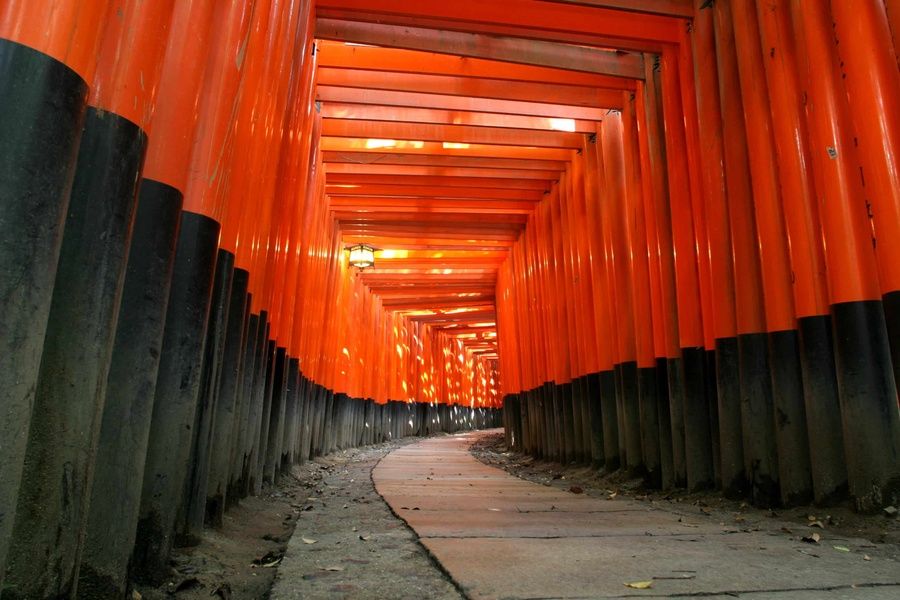 Nara Park
Nara, Japan
Located less than an hour from Kyoto, Nara is a city that is very popular with tourists. Nara is famous for its extremely friendly deer, who let humans pet them. These deer typically hang out in Nara Park, but can be found all over the city.
Additionally, Nara was the original capital of Japan, and has a massive collection of historical sights and temples. It would be nearly impossible to view them all in one day. Be sure to stop through the Nara National Museum, and gain a deeper understanding of all of the sights you're seeing.
Nara has eight Unesco World Heritage Sites, and some popular temples include Tōdai-ji and Hōryū-ji. Nara also has a large collection of natural parks and wooded areas. The nearby Mount Yoshino is covered in cherry blossom trees and is very beautiful in the spring. Isuien Garden and Kazugayama Genshirin are both worth visiting while in town.
Tsutenkaku Tower
Osaka, Japan
Tsutenkaku Tower is the symbol of Osaka. It is located in the famous Shinsekai neighborhood, where it hovers over the streets and shops.
The view from the tower is not the most famous part, so do not expect too much if you make the trip to the top, and don't feel guilty if you just view it from the ground! The surrounding neighborhood is filled with different colors, alleys, and plenty to see. The name "Shinsekai" translates to "New World," and this neighborhood was modeled after New York and Paris. Visitors are typically mesmerized by the retro design, 60s-style advertising, and traditional Japanese restaurants.
Nakasendō
Magome-juku, Japan
For a true trip through a Japanese time machine, make the trip to Magome-juku. Magome-juku was a town along the Nakasendō, an ancient highway that connected Kyoto and Edo (Tokyo) during Japan's Edo period. Travelers would make this journey by foot, and would stop in different villages along the way to rest.
From the remaining villages, Magome-juku is well very preserved and is a great example of what this trip would have been like for travelers hundreds of years ago. The neighborhood is very hilly (as the highway was), so be prepared for a hike. The main street is lined with restaurants and souvenir shops. Complete the experience by staying in a traditional ryokan.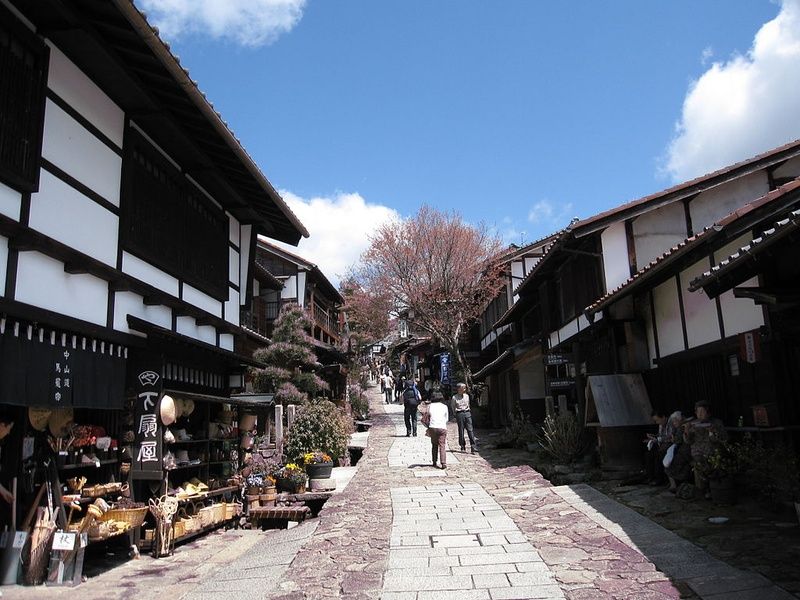 Nagamachi Samurai District
Kanazawa, Japan
Kanazawa is another well preserved town that many call a "smaller, but less busy Kyoto." Additionally, a designated "UNESCO Creative Cities Network," the area is known for its being an artistic village and filled with lush parks and art museums.
For history buffs interested in learning more about the Samurai period, head to the Nagamachi Samurai District, where the city's Samurai once slept. There is a restored Samurai house that visitors can enter and explore. The original samurai residence walls are blended with straw, giving them their distinct yellow color.
The entire area is very quiet and peaceful, as no cars are allowed. Everything is very old and well kept. Designate a chunk of time to stroll around this neighborhood.
Other things to see in Kanazawa include the Kenroku-en Garden the Museum of Contemporary Art in Kanazawa.
Gasshō-zukuri houses
Gokayama, Japan
Snow lovers, this one is for you. The village of Gokayama, and its famous A-line houses, are a UNESCO World Heritage site. This mountainous region has been known throughout history for the tremendous amount of snow that falls in the area.
For homes to be able to support the weight of the snow, they were constructed in the gasshō-zukuri style. These special houses are known for their steeply slanting roofs, resembling "two hands joined in prayer." They are also thatched in a very specific way that allows the building to withstand the snow and prevents any water leaks.
This rare architectural style is very important in Japanese culture, and their preservation over time shows the ingenious engineering of those who designed this style.
The Adachi gardens
Yasugi, Japan
While there are no shortage of stunning gardens and art museums in Japan, art lovers may find it worthwhile to visit the the Adachi gardens in Yasugi, Japan. These traditional gardens stun guests with their bright colors, unique designs, and - most of all - how impeccably they are manicured.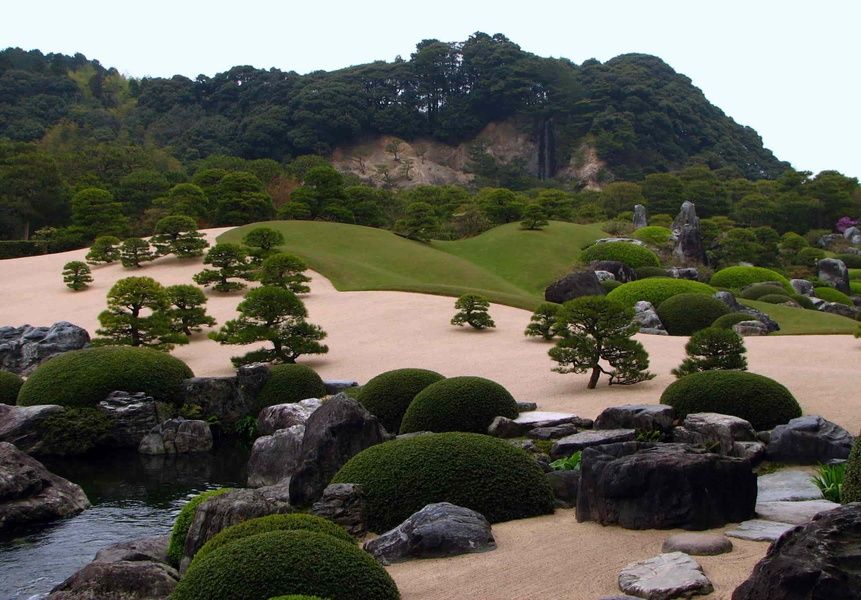 This garden has been voted the "best in Japan" for over a decade. Garden lovers cannot miss this spot - especially those who are already visiting the nearby town of Matsue.
The inside of the museum is impressive as well and provides great views of the surrounding areas. There is even a restaurant where you can enjoy a meal while overlooking the gardens.
Ready to plan your trip to Japan? ViaHero can help! Before your trip, make sure to check out: