We get it: Los Angeles has a terrible reputation when it comes to transportation. But honestly, there are way more transit options than you think—and lots of them are relatively painless. Here's everything you need to know about transportation in LA: how to get around using public transit, what to know about renting a car, and more.
Any questions after reading? Send us a message!
Los Angeles has a
ton
of transportation options
Despite LA's reputation as a car city, it actually has a lot of different kinds of transportation options. Most locals choose to drive (only 12% of households in Los Angeles don't have a car, according to a 2016 survey) but you don't have to rely on rideshares or car rentals. The LA metro is actually super extensive and cheap. Plus, LA has tons of bike and scooter shares, which means you can burn off those fish tacos while zipping around town.
The public transit in LA is surprisingly good
Los Angeles provides a couple of different choices for public transportation—all inexpensive and easy to use. We'll get into the specifics of LA's public transit scene below. Overall, you have a few choices:
The Los Angeles metro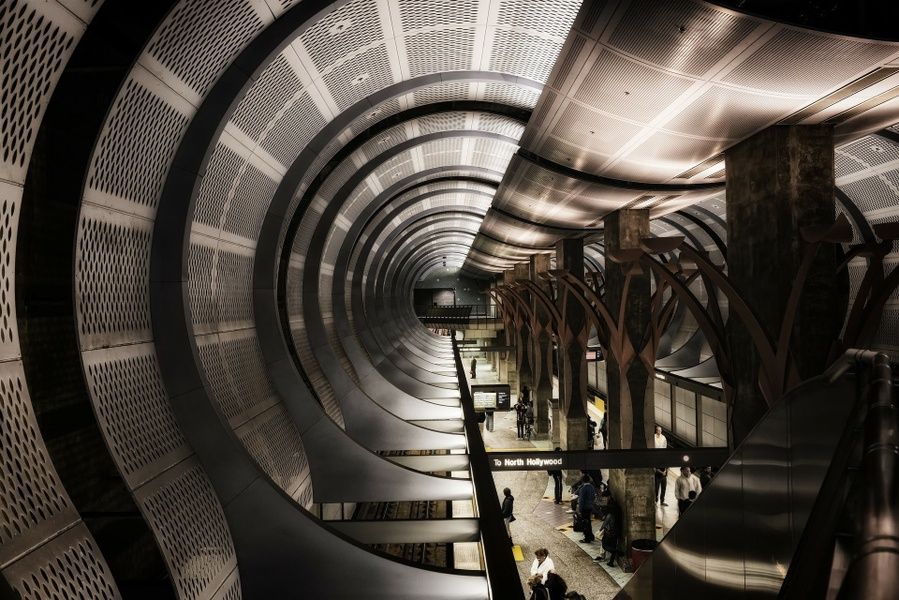 LA doesn't seem like a metro city (we've all seen the SNL skits lampooning California's obsession with car routes) but the metro in Los Angeles is extensive—and growing! You can get between most neighborhoods while using the metro (although you may need to transfer between lines). Plus, a ticket is only $1.75, so using the metro is also a good way to travel to LA on a budget. The LA metro uses two different kinds of trains: heavy rail (underground trains), and light rail (which are mostly above ground).
To use the metro, you'll need to buy a TAP card at a metro station. If you're using it a lot (and we hope you do, there are so many amazing places to visit in Los Angeles), you can refill your card online. Be sure to "tap" your TAP whenever you enter a station—failure to do so can result in steep fines.
Plus, the LA metro is literally so beautiful that it offers free art tours.
Buses in Los Angeles
There are a couple of different kinds of bus systems in Los Angeles. What you use will depend largely on where in LA you decide to stay. Fortunately, you can use your TAP card on buses as well as the metro.
Metro buses

: With their own lanes on surface streets and the freeway, the Metro bus can be a good way to avoid LA's infamous traffic.

Big Blue Bus

: Run by the city of Santa Monica, the

Big Blue Bus

is a good way to get around the city, as well as adjacent communities. It also connects to LAX.

Culver City offers a similar service

.

Dash Buses

: Serviced by the Los Angeles Department of Transportation,

Dash buses

run on loops within specific Los Angeles neighborhoods at a

very

low price.
Pro tip: To easily navigate LA's public transportation, think about downloading the LA transit app (run by LA Metro). Or, just ask an LA local for their transit tips.
Bike and scooter shares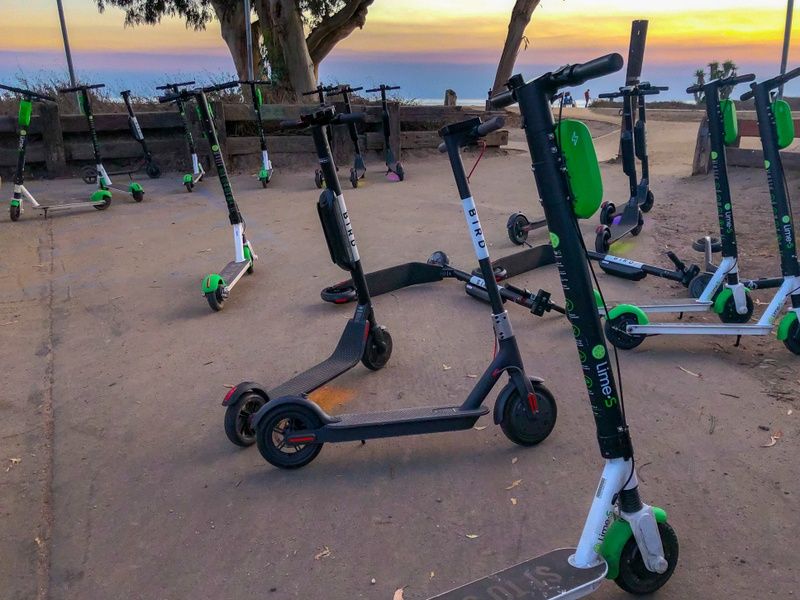 The weather in Los Angeles is perfect nearly all the time, so why not look into forms of transportation that let you enjoy it? Los Angeles is full of rentable bikes and scooters. You only need an app and a sense of fun to use them!
You'll find most of the scooter shares in Santa Monica and Venice, which, with their respective boardwalks, offer a great environment for trying out one of the scooters.
Pro tip: The Los Angeles metro also runs a bike share, and you can use your TAP card to pay for it (as long as you register for bikes on the TAP website). However, you can also use the bikes without a TAP card.
Driving in Los Angeles can be a pain—but it's worth it if you want to explore beyond the city
If you decide to forego public transportation in Los Angeles and rent a car (or take Uber), there are a few things you should know:
Where to rent a car:

LAX does not offer on-site rentals, but most big rental companies provide shuttles to their lots. Other airports do have onsite rentals.

It's true: LA traffic is bad: If you have a car in LA, try to avoid the streets at rush hour when they're the busiest. LA traffic is legendary, and you don't want to waste an entire evening stuck on the 405 freeway.

Parking can be confusing: It's not uncommon in Los Angeles to see someone park, get out of their car, stare at the five or six parking signs, then drive away. The most common signs are about street cleaning days/times, limited parking hours, or residential parking rules. Read closely!

Get help from a local:

For the most seamless experience,

talk to an LA local

for insight on how to navigate the city with a car (like taking Sepulveda Boulevard instead of the 405,

for example

).
Still, having control of your wheels can be a boon in LA. Especially if you're looking to explore the incredible hikes nearby! Travel companies like Bus.com offer easy bus and van rentals. They make it easy to organize large-scale transportation—even with complicated routes or multiple vehicles. Bus.com's van rentals can come with a driver or without! So if you and your group are looking to explore all of LA, this may be a good choice.
For a car-centric city, parts of LA are surprisingly walkable
It's true: you can walk places in Los Angeles. Neighborhoods like downtown Los Angeles, Central Hollywood, and Koreatown all have walkability scores of 90+. If you're looking to avoid the infamous parking/traffic quagmire in Los Angeles, staying in any of these neighborhoods may be a good idea.
Pro tip: While Los Angeles is safe, it's still a huge city and you should take normal precautions. Walking is nice, but if it's night and things feel sketchy, just call an Uber. And if safety is a concern, ask someone who lives in LA for their best safety tips.
How to get to/from the airports (hint: your friend is
not
going to pick you up)
Locals don't love going to the airport. So here's a handy guide for how to get from LA's 5 (!) airports into the city.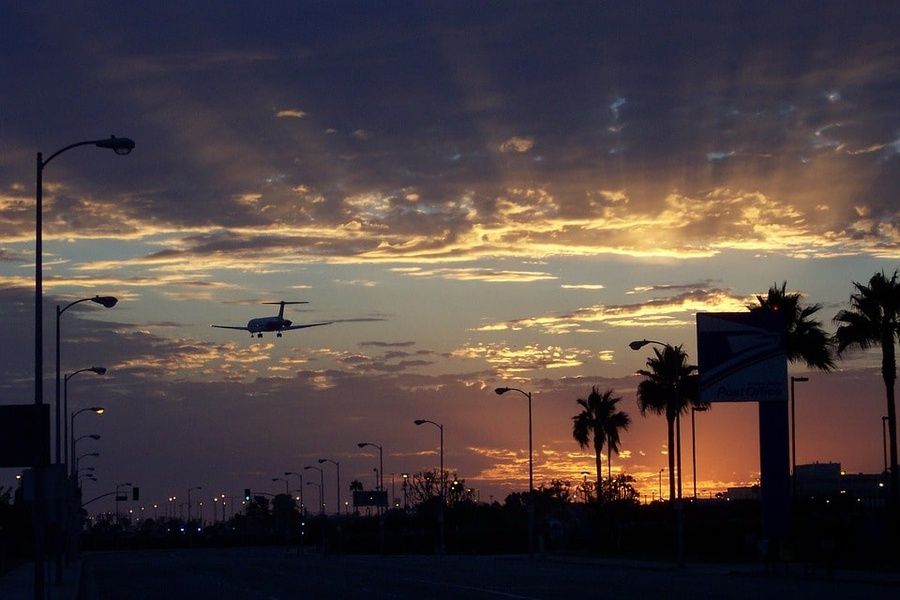 Los Angeles International Airport (LAX):
Flyaway Shuttle
: For between $8–$10 depending on destination, the Flyaway shuttle is a nonstop way to get to a variety of LA locations, including downtown LA and Hollywood.
LA Metro
: The cheapest option is to take the metro. However, it's also a bit complicated: you'll have to transfer lines several times.
Uber/rideshare
: Expensive but direct: Uber will take you right where you need to go. Time is money, y'all!
Hollywood Burbank Airport (BUR):
BUR offers free shuttle service to stops for the Burbank Bus, Metrobus, and Metro. It also has a weekend shuttle called the SuperShuttle to/from the airport to/from the North Hollywood Orange Line/Red Line station.
Long Beach Airport (LGB):
To get to Long Beach, you can take the
Long Beach Transit Bus
($1.25/ride). It is possible to take the bus to downtown Los Angeles, but it's complicated and takes almost two hours.
John Wayne Airport, Orange County (SNA):
Visitors can take the Disneyland Express bus,
Orange County Transportation Authority
buses, or the
i
Shuttle, which goes into Irvine.
Ontario International Airport (ONT):
ONT has multiple options for
public transportation
. However, if downtown LA is your destination, it will take significantly more time to use public transportation than to drive or use rideshare.
--
Now that you know a thing or two about Los Angeles transportation, you're all set to take on the city of angels. To make your LA travel even easier, ask a local for help designing an itinerary that caters to *your* interests—they'll even throw in their best transportation tips! Plus, our LA trip planners will be on hand with 24/7 phone support in case you run into any issues. Questions? Send us a message!