With so many things to do in Mexico City, it can be hard building an ideal itinerary. Fortunately, we've got your back! Check out these 3 unique itineraries for 3 days in Mexico City: one focuses on Mexico City's biggest sights, another emphasizes off-the-beaten-path activities, and the third is all about day trips. Any questions after reading? Send us a message!
Want to explore Mexico differently? Have a local plan your trip.
Itinerary #1: Mexico City's Major Attractions
In this itinerary, you're going to hit the big, must-visit spots in Mexico City.
Day 1: Chapultepec, Museums, and Gourmet Dinner
Day 2: Coyoacan, Frida Kahlo, and Classy Nightlife
Day 3: Centro Historico, Palacio Nacional and Templo Mayor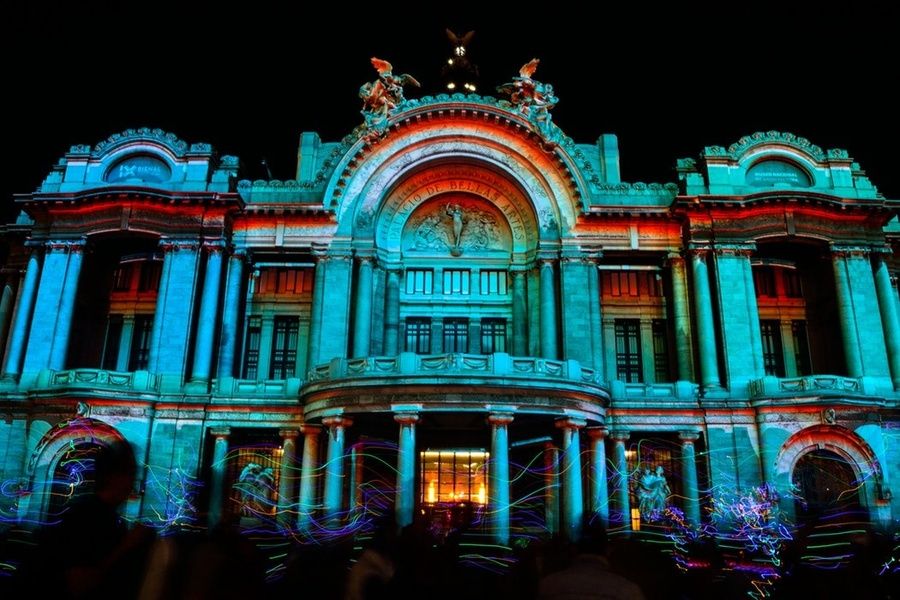 Day 1: Chapultepec Park, Museo de Antropologia, Pujol
Grab a mouthwateringly good pastry from Pasteleria Ideal and head straight for one of the best places to visit in Mexico City: Chapultepec Park. A lot of the coolest stuff to do in Mexico City can be found in Chapultepec Park—a zoo, an amusement park, a literal castle, and lots of museums. Not to mention sprawling trails and green space which can be a nice break from the city.
Afterward, spend the afternoon in the grand Museo Nacional de Antropologia (National Museum of Anthropology), located conveniently within Chapultepec Park. Museo Nacional de Antropologia is Mexico's largest and most-visited museum (and dare we say the most incredible). Its 23 rooms are packed with pre-Hispanic artifacts, including the famous and mysterious Aztec sun stone. Like Chapultepec Park itself, there's a lot to see here: you can easily spend a few hours exploring all the exhibits.
Finally, it's time to treat yourself with a fancy dinner. You deserve it. Fortunately, the fantastic and world-renowned Pujol restaurant is only thirty minutes from the park by foot (and if it's dark, you can always call an Uber). Nestled in Polanco, one of our favorite neighborhoods in Mexico City, dinner at Pujol is out-of-this-world delicious.
Day 2: Coyoacan, Museo Frida Kahlo, Palacio de Bellas Artes
If you love art, Coyoacan is hands-down the best neighborhood to stay in Mexico City. Frida Kahlo and Diego Rivera once lived here, after all! If you aren't staying in Coyoacan, no worries—it's easy to get here. Spend the morning exploring the beautiful neighborhood, and especially the charming Viveros Coyoacan park.
Your afternoon activity will take place at Coyoacan's famous "blue house." Frida Kahlo's lifelong home, the blue house is now a museum in her honor. Museo Frida Kahlo also happens to be one of the most popular and best museums in Mexico City—so definitely get tickets in advance.
After you've seen the museum, ask a local for recommendations for other things to do in Coyoacan—a bit off-the-beaten-path, this neighborhood is packed with amazing nooks and crannies.
Then, finish up the day by enjoying some of Mexico City's classiest nightlife. Head to Palacio Bellas Artes (the Palace of Fine Arts) back in the city center. It's not only one of the most beautiful and iconic buildings in town—its calendar is also full of incredible cultural events, from ballet shows to orchestral concerts. While you're there, be sure to check out the building's colorful Tiffany glass "curtain".
Day 3: Centro Historico, Palacio Nacional, Templo Mayor, Grand Hotel Ciudad de México
Zip over to the center of town—Centro Historico—where you can spend an entire day exploring Mexico City's spectacular history. You'll want to spend at least an hour at one of Mexico City's most important landmarks: El Zocalo. This huge public square is the city's beating heart. El Zocalo is encircled by tons of important sights, and it's the place to be for celebrations and demonstrations. Ask someone who lives in Mexico City for the best place to have a snack and people-watch.
In the afternoon, check out the Templo Mayor museum. Adjacent to El Zocalo, Templo Mayor (an ancient Aztec temple) is an active archeological site in the middle of town. This is a great way to get a look at Mexico City's pre-Hispanic history—the Spanish invaders actually built the nearby Catedral Metropolitana with stones from the demolished Templo Mayor.
End your day with color and cocktails! Go to the Grand Ciudad Hotel de Mexico and ogle the incredible stained-glass roof in the lobby. Then grab a drink on the top floor, and enjoy the sunset over El Zocalo.
Itinerary #2: Mexico City's Off-the-beaten-path Treasures
We know a thing or three about non-touristy stuff to do in Mexico City. This itinerary is all about that.
Day 1: San Rafael, Cine Opera, Monumento de Revolucion, Xaman Bar
Day 2: Fuente de Tlaloc, Little Koreatown, Jules Basement
Day 3: Day 3: Roma, Diego Riera, Hanky Panky bar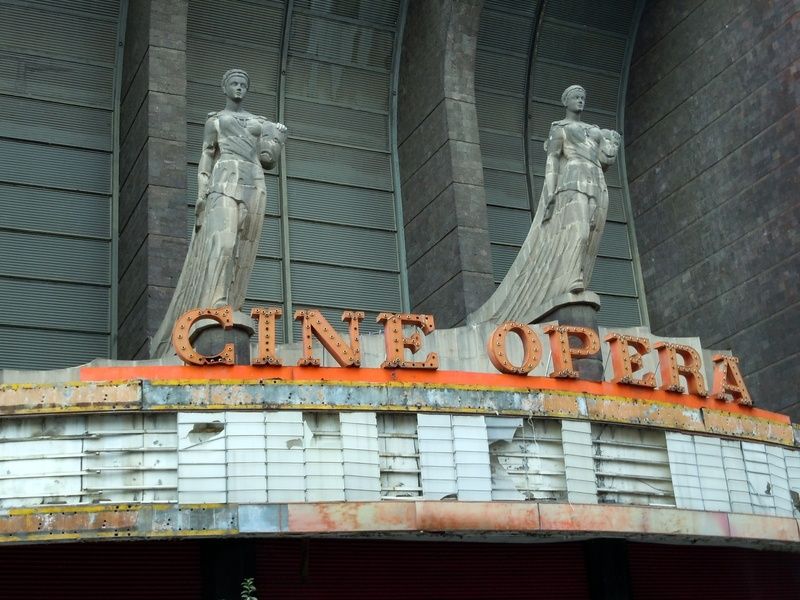 Day 1: San Rafel, Cine Opera, Monumento de Revolucion, Xaman Bar
If you had to put down your "third-wave coffee" to decide where to stay in Mexico City, chances are you've already picked San Rafael. San Rafael has everything your hipster heart desires: though fairly central, it's often overlooked by tourists. There's plenty of stuff to do, see, and eat!
San Rafael is quickly reclaiming its past as Mexico City's artistic center. One of the more unusual things to see in Mexico City is in San Rafael—the formerly-grand Cine Opera. Once opulent, it's now popular among those interested in abandoned buildings or old architecture.
If the closed Cine Opera breaks your heart, cleanse your palate by checking out San Rafael's thriving art gallery scene. As artists are priced out of other neighborhoods like Roma, San Rafael is increasingly becoming the place for Mexico City's creatives.
When the sun goes down, make a beeline for Monumento de Revolucion. Not as iconic as the well-known El Angel statue, Monumento de Revolucion is still worth a visit. Indulge in one of the coolest things to do in Mexico City and climb the monument—or head straight to your next stop—the speakeasy Xaman Bar, for strong cocktails made with local ingredients.
Day 2: Fuente de Tlaloc, Little Koreatown, Jules Basement
We're guessing that the night didn't end after a cocktail or two at Xaman Bar, so take it easy and spend the morning in Chapultepec Park. Once you've gathered your energy, search for the Fuente de Tlaloc. Chapultepec is packed with some of Mexico City's coolest things to see, but this gorgeous tiled fountain is among the more obscure sites in the park. Created by Diego Rivera, the Fuente de Tlaloc depicts the Aztec god of water.
For lunch, loop up through the park to the Juarez neighborhood—the west side of the neighborhood is parallel to Chapultepec. There are a lot of amazing places to eat in Mexico City with a focus on traditional food, but this itinerary is all about zigging when everyone else zags. So, grab a surprising (and delicious) lunch at Mexico City's Koreatown: Pequeño Seúl (and keep in mind that you do need to tip in Mexico City).
Since you're already in Juarez, spend the afternoon exploring this dynamic part of town (there are tons of great things to do in this part of Mexico City, including the sleek Milan 44 food hall). Then, finish the night with another secret bar: this time, the classy Jules Basement. Hidden behind a fridge door, the smooth jazz and creative cocktails make the extra effort worth it, and a local who knows the area can tell you how to get there.
Day 3: Roma, Diego Riera, Hanky Panky bar
Ok, so Roma has been "discovered." But it's still one of our favorite neighborhoods in Mexico City to stay. Your morning mission: check out Roma's incredible street art. Seriously—the street art in Roma is one of Mexico City's must-sees. While you're in the area, lean into Roma's new identity as the "it" spot and grab lunch at Mercado Roma (a fancy new food hall with a rooftop bar).
Continue chasing color and head to Centro Historico for one of Mexico City's most gorgeous sights: the politically and colorfully vibrant Diego Rivera murals. While the Palacio Nacional is known as Mexico City's main attraction when it comes to murals, we're sending you elsewhere: the Ministry of Education. The murals here are just as impressive as those in Palacio Nacional, but you won't have to elbow your way through a crowd to get a look!
Finally, end your three-day-whirlwind at Mexico City's most secret speakeasy: the Hanky Panky bar. You'll have to message them on Facebook for directions.
Pro tip: As you explore the city's awesome underground bar scene, keep in mind that while Mexico City is safe, it is a huge city and normal precautions are necessary. Our number one safety tip for a night out? Uber, uber, uber.
Itinerary #3: Day Trips from Mexico City
Here's an important Mexico City travel tip: don't limit yourself to Mexico City! Easy day trips will enrich your Mexico City itinerary.
Day 1: Puebla and Cholula
Day 2: Pyramids Teotihuacan
Day 3: San Angel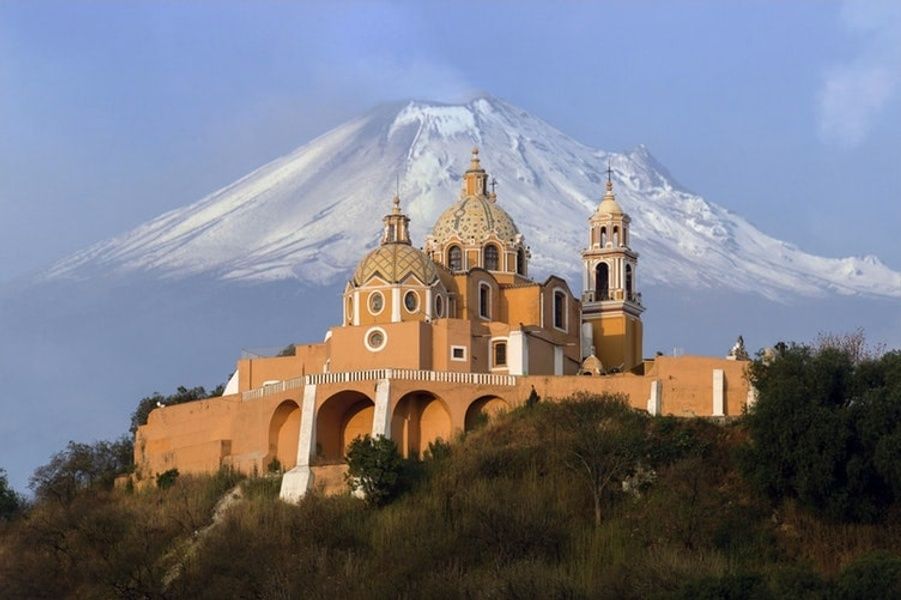 Day 1: Puebla and Chohula
Puebla is a great choice for anyone looking to incorporate a lot of good food into their Mexico City vacation. It takes about two hours to get from Mexico City to Puebla, so reward yourself with some of Puebla's specialty: dishes smothered in mole sauce. (Mole originated in… drum roll please… Puebla!) Aside from its amazing food, the town is also packed with amazing old churches and plenty of shops selling traditional Mexican pottery.
The town of Cholula, about thirty minutes from Puebla, is another great stop—especially for its breathtaking views of Mexico's famous volcanoes: Popocatepetl and Iztaccihuatl.
Pro tip: As you consider visiting Mexico City and its environs, it may be tempting to use a Mexico City travel agency to build your itinerary—especially if you want to include day trips. Be warned: travel agencies in Mexico City are infamous for using pre-packaged trips with mediocre tour companies to pad commissions. Our advice? Have a Mexico City local help plan out your logistics instead.
Day 2: The Pyramids of Teotihuacan
The Pyramids of Teotihuacan are hands down one of Mexico City's coolest tourist attractions. Although they were discovered by the Aztecs, the pyramids are actually much, much older. Arrive early to beat the crowds (and the heat). Good walking shoes are a necessity for Teotihuacan (you'll be scaling pyramids!) as well as plenty of water and sunscreen.
It takes about an hour to get from central Mexico City to the Pyramids, which still leaves plenty of time in the afternoon and evening. Continue your immersion into pre-Hispanic Mexican history by pairing the Pyramids with a visit to the Templo Mayor museum, a night of mariachi music at Plaza Garibaldi, or perhaps a cocktail made with local ingredients at Xaman bar.
Day 3: San Angel
If you're wondering where to stay in Mexico City for a quiet, authentic vibe, San Angel is the place to be. However, since most of you will wake up in Polanco or Roma, opt instead to include San Angel as a day trip.
Fortunately, it's easy to get to San Angel. You can take the Mexico City metro (tickets only cost 25 cents USD—one good example of how Mexico City prices are often advantageous for travelers). The train will bring you about twenty minutes away from the main square, which means you can either walk or call an Uber.
All of this makes San Angel an excellent day trip. We strongly recommend heading over on a Saturday for the lively Bazar Sabado (Saturday market).
However, if your trip doesn't fall on a Saturday, fear not—the day trip is still totally worth it. Plaza San Jacinto is an awesome place to enjoy a drink and watch the world go by, and San Angel is full of surprising sites like the well-preserved mummies at the Museo de El Carmen.
--
Three days in Mexico City is plenty of time to hit some of the best sights (and some of the more obscure ones). Use these itineraries to help build the perfect Mexico City trip—or, even better, get the help of a Mexico City trip planner to design an authentic and fulfilling travel plan. Not only will they help you craft a unique itinerary, but they'll also be around with 24/7 phone support your entire trip if you run into any issues. Questions? Send us a message!