There's an awesomely weird undercurrent to Mexico City (ask us about the Fuente de Tlaloc or Antique Toy Museum!) and it extends to the city's accommodations. Lots of hotels and Airbnbs in Mexico City are full of character and color, occasionally bizarre, and unlike any place you've stayed before.
We've put together this list of 11 of the coolest, weirdest, and most amazing places to stay in Mexico City.
#1: The Gran Hotel Ciudad de Mexico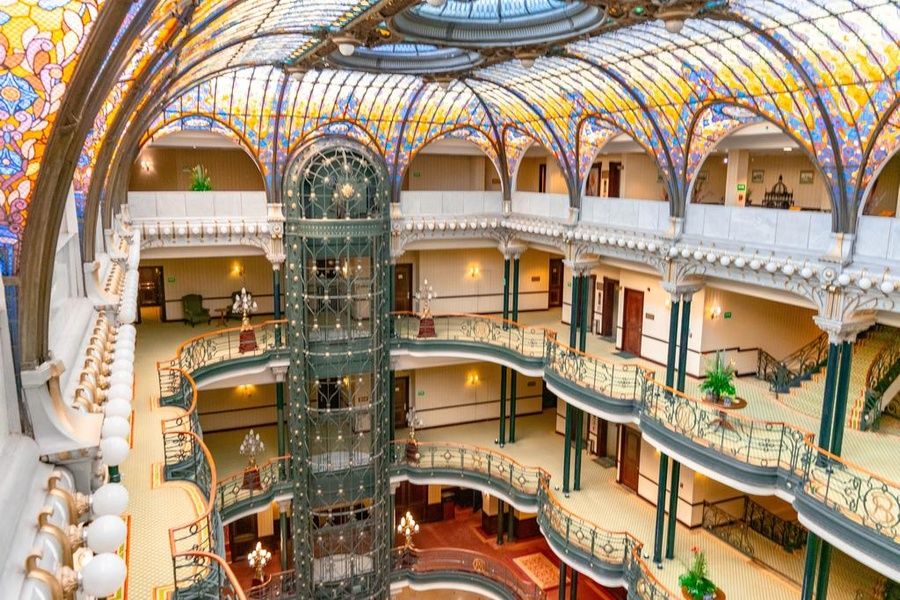 Love affairs with the Gran Hotel Ciudad de Mexico started centuries ago—literally, way back in 1526 when it was built as a personal residence. The building was later used as a shopping center (with some of the first elevators in Mexico, still in use today), and finally, it's become one of Mexico City's most colorful and luxurious hotels.
This hotel may very well fit the definition of extra. You'll fall in love as soon as you see the Tiffany stained glass ceiling in the hotel lobby. By the time you enjoy a cocktail on the top floor and watch the sunset over El Zocalo (Mexico City's huge public square), you'll never want to leave. Within close proximity to some of Mexico City's best places to visit, the hotel is gorgeous and perfectly located.
Price: starts at $152/night
#2: The Terraced Penthouse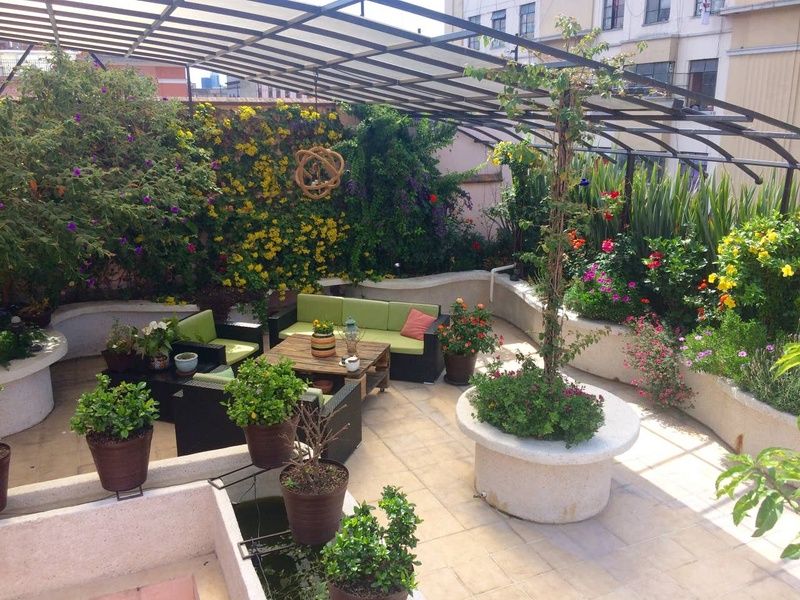 If you dream about breakfasting on a terrace, digging into lunch on a terrace, opening a bottle of vacation champagne on a terrace… well, you're going to love this Airbnb Penthouse smack dab in the middle of Centro Historico. This sweet apartment also includes indoor hammocks (!!!) but the real draw is the incredible (wait for it) grand terrace. The terrace is covered, which means no matter when you visit Mexico City, you'll be able to enjoy the outdoors in the lap of luxury. Plus, you'll feel like royalty overlooking your kingdom.
Price: $26/night
#3: The Treehouse Room at The Red Treehouse B&B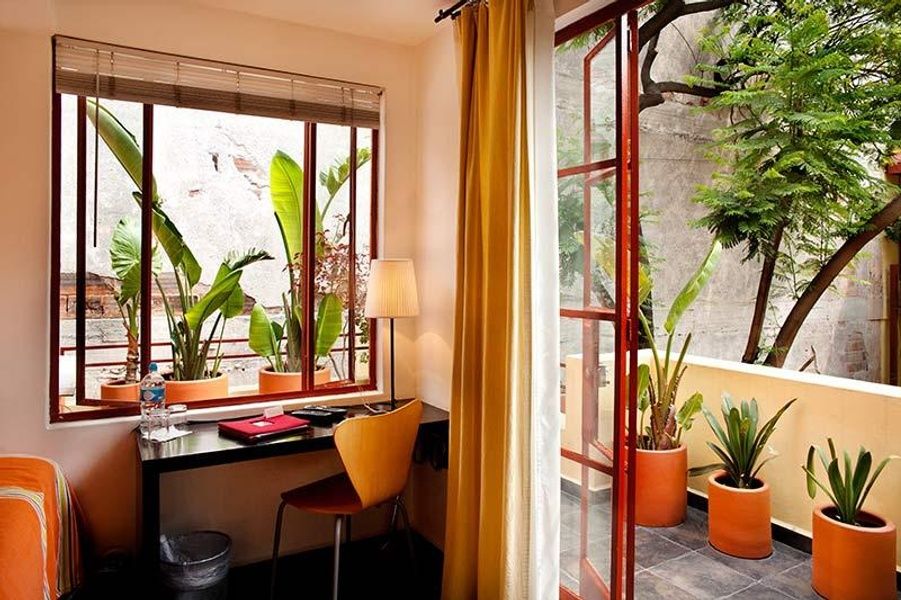 Staying at The Red Treehouse bed-and-breakfast is rad. Built in the 1930s, the house was originally occupied by artists, writers, and other creatives in Mexico City. Today, it prides itself on being a place for people who want to "engage" with the "beauty of Mexican culture, food, and history."
But guys, that's not even the best part. For a unique trip to Mexico City, ask to stay in the "Treehouse Room". It's a tiny penthouse with a private terrace (do we have a thing for terraces? maybe). The Treehouse Room is the perfect option for solo travelers in Mexico City who don't have a lot of luggage. And there's more! The Red Treehouse is in one of Mexico's best neighborhoods: the lively, vibrant, colorful Condesa.
Price: The Treehouse penthouse is $95/night
#4: The Terraza Room at La Valise Hotel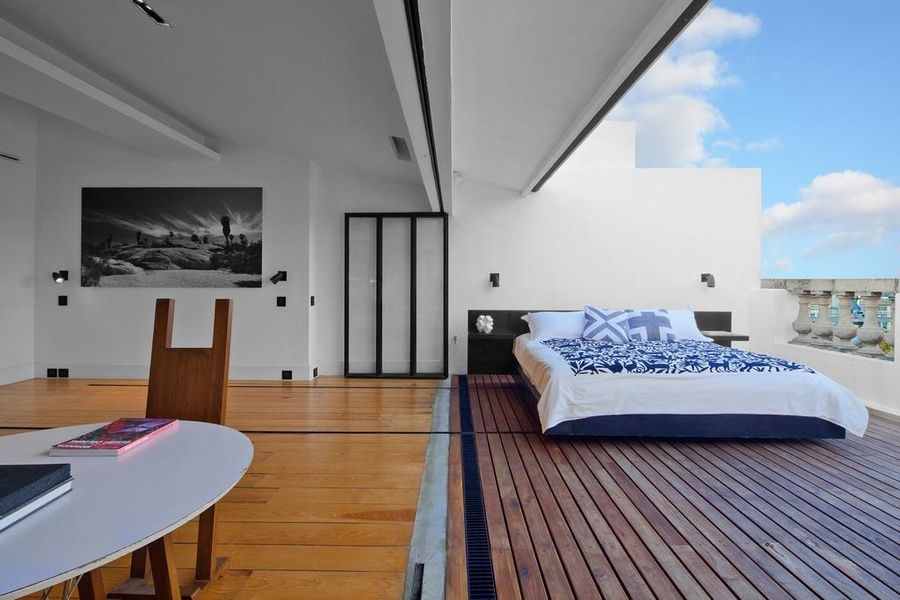 Do you dream of sleeping under the stars? Then the exclusive La Valise Hotel is going to blow your mind. La Valise has only three rooms, but the crown jewel is the rooftop Terraza room, which features a bed that you can easily roll out onto the open deck. El Patio is equally as incredible, replete with a swing and hammock, and the Luna suites are lovely. Situated on a quaint street in gorgeous Roma, you'll have easy access to some of Mexico City's coolest spots.
Plus, you'll get a free mezcal shot when you check in.
Price: The Terraza room is $424/night
#5: 1960s-Style Loft with Lap Pool in an Art Deco Neighborhood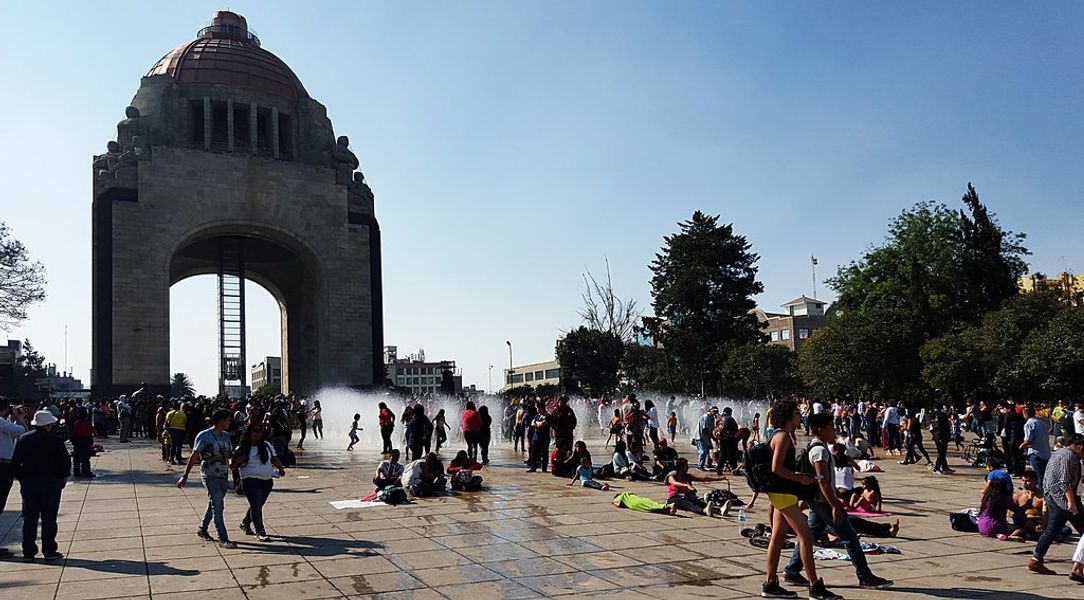 Mexico City prices are often advantageous for foreigners, and this incredible Airbnb in Tabacalera is a great example. For less than $100 USD/night, you can stay in an unreal Art Deco apartment with access to a lap pool that overlooks the city. Translation: if you indulged a tad too much in Mexico City's nightlife, you can refresh with a swim and a view before taking on another day.
The apartment is in Tabacalera (close to one of Mexico City's coolest landmarks: the Monumento de la Revolucion) and it feels as quirky and glam as Mexico City itself. Have one of our Mexico City locals send you to the coolest spots in the neighborhood—you won't regret it.
Price: $92/night
#6: Chaya Bed & Breakfast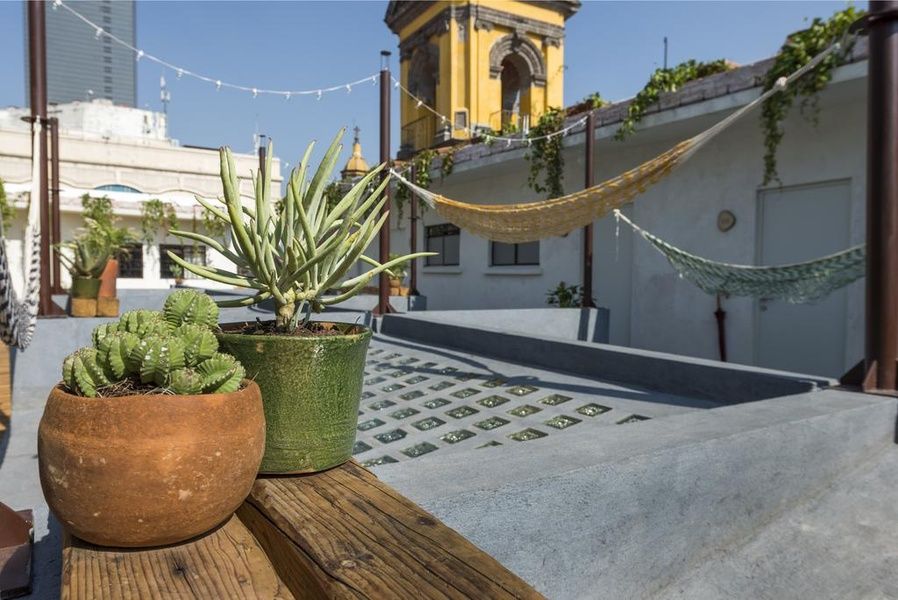 Rooftop hammocks? Delicious Mexican breakfasts? A bathtub surrounded by plants? Chaya Bed & Breakfast goes above and beyond: they aim to provide travelers with "inspiration and comfort", both of which you'll find in abundance.
How can you not enjoy swinging in a hammock under the Mexican sun, peering out at the adjacent Alameda park, or enjoying a cup of genuine Mexican coffee while overlooking the nearby, colorful rooftops? Plus, Chaya's prime location in Centro Historico means that many of Mexico City's best tourist attractions are within walking distance—including an excellent selection of street food.
Price: starts at $100/night
#7: The Private room at Casa Mariscal (an actual castle)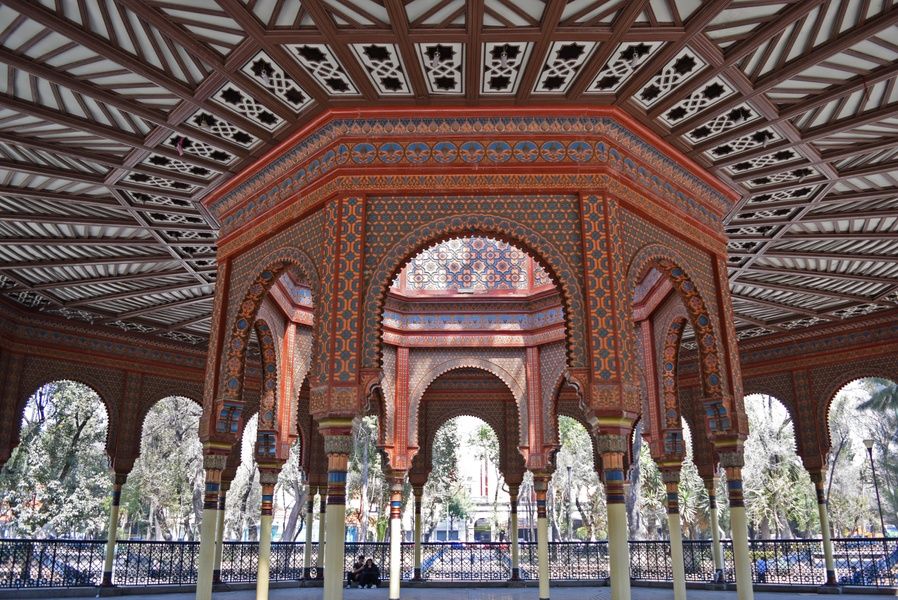 This one is far from the center of town, but it's a castle that promises a life of luxury. Airbnb reviewers describe the Casa as a boutique hotel—a lovely, incredible, epic boutique hotel. The rooms are storybook beautiful, and you'll be sharing photos of the Spanish arches, pillars, and elaborately painted exterior for weeks afterward.
This private room within Casa Mariscal is in the gorgeous, historic neighborhood of Santa Maria la Ribera, which is about 30 minutes by train or car to Centro Historico. Frederico Mariscal, the architect involved in designing the Palacio de Bellas Artes (one of Mexico City's finest attractions), built the Casa Mariscal.
Price: $42/night
#8: Hotel Maria Condesa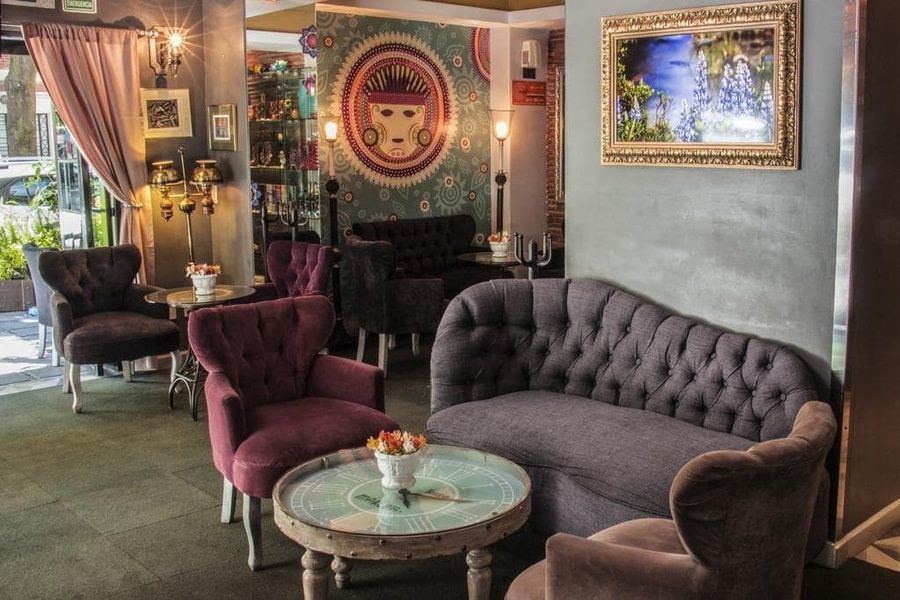 If you're looking for colorful… if you're looking for quirky… if you're looking for bathrooms that include saunas… look no further than the sleek Maria Condesa hotel. (Ok, you'll need to book a suite for those bathroom saunas, but still.) The evening open bar and famously-outgoing concierge make Maria Condesa feel like a gathering of friends. Plus, the sixteen rooms are unique—embellished with the designs of Mexican designer Piñeda Covalin.
If you can tear yourself from your new friends, you'll find that the surrounding Condesa neighborhood is full of some of the must-sees of Mexico City, including the gorgeous Parque Mexico and some of the best tacos in town.
Price: starts at $270/night
#9: W Hotel Mexico City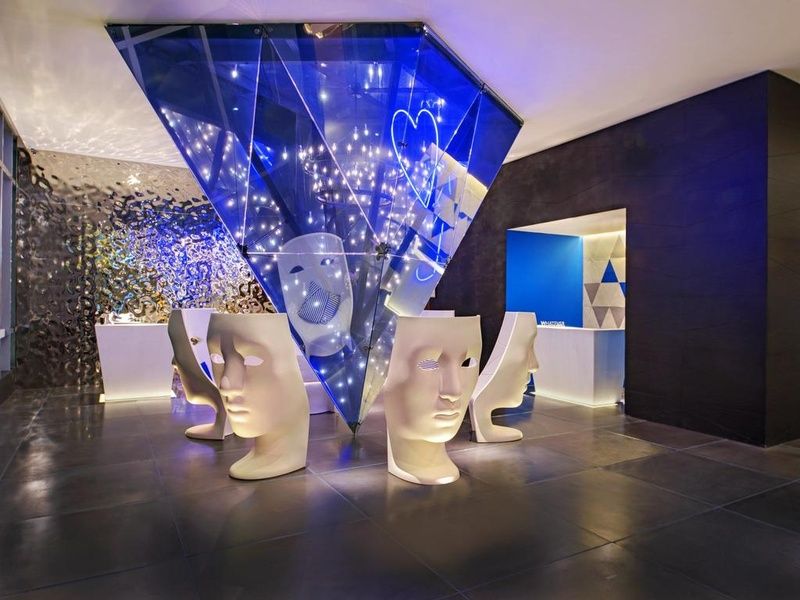 Perhaps the biggest draw in the newly renovated W Hotel Mexico City is that it has a secret tequila bar in the lobby bathrooms. Yes, you read that correctly. The hotel is ambitiously weird, embracing a "masquerade" theme which spills out in the form of giant masks, wild lighting and color, and floor-to-ceiling photographs in each room. You can also opt for breakfast, which was designed by famous chef Jose Andre.
Plus, you can't go wrong living in posh Polanco, another of Mexico City's best neighborhoods to stay.
Price: starts at $300/night
#10: Hotel Valentina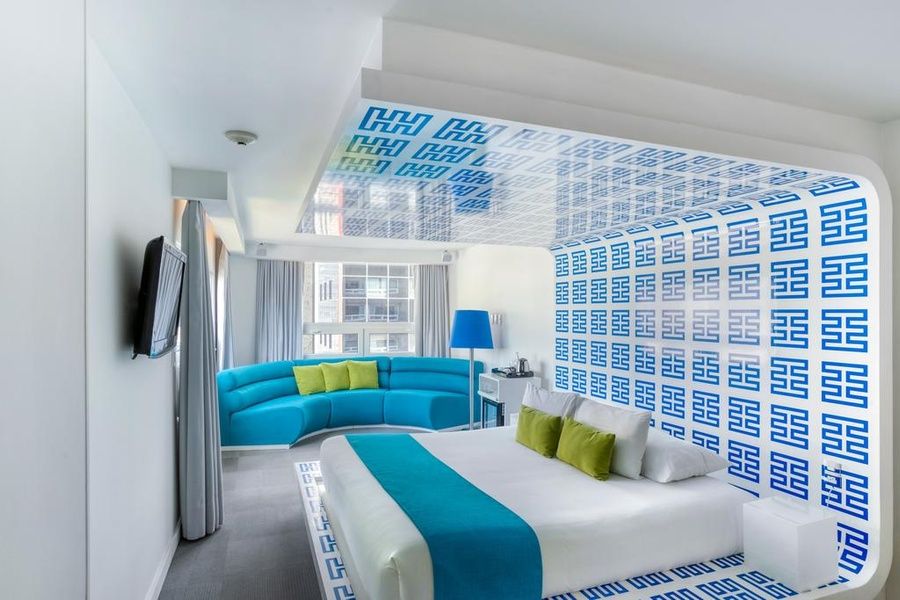 Room Mate hotels gives each of their locations a name and personality—so meet Valentina, the "curious and sporty" Mexico City local (obviously, we recommend getting in touch with an actual Mexico City local, who can actually recommend great stuff to do).
Beyond being "curious and sporty", Hotel Valentina is definitely quirky—from the art on the ceilings, to the wildly colorful, unique rooms, to the incredible skylights in some of the bathrooms: it's a stay you won't forget.
Not only is Hotel Valentia centrally located (so you can easily see the top places to visit in Mexico City) but it's nestled in the wild Zona Rosa neighborhood—a spot that all night owls should have on their Mexico City itineraries.
Price: $72/night
#11: Pug Seal Polanco Boutique Bed & Breakfast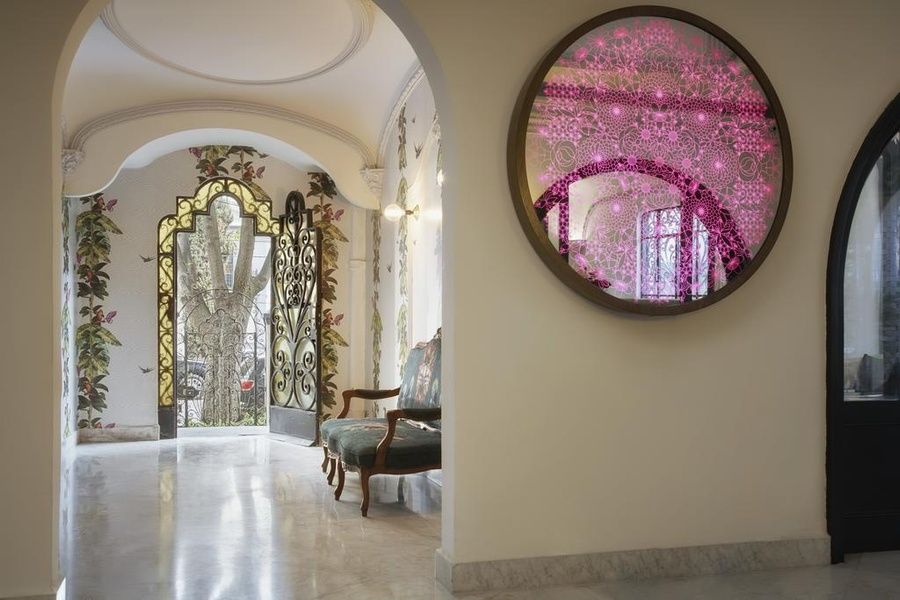 Walking into Pug Seal Polanco feels like waltzing into the home of your dreams: a Mexico City mansion swimming with unique touches. Pug Seal's residences are themed around people like Allan Poe and Anatole France. Each is unique! Which makes it tempting to come back and try something new.
Pro tip: When it comes to Mexico City safety, the neighborhood of Polanco is one of the safest in town, so feel free to explore! Be sure to check out one of Mexico City's best museums nearby—the stunning Museo Soumaya.
Price: starts between $210-$245/night
*Bonus*: Lodging slightly outside of Mexico City
We've focused on quirky and incredible Airbnbs and hotels with proximity to Mexico City's main neighborhoods and sights. But if you prioritize unique experiences over an urban living, there are a couple of awesome Airbnbs to add to your list—including a treehouse, a campsite near an animal rescue center, and a gorgeous home that feels like a castle.
The State Department's travel advisory for Mexico City is good (the same as Paris and London). But this can change the further you get from the city. So do your research, and talk to a Mexico City local about what areas they considered to be safe or unsafe.
--
For a trip to Mexico City that you'll never forget, use this guide to book a room in one of the city's weirdest, coolest, most colorful hotels or Airbnbs. Or, talk to a Mexico City local. Not only can they give advice on the best/quirkiest accommodations, but they can help design your entire itinerary, one entirely customized for your interests. Plus, they'll be available 24/7 with phone support in case you run into any issues. Questions? Send us a message!